Raw, Creamed Clover Honey - 1kg Glass Jar - PRE-ORDER for October 2020
|
Details
*Please Note*
The 1kg Glass Jars of Creamed Clover Honey are available for PRE-ORDER ONLY.  These orders will be fulfilled in October 2020. 
We do have a variety of other sizes of our creamed honey and liquid honey availble. To shop the options please visit: https://foreverbee.ca/collections/raw-honey
Our raw, creamed Clover honey is harvested in Southern Alberta, Canada and will never harden or crystallize. This is because of the unique method we use to cream our honey. We have long since forgone the whipping and heating methods. We freeze our honey in order to get a beautiful creamy smooth texture. This ensure the honey stays this consistency for the duration of its life.
Our honey is still raw which means it has never been heated and therefor all the benefits and natural content of the honey is still intact. This honey is also unfiltered and thus contains many delicious and beneficial compounds such as bee pollen and propolis.
Many people use raw honey daily on their toast, peanut butter sandwiches, in tea or coffee, cooking, and baking. It is also popular for use when having a sore throat , cough, cold or cuts and burns.
Raw honey has no expiration date and will not go bad when used correctly. Please do not dip wet or dirty cutlery into the honey since this could spoil it.
Features
Raw, Unfiltered honey that still contains all the benefits nature intended
Smooth, creamy texture is perfect for spreading, tea, coffee, baking
This honey will not crystallize or harden
Harvested in the Foothills of Southern Alberta, Canada
Small, family-owned and operated apiary where we care about our environment, bees and customers
Details
This specific product is sold in a glass jar.  We also carry a 1kg container in a plastic tub at a slightly discounted price.  The quality and freshness is the same.  Both products will keep the same, it is only the presentation that is different.
Customer Reviews
Write a Review
Ask a Question
Filter Reviews:
honey
delivery
Forever Bee
customer service
service
Bee Pollen
people
clover honey
door
company
19 Jul 2020
Ashley A.
Canada
The only honey I buy!
We love your honey! It's delicious, I love that it gets delivered to my door, and I love supporting a local small business.
18 Jul 2020
Rob A.
Canada
Quality!!
I have been buying honey from Forever Bee for some years now and will continue this for years to come. Not only is their creamed honey the best in the business their service is of equal quality. Wonderful people wonderful business!
06 Jul 2020
Lindsay B.
Canada
Amazing as always
It's just simply the best honey around!! Can't live without it.
01 Jul 2020
Donna C.
Canada
Creamed Clover Honey
This is wonderful. So creamy and smooth and the taste is fantastic. We will definitely get this again
21 Jun 2020
Jennifer S.
Canada
Love this honey
Great honey And a great company
21 Jun 2020
Fern P.
Canada
Great product
The service is excellent, they deliver. To my door on time, and their product is excellent, best honey I've ever tasted. Their staff follow up by email to ensure I'm happy as a customer n value my opinion.
08 Jun 2020
Beverley R.
Canada
That was so easy !!!!
We ordered the delicious honey on-line and it was delivered right to our door, beautifully packaged I should add. What could be better than that !!!!
24 May 2020
Rena L.
Canada
Tasty, Not Too Sweet
I love the light taste of Forever Bee's Raw Creamed Clover Honey. It spreads beautifully on toast or in a sandwich and melts perfectly in my morning ACV. With the honey, I wake up looking forward to it! I love how this honey enhances a cup of orange pekoe tea. I'm so looking forward to contributing a part of my next honey jar to my first home-made probiotic switchel. This is Best Tasting Raw Creamed Clover Honey by far, IMO - and it's delivered to my door! Wowza! This is a GREAT way to #SHOPLOCAL :) Unofficial POLL: Is it #Tasty? or #NotTooSweet? Try a Jar, then Decide!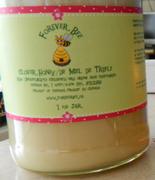 24 May 2020
Geraldine B.
Canada
Light and delicious
This honey adds complexity and a subtle body to a hot cup of tea, making my daily tea fix even more enjoyable and comforting. Thank you!
22 May 2020
Lisa L.
Canada
Greatest honey
Awesome products.Awesome service. Great prices .