Details
Sunflower honey is now in stock!!
Honeycomb directly from the hive.  Honeycomb is the original way in which honey used to be eaten before modern extraction methods. You can eat honeycomb with a spoon straight out of the tub. You can also place it on a cheese platter with nuts, fruit, cheese, crackers, etc, or you can have it on warm toast with butter.
This year we are also selling honeycomb by the frame.  This will be available at the end of the season. You will receive a whole frame, right out of the hive - almost 5 lbs of honeycomb. (Frame is LOCAL DELIVERY ONLY)
Our honeycomb runs out very quickly.  Our harvest season runs to mid-Sept, weather depending.  Please place your orders and when we harvest our honeycomb you will receive your order, likely in early August. :)  Please note that harvesting is weather dependent.  Orders with additional products will be delivered when the honeycomb is available.
Customer Reviews
Write a Review
Ask a Question
Filter Reviews:
honey
products
quality
service
family
students
egg carton bees
texture
shipping
throat
09 Sep 2020
Justine D.
Canada
Excellent
Amazing is how I would describe the honey. Absolutely delectable. Fast shipping, on top of the details, incredibly helpful. I highly recommend Forever Bee. Have already told friends and Family about this place.
03 Sep 2020
Rodneia R.
Canada
Honeycomb goodness, too bad I did not order more!
I ordered a 5lbs and 2lbs and now I am regretting not getting more. My kids love the honeycomb as much as I do and it is going fast. It is a very clear and beautiful honey, and I simply love the texture of the honeycomb, just so delicious and fun to chew it up. It is one of those things that completely takes me back to my childhood. Delicious, did not disappoint. My tummy thanks you!
02 Sep 2020
Jin C.
Canada
Everything is just amazing
Everything is just amazing! From follow up email to fast shipping, and great packaging, great quality of the product, Plus the nice little gift we receive! Every steps of this shopping experience is just so amazing! Thank you so much! We will definitely come back again!
29 Aug 2020
Mila H.
Canada
29 Aug 2020
Katherine A.
Canada
Honeycomb & regular honey
Both are absolutely the best honey I have ever tried & the company is great to deal with.
23 Aug 2020
Rodney S.
Canada
The Honey that Adorns my Soul
Much gratitude and appreciation for Creators little creators the Honeybee's and Forever Bee for supplying such beautiful golden nourishment. In quest for the ideal honey I was blessed enough to befall across Forever Bee, and to my pallets enjoyment, it's always been "forever bee" perfect.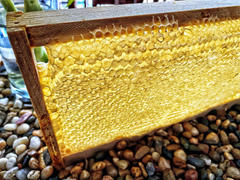 23 Aug 2020
Lynn F.
Canada
Glad I Ordered This
This is the first time we have tried eating honeycomb and we're very happy we decided to buy it. It is delicious and very easy to spread. I think we had visions of it being waxy tasting, but this isn't the case. I will definitely order it again next year if it is available.
19 Aug 2020
Andrea K.
Canada
I'm a happy camper!
Thank you so much! My honey comb and jar of honey has arrived safe and sound, and it's yummy. I have never had honey comb before and it is awesome! Thank you so much! Excellent, friendly service and I greatly appreciate you letting me pay by e transfer as I do not have a credit card.
12 Aug 2020
amy
Canada
Great taste !!
Super yummy! First time to try honeycomb and our family loved it very much. Will definitely purchase it again ;)
10 Aug 2020
Zenny N.
Canada
What a GEM!
Pure gold and the honeycomb is out of this world. First time trying it and love the texture and benefits from it. I have environmental allergies and was also experiencing a light cough from my asthma. I like to keep remedies as natural as possible. Been making honey, fresh lemon and ginger tea to soothe my throat. Instead of reaching for cough drops, I had small slices of the honeycomb and it works and my coughing has been greatly reduced. Thank you Forever Bees for your products and excellent customer service.