Peach Pie with Strawberry Honey
Prep Time: 10 Minutes

Cook Time: 40 Minutes

Total Time: 50 Minutes

Servings: 10 Pieces
Pastry Crust
4 cups All-purpose flour plus more for rolling 480g

2/3 cup granulated sugar

1/2 tsp sea salt

1 1/2 cups unsalted butter cold 339g

1/3 tbsp water ice cold

1 tbsp lemon juice 15mL

1 egg for the egg wash

1 tbsp water or cream, for the egg wash. 15mL
Filling:
4

 

lbs

 

peaches

 

8-9 peaches

1/4

 

cup

 

granulated sugar

1/4 cup Forever Bee Strawberry Honey

1/4

 

cup

 

brown sugar

 

50g

2

 

tbsp

 

lemon juice

 

30mL

2

 

tsp

 

vanilla extract

 

10mL

1/4

 

cup

 

corn starch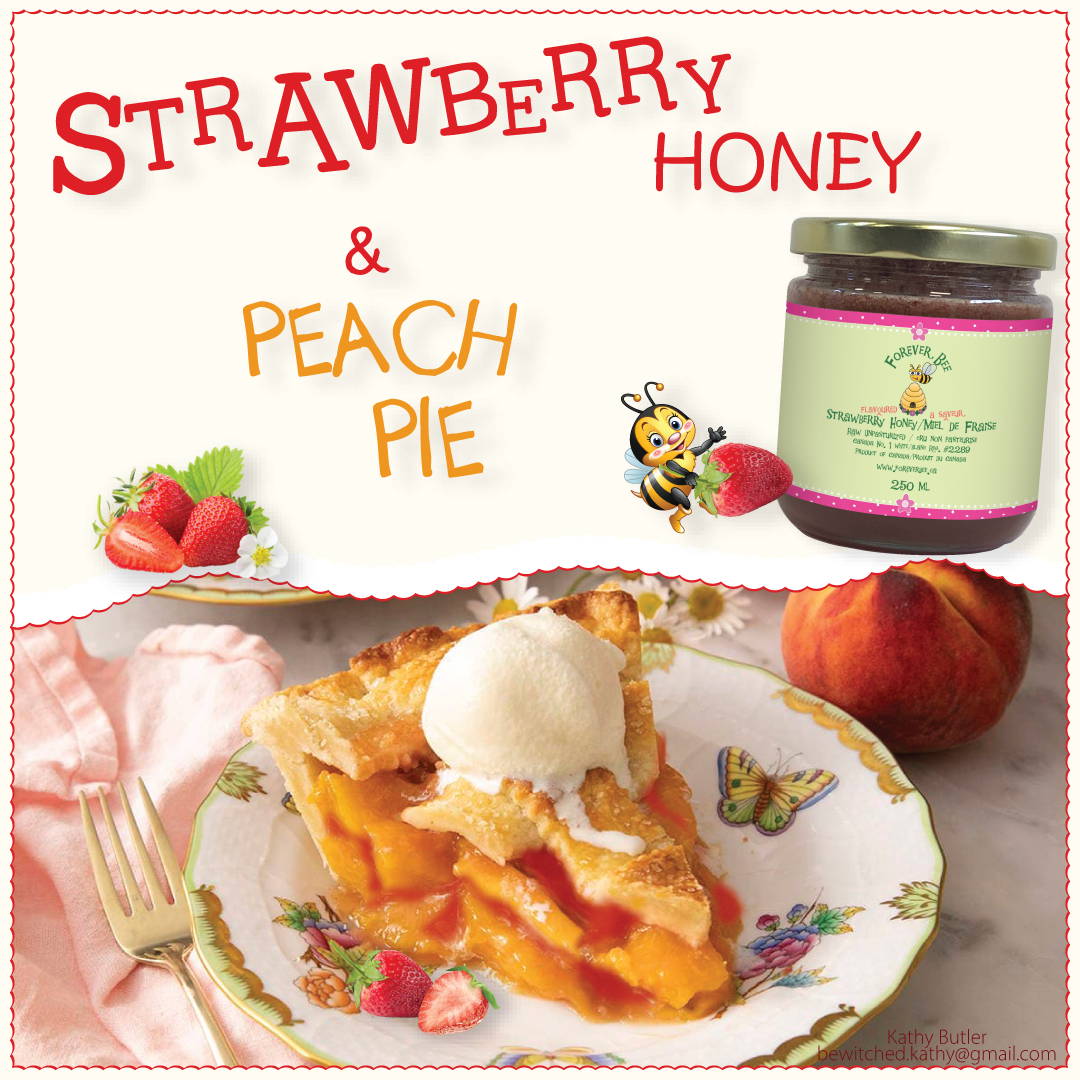 Add the flour, sugar, and tsp salt into a food processor then give it a few pulses to combine.
Cut the COLD butter into tbsp size pieces. Transfer to food processor and pulse until the butter is cut into small lentil-sized clumps.
Slowly drizzle 1/3 cup of ice water and 2 tablespoons of lemon juice into the processor while pulsing. If the mixture doesn't hold together when you squeezer a clump in your hand then add a bit more water and pulse.
Transfer dough onto a pastry mat or sheet of plastic wrap and knead 2-3 times just to help it come together a bit. Divide into two equal batches then gently flatten into one inch-thick disks, and cover in plastic wrap. Place in the fridge to chill for about 30 minutes to an hour.
In a small bowl, lightly beat the egg with an optional tablespoon of milk or cream. Set it aside in the fridge until ready to use.
Score the bottom of each peach and peel the skin off. Halve then remove pit and cut into thin, roughly half inch thick slice.
Place in a large bowl and toss with sugars and Forever Bee Strawberry Honey then let sit for about an hour. The peaches will release a lot of their juices reducing the chances of a soggy pie.
Strain the peach juices into a pan then add cornstarch and place over medium heat whisking until thickened, about 3 minutes. Remove from heat then whisk in the lemon juice and vanilla.
Add the peaches back to the pan then fold in the thickened liquid then fold in and set aside.
Preheat oven to 400F. Let the disks of pie dough warm up on the counter a bit then roll out 1 disk of pie dough to about 2 inches larger in diameter than your pie pan and 1/4 inch thick. Press dough into pie pan.
Place fruit inside pie crust and smooth out to create a level surface for the lattice.
Roll the other disk out to about 1/4 inch thickness. Cut 1 inch wide strips. Arrange in a lattice pattern over the fruit filling. Brush with egg wash and sprinkle with sugar. I recommend tenting your piecrust to prevent your edge from burning.
Cover the edge of your pie loosely in tin foil) Bake at 400F for about 45 minutes or until the top is golden brown and the filling is bubbling.
Visit PreppyKitchen.com for some great customization tips and how-to videos for this delicious recipe.