Tropical Chicken Salad & Honey Balsamic Vinaigrette
Prep Time: 1 Hour 10 Minutes

Cook Time: 18 Minutes

Total Time: 1.5 Hour

Servings: 4
Vinaigrette:
• 1/2 C. Balsamic Vinegar
• 1/4 C. Forever Bee Tropical Honey
• 1/4 C. Extra Virgin Olive Oil
• 1 1/2 Tsp. Coconut Aminos (Reduced Sodium Soy Sauce works too.)
Salad:
• 1 Lb. Boneless Skinless Chicken Breast
• 4 Garlic Cloves, Minced Or Mashed
• 6 C. Spring Salad Mix
• 1 C. Fresh Strawberries, Quartered
• 1 C. Fresh Mango, Cubed
• 1 C. Fresh Pineapple, Diced
• 4 Mandarin Oranges, Peeled
• Salt & Pepper to Taste
• Optional Addon: Avocado or Guacamole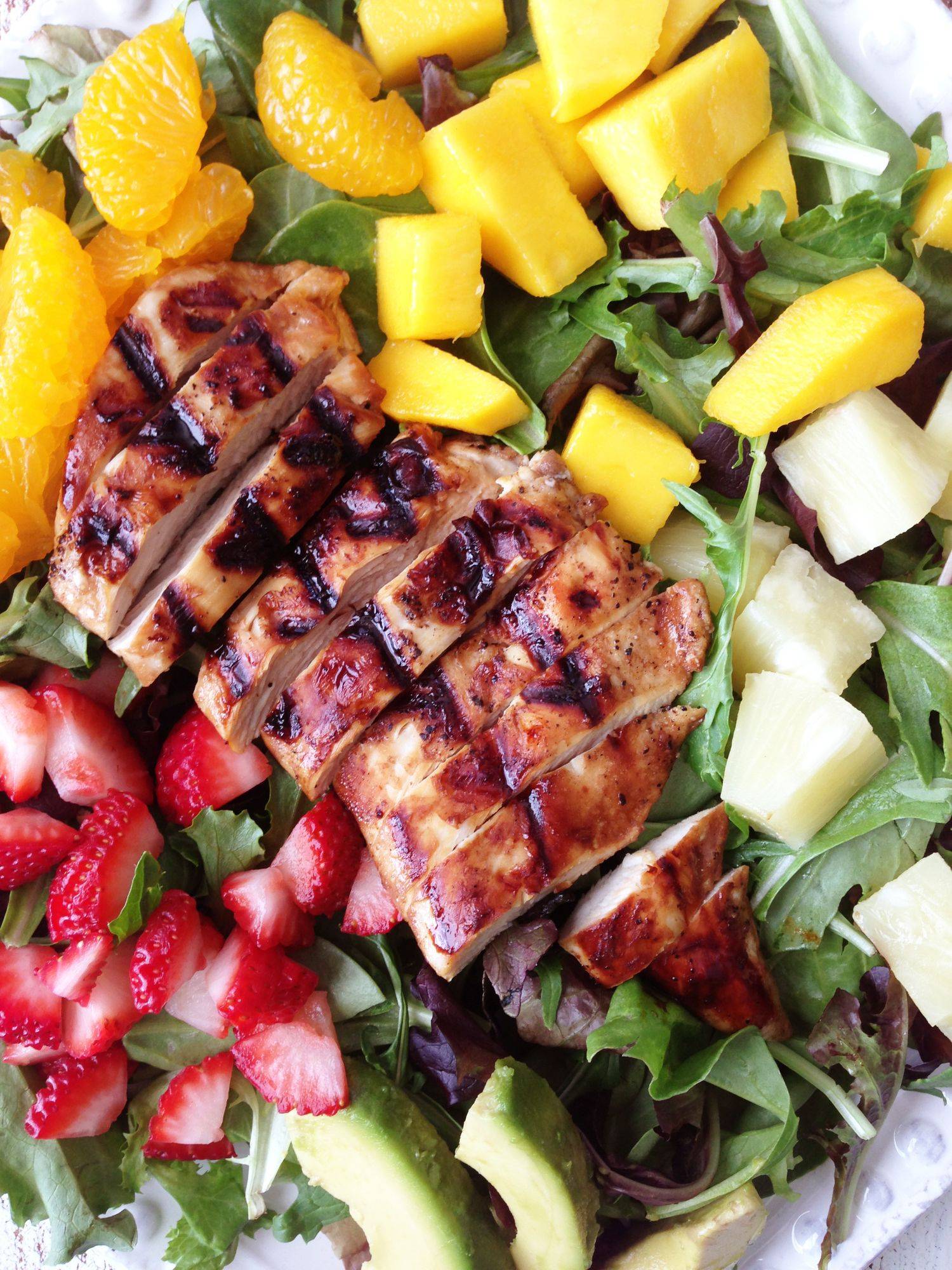 Mix the 1/2 C. balsamic vinegar, 1/4 C. honey, 1/4 C. olive oil, and 1 1/2 Tsp. coconut aminos together in a small bowl until well combined.

Reserve half of the vinaigrette into a small airtight container and store in the fridge until later.

Put the remaining half of the vinaigrette into a ziplock bag or shallow dish with the 1 Lb. chicken breasts and 4 garlic. Allow the chicken to marinate for at least one hour and up to a full day.

When ready, remove the chicken from the bag and discard the marinade; season with some salt and pepper. Grill the chicken until cooked through. I used my counter top grill for about 5-6 minutes with my particular chicken breasts.

While the chicken is cooking, divide the greens between 4 plates and top each with about 1/4 C. of each fruit; totaling about 1 C. of fruit per salad.

When the chicken is done, allow it to cool slightly before slicing or cutting and place atop the salad.

Remove the vinaigrette from the fridge and spoon about 2 tbsp. of the dressing over each salad.

Serve right away and enjoy!