Sweet & Spicy Market - September 19, 2020
We are so super excited to be announcing our September Sweet and Spicy Online Market!!!
On Sept 19 from 12pm - 3pm you can visit us LIVE on Facebook and on our website. Join us to have an exclusive behind-the-scenes look at our beehives, meet our staff, take a sneak peak at our new Flavour Announcement and enter our free Giveaways and Promotions.
We are so excited to be sharing this LIVE event with you. RSVP to let us know you're coming. Invite your friends and spread the word. Remember, the more you participate, the more chances you have to win.
Today's market will include an introduction to our beautiful, hard-working bees, a behind-the-scenes look at what we do at Forever Bee, a HUGE number of free giveaways and of course our BIG REVEAL (new flavour announcement)!!
Right after this live video we will start posting videos and photos of our products and bees. Make sure to comment with your thoughts and questions throughout the afternoon. Matt, I and our team members are LIVE to answer all the questions that 'fly' our way. The more you comment and interact with us, the more chances you will have to win a prize.
When you're ready to order, you can do so on our website: www.foreverbee.ca, message our page, text/call 403-915-0454, or email sales@Foreverbee.ca
---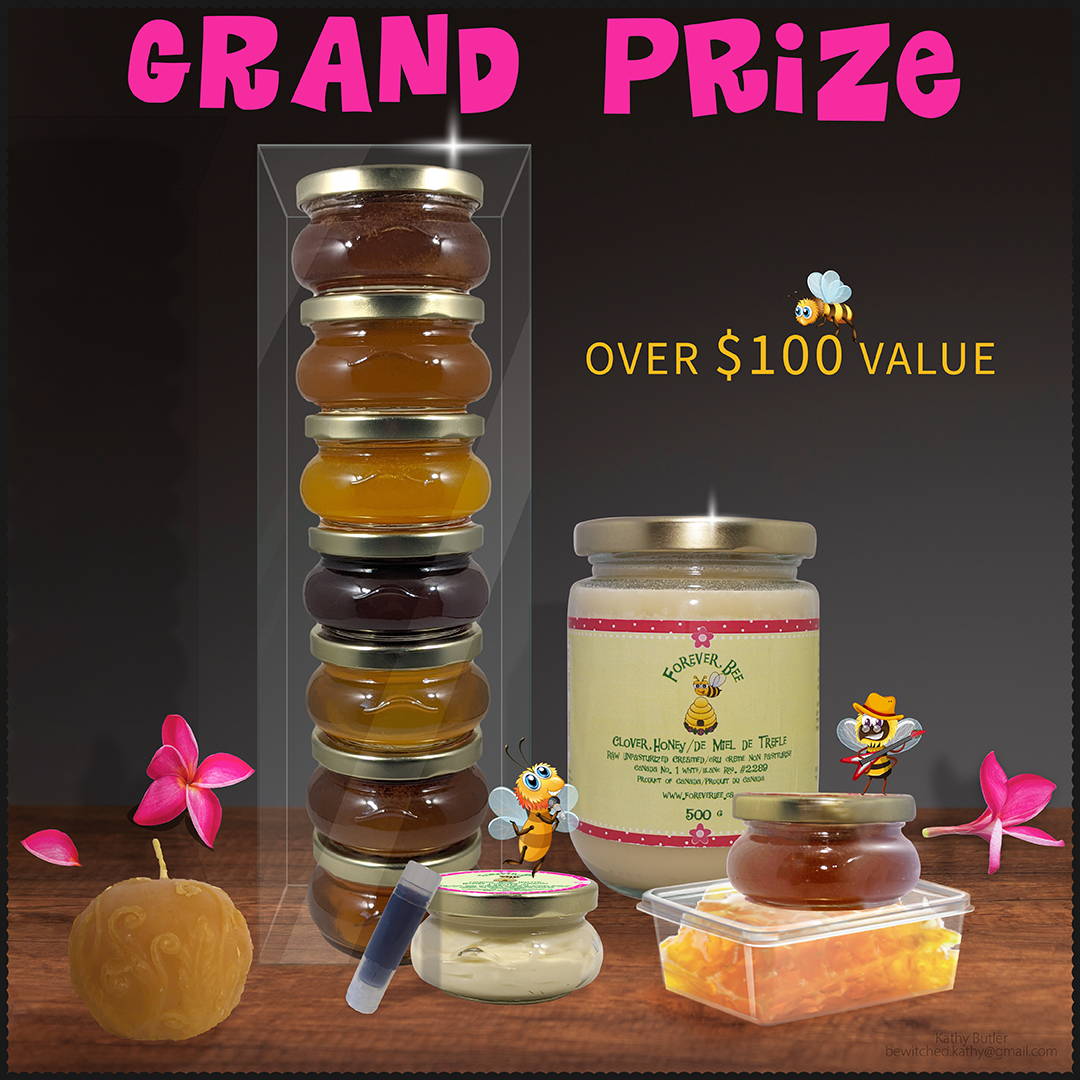 ---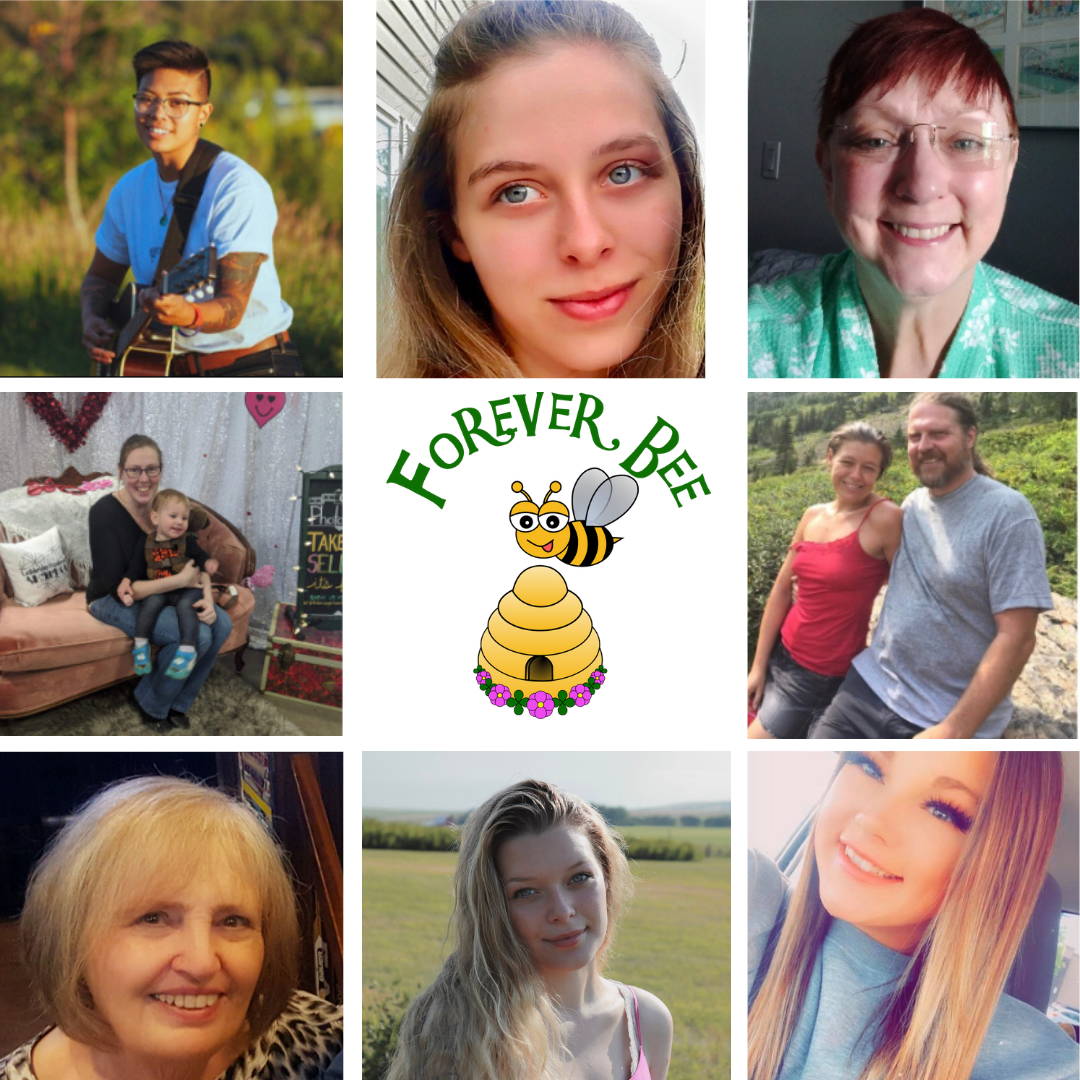 Get to know our team you will see responding to comments and emails today. Please say hi to us and our amazing team :)
Hi 🙂 We are Matt and Annanie and we started Forever Bee almost 9 years ago from the ground up. We have 5 kids and 2 grandkids and most of them have been involved in the business to some degree. They have helped with beekeeping, making candles and flavoured honey, and staffing markets. We are so appreciative of having such a loving family, a hard-working team to help us, and an incredibly supportive community.
Hi, I'm Ritzie! I am Matt and Annanie's daughter and I have been with Forever Bee since the very beginning and have loved watching as we continue expanding our production and develop meaningful relationships within our community. When I am not helping out behind the scenes, I enjoy traveling and spending time with my family.
I'm Kathy, aka Aunt Kathy. Knowing I'm Matt & Annanie's most favourite Auntie in the world 🙂, how could I resist being involved with their family business while doing what I like to do most - Digital Art Illustrations & of course eating honey? Forever Bee's honey is the best I have ever tasted so being part of their team to spread the sweetness is to me, "the bees knees"!
Hi, I'm Kira. I'm Mom to a bee-utiful 2 year old and brand new baby squish. I love being a part of the Forever Bee Family. This year has been particularly interesting to see our team adapt to the unpredictable changes in today's world. I'm so proud to be a part of this family.
Let me introduce myself: my name is Heather and I am lucky to be the lady who delivers your honey in the Calgary area. I also help in the warehouse and when markets are running, I love to introduce Forever Bee products to customers, old and new!
Hi, I'm Lanice! I am fun, outgoing, and a self proclaimed pun master. I work in the main warehouse and take pride in the hand crafted products that are delivered to you. In my spare time you can find me playing music and signing at local gigs.
Hey, I'm Cat! The youngest of Annanie and Matt's daughters and a new addition to the team - I get to talk to all you lovely folks online and help with all our social media! I have literally seen this business grow since day one and have never been anything less than amazed at the community it has brought together!
Hey there, I'm Sinead! I'm new to the warehouse team here with Forever Bee, so I get to have a hand in getting those amazing products out into our communities! I am so excited and happy to be a part of such a wonderful team :)
---
At Forever bee we LOVE all things honey, but there is nothing better than delicious, chewy honeycomb straight from the hive! Join us in this video to see the behind-the-scenes of how we harvest our honey from our hard working bee friends!
We are giving away a 1 lb container of honeycomb today.
Send your questions and comments to us for an entry into the giveaway! Invite your friends, place an order, text us again and you could be the lucky winner.
Call/Text us at 403-915-0454
Email us at sales@foreverbee.ca
---
Our Creamed Clover honey is an absolute favourite with most of you :) The reason why most folks love this is because of the smooth, creamy taste, the mild flavour and the fact that it will never go hard nor crystallize.
We never heat this honey nor do we filter it so all the goodness and antibacterial properties are still active. This is also the reason why your honey will last forever, because it is raw.
Raw honey can be used for burns, cuts, coughs, sore throats, allergies and keeping your immune system strong.
We love it in our coffee, tea, yoghurt, lemon water and all the cooking and baking as sugar replacement. Here is a favourite family recipe of ours that was handed down the generations. This recipe is so fun to make and the end result is well worth the work!
GIVEAWAY!!
We would love to see pictures or read the recipes of your favourite recipe you've made with creamed honey! Send us your entries to be entered to win a free 500g jar of our Raw, Creamed Clover Honey.
Call/Text us at 403-915-0454
Email us at sales@foreverbee.ca
Crunchies made with Raw Creamed Clover Honey Recipe
Click here to try our Raw, Creamed Clover Honey for yourself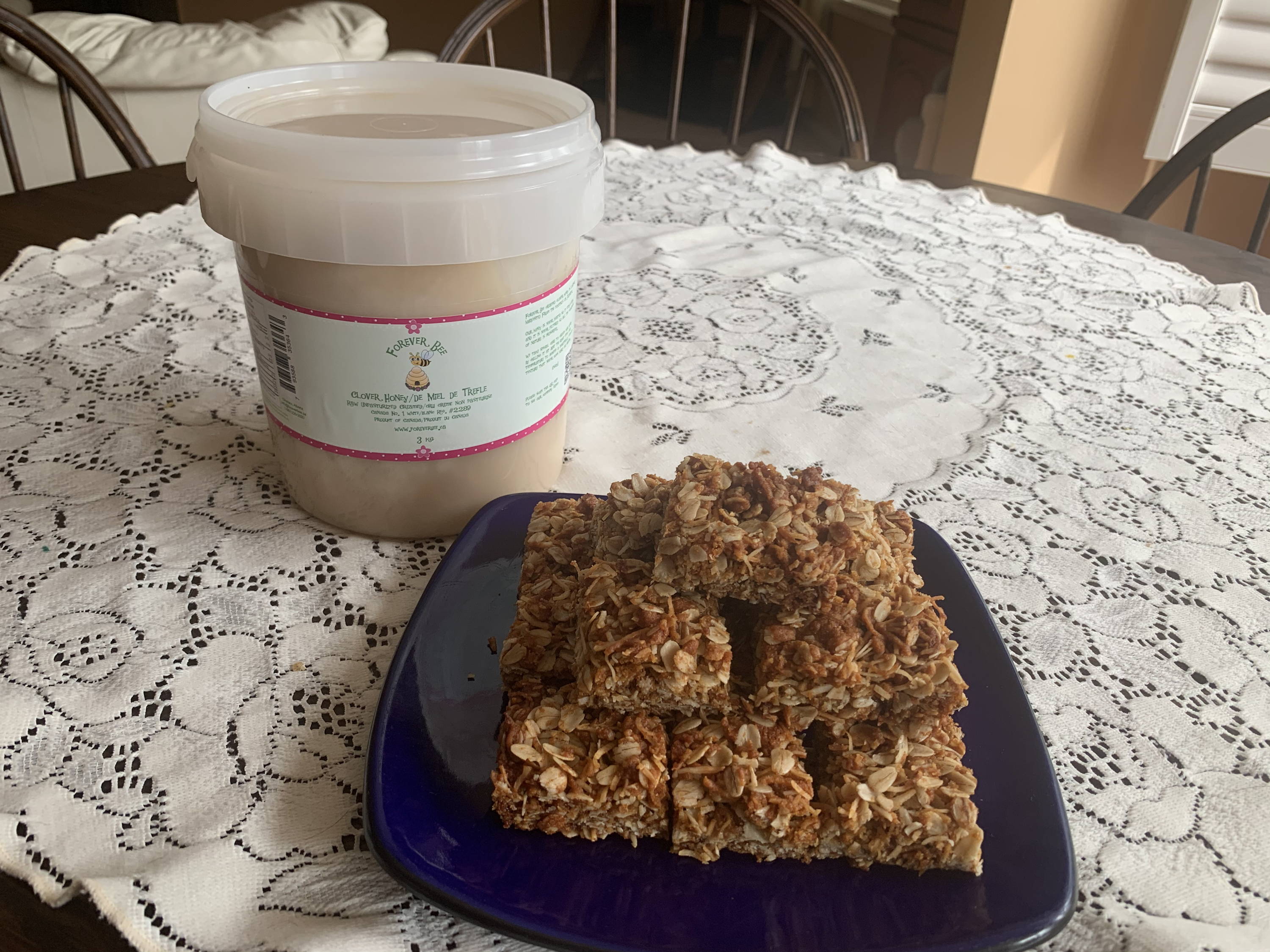 ---
One of our favourite parts of doing a live online market is getting to give all our amazing customers some extra special promotions! Starting now and continuing until Sunday at Midnight:
All orders will receive one of the following included with their order:
$30-75 - 5 Honeystix, Lippy balm & Free Delivery (In Local zones)
$76-125 - 5 Honeystix, Lippy Balm, 2 Votive Candles, 125g Honey Gift Jar & Free Alberta Shipping
$126+ - 5 Honeystix, Lippy Balm, 2 Rolled Candles, Beeswax Firestarter, 125g Honey Gift Jar & Free Canada Wide Shipping
Remember every purchase made this weekend gives you an extra entry into the Grand Prize Giveaway!

Note: The gift with purchases is not stackable with honey money rewards or the beeseeds offers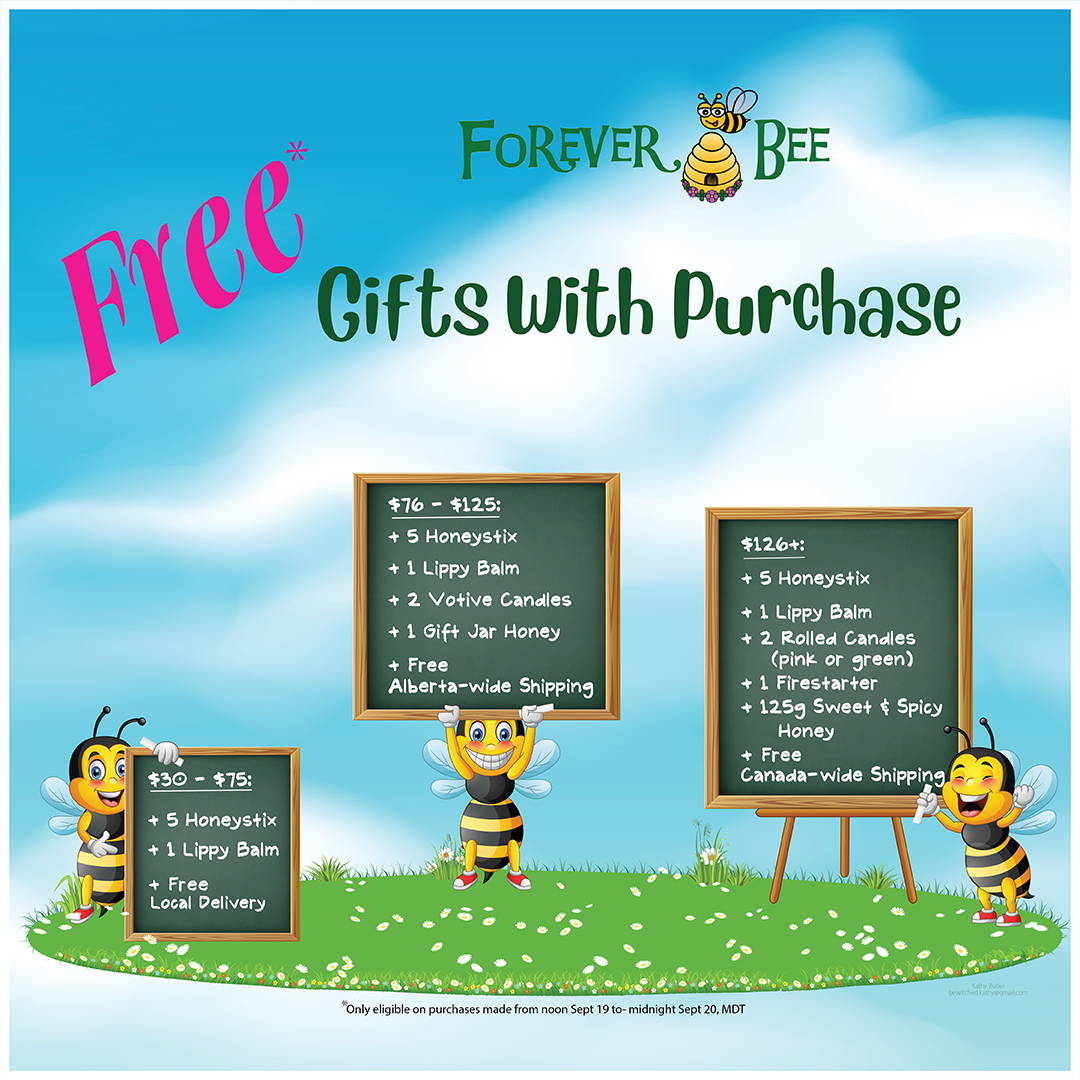 ---
This is by far one of my favourite beekeeping videos. In reality it takes about 10 minutes to get properly dressed for beekeeping. Matt has done such a "sweet" job of speeding up that process in this video.
For those who always ask: yes, we are fully clothed under our beesuits :) Even on days that it is 35 degrees out. It gets really hot!!! Ask us your questions and we would love to chat with you.
We'd love to know.. How many bees do you think live in a hive? Let us know by call/text 403-915-0454 or email sales@foreverbee.ca
---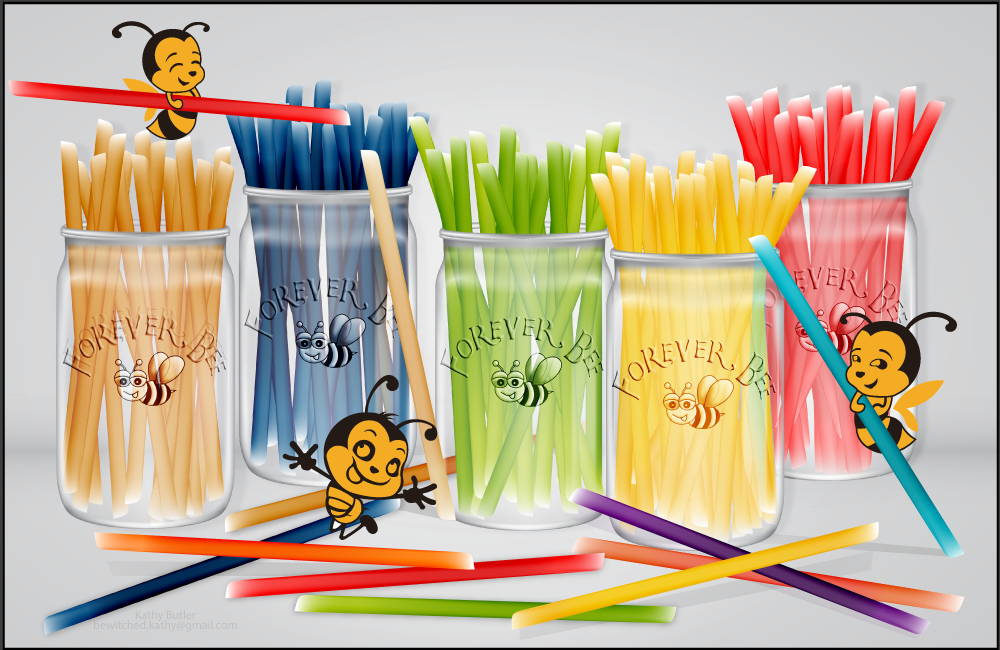 Did you know we have a free resources page, where you can download all our amazing resources for FREE? Our free resources include our Gardening for Bees eBook, colouring pages, environmental stewardship checklists, and so many more.
In order to celebrate this resource page we are doing a kids colouring contest!
Print out the colouring pages and have your littles colour during our online market, then take a picture at the end of our event and post it in the comments below before midnight on Sunday Sept 20th for a chance to win a Honeystix variety pack worth $20! As with the rest of our contests, each comment is a chance to win! Let us know which of these resources are your favourites
Free Resources Page 
Colouring Page
When your page is all coloured in, send it to us to be entered to win a pack of Honeystix. Text photos to 403-915-0454, email them to sales@foreverbee.ca or upload them to your Facebook and tag us!
---
8 Years ago we decided to start making an all natural body butter with ingredients that are safe to use regardless of your skin type. I am also allergic to everything so I wanted to create a product that I could safely use all over my body and will not cause a breakout, rash or itching.
Well, we did it. Our all natural body butter is a beautiful blend of organic, raw, crude products just as nature intended. Everything in our body butter is safe enough to eat - which means it is safe and nourishing for your skin. One of the most amazing benefits of our body butter is that it can be used on your face, body, hands, feet and hair.
We decided on the following ingredients:
Organic, Crude, Raw, Ethically Sourced Shea Butter from Ghana:
Nourishes the skin with Vitamins A, E and F
Naturally anti-inflammatory
Natural sun protection
Prevents against premature wrinkles
Highly absorbable
Helps soften dry and damaged hair
Raw, Organic, Crude Cacao Butter from Equador
Large amounts of antioxidants
Helps prevent wrinkles and signs of aging
Moisturizes hair and provides strength; prevents dandruff
Anti-inflammatory
Great for eczema and psoriasis
Raw, Organic Apricot Kernel Oil
Loaded with Vitamins E and K
Powerful antioxidants
Naturally anti-inflammatory thus helps with eczema and psoriasis
Highly absorbable by the skin
Strengthens hair and prevents and reduces dandruff
Forever Bee Beeswax from Alberta
Creates a protective barrier on the skin
High in Vitamin A
Naturally anti-inflammatory
Anti-bacterial and anti-fungal
Read more about the amazing properties and benefits of our all natural body butter
---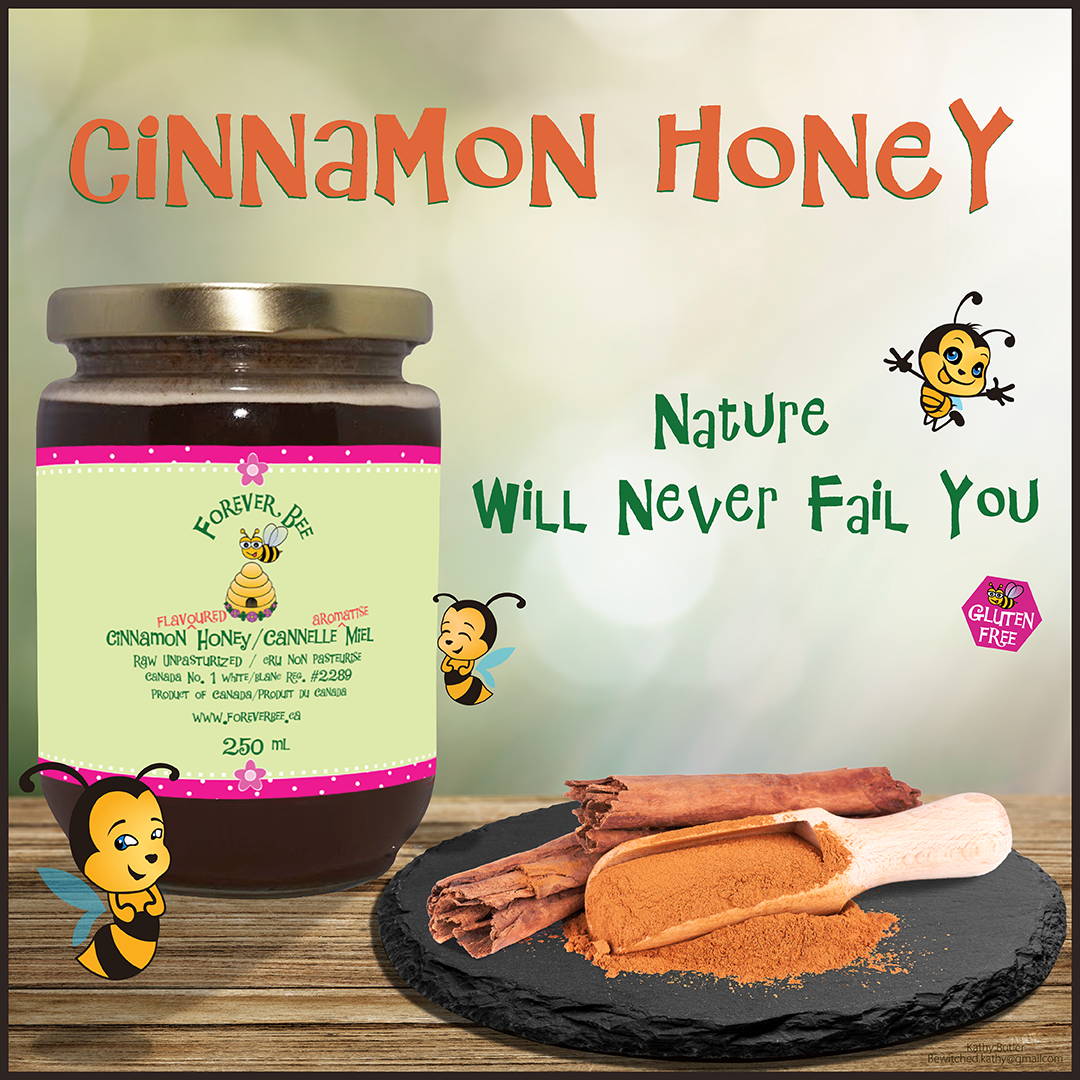 Forever Bee Raw, Unfiltered Clover honey mixed with Organic Ceylon Cinnamon is a natural anti-inflammatory, and the tastiest cinnamon you can get. Our Ceylon Cinnamon comes from a small organic farm in Sri Lanka - one of the last places on earth where real (Ceylon) Cinnamon is still grown.
Did you know that there is a huge difference between the Cinnamon most folks purchase from the store and Ceylon Cinnamon? Most Cinnamon in the world is grown in Vietnam and other places. This type of Cinnamon is not the real thing. Visit our website to find out more about the differences in Cinnamon and the amazing health benefits of Ceylon Cinnamon.
https://foreverbee.ca/apps/help-center#!hc-the-difference-between-cassia-cinnamon-and-ceylon-cinnamon
GIVEAWAY!
Share with us some of your favourite memories when you smell or taste Cinnamon. We love to get to know you better. Ask us questions or share your recipes. The winner will receive a jar of Cinnamon Honey!!! Call/Text 403-915-0454 or email sales@foreverbee.ca
---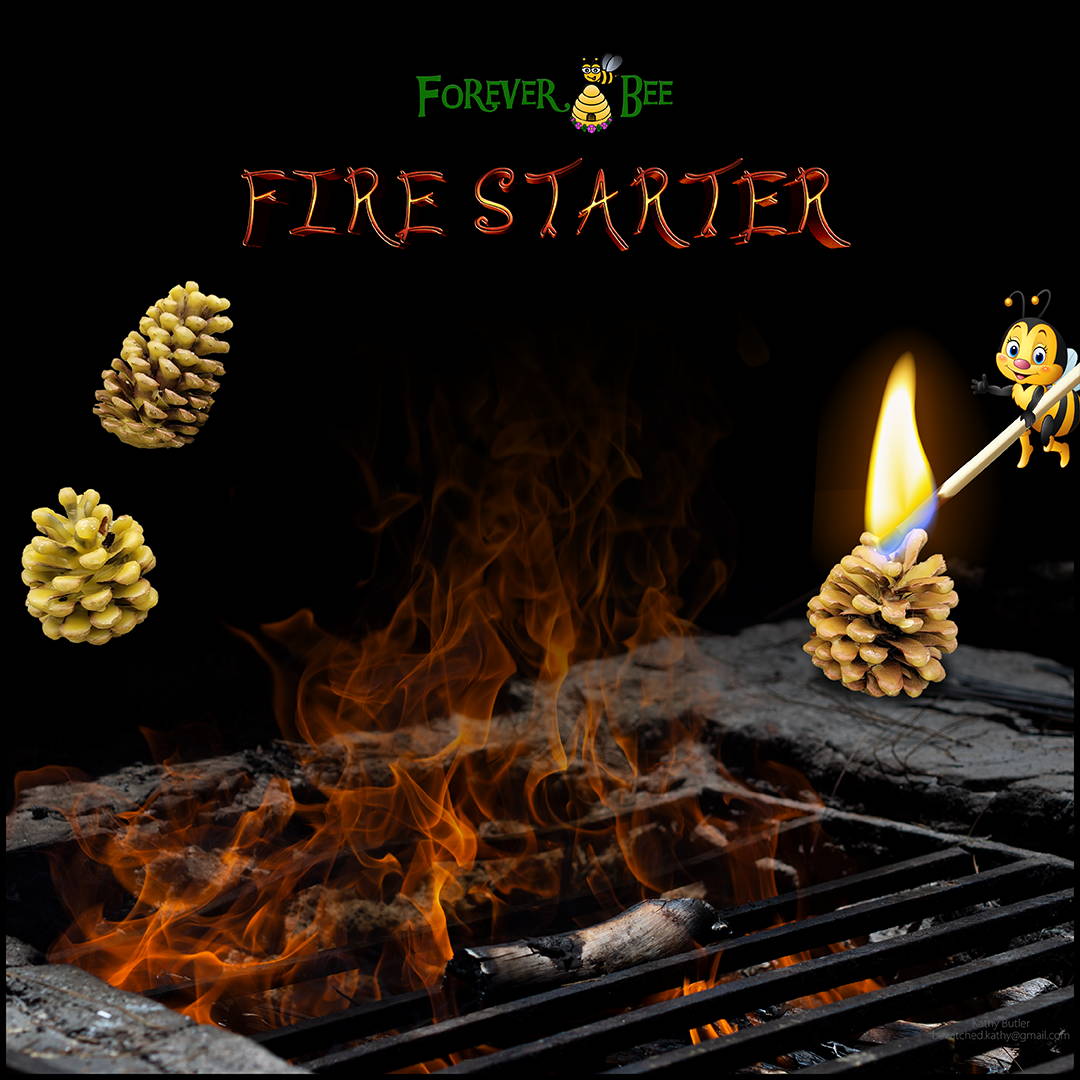 It is that time of year again where we need a little warmth to be able to stay outside for longer. Or you might be one of the lucky ones that still has a wood burning fireplace in your home.
These all natural fire starters are made with the very best; pure beeswax, dipped onto cinnamon spice scented pine cones. Not only are these the perfect way to start your fire on the holidays, but the best smelling decorations for on your mantel. Smell the fresh pine blend with the all natural beeswax, and you may never want to go anywhere without one!
This is one of the fun ways in which to use our Beeswax. It is so easy to make. Melt down the beeswax in a double boiler and dip your pinecones in the beeswax about 5 to 10 times. You can even tie little ribbons around them and hang them on the Christmas Tree. What a fun afternoon activity and your friends will love the gifts.
GIVEAWAY!!
One lucky person will win a 3-pack of our firestarters. Call/Text 403-915-0454 or email sales@foreverbee.ca with a favourite memory or tradition around the fire (at home or outside) and you will be entered to win.
All orders over $125 will also receive a firestarter as part of their FREE Gift with Purchase.
---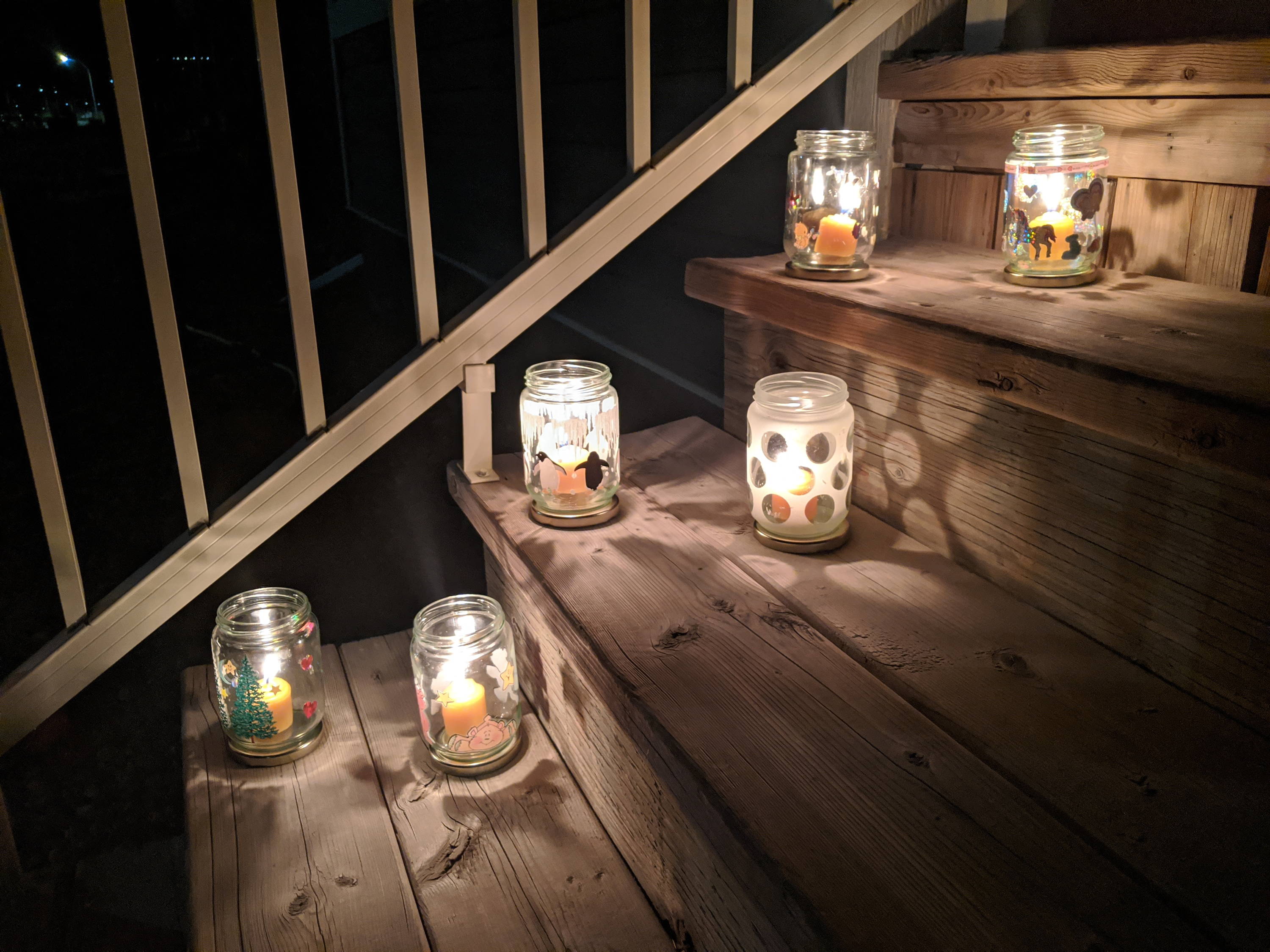 Candles create the perfect ambiance no matter what mood you're setting. Are you getting spooky for Halloween, setting up a romantic dinner, or getting ready for the Christmas season, or even getting married? With all different styles, ranging in size, design, and shape, these candles make the perfect gift or centre piece.
We love getting to craft and mold these candles. Each candle is made with 100% natural beeswax, burning for hours on end, leaving whatever room you put them in smelling fresh.
Pure beeswax candles are perfect because they do not drip, they don't smoke and they clean the air while they burn. Their light is also the same spectrum as the sun, which is great for stimulating "happy hormones".
Also, because beeswax candles do not drip they have a much longer burn time than most other candles.
GIVEAWAY!!!
Call/Text 403-915-0454 or email sales@foreverbee.ca with your favourite ways in which to use candles and you will be entered to win a package of our votive candles :)
---
Health conscious living isn't just for humans, it's for all living things including bees!
Being health conscious isn't just thinking about what goes into your body, but where that food comes from and the health of the animals - or insects- it comes from.
We take care of our bees to protect them and keep them healthy, so that the honey they produce is the healthiest and tastiest it can be for you.
We are ready to answer all your questions and respond to your comments. We would love to talk with you about the health of our bees :) Connect with us via call/text 403-915-0454 or email sales@foreverbee.ca 
---
What is our newest Forever Bee flavour? Put in your best guess because the Big Reveal is coming up next.
You could be the lucky winner of ...............
---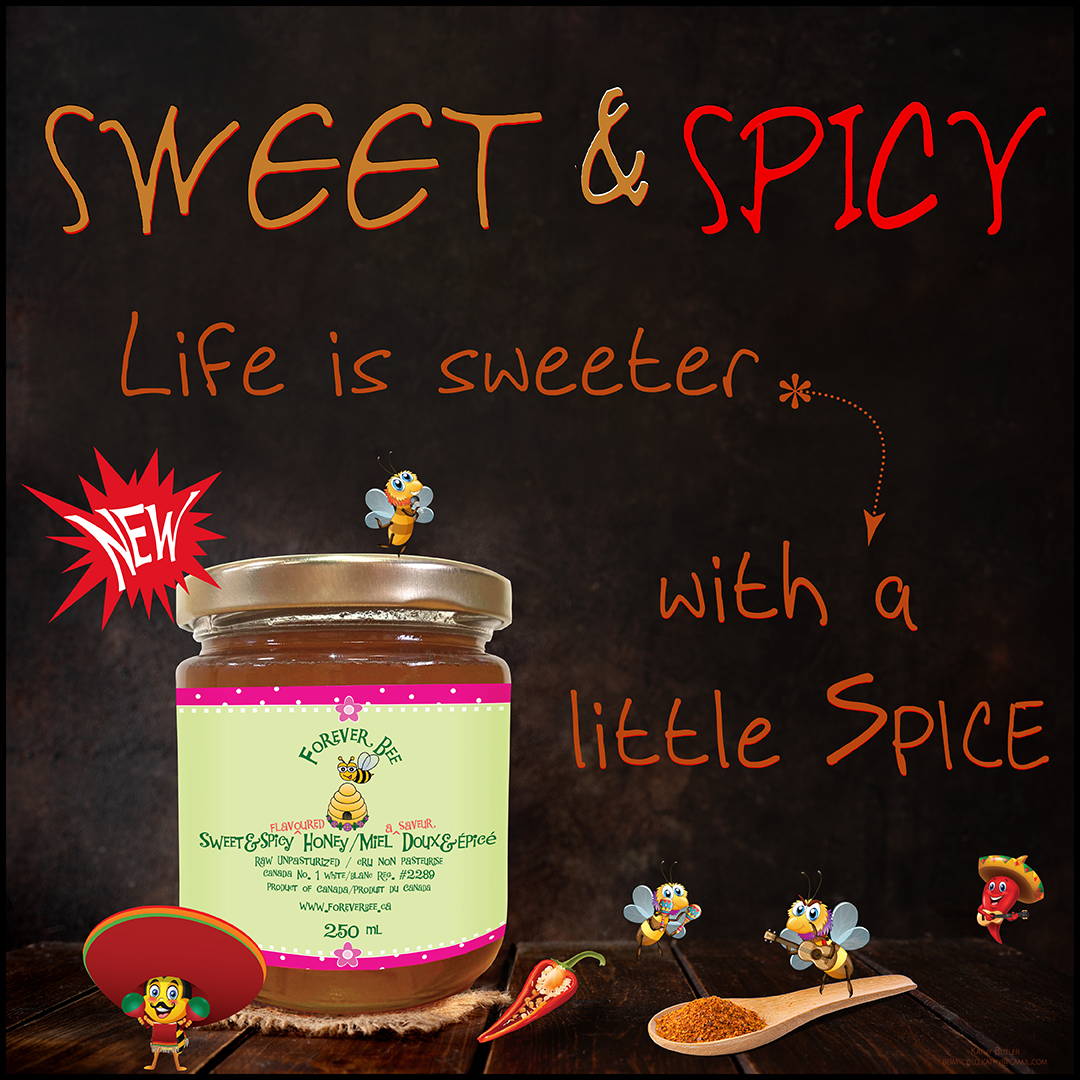 Here it is folks. You have been asking for it, we have been teasing you for weeks........ It is finally here.
Our newest Forever Bee Flavour is.........Spicy Honey. We call it Sweet & Spicy.
Our Sweet & Spicy honey is a beautifully balanced mixed of our Raw Clover Honey and Organic Cayenne Pepper. We are so excited for you to try this new flavour in all your recipes and also for its amazing health benefits.
Health Benefits of Raw Honey and Cayenne
- Speeds up your metabolism
- Naturally anti-inflammatory
- Relieves Pain
- Curbs hunger
For your chance to win a jar of our new Sweet & Spicy Honey, share a recipe you would like to try with this new honey. Send it to 403-915-0454 or email sales@foreverbee.ca
Really tasty recipes for Sweet & Spicy Honey can be found here
---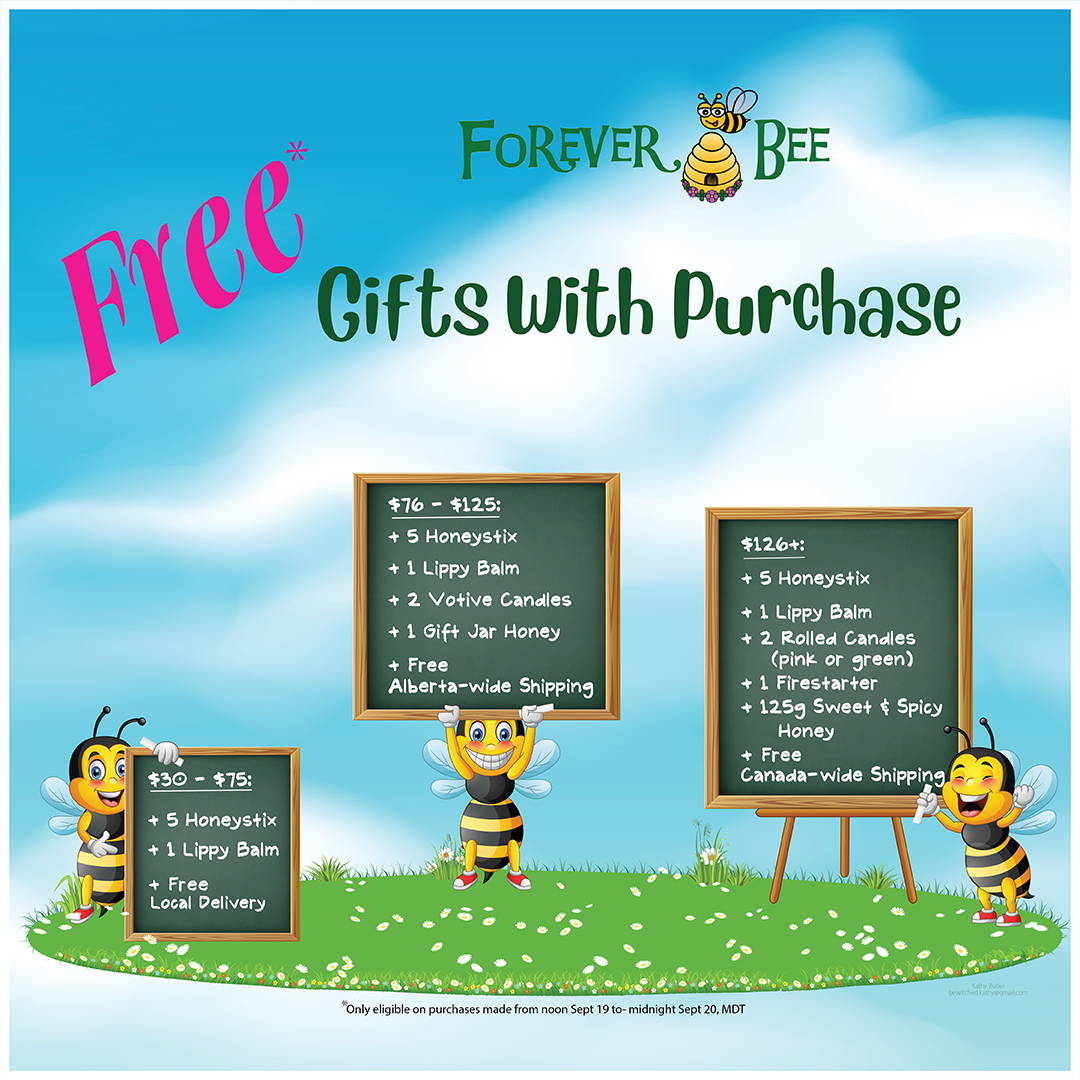 We just wanted to say Thank You for all your support. One way in which we can show our gratitude is by offering gifts to our amazing customers and honey-lovers. Here is another quick rundown of our Gifts with Purchase.
$30-75 - 5 Honeystix, Lippy balm & Free Delivery (In Local zones)
$76-125 - 5 Honeystix, Lippy Balm, 2 Votice Candles, 125g Sweet & Spicy Honey & Free Alberta Shipping
$126+ - 5 Honeystix, Lippy Balm, 2 Rolled Candles, Firestarter, 125g Sweet & Spicy Honey & Free Canada Wide Shipping
Remember every purchase made this weekend gives you an extra entry into the Grand Prize Giveaway!

Note: The gift with purchases is not stackable with honey money rewards or the beeseeds offers.
---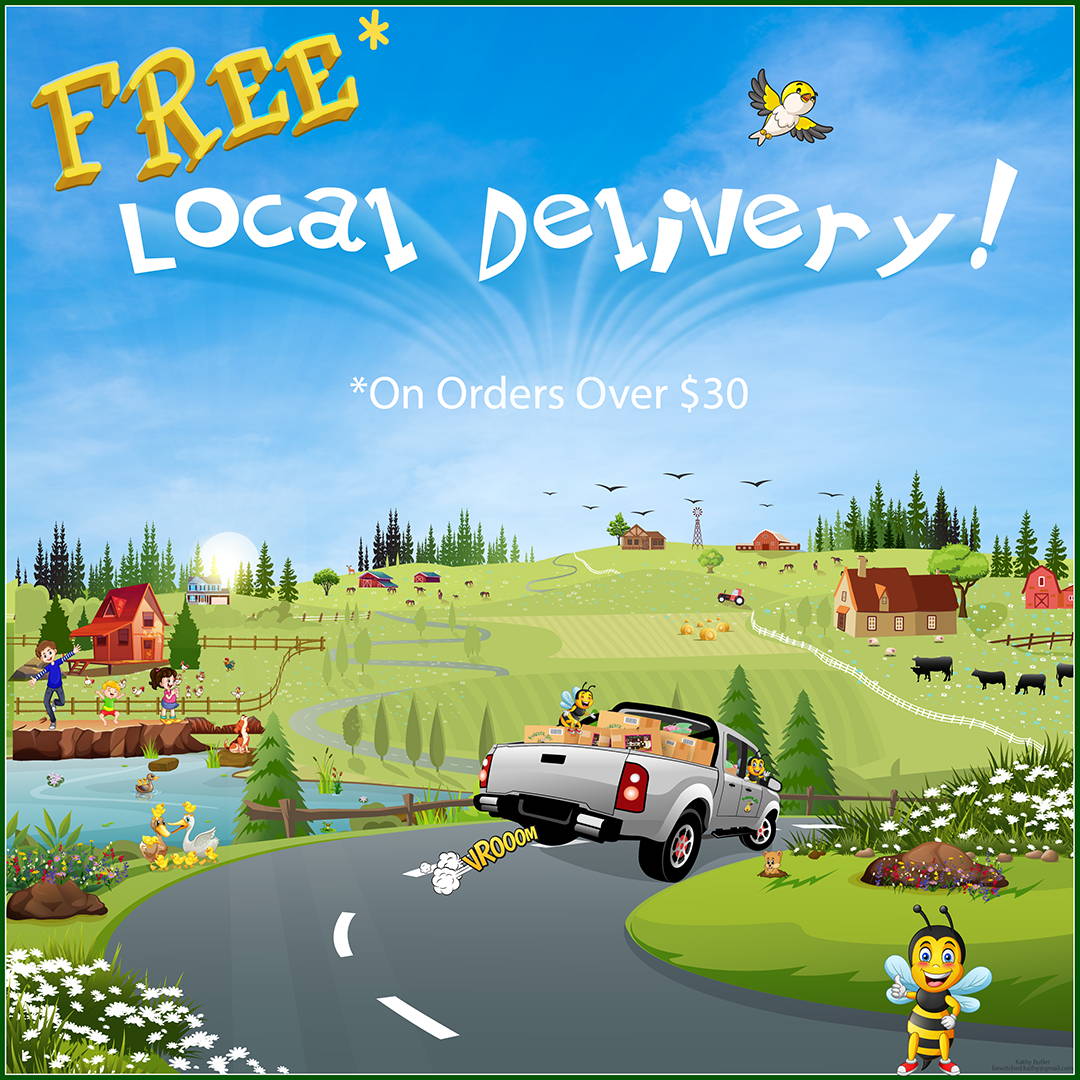 Our online market is so fun, but we love getting to see your faces as well! Here is where you can find us for the next week!
Wednesdays - Banff Farmers' Market 10am - 6pm
Saturdays - Lethbridge Exhibition Park Farmers' Market 9am - 2pm
                  - Okotoks Elks Hall Farmers Market 11am - 3pm
Every second Saturday - St. Albert Farmer's Market 10am - 3pm
Sundays - Bearspaw Farmers' Market 10am - 2pm
We are also still offering our FREE delivery service so make sure to check our delivery days for your area!
Tuesdays: Calgary
Wednesdays: Lethbridge, Coaldale and surrounding areas; Banff, Canmore and surrounding areas
Fridays: Okotoks, Calgary, Airdrie, Cochrane, Chestermere.
Saturday: Edmonton and surrounding areas, Red Deer and surrounding areas, Airdrie.
Thursday Sept 24: High River, Nanton, Stavely, Claresholm, Fort Macleod, Champion, Coalhurst, Nobleford, Monarch, Vulcan
*FREE DELIVERY on orders over $30. Below $30 there is a $5 delivery charge.
Visit our website to order online, get delivery straight to your door or get your order shipped to your home. Shipping in Alberta is *FREE on orders over $75 and *FREE Canada-wide on orders over $125!
Orders can also be placed by call or text 403-915-0454 or email sales@foreverbee.ca
---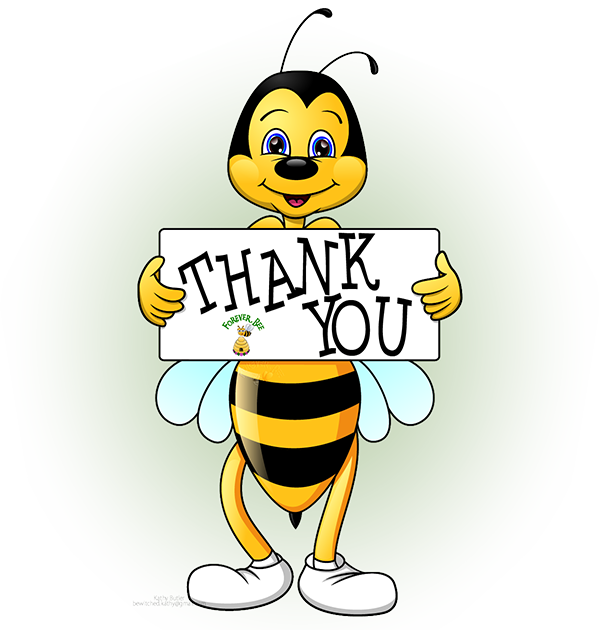 We just had the most amazing time visiting with each of you. Matt and I and the rest of the Forever Bee team love spending our time answering questions and getting to know you.
Remember to claim your 500 points on the next post. All we ask is that you send us your feedback about the live event. If you had a great time, then remember to RSVP for more fun next month.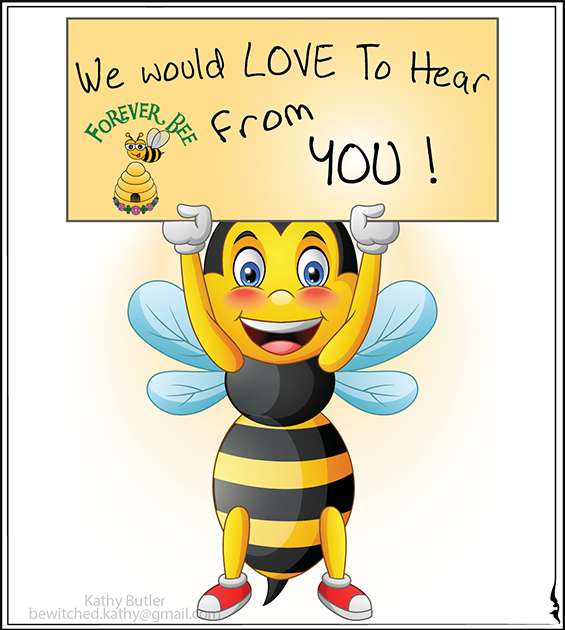 Thank you so much for joining us! We hope you had as much fun as we did.
A quick reminder of the promotions and giveaways:
300 bonus points for attending - email Kira@foreverbee.ca with "Attended" in the subject line and we will add your bonus points to your account.
Gifts with purchase: buy more, get more! For this weekend only!
Grand Prize draw for engagement & orders placed
Product giveaways where mentioned
Free delivery with qualifying purchase for standard delivery areas
*All winners will be announced Sunday Sept 20 at noon!*
And one more promotion to announce now ;) :
WIN 200 bonus points for providing us with feedback about your experience this afternoon!
Email Kira@foreverbee.ca  with your answers to the following questions:
- What was your favourite part of the event?
- What was at least one portion of the event that you would change and why? - And any other notes you wish to share! 🙂
Upon receipt of your email, we will credit your account with your bonus points so make sure to use your account email or provide it to us when you send your message!
For any questions or concerns feel free to message our page, email sales@foreverbee.ca, or call/text 403-915-0454. To place an order, visit https://foreverbee.ca or use any of the points of contact above!