Mother's Day Market - April 17, 2021
It is time for another one of our very fun and educational Online Markets ::) Join us on April 17, 2021 from noon to 3pm for our LIVE Online Mother's Day Market!
Our Online market is filled with behind-the-scenes beekeeping footage, videos of our bees, workshop, staff and products. We will also be introducing new services and of course we also have loads of Giveaways and Promotions. Don't miss out. This market is a must just before Mother's Day.
Invite your mom, daughter, grandma and friends and spend a fun afternoon with us LIVE!
Bookmark this page, or RSVP to our Facebook Event here.
Welcome To Our Online Market!
Alright everybody, get ready! Throughout the afternoon we will be here to visit with you LIVE. We will be showing you all our behind-the-scenes footage, and answer all your questions. There will many amazing giveaways, promotions, returning and NEW products as well as a coveted Grand Prize! As you interact, comment, order, like, share, refer and tag friends, you will get more entries to win the Grand Prize!
We have a series of images and videos here to share today. We also have giveaways on many of them. Please feel free to ask us any questions or leave us your comments. We are here for you today and are so excited to visit with you. You can enter the giveaways by chatting with us on our website live chat, emailing us at sales@foreverbee.ca or by texting Kira at 403-915-0454. You can also join the conversation on our Facebook Event.
These giveaways will be live until MIDNIGHT Saturday, we will complete the draw and the lucky winners will be announced on Sunday!
Stay tuned to see all the exciting things this market has to offer, jump in when you can, and hop around to see all the fun posts and videos coming up every few minutes until 3:00pm!!
*Sometimes during the online market we get a bunch of party-poopers who try to hack our online event. We usually take care of them very quickly. We will not ask for any credit card or personal information during this market, the only external links used will be directly to our website. The only thing necessary to join in is you! Winners will not be directly contacted, winners will be asked to contact us after the draw.*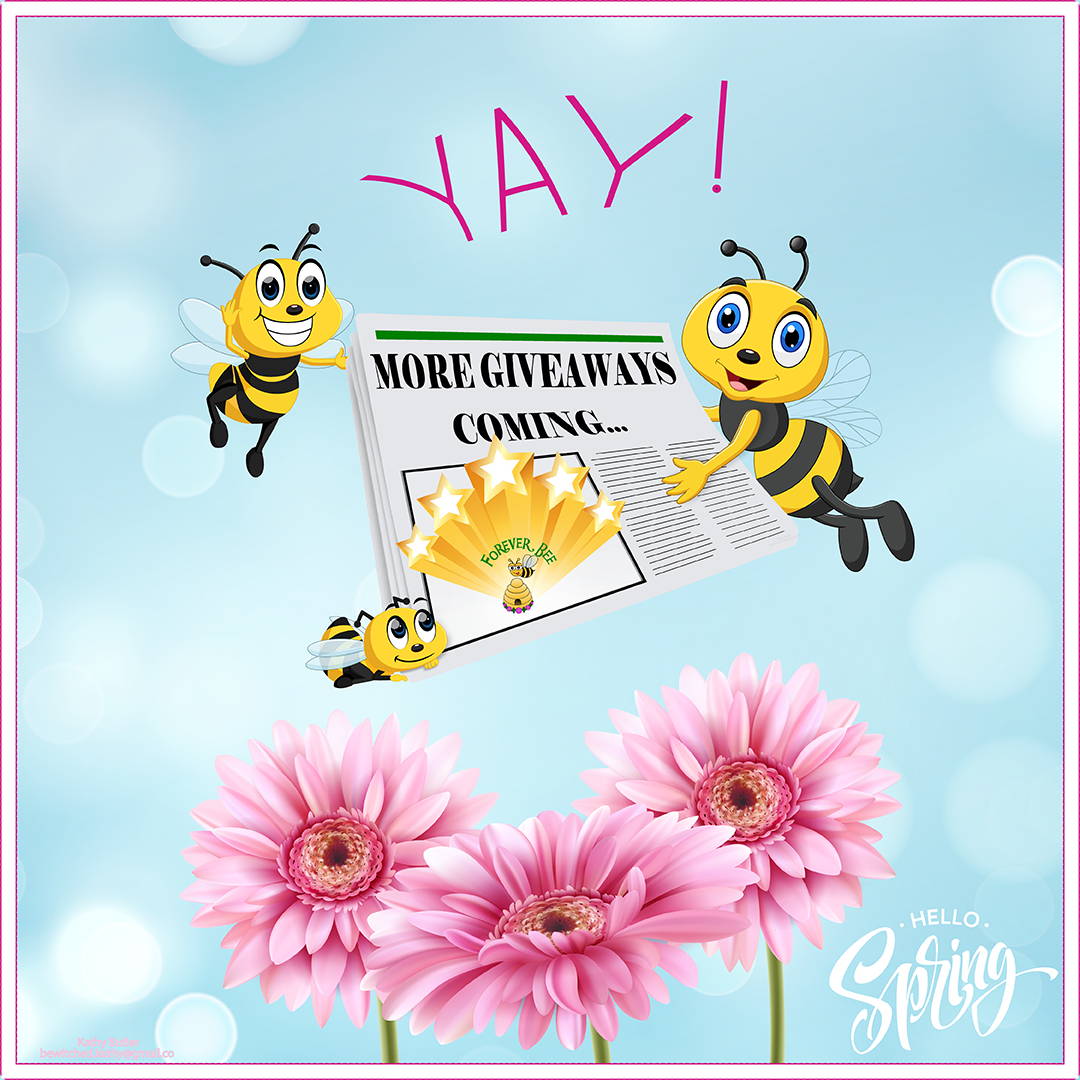 We have such an amazing team here at Forever Bee. Everyone always give more than 100% and they do so with lots of smiles, fun and love. Here are the staff members who make this team to great:
Kira: She is our Business Manager, Customer Service Rep, Lethbridge delivery person, and all-around amazing, friendly and go-to person. She takes care of everything and everyone. When we need information or extra tasks completed, Kira is the person to ask :)
Lanice: They are our Warehouse Supervisor and they are an absolute guru in making all our candles, body butters, lip balms, flavoured honeys and everything else. They keep things running smoothly, make sure we never run out of supplies and always has a smile and kind word for everybody :)
Maritza: She is our daughter and has grown up with Forever Bee since she was 12 years old. She now works in the workshop while also attending University. She makes sure that everyone's deliveries and shipments are packaged beautifully and correctly, she helps to make all the products, she writes all the beautiful cards we include in shipments and everything else we need help with. She is always willing to do more and so easy to get along with :)
Aunty Kathy: Aunty Kathy is quite literally our Aunt :) She is so talented at making beautiful graphics. She is also very good at reading my heart and taking the feeling in my heart and portraying it in the graphics that she makes. All our graphics on the website and social media has been done by her and we absolutely love the quality and care she puts into this.
Erin: She is our delivery and market person in Lethbridge. Erin is always so willing to help, she keeps everything beautifully organized and she is super efficient. Everyone at the market loves talking to her and she is very knowledgeable since she comes from a family of beekeepers :) Erin is also a high-school teacher so she usually joins our team during the summer months.
Matt & Annanie: We are the owners, beekeepers, delivery drivers and so much more. We love to visit with all our customers and we live and breathe our business. Anything we can do to make your life better and healthier, we will be happy to do. In our spare time we also love to spend time with our kids and grandkids, read, meditate, play music and go for walks :)
We thank you all for being here today and we would love to get to know you as well. Tell us more about yourself, your family, your passions and how you spend your free time.
Keep clicking the titles below to follow along with us today!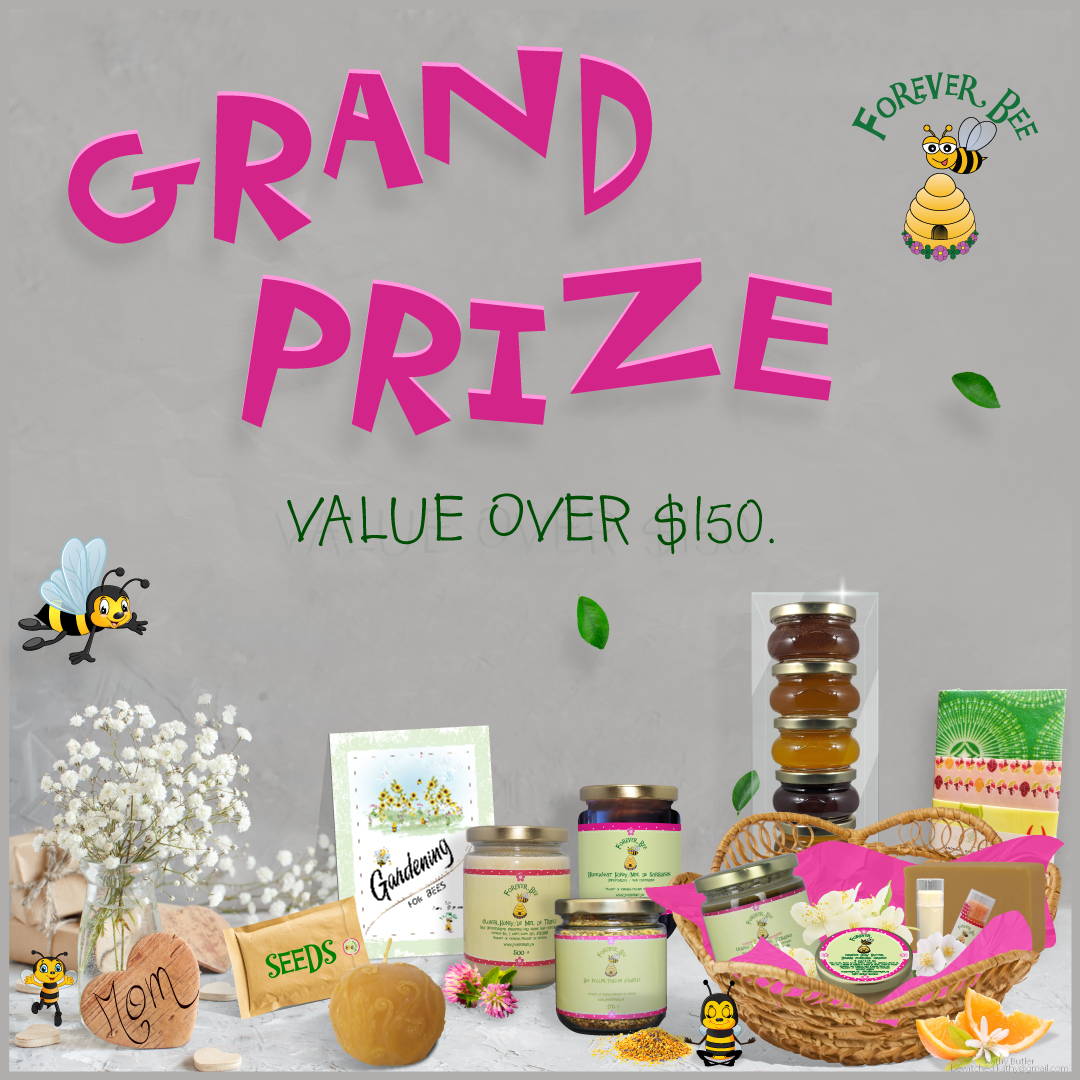 GRAND PRIZE GIVEAWAY!!!
This is one of the most exciting posts I get to write. We love to give away the favourite products we are talking about during the market. This prize is also just in time for Mother's Day - what a treat!! In order to win this amazing prize - worth over $150 - be sure to share, tag, comment and interact with us.
500g Raw Creamed Clover Honey
500g Buckwheat Honey
20 Pack Assorted Honeystix
Large Honey Gift Pack
175g Bee Pollen
Large Bee Seeds Pack
Gardening for Bees Handbook
Orange Treasures Bundle:
- Orange Honey
- Orange Body Butter
- Orange Beeswax and Honey Soap
- Orange Lippy Balm
- Naked Orange Lippy Balm
Food Wrap Pack (3 Wraps)
Ball Candle
ENTER TO WIN:
Tell us how you plan on getting your yard, house, life ready for spring and summer this year :) Any great tips you can give and pictures too :)
Bonus Entries for each order placed before midnight Saturday too.
See inside one of our beehives!
Have you ever wondered what all the different parts of a hive are, what their purpose is and how it all works together? Today I'll take apart a beehive and explain all the parts that make it the perfect home for our bees. Then we will put it all back together again.
Learn something new and see where our delicious honey comes from! :)
You can sign up for email notices about this years harvest for honeycomb here.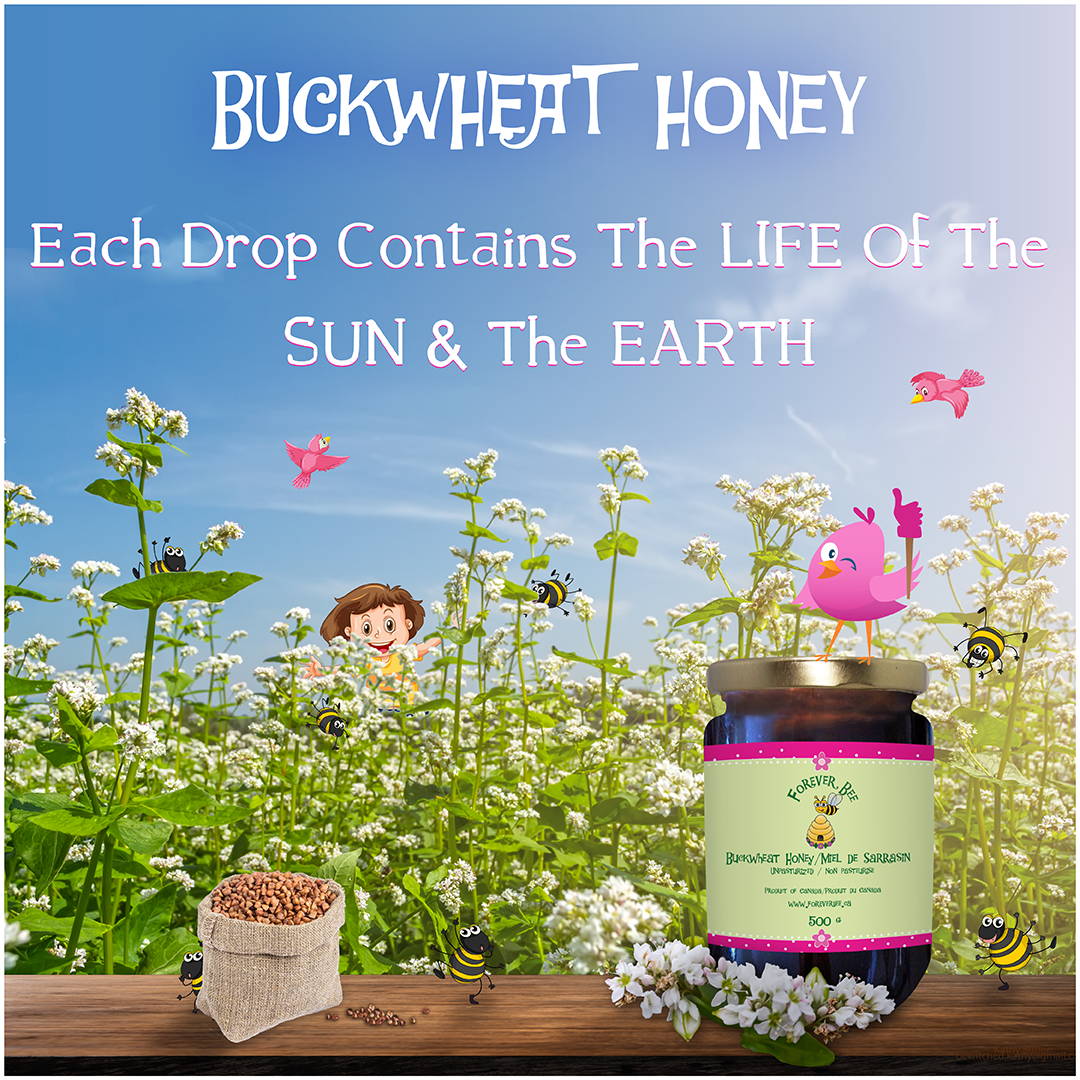 We have been getting such great feedback about our Buckwheat Honey.
This delicious honey, naturally flavoured by the type of flowers the bees visit, comes from the beautiful Manitoba province.
Matt grew up in Sarnia, ON and Buckwheat Honey was the only honey he knew. It is his absolute favourite and he has so many great memories attached to it. Many of you have also asked us for Buckwheat honey over the years and we thought it would be such a great treat to bring it in :)
Buckwheat honey is a great healer. It provides loads of antioxidants and strengthens your immune system. Use it mixed with coconut oil to moisturize your skin or in hot lemon water for a soothing drink when you have a cold. Plus, research suggests that Buckwheat Honey can even help with deep chest congestion!
GIVEAWAY!!!!
We are giving away a 500g jar of Buckwheat Honey to a lucky winner.
ENTER TO WIN
What is the strangest/most unique honey you have ever heard of or tried
Bonus Entries: Share a recipe you use Buckwheat Honey with!
SO much goodness for your body!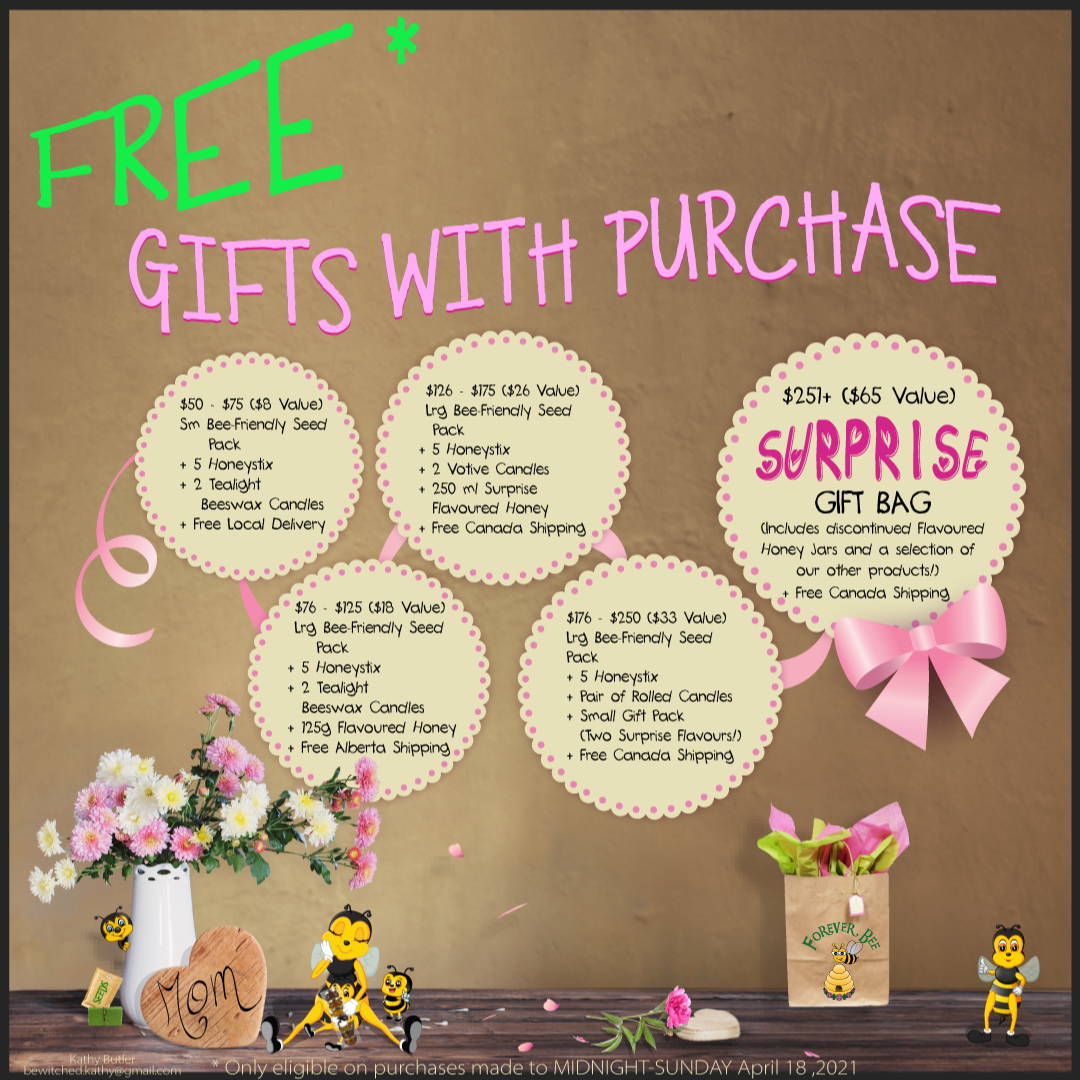 What better way to show our appreciation for all our moms out there than with a special Gift-with-Purchase. Thank you to all the moms that help raise our next generation. Biological moms, adopted moms, dads who step in for moms and everyone who cares for our littles as if they were moms. Thank you for all you do. We appreciate you so much!
GIVEAWAY!
Enter for a chance to win a Surprise Bag ($65 value) AND for an extra entry into our Grand Prize giveaway!!
1. Be sure to 'Share' this event with all your friends.
2. Let us know how you are planning on spending Mother's Day this year.
Check below for each of the spending tiers that are available!
Order value between $50 - $75 ($8 Value)
Small Bee-Friendly Seed Pack
5 Honeystix
2 Tealight Beeswax Candles
Free Delivery
Order value between $76 - $125 ($18 Value)
Large Bee-Friendly Seed Pack
5 Honeystix
2 Tealight Beeswax Candles
125g Flavoured Honey
Free Alberta Shipping
Order value between $126 - $175 ($26 Value)
Large Bee-Friendly Seed Pack
5 Honeystix
2 Votive Beeswax Candles
250 ml Surprise Flavoured Honey
Free Canadian Shipping
Order value between $176 - $250 ($33 Value)
Large Bee-Friendly Seed Pack
5 Honeystix
Pair of Rolled Candles
Small Gift Pack (Two Surprise Flavours!)
Free Canadian Shipping
Order value over $251+ ($65 Value)
Surprise Gift Bag (Includes discontinued Flavoured Honey Jars and a selection of our other products!)
Free Canadian Shipping
I am soooo excited about this video today. Matt and I are LIVE on Facebook from 1-1:30pm and we are running a LIVE market just for you. We have really been missing the markets and visiting with you, so we decided to put together a real market and you can talk to us. If you are unable to join us on Facebook, check back next week and we will share the recording of the video here.
I am going over all the products we have, I am telling you everything about our products just like I would do at the market and I am answering you questions as you ask them :) I will also be doing lots of taste tests (because it is soo delicious) and walking you through all the amazing tastes.
Join us at this LIVE market and ask us all the questions you want or just say hi, hang out and visit with us for the afternoon :)
We are still offering delivery, pick-up and shipping of all our products:
Monday April 19: High River, Nanton, Claresholm, Granum, Fort Macleod, Vulcan, Champion, Coalhurst, Nobleford, Monarch
Tuesdays: Calgary
Wednesdays: Lethbridge
Wed April 21: Banff, Canmore, and surrounding areas
Fridays: Calgary, Airdrie, Okotoks, Cochrane
Sat April 24: Edmonton and surrounding areas; Red Deer and surrounding areas.
Pickup is now available as an option at both our Lethbridge and Okotoks locations. When you choose pickup on the checkout page, an email with instructions will be sent to you :)

*FREE DELIVERY on orders over $50. Below $50 there is a $5 delivery charge.
Our website is open 24/7. You can browse our products, shop and chat with us (though our chat times are limited). We offer FREE shipping across Canada for orders above $125, and FREE Alberta shipping on orders over $75.
If your order is smaller, then we charge a small flat-fee of only $15. Your order will ship out the next business day.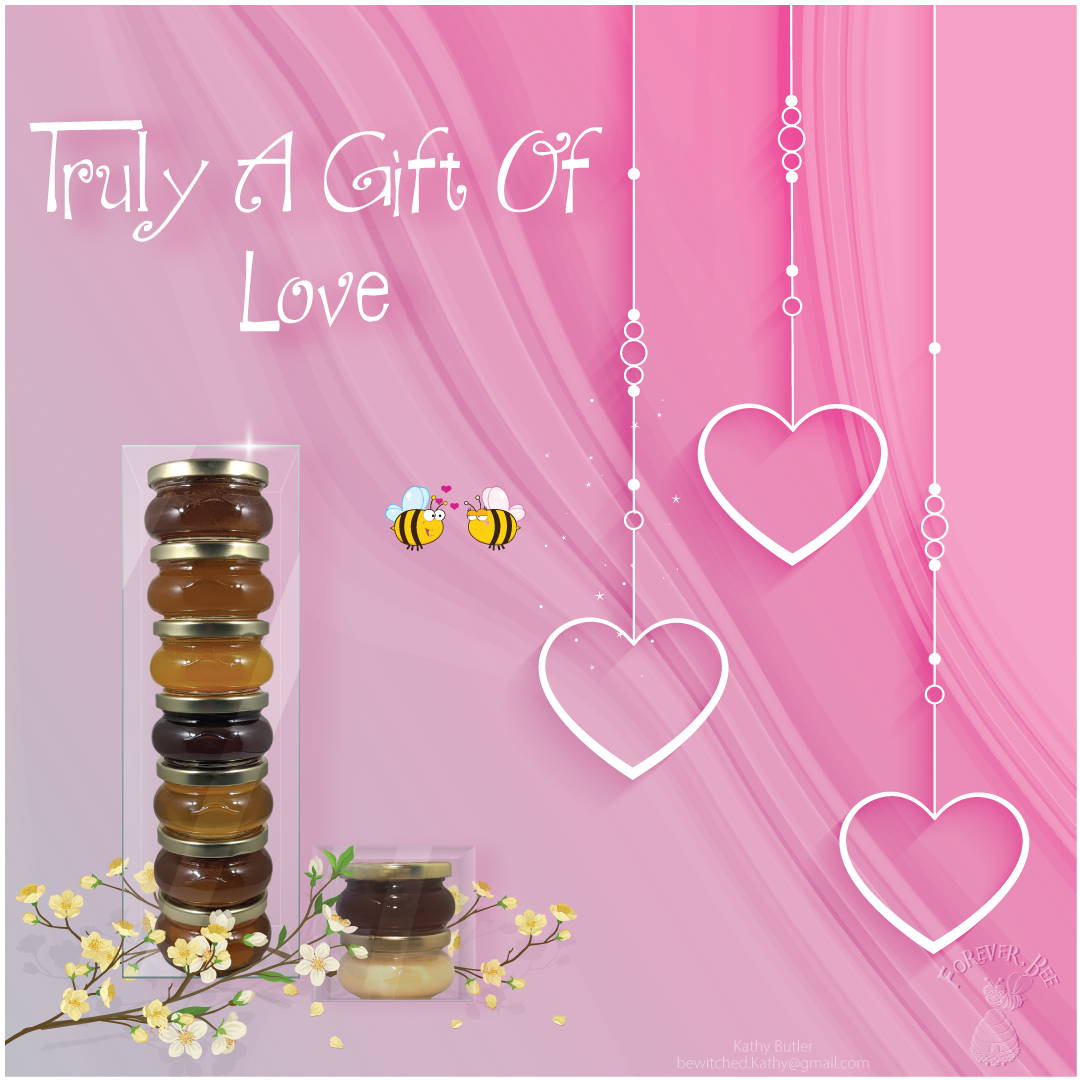 Nothing says Mother's Day better than an abundance of pure sweetness. This is why our Gift Packs are such favourites, especially on Mother's Day.
Each Large Gift Pack includes seven gift jars of honey. The flavours include, raw creamed honey, Cinnamon, Ginger, Lavender, Maple, Sweet & Spicy and our flavour of the month. We also have loads of recipes on our website for each of these flavours which will keep you busy in the kitchen making tasty and healthy creations :)
We also offer a 2-jar small gift pack which includes any 2 of our honeys that you prefer. Just pick your favourite two and we will package it in a beautiful gift pack :)
Visit our Recipe Blog to see all the amazing recipes you can try with these flavourful honeys. Not only are these gift packs fantastic by themselves, but the time you can spend together to create delicious treats, is a gift in and of itself :)
Each Gift Pack order will also come with a recipe booklet containing one of our favourite recipes for each flavour :) If this is a gift for mom, just add a note to your order to let us know and we will add a bow and a note to the gift :) We know she will love it :)
GIVEAWAY!!!!
You guessed it, we are giving away a beautiful Large Gift Pack and Recipe Book to a lucky winner today.
ENTER TO WIN!!!
Chat with us What are your favourite Mother's Day memories or traditions. If you don't have any yet.....then imagine what your ideal would look like :)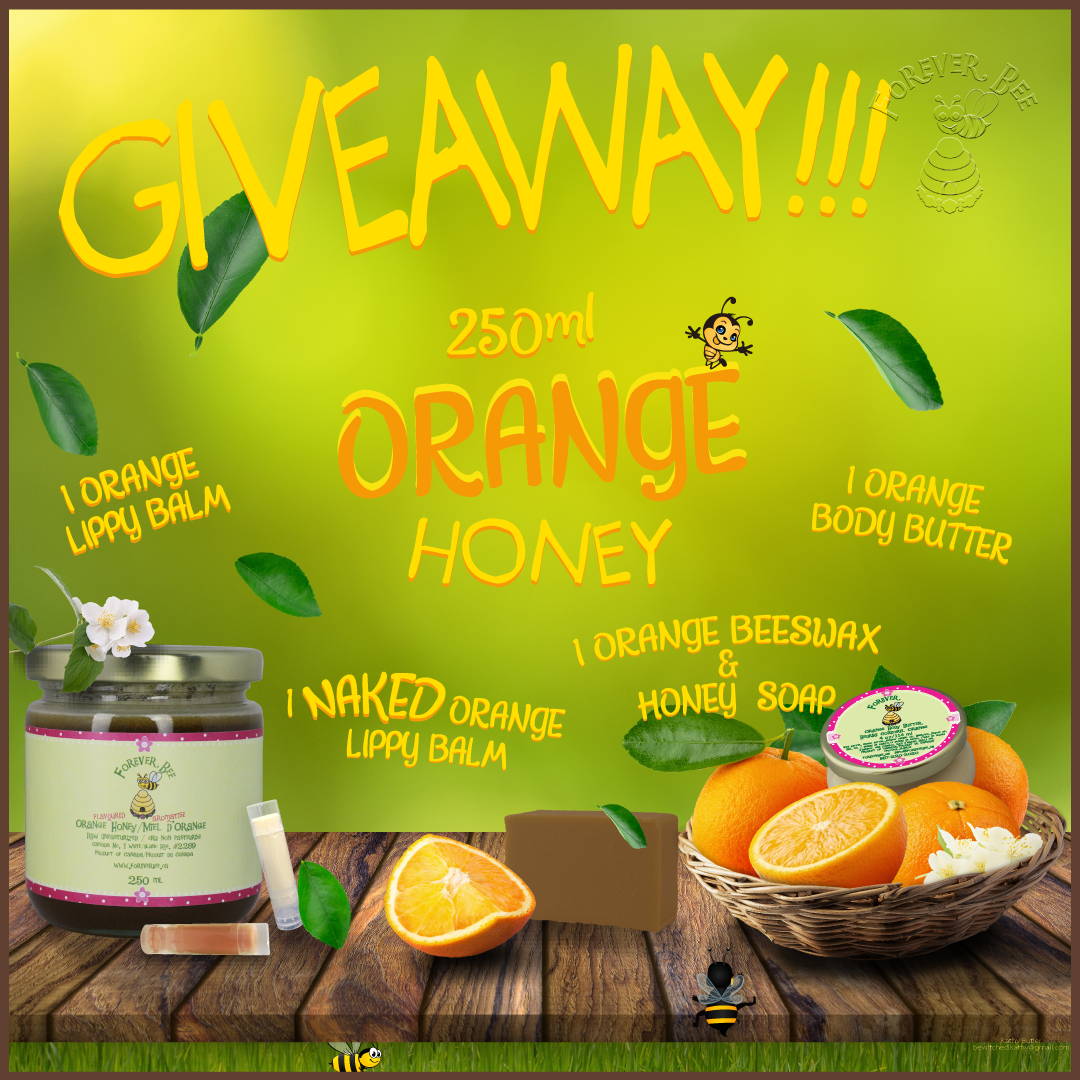 We love Bundles for Mother's Day. That way mom gets to try all the goodies in one convenient package. Our Orange bundle has been such a hit and the fragrance is so perfect for this time of year and we are sure mom will love it. This limited-time Orange Gift Pack includes:
250 ml Orange Honey
Orange Body Butter
Orange Lippy Balm (Classic or Naked)
Orange, Honey & Beeswax Soap
Did You Know.....
You can use Forever Bee Orange Honey as a very healthy substitute to store-bought marmalade, add to your yoghurt, include in your chicken, ham, fish, and veggie dishes. My favourite is warm freshly baked scones with butter, Orange Honey and a dollop of whipping cream. Yummy!!!!
Did you know that Orange Honey also has a whole host of health benefits?
- Contains abundance of flavonoid antioxidants which provides anti-inflammatory, antiviral and antimicrobial properties (1)
- High doses of Vitamin C to boost immune system, acts as an aging-fighting antioxidant, and it's needed for DNA repair and serotonin production
- Vitamin C also helps to produce collagen, reduce inflammation, and boost the body's ability to use fat as a fuel source
- Helps prevent dental caries (3)
- Lowers cholesterol levels and promotes heart health
- Reduces the risk of certain cancers by up to 30% (2)

Our Orange honey is made with dried and crushed oranges from Seville in Spain. These oranges have somewhat of a bitter taste and blends beautifully with the sweet honey. The taste is very much like marmalade and we have been told on many occasions that it truly captures the true authenticity of Seville Oranges.
The Forever Bee Orange Body Butter is a staple. It is one of our most sought-after fragrances and made with Organic 5-fold orange essential oil. This means that the citrus will not harm your skin in the sun, while the fragrance will invigorate you and leave you with a sense of well-being.
We are so happy to be brining back our orange lippy balm for this season. It glides on smoothly, is very moisturizing and is all natural. You can choose between our classic orange (which a bright orange colour) or our Naked orange (which has no colour added).
One of our newest additions is our Orange, Honey and Beeswax soap. This soap was made for us with love by Bubbles and Balms. They used our raw, unfiltered honey, organic orange essential oil and our pure beeswax to make an amazing-smelling soap, that is super gentle on the most sensitive skin and is made with care and love for our environment as well.
GIVEAWAY!!!
We would love to give away one of our amazing Orange gift bundles to a lucky person today. In this package you will receive Orange Honey, Orange Soap, Orange Body Butter and Orange Lippy Balm.
ENTER TO WIN!!
Let us know what your love language is when it comes to Mother's Day? Giving gifts, spending time together, physical touch, acts of service or words of affirmation?
GARDENING FOR BEES......
I absolutely loved writing this ebook. I was already very aware of the fact that we need to do more in our everyday lives to help the bees, but as I was researching more, I just learned so much.
DID YOU KNOW....
- You can actually have a Clover field in your yard instead of grass? It uses less than half the amount of water, feeds the bees, look beautiful, fights weeds and is much easier to maintain.
- Most plants that we consider to be weeds are actually very healthy and can be used in many ways to help you live a healthier life, closer to nature. For example, Dandelions are full of antioxidants, loaded with vitamins and minerals, makes tasty salads, drink as a tea, create a tincture
So, I have written this ebook with the hope of creating a fun resources of ways in which you can help our bee friends (and other insects) but also finding beauty and use from your flower garden. In this Gardening for Bees ebook you will learn:
- Which flowers are best to attract bees and other helpful insects to your garden
- Step-by-step guide on how to grow your new flowers
- What can you make with all your new garden flowers - recipes for herbal healing and healthy treats
- Natural and healthy alternative pesticides - the use of other plants and insects to protect your garden
I hope you really love your new resource and I hope you have as much fun using the resources as I had writing it.
GIVEAWAY!!!
We would love to give away a Large Packet of Bee-Friendly Flower Seeds to help you get started on your bee garden path as well as a printed version of Gardening for Bees
Enter to win
Share a picture or a description of your perfect summer garden. Or give us some great ideas on how to build our own bee-friendly gardens.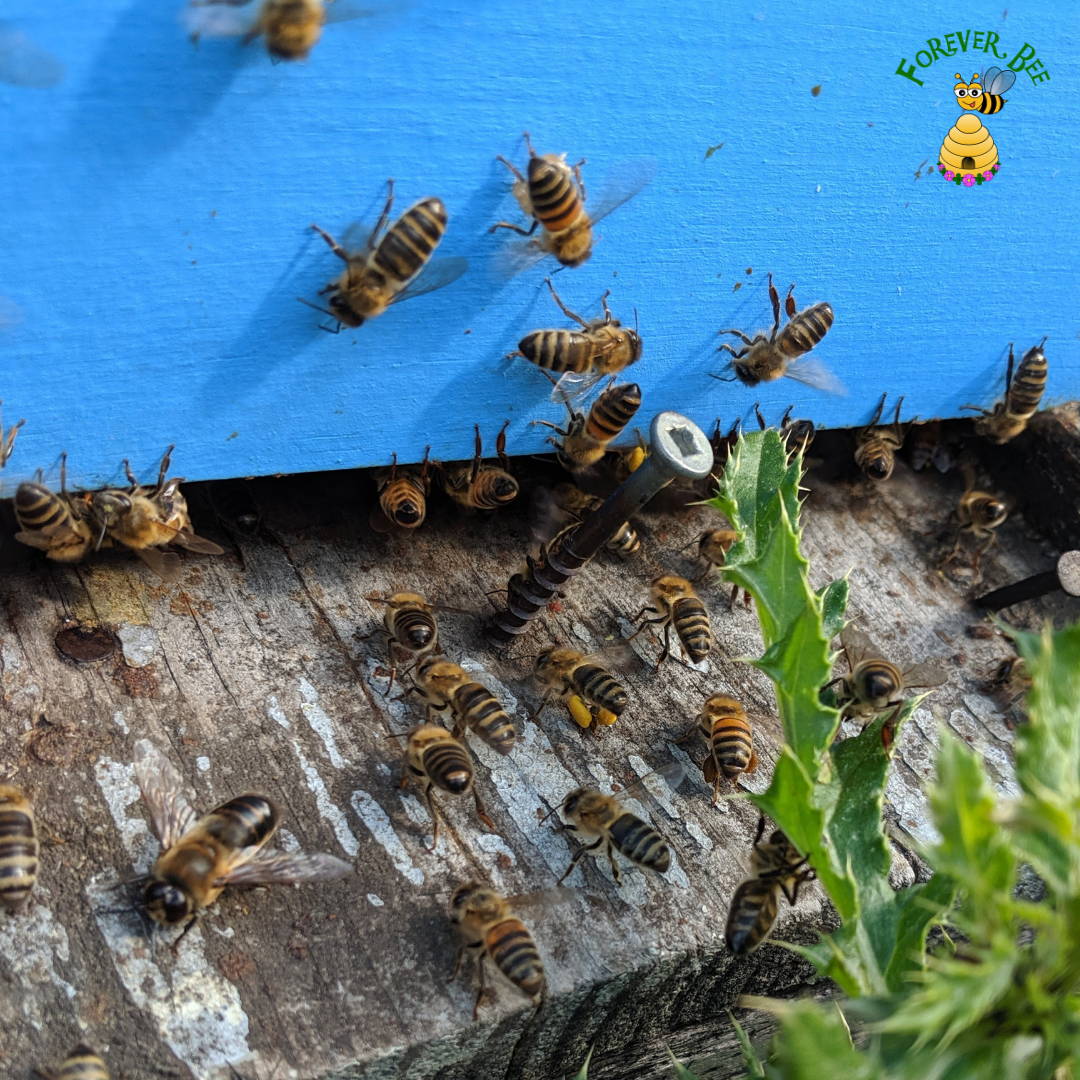 It is Spring again and we love to spend more time outside and enjoy nature; however, spring usually goes hand-in-hand with allergy season. As usual though, nature provides relief for allergies as well :)
Have a close look at this picture. It is a picture taken by Kira of our actual beehives. Do you notice that some of the bees have lumps of pollen on their legs? This is the pollen that you actually get to eat.
When bees collect the pollen from the flowers, they stuff the pollen into pollen bags on their back legs. This makes it easier for the bees to fly with all of that pollen. They use the pollen to make bee bread with. Bee bread is a mixture of pollen, honey and a special enzyme the bees secrete. This mixture then ferments and is called Bee Bread. It is very healthy and provides the bees with all their protein and nutrients.
Bee pollen is an incredible natural food and only a teaspoon a day is necessary to reap its many benefits (and that teaspoon contains over 2.5 billion grains of flower pollen that took a busy little bee 8 hours to collect!). We only collect it 3 weeks out of the year and only from our strongest hives.
Bee pollen is approximately 40% protein and contains nearly every nutrient needed by the human body and cannot be replicated by a laboratory (though they have tried!).
Bee Pollen's many benefits include:
- A substantial energy boost
- Relieves symptoms of seasonal allergies and asthma
- A boost to your digestive system with the help of naturally occurring enzymes
- A host of over 90 vitamins and minerals that are readily available and easily absorbed
- It improves the intestinal flora and has a natural antibiotic effect in the body that boosts the immune system
- It restores hormonal balance and helps to eliminate cravings and fight addictions
- Cardiovascular health in terms of lowering cholesterol, improving circulation and strengthening blood vessels
*Note that if you are allergic to bee stings, it is not recommended that you consume bee pollen!* However, if you have Seasonal Allergies we highly recommend that you try Bee Pollen :)
Read a very interesting (and long) article on our website, written by Dr. Mercola. This article covers all the health benefits and studies that have been done with regards to bee pollen: https://foreverbee.ca/apps/help-center#what-are-the-benefits-of-bee-pollen
GIVEAWAY!!!
We'll be giving away a 175g jar of Bee Pollen to a a lucky winner this afternoon, so make sure to ask your questions or share why you love our pollen!!!
ENTER TO WIN!!!!
Do you prefer using over the counter medications or do you prefer more natural remedies? (We love to hear from both). Let us know when you prefer natural and when you prefer modern medicine?
BIG REVEAL!!!!
I am just jumping out of my skin with excitement to announce this month's BIG REVEAL!!!! This month our BIG REVEAL is Subscription Bundles :)
We always receive so many emails from folks saying, Oh my goodness I forgot to order honey. I'm out. Or, it would be great if I can just get the same order every month. Well, we listened and we are so thrilled to make this available to you.
BENEFITS OF SUBSCRIPTION BUNDLES:
- You will receive your honey every month without having to try and remember to order it
- Your FREE Gift-with-Purchase will automatically be included with your subscription bundle
- Receive your honey money rewards automatically every month
- FREE Delivery or Shipping is included depending on your location and subscription level
- You have full control - do you want monthly, every second month, yearly. Do you want to pause this month or add something extra? You can decide.
HOW DOES IT WORK?
- We have several pre-constructed subscription bundles you can choose from - pick your favourite and add it to your cart
- Alternatively you can browse through our products and create your own subscription bundle
- FREE Gifts-with-Purchase will be automatically added to your subscription every month
- Check out as usual - you will be asked for frequency and payment method.
- You will receive an email before your subscription becomes due every month and when it is complete
- Make any changes throughout the month before your subscription due date :)
GIVEAWAY!!!
This month we are giving away a one month $50 subscription bundle :) We will deliver/ship it to you including your FREE Gift-with-Purchase. How fun is that.
ENTER TO WIN!!!
Let us know which products you usually subscribe to. Music, groceries, hair products, etc?
WHICH SUBSCRIPTION BUNDLES DO WE HAVE AVAILABLE?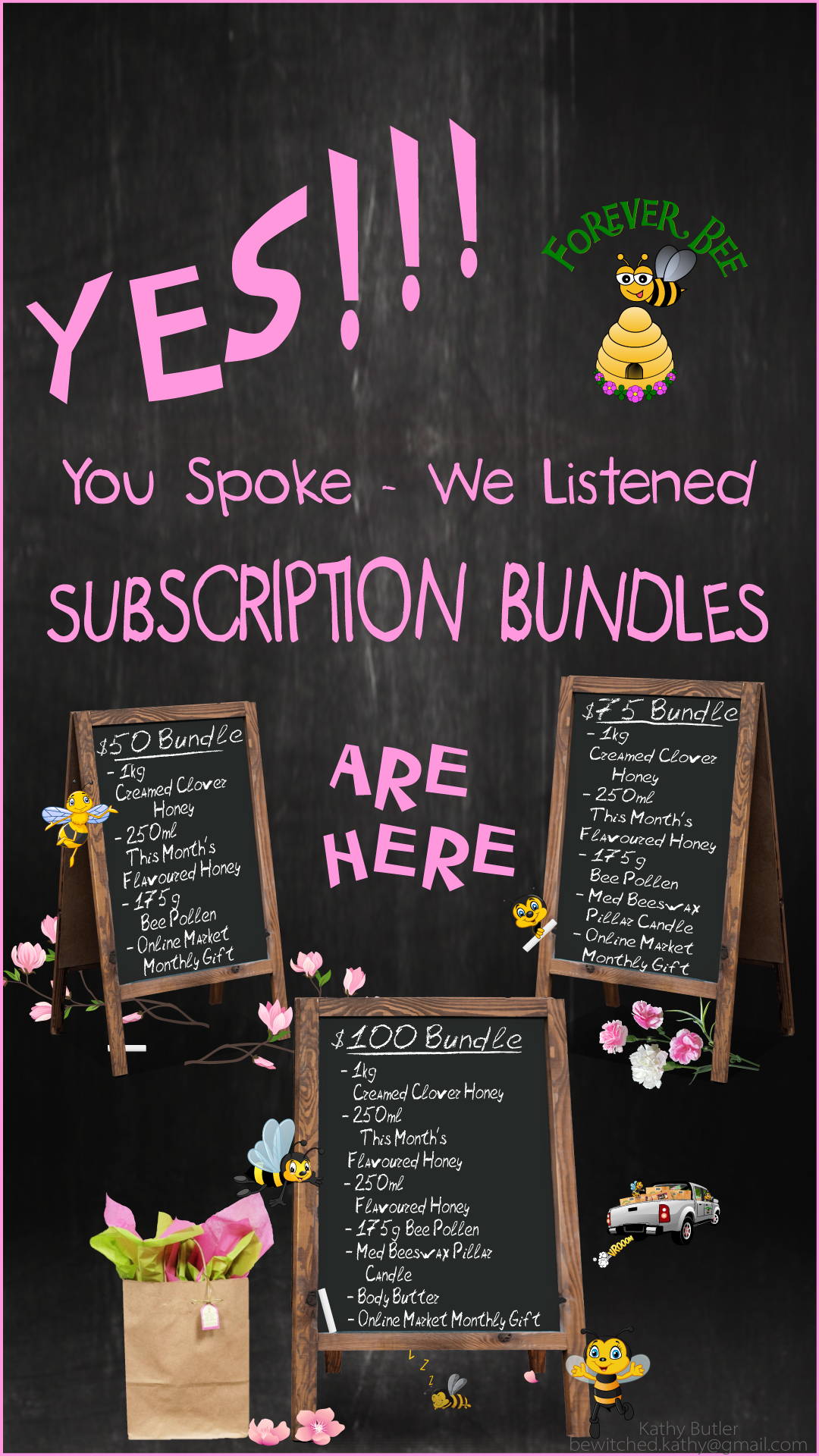 $50 Worker Bee Bundle
- 1kg Creamed Clover Honey
- 250ml This Month's Flavoured Honey
- 175g Bee Pollen
- Online Market Monthly Gift
$75 Queen Bee Bundle
- 1kg Creamed Clover Honey
- 250ml This Month's Flavoured Honey
- 175g Bee Pollen
- Medium Beeswax Pillar Candle
- Online Market Monthly Gift
$100 Hive Favourites Bundle
- 1kg Creamed Clover Honey
- 250ml This Month's Flavoured Honey
- 250ml Flavoured Honey
- 175g Bee Pollen
- Medium Beeswax Pillar Candle
- Body Butter
- Online Market Monthly Gift
$55 Self Care Bundle
- Honey Gift Pack
- Body Butter
- Beeswax & Honey Soap
- Lippy Balm
- Votive Candles
- Online Market Monthly Gift
$55 Basics Bundle
- 3kg Creamed Clover Honey
- 250ml This Month's Flavoured Honey
- Online Market Monthly Gift
$95 Preferred Bundle
- 3kg Creamed Clover Honey
- 250ml This Month's Flavoured Honey
- Body Butter
- Medium Beeswax Pillar Candle
- Online Market Monthly Gift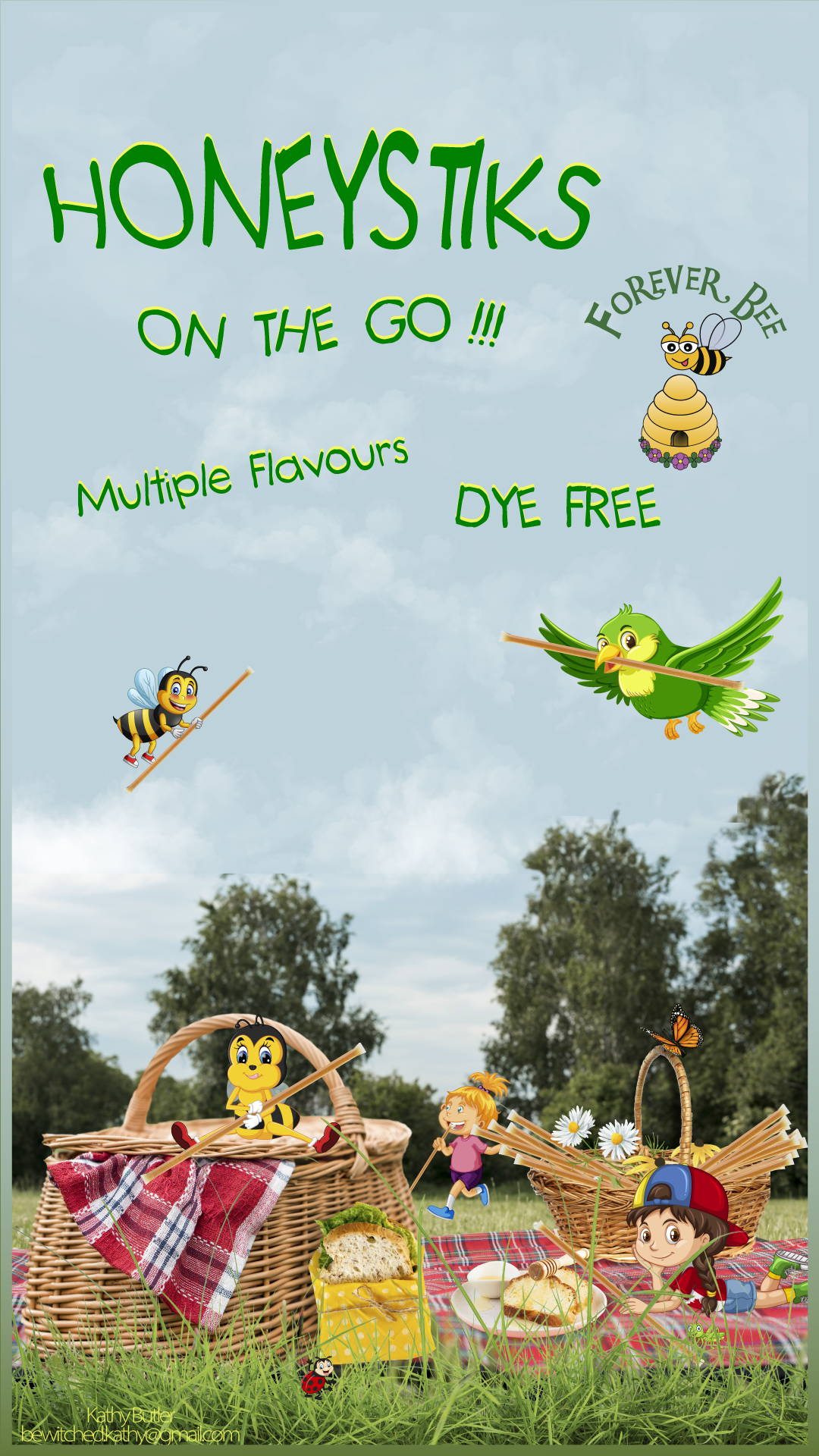 We have been putting loads of attention this past few weeks on our new NAKED LINE :) This is mostly because we have received so many requests from you, our amazing customers, to have available products that have no colourants in them. AND, not only are they colour/dye free, all our Honeystix are also gluten, nut and dairy free :)
Our Honeystix are perfect in tea, coffee as a portable snack when you go hiking or camping, and a healthy treat in school lunches. The Diabetes association has also purchased these to hand out to their clients to help regulate blood sugar levels.
Now we also have available our brand new NAKED LINE Honeystix. Currently we have 4 flavours available and we hope to bring in more flavours within the next few months.
Our current flavours are:
- Mint
- Pure Honey
- Lemon
- Cinnamon
GIVEAWAY!!!
Today we are giving away a 20-pack of our NAKED LINE Honeystix :)
ENTER TO WIN!!!
Let us know which of the following Honeystix you would like to see as part of our NAKED LINE: Orange, Wildflower, Buckwheat, Blackberry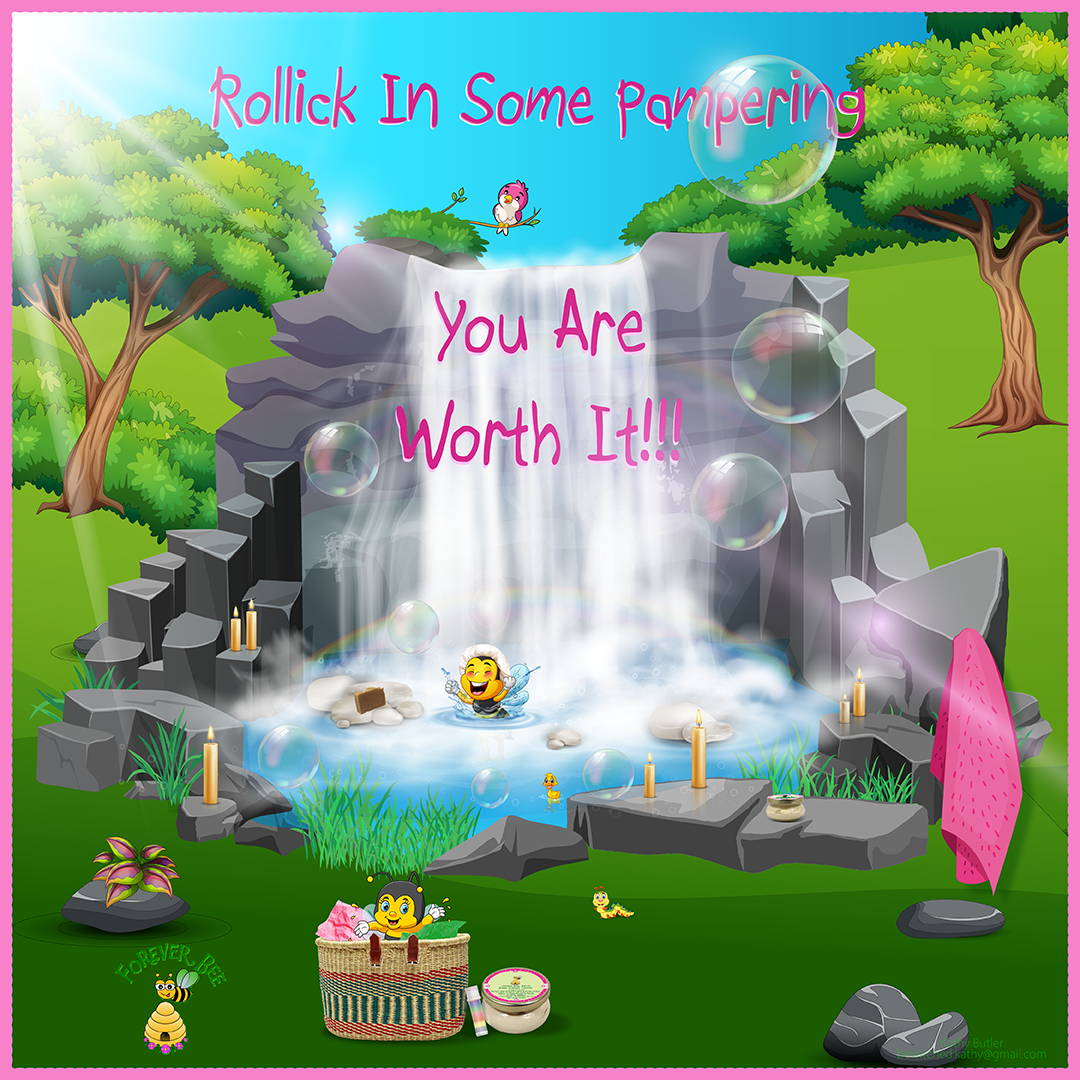 You work hard.....
As moms we usually take so much upon ourselves. We work hard, play hard with the kids and seldom take some much-needed down-time just for ourselves (doing the groceries or laundry all by yourself does not count).
We would love to give you an opportunity to just take the time. Even if it is just half-an-hour. Take time to pamper yourself, connect with your centre, find your peace and your joy.
We want all of our honey lovers to feel and "bee" their best! Based on everything we have heard from your wonderful responses, we have found that the best self care routine includes a nice hot bath with a Bubbles & Balms bath bomb, washing up with a lathering, mild, moisturizing Beeswax & Honey Soap, surrounded by beautiful Beeswax Votive Candles, and finished off with hydrating Body Butter!
We created a special download just for you. 10 very easy self-care steps that will help you to love up on yourself and bee the best you that you can bee :)
Download your self-care guide here:
https://foreverbee.ca/downloads
GIVEAWAY!!!
We would love to help you relax and take care of yourself so we are giving away a special self-care bundle including: Body Butter, Soap, Lippy Balm, and Votive Candles :)
ENTER TO WIN:
What is your perspective on self-care - do you think there needs to be more focus on it, less focus, it is just too commercialized? We would love to hear how you feel.
Tag a friend who needs to have more self-care in their life and would love to win this prize.
Did You Know....
Beeswax is edible, antibacterial, completely natural and one of the most amazing compounds to use as a base craft material? This is why we are focussing on Beeswax today to show you how to make fun and useful crafts. What better way to spend an afternoon together :)
In this video I created luminaries using beeswax. I melted the beeswax down, poured water in a balloon and dunked the balloon into the melted beeswax about 15 times. Make sure to not dunk the balloon into the beeswax past the water mark otherwise your balloon will explode :) I'm speaking of experience :)
You can also create you many other fun crafts and useful household items with pure beeswax. Some of the most popular items you can make with beeswax are:
- Beeswax Food Wraps
- Rolled Beeswax Candles - try our Candle Making Kits
- Cookie Cutter Candles
- Jar Candles
- Lippy Balms - try our lippy balm kits. They contain everything you need for a fun filled day of making over 50 lippy balms
- Body Butter
- Medical and/or herbal salves
- Crayons
- Chewing Gum
- ....and the list goes on and on.
Visit our resources page on our website for some fun craft ideas that mom, grandma, aunties daughters and everyone else can get started with: https://foreverbee.ca/downloads
GIVEAWAY!!!
We would love to give away one of our very popular Beeswax Food Wrap sets. These sets contain three beeswax food wraps and are perfect to wrap sandwiches, school lunches, fruit, and cheese. It is a perfect alternative to plastic wraps since it helps the environment, it is reusable so it can save you money and the patterns are absolutely adorable:
ENTER TO WIN:
What beeswax craft would you love to learn to make
Do you know why we love our Beeswax Candles so much?
We love our pure Beeswax Candles because they are just that.. PURE! These light golden Candles are 100% natural and and made by our team with filtered and melted Forever Bee Beeswax. Once the wax has been melted down, it is then poured into molds, like our beautiful Ball Candle in this picture!
Pure beeswax candles do not drip, are smokeless and clean the air while burning.
Natural products are our passion! Truly Pure Beeswax will fill your home with the aroma of Raw Honey, sweet, subtle, and comforting.
This is such a perfect Mother's Day gift. Imagine taking the evening off, relaxing with a great book on the couch, wrapped in a comfy blankie by the light of beautiful soft-glowing candles. Happiness is.... :)
GIVEAWAY!!!!
Just in time for Mother's Day we are giving away one of my favourite candles....Decorative Ball Candle.
ENTER TO WIN!!!
How can you imagine using your Decorative Ball Candle if you win?
One of the most fun things about Mother's Day is spending quality time together. My daughter had me do a "love languages" quiz one day which I thought was absolutely amazing. It taught us so much about each other.
Your love language tells your partner, child or others you love, what you need most in order to feel appreciated and loved. These love languages can include: Quality time, Physical Touch, Acts of Service, Words of Affirmation or Gifts.
When people know what we need in order to feel loved, it is easier for them to show us that love. All of us are different and we might need different things.
The kits are a perfect way to show your love with Gifts and Quality Time. It is so rewarding to be able to spend time together, make something and put that gift to good use.
Our Lippy Balm Kits and Candle Making Kits are fun ways to start a new project, they include everything you need to make your crafts and all the ingredients are of the highest quality. You will love the kits and you will love the time you get to spend together.
GIVEAWAY!!!
We would love to help you make memories. Today we are giving away a DIY Kit of your choice to a lucky winner :)
ENTER TO WIN!!
Mother's Day memories are so precious. Share with us one of your favourite Mother's Day memories.
Gifts With Purchase Reminder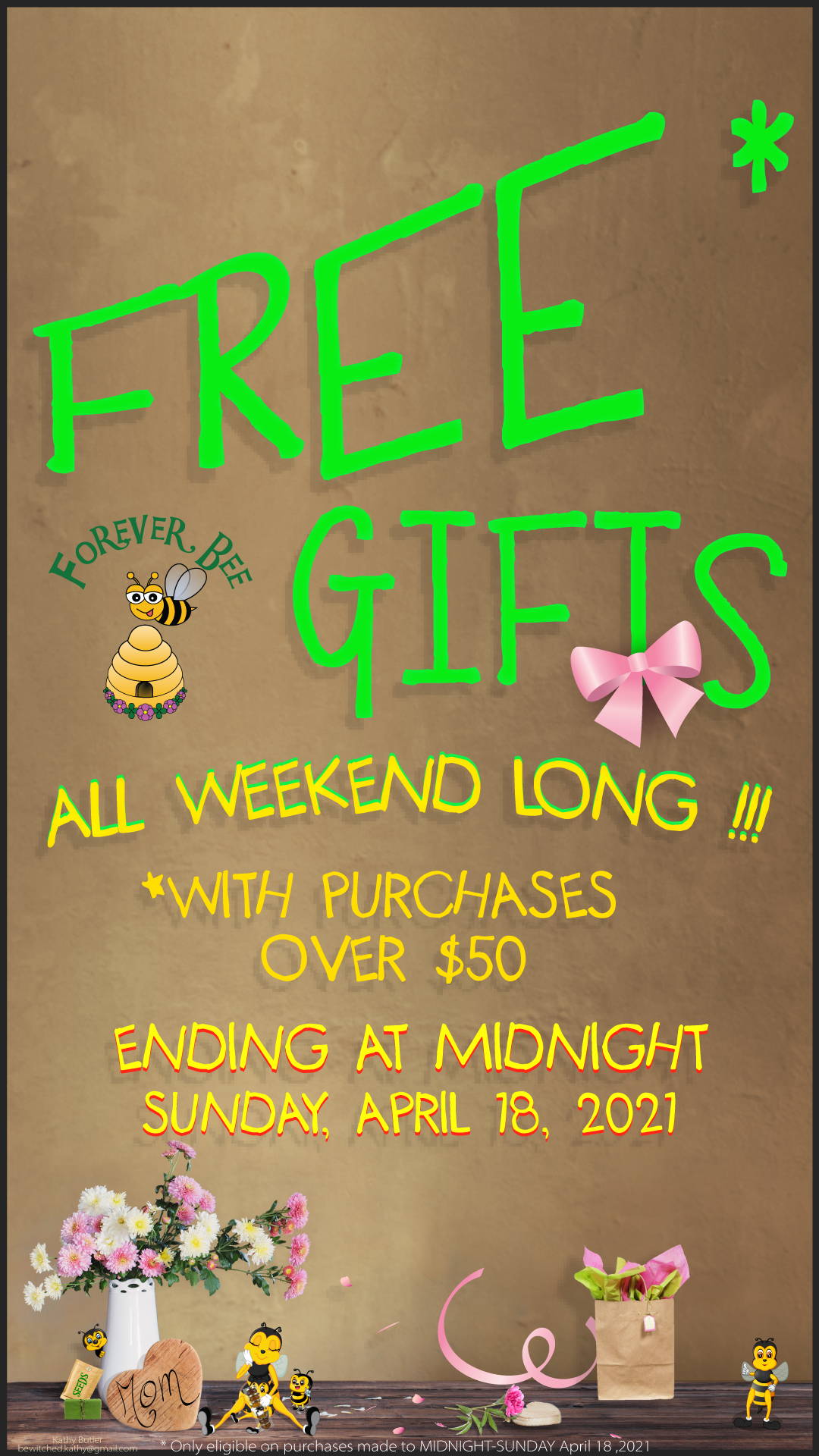 JUST A REMINDER.....
Just a quick reminder that this is one of our biggest promotions with our online market, our Gift-with-Purchase. This month we wanted picked gifts that would be especially appreciated by moms everywhere. Here is to you moms. Thanks for being so awesome!!!
GIVEAWAY!
Enter for a chance to win a Surprise Bag ($65 value) AND for an extra entry into our Grand Prize giveaway!!
1. Be sure to 'Share' this post on your Facebook page.
2. Let us know how you are planning on spending Mother's Day this year.
3. Tag a special someone(s) who you would love to give a shout-out to for Mother's Day
Check below for each of the spending tiers that are available!
Order value between $50 - $75 ($8 Value)
Small Bee-Friendly Seed Pack
5 Honeystix
2 Tealight Beeswax Candles
Free Delivery
Order value between $76 - $125 ($18 Value)
Large Bee-Friendly Seed Pack
5 Honeystix
2 Tealight Beeswax Candles
125g Flavoured Honey
Free Alberta Shipping
Order value between $126 - $175 ($26 Value)
Large Bee-Friendly Seed Pack
5 Honeystix
2 Votive Beeswax Candles
250 ml Surprise Flavoured Honey
Free Canadian Shipping
Order value between $176 - $250 ($33 Value)
Large Bee-Friendly Seed Pack
5 Honeystix
Pair of Rolled Candles
Small Gift Pack (Two Surprise Flavours!)
Free Canadian Shipping
Order value over $251+ ($65 Value)
Surprise Gift Bag (Includes discontinued Flavoured Honey Jars and a selection of our other products!)
Free Canadian Shipping
Thank you so much for joining us at our Mother's Day Market! We hope you had a fantastic time 😊
At Forever Bee, we are so grateful to have the opportunity to grow our dream business with our family and team. We absolutely love you, our bee-autiful customers! We love creating products that are healthy and nourishing for your body and soul. We also love sharing ideas that help you feel empowered and connected to your source.
We really enjoy hearing from you, please send us an email for a special Honey Money Bonus!
Here's how:
200 bonus points simply for attending - Comment Below using your your account email address (make an account first if you don't have one.)
- What was your favourite part of the event?

PLUS
Receive 300 extra bonus points for answers these questions in your post or emaling them to sales@foreverbee.ca.
- What was at least one portion of the event that you would change and why? - And any other notes you wish to share! 🙂
Upon receipt of your message, we will credit your account with your bonus points so make sure to use your account email or provide it to us when you send your message!
Start filling your shopping cart.
Text or call Kira at 403-915-0454
Email us: sales@foreverbee.ca