Journey Into Wellness Winter Online Market - January 22, 2022
Hi Honey Lovers!!
We are super excited to be announcing our Journey Into Wellness Winter LIVE Online Market on January 22th from 12pm - 3pm MST.
With 2022 finally here we are all hopeful for a better more positive year. In our online market we are exploring ways to live a healthier, happier life and to make meaningfull changes that bring us more peace and help us develop habits that are more aligned with our true goals :)
We will be saying farewell to our Flavoured Honeys, sharing behind the scenes videos, health advice and self-care tips, interesting facts about our business and of course our promotions and giveaways. It is going to be a fun-filled, educational day and we look forward to spending it with you.
Bookmark this page, and RSVP to our Facebook event!
GIVEAWAY!!!
To set the stage for new beginnings this year we are giving away a Surprise Bag with some of our most popular products. Some of the items in your surprise bag will also be created from your wish list in your Forever Bee account, so make sure to add all your favourites to your wish list :)
ENTER TO WIN:
Like this giveaway post in our Facebook Event

RSVP to our market on Facebook

Say hi to us down below - where you are visiting from and a little about your life. We would love to get to know you.

Forward this exciting giveaway and market to your friends. For every friend that says hi to us here we will give you an additional entry to win :)
Can't wait for a Surprise Bag? Get yours now!!
https://foreverbee.ca/onlinemarket
Call/Text: 403-915-0454
sales@foreverbee.ca
Be sure to RSVP to get notifications and check back often for sneak peaks and giveaways!! Remember to Like, Comment, Share, and tag friends and order - every way you participate is another entry for your chance to win our incredible Grand Prize!!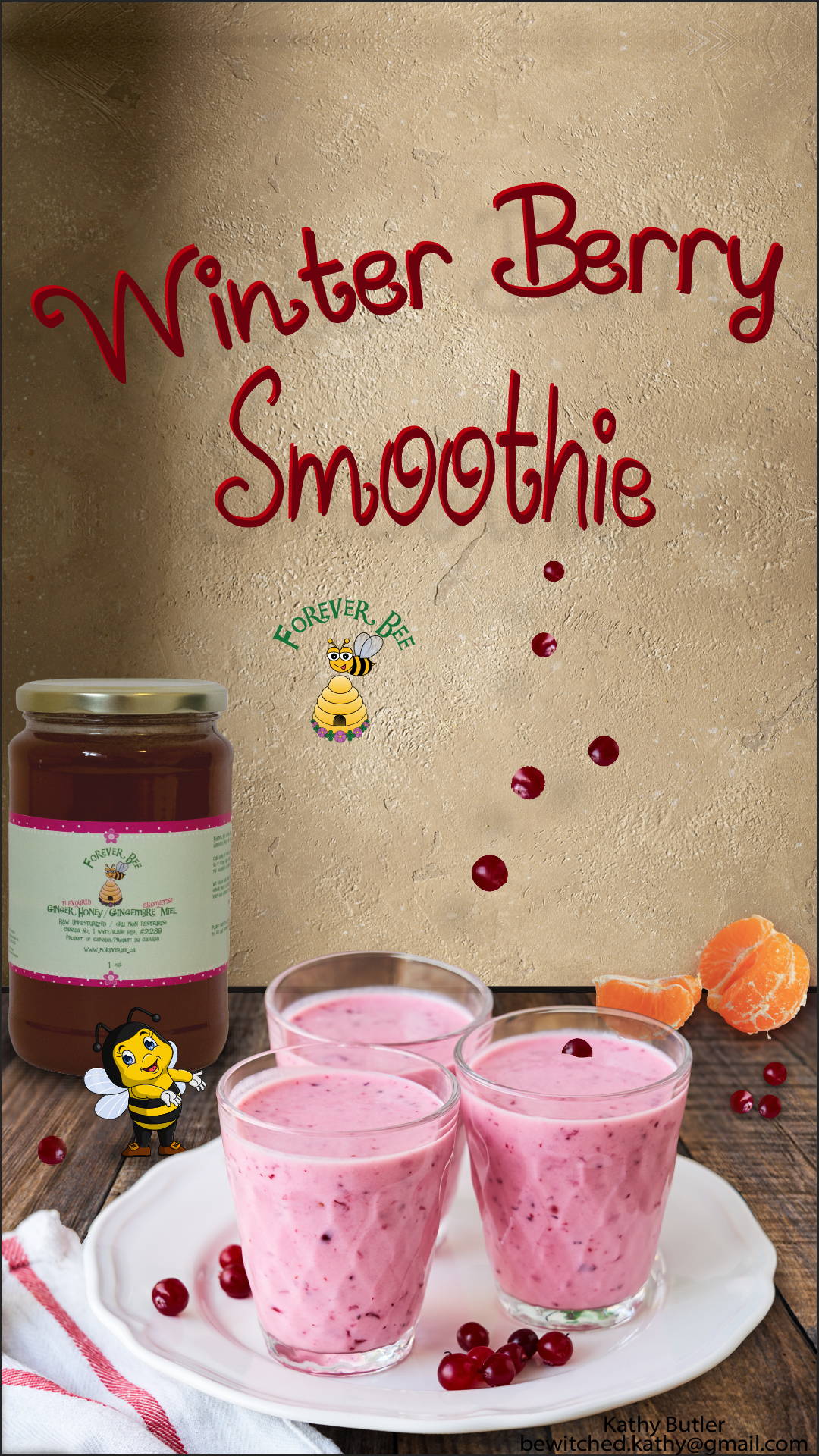 Get ready for a fun day of recipes, education, behind-the-scenes footage and amazing giveaways.
Try out this delicious, healthy smoothie recipe to make before the market and get you ready for your wellness journey:
Winter Berry Smoothie
Ingredients
2 cups fresh cranberries
1 cup vanilla yogurt
1 seedless clementine, peeled
1 Tbp Forever Bee Ginger Honey
Instructions
Put the cranberries into a blender. Top with the yogurt, clementine, and ginger honey.
Blend until smooth.
Comment below with a smoothie recipe you love to make or would love to try :) Share this with a friend who loves smoothies as well.
RSVP on Facebook
Call/Text: 403-915-0454
sales@foreverbee.ca
Welcome To Our Online Market!
Alright everybody, get ready! Throughout the afternoon we will be here to visit with you LIVE. We will be showing you all our behind-the-scenes footage, and answer all your questions. There will many amazing giveaways, promotions, returning and NEW products as well as a coveted Grand Prize! As you interact, comment, order, like, share, refer and tag friends, you will get more entries to win the Grand Prize!
We have a series of images and videos here to share today. We also have giveaways on many of them. Please feel free to ask us any questions or leave us your comments. We are here for you today and are so excited to visit with you. You can enter the giveaways by chatting with us on our website live chat, emailing us at sales@foreverbee.ca or by texting Kira at 403-915-0454. You can also join the conversation on our Facebook Event.
These giveaways will be live until MIDNIGHT Saturday, we will complete the draw and the lucky winners will be announced on Sunday!
Stay tuned to see all the exciting things this market has to offer, jump in when you can, and hop around to see all the fun posts and videos coming up every few minutes until 3:00pm!!
*Sometimes during the online market we get a bunch of party-poopers who try to hack our online event. We usually take care of them very quickly. We will not ask for any credit card or personal information during this market, the only external links used will be directly to our website. The only thing necessary to join in is you! Winners will not be directly contacted, winners will be asked to contact us after the draw.*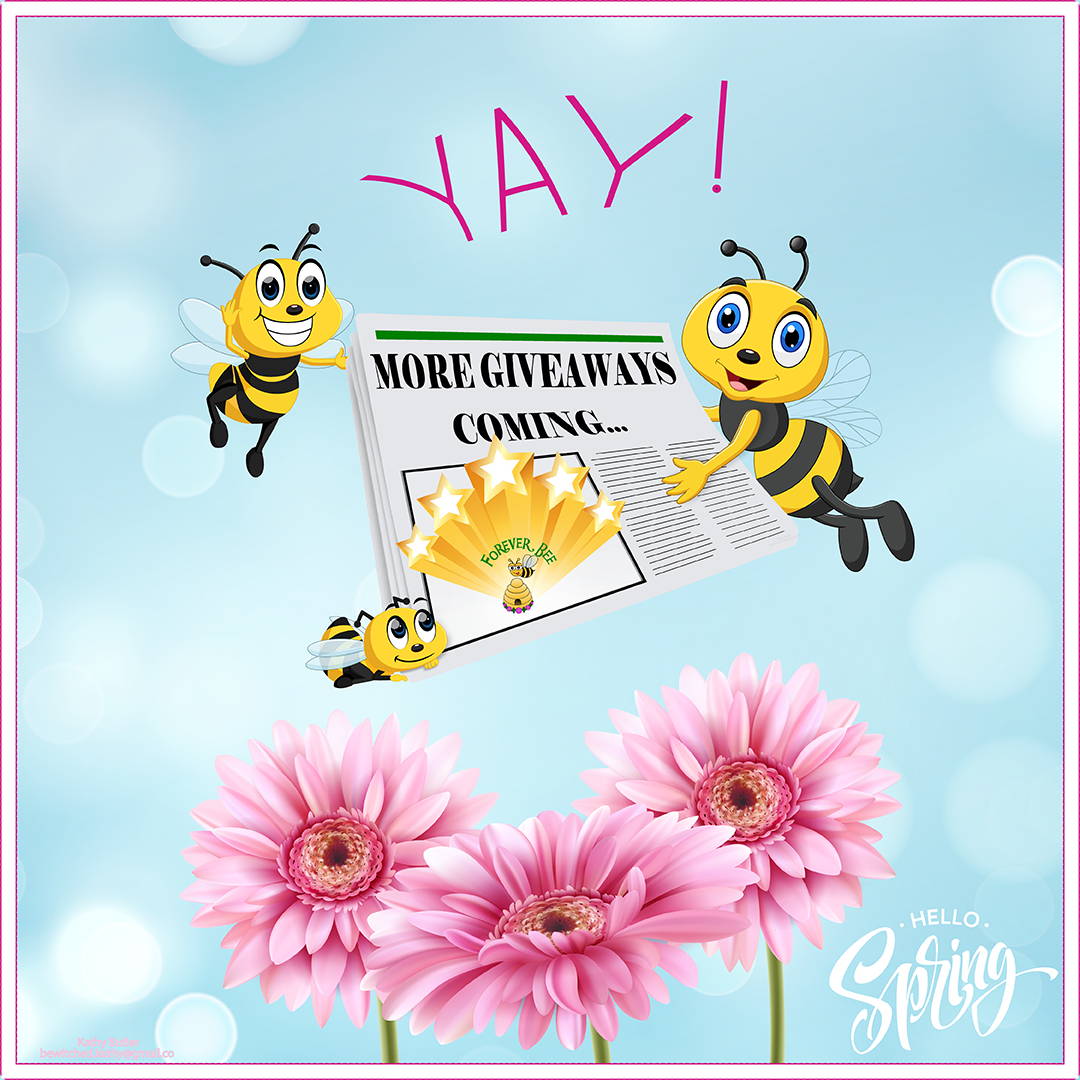 We have an amazing team and Forever Bee will not be the company it is today without our wonderful staff. Thank you to each an every one of you for making this journey so worthwhile and happy :)
Lanice is our warehouse manager and never fails to make us all smile! Lanice and Connor work tirelessly behind the scenes to get your products ready to be shipped out!
Thank you Lanice and Connor for working so hard to make all our beautiful candles and delicious honeys and always doing it with a smile on your faces and love in your hearts. We appreciate you so much.
Thank you Heather for doing all the deliveries and our markets. Your friendly smile and wonderful customer focus makes everyone feel welcomed and appreciated. You are a treasure.
Thank you Ritzie for coming to help us on Saturdays at the market. It is great to have your knowledge of the products, love of people and quick wit :)
Kira, thank you so much for being my person in the business. Anytime anyone needs anything they know to call you. You are always willing to do more than is asked for and you are so creative and organized. Thank you for being such a valuable part of our team.
Thank you so much Aunty Kathy for the most beautiful images. You always know what it is in my heart and how to portray that as an image. Your images really touch our hearts and reflects our business.
Comment with something you love about your coworkers!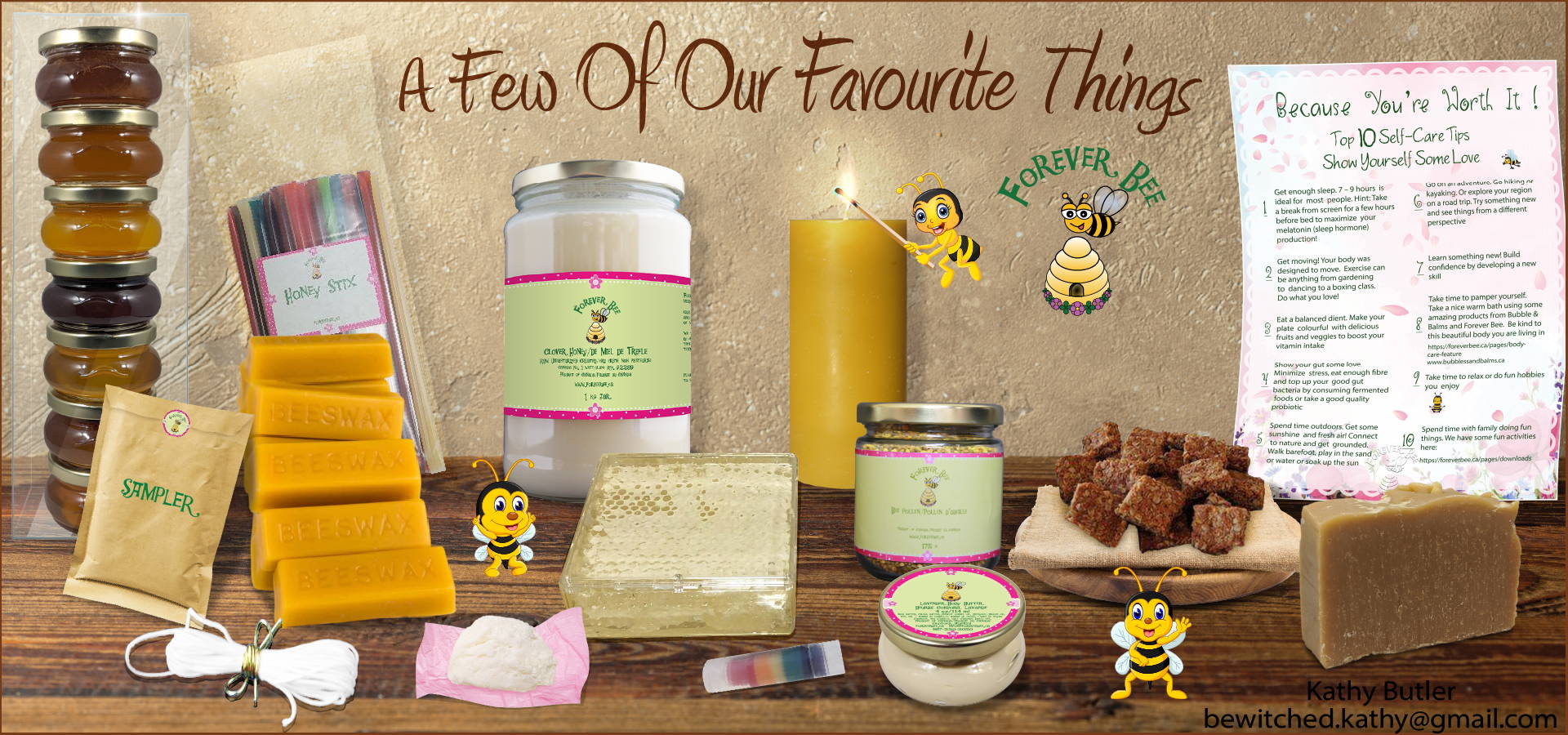 Our Grand Prize Giveaway is our largest and most exciting giveaway of our whole market. We include all the products we talk about in the market so that you have an opportunity to try it out :)
The Grand Prize for our Journey into Wellness Online Market is valued at over $200 and includes:
Creamed Clover Honey 1kg
Coconut Oat Honey Bars
Honeycomb 1lb
Honeystix 25 pack
Large Honey Gift Pack
Body Butter
Rainbow Lippy Balm
Honey and Beeswax Soap
Bubble Truffle
Self Care Printout
10oz Beeswax Blocks
2 Metres Wick
Herbology Sampler
Medium Pillar
Bee Pollen 175g
Total Value: Over $200!
ENTER TO WIN:
Let's play a game :) Let's see how health conscious you are for the coming year. Visit our Wellness Quiz, get your score and come back here to post your score below :)


REMEMBER, all interactions, comments, likes, tags, shares, etc. will get you an additional entry to win this Grand Prize :)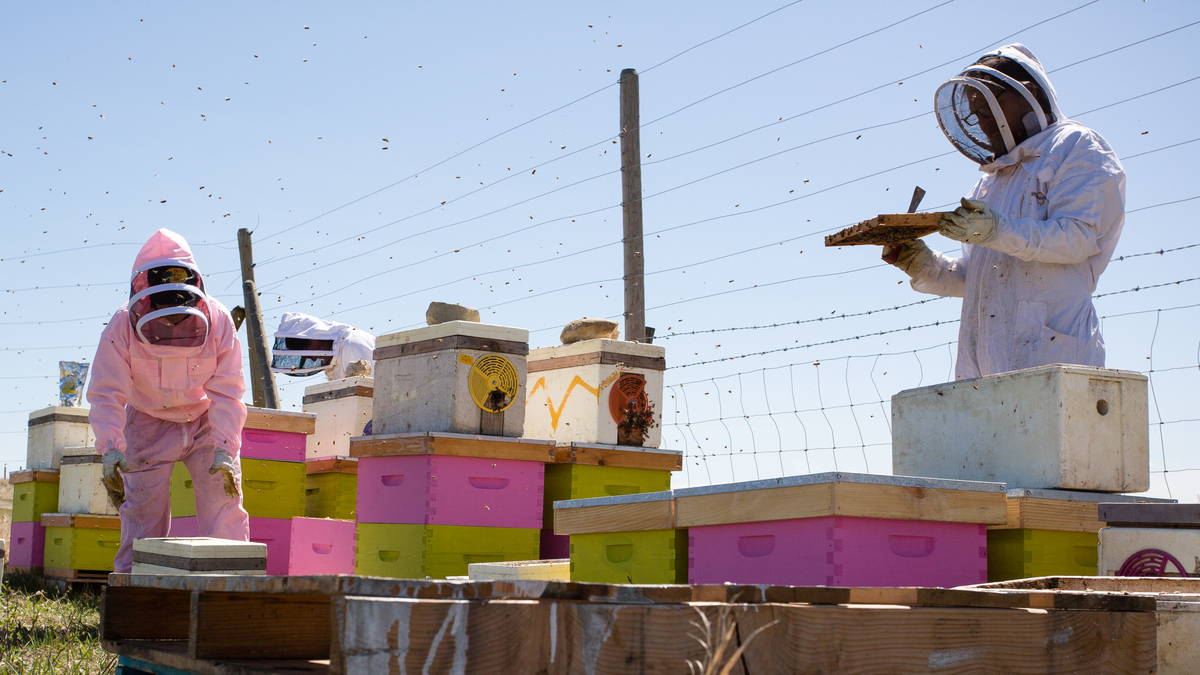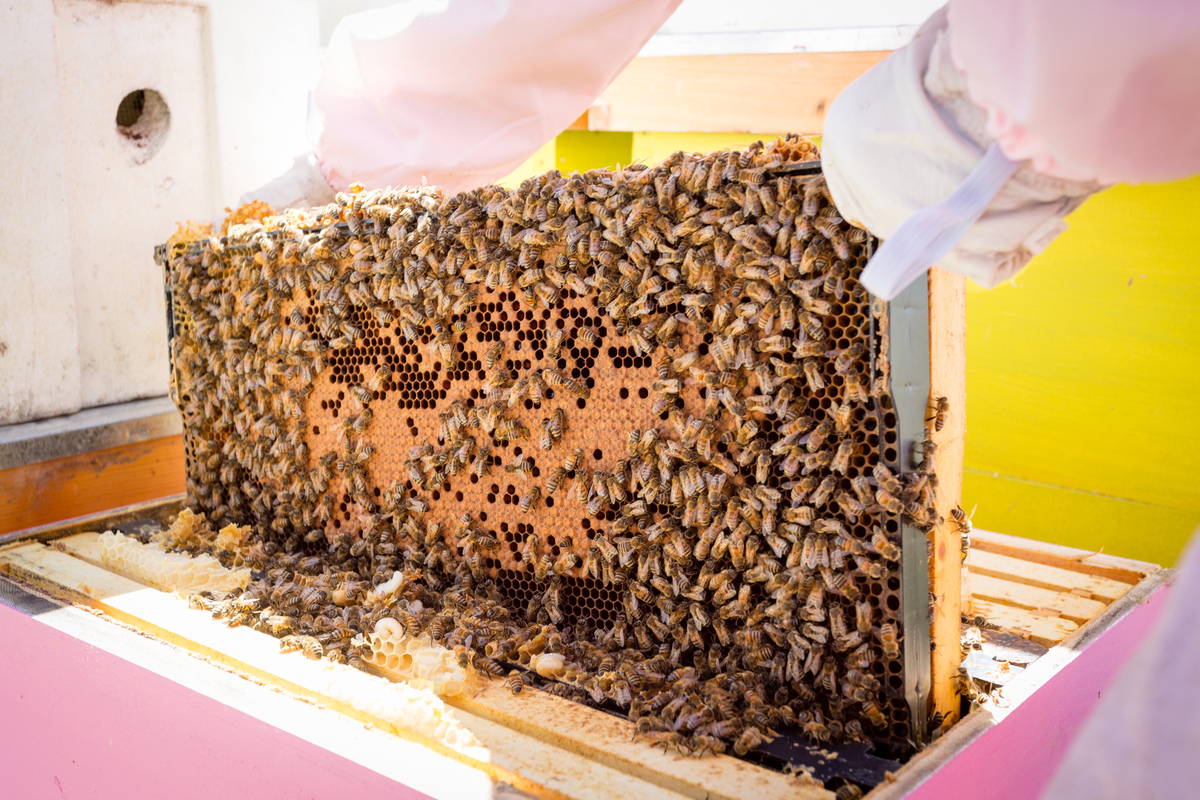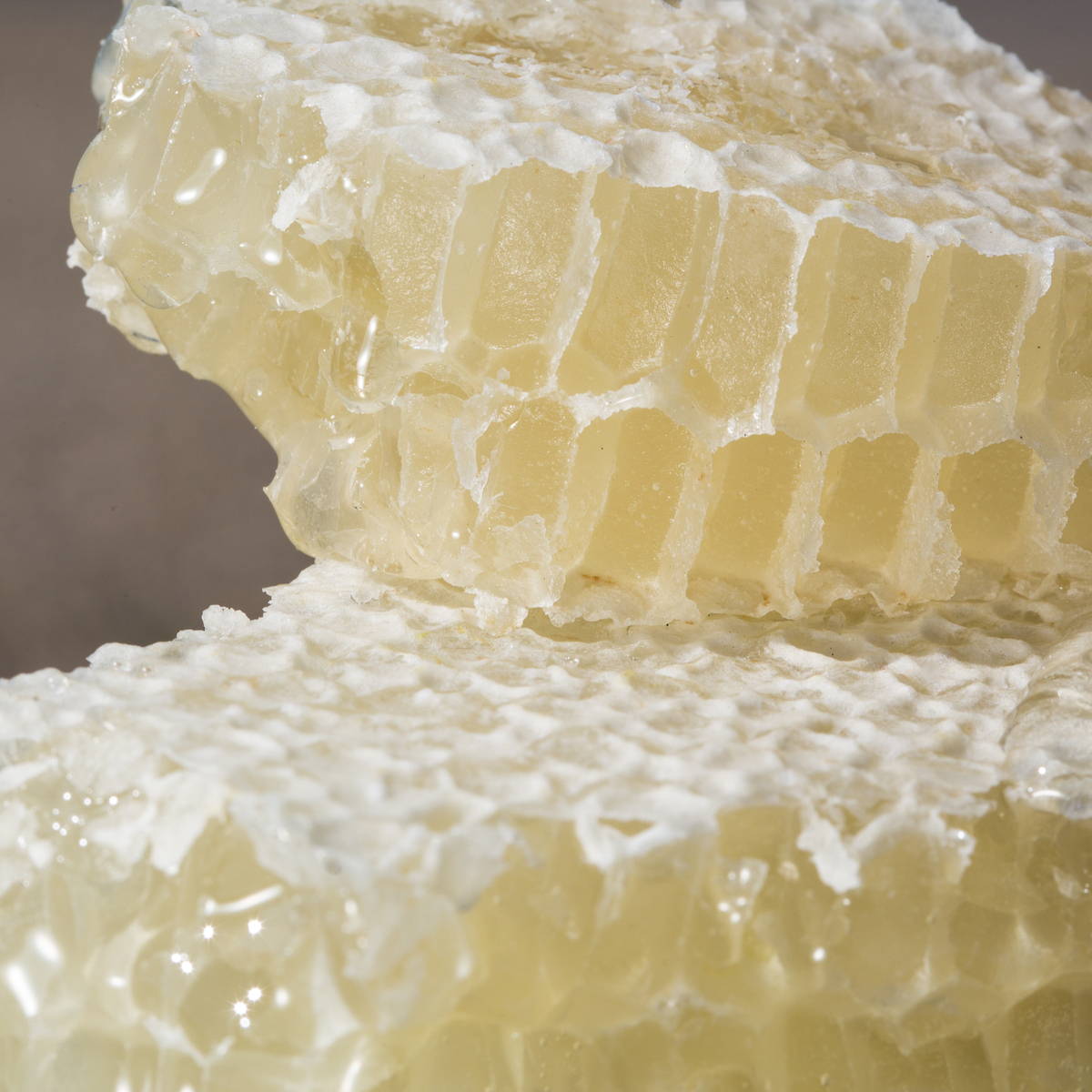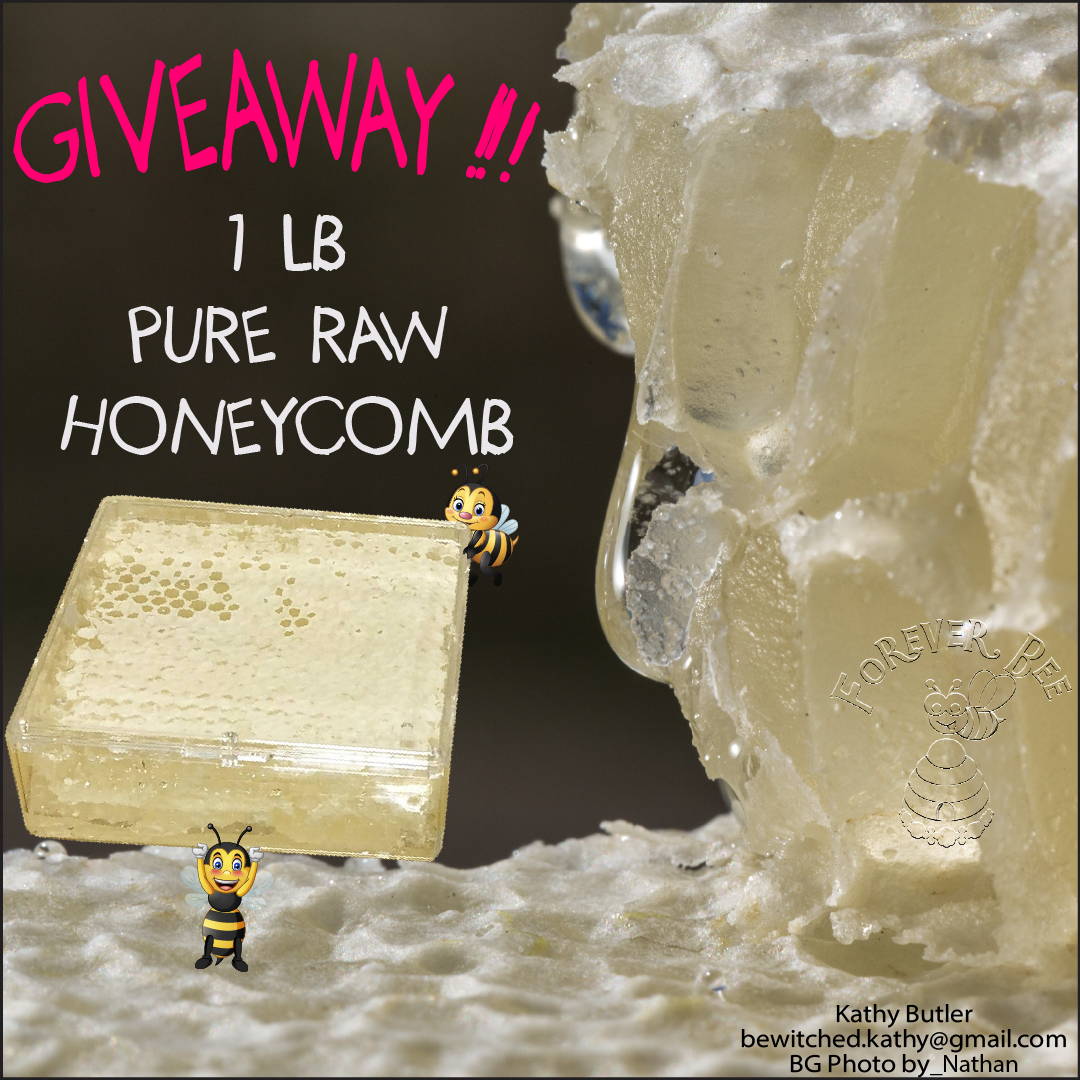 As we step into the new year we cannot help but think about the start of the new beekeeping season, preparing for our new bees, bee boxes and honey.
It is during this preparatory state that I can't help but reflect with love and fondness of the past beekeeping season. All the love and support we received from our community to help rebuild our hives, all the hours, days and weeks of work to build, paint and assembled our new bee boxes, and all the hours spent in the hot sun with the buzz of our bees around us.
One of my favourite ways to relax and have a more meditative mindset is by working with our bees. Even though you can see millions of them buzzing around us, they are so calm. The buzzing creates a very calming and relaxing space and you almost get transported away by the sound. It is a one of the best ways to connect with nature and with the inner peace inside yourself. I just love this time of year.
In addition to this soothing experience, of course we also have one of the best products to look forward to after the harvest - Honeycomb. And guess what, this year actually still have some honeycomb left. We have 1 lb containers, partial frames and a few full frames left and they are absolutely delicious.
Honeycomb is such a unique treat, straight out of the beehive. It tastes delicious by the spoonful, a treat on toast, in oatmeal or smoothies or a very unique conversation starter on a charcuterie board.
What a delicious and interesting treat this would be for Valentines Day.
GIVEAWAY!!!!
We would love to give away a partial frame of to a lucky winner and a friend today. Each of you will win a partial frame container 2+ lbs of honeycomb.
ENTER TO WIN:
Comment with your favourite way to create some peace and calm in your life. Meditation, prayer, singing, reading, quiet reflection, walks in nature, or maybe something else?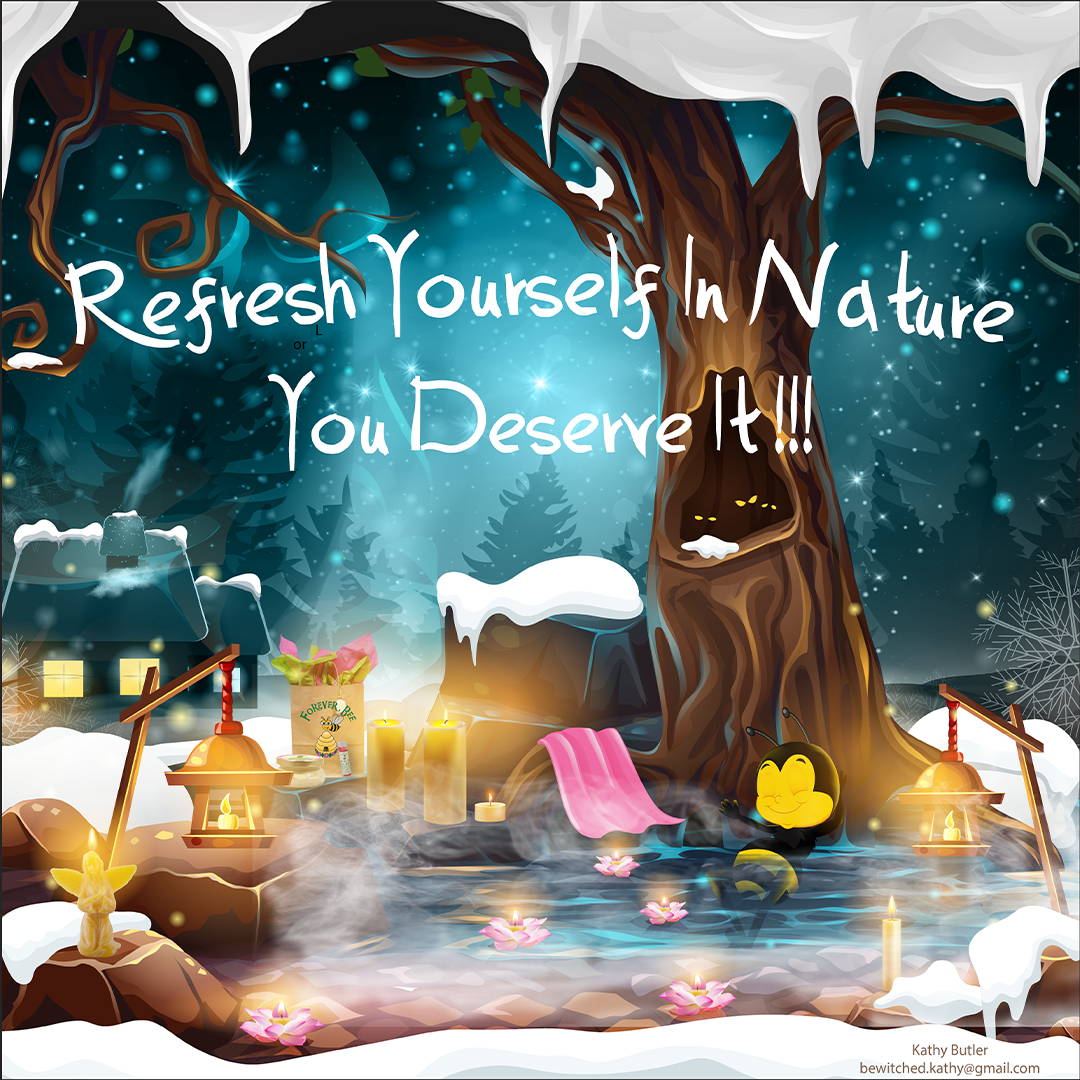 At Forever Bee we know taking care of your mental and physical health is of top importance, that is why we have created this list of our top 10 self care tips to follow this winter!
We want all of our honey lovers to feel and "bee" their best! Based on everything we have heard from your wonderful responses, we have found that the best self care routine includes a nice hot bath with a Bubbles & Balms bath bomb, washing up with a lathering, mild, moisturizing Beeswax & Honey Soap, surrounded by beautiful Beeswax Votive Candles, and finished off with hydrating Body Butter!
Did you know that not all self-care however is about bubble baths and candles? Self-care is all about doing what is best for our life in the present moment. Sometimes that might not seem like the most fun or relaxing thing to do at the time but it is what is best for us. Sometimes self-care means;
1. Removing negativity from our lives, whether that is a person a situation or a habit. Love yourself enough to make the tough choices and feel the stress melt away.
2. Organizing your home and keeping it clean is a good choice for a healthy future. Instead of practicing self-indulgence for instant gratification, practice self-care for long-term health and sustainability. Self-indulgence can be fun and necessary sometimes but not as the only form of self-care :)
3. Keep the flow of exchange going without compromising yourself. Do not go into debt to purchase things you want - save for it instead. Imagine the peace of mind that will come from debt-free living :)
4. Take up a hobby that will make you more self-sufficient. Learn how to make candles, plumbing, alternative energy, self-defense. This way if you ever need to you can take care of yourself with confidence.
GIVEAWAY!!!!
We would love to help you get started with your true self-care this year by giving away a self-care package including Beeswax & Honey Soap, Lippy Balm, Body Butter, Ball Candle and a course of your choosing on Udemy.com (course value up to $20).
1. Follow Forever Bee on Facebook and/or Instagram
2. Make sure to sign up for our Newsletter
3. Talk to us about your perspective on self-care vs self-indulgence and how you plan on keeping a healthy balance between the two.
If you'd like a free download of our top self care tips to print off and try for yourself go here.
Creamed Clover Honey & Crunchies!
DID YOU KNOW.....
Our raw, unfiltered, creamed Clover honey is perfect to use in all your cooking and baking. Many times folks ask me if they can use creamed honey in their recipes instead of using liquid honey. The answer is YES.
Creamed Clover honey is very soft and can easily be used instead of liquid honey. Use it as a sweetener in your tea and coffee, in your vinaigrettes, in all your baking and cooking. If you are using honey instead of sugar, you can substitute 3/4 cups of honey for 1 cup of sugar.
One of the biggest benefits of Creamed Clover honey is that it does not go hard and will not crystallize. This makes it a perfect ingredient that lasts forever, has many uses and tastes delicious.
My favourite winter treat to make with the Creamed Clover honey is Crunchies - Coconut, Oatmeal and Honey Bars. This recipe can be adjusted to make it Gluten Free and Diary Free as well. It is delicious and also healthy :)
Many times folks think that living a healthy lifestyle or eating healthy is all about giving up all the things you love and only eating salad. This does not have to be true. By making small changes - substitute carb based, gluten four for protein bases Almond flour. Substitute your sugar for honey. And don't deny yourself a treat, just cut it in half, or wait half an hour :) You will notice a huge difference.
GIVEAWAY!!!
We would love to give away a 500g jar of Creamed Clover Honey and a sample pack of Crunchies to a lucky winner.
ENTER TO WIN:
Comment with some small healthy alternatives or tricks you implement to help you eat healthier. Great books, resources or links would be appreciated as well.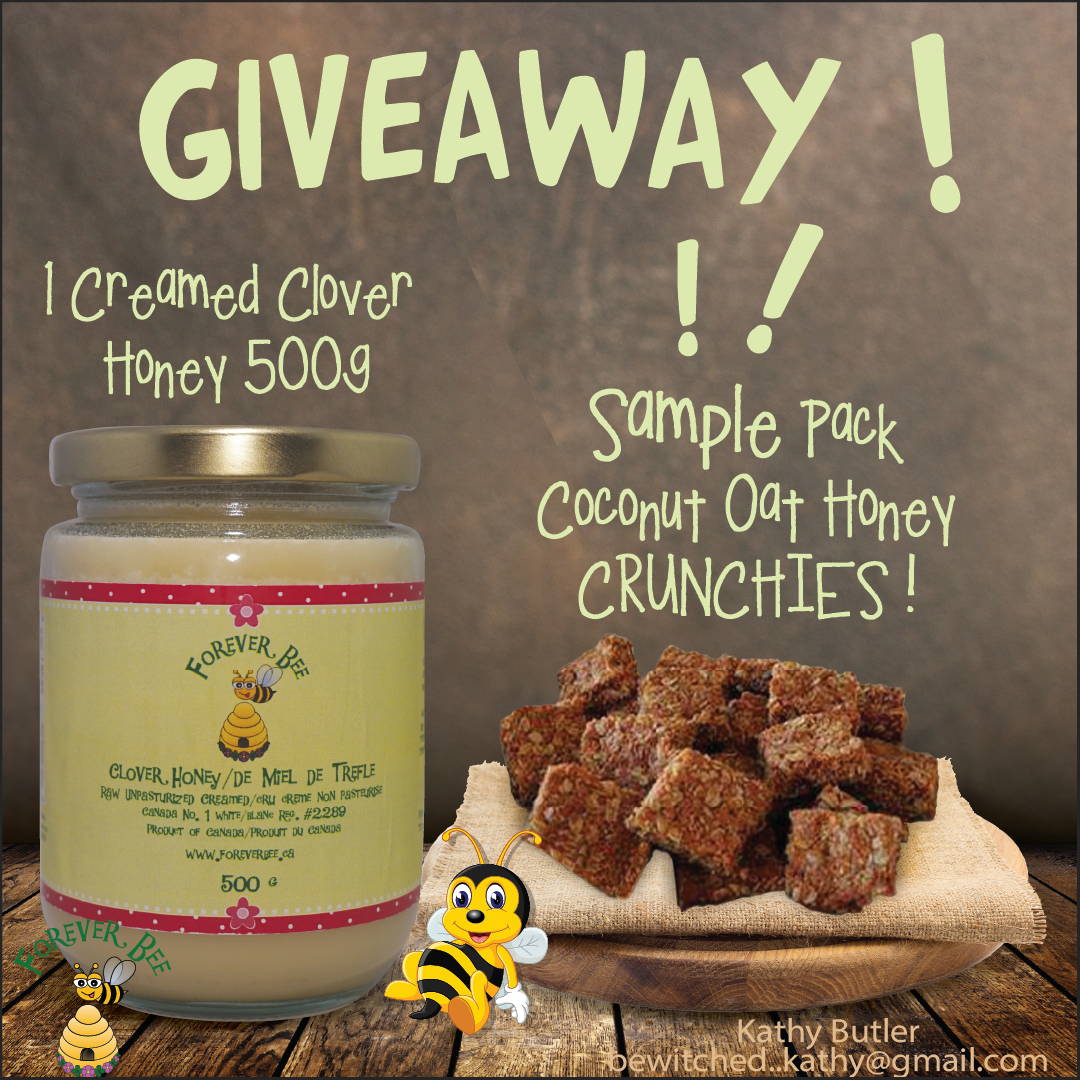 We would love to offer you all our FREE Gifts with purchase to help you get started on your Journey into Wellness this new year. We would also like to give back to you - our amazing customers, community and honey lovers!
This weekend we are bringing back our Gift-with-Purchase Promotion!! This promotion is available to everyone who places an order of at least $50 before MIDNIGHT SUNDAY! This is an extra way to get a great value for your purchase and try out some new products at the same time.
GIVEAWAY!
Enter for a chance to win a Surprise Bag ($65 value) AND for an extra entry into our Grand Prize giveaway!!
1. Make sure to set up an account on our website: www.foreverbee.ca - This will allow you to start receive Honey Money Rewards Points.
2. Tag a friend who would love to win a Surprise Bag filled with goodies
3. Start a wishlist from our Forever Bee account and add all the goodies you would love to try. You might get lucky and win a surprise from your wishlist :)
Order value between $50 - $75 ($10 Value)
Lippy Balm
5 Honeystix
Coconut Oatmeal Honey Bars
Order value between $76 - $125 ($13 Value)
Herbology Sampler
2 Tealight Beeswax Candles
Coconut Oatmeal Honey Bars
Order value between $126 - $175 ($25 Value)
Herbology Sampler
Coconut Oatmeal Honey Bars
An item from your wishlist (max value $15)
Order value between $176 - $250 ($35 Value)
Herbology Sampler
Coconut Oatmeal Honey Bars
A couple of items from your wishlist (max value $25)
Order value over $251+ ($47 Value)
Emergency Preparedness Package (Pillar Candle, Honey, Lippy Balm, Bee Pollen)
Start filling up your cart with all your favourites.
Call/Text: 403-915-0454
sales@foreverbee.ca
Farewell to Flavoured Honeys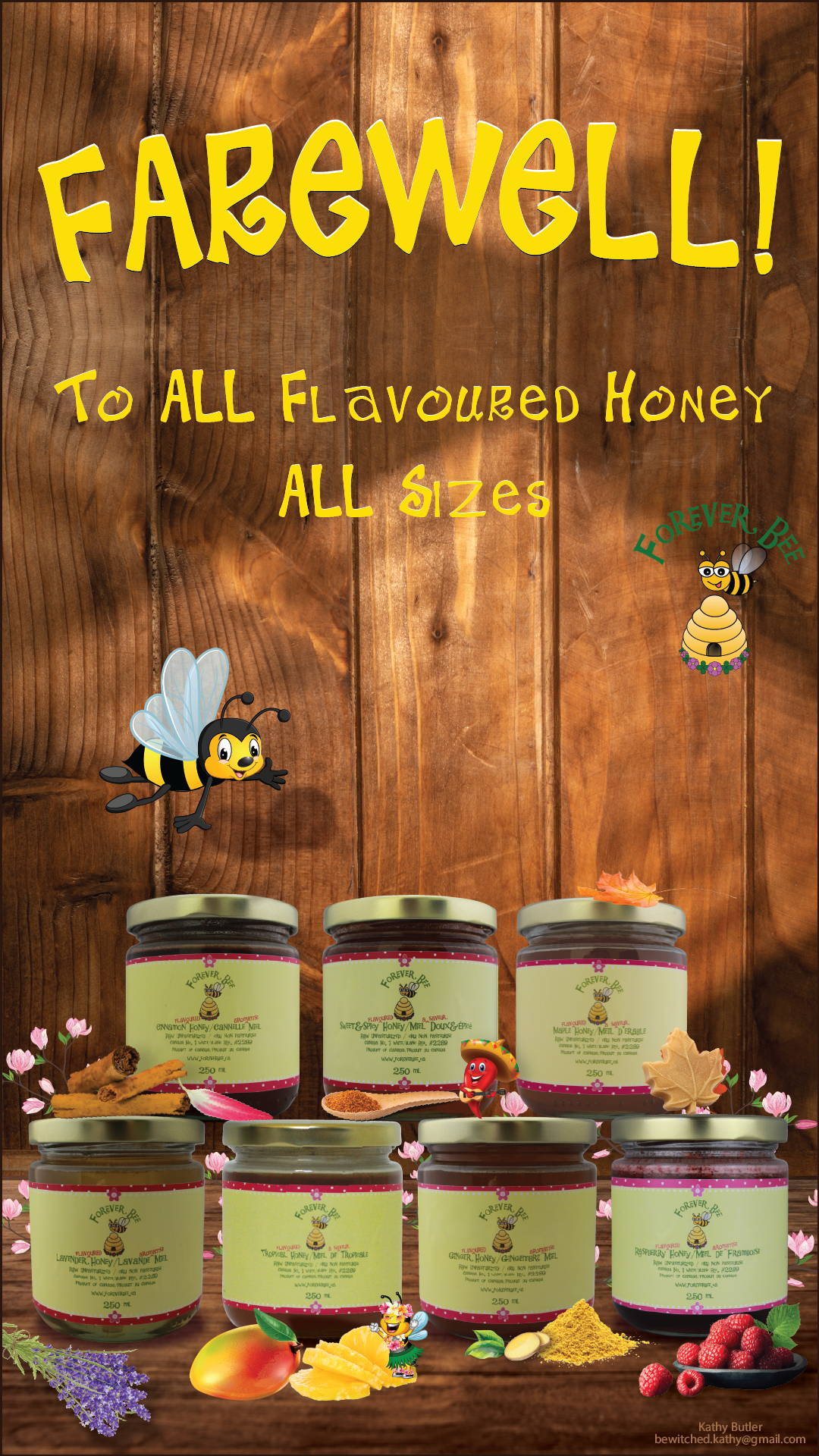 At the end of January we are saying goodbye to our much-loved flavoured honey. We decided to say goodbye to this long-standing relationship because we felt that we could better serve our community much better by allocating our resources to other areas.
By saying goodbye to our flavoured honeys we can now put our resources into making sure we have a stronger core product base, our online resources are expanded and our customer service continues to be the best.
We have received many emails of support, concern and sadness to see our flavours go. I wanted to assure you that we are not doing this lightly. With the many challenges and changes we had gone through these past two years we wanted to make sure that our business can thrive in best way possible for our bees and our community.
This year we are learning that saying goodbye to a relationship that no longer works is not always a bad thing. It is an opportunity for new beginnings, being empowered to affect change and to create something new :)
I would like to invite all of you to create something new and beautiful with us this year. Say goodbye to the things and relationships that no longer work for you and create the life that you really want. Not happy in your job? Try something new. Always wanted to run your own business? Meet some like-minded people to inspire you. Want to pay more attention to your health? Join a group, start exercising, eat healthy and start making changes. Are you looking for a relationship that brings out the best in you? Start creating that person inside yourself and remove all negative people from your life. It is a fantastic, creative project to work on.
School is starting up for a new semester and it is up to parents to stock lunch boxes with healthy, nutritious and delicious treats.
Why not try out some of our honeystix. They are gluten, nut and dairy free, come a variety of delicious flavours and colours and make for a healthy treat for the kids.
Soooo many flavours to choose from: Apple, Peach, Raspberry, Sour Blue Raspberry, Root Beer, Pink Lemonde. And for those who like honeystix with no artifical colours or flavours, we have our Naked Line: Pure honey, Cinnamon and Lemon :)
These make great lunch-box snacks, hiking treats, they are convenient to carry in your purse as a tea/coffee sweetener, and kids (of all ages) LOVE them as treats.
GIVEAWAY!!!!
We would love to give away a 50-pack of a variety of our honeystix to a lucky winner.
ENTER TO WIN:
Let us know what your favourite treats are to carry with you, to pack in your lunch or to give to your kids/grandkids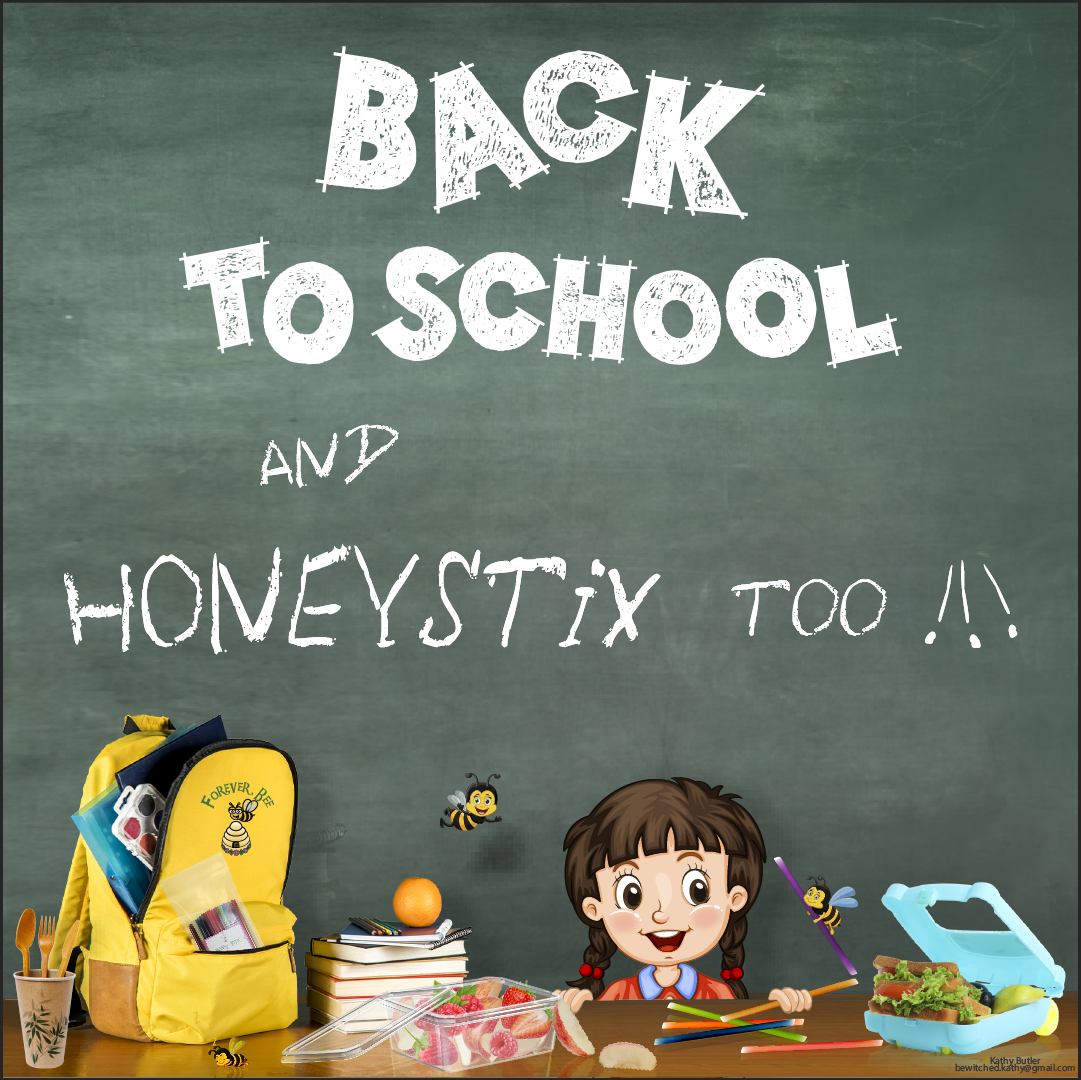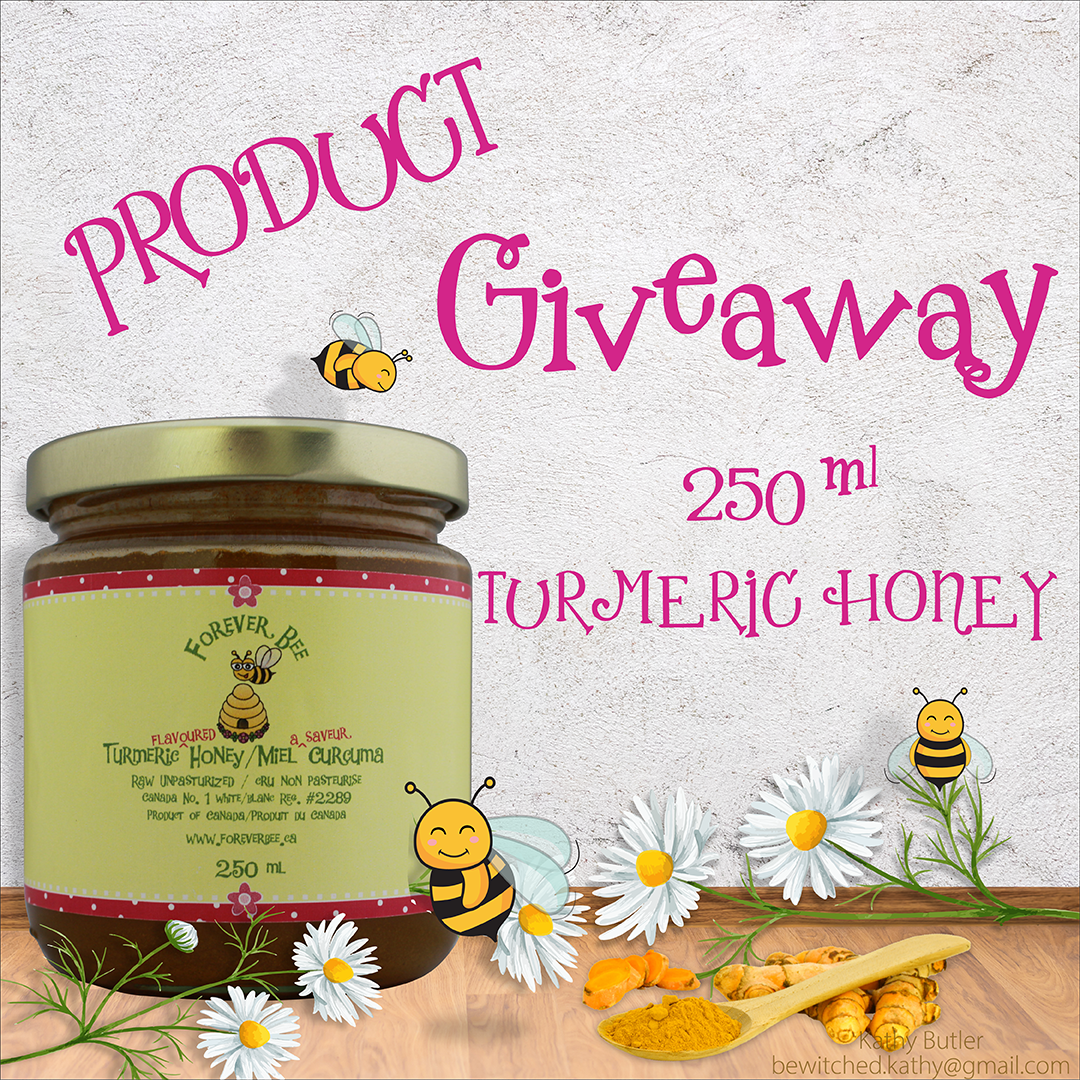 When I first created the Turmeric honey, I was honestly a bit concerned. I was worried about how it would taste, how people would respond to it and how successful it would be.
Then I went back to the roots of the business and just "felt" my way through this decision. Is it something I believe in? Do I use it myself? Will it help people? The answer to all these questions are YES. That is how I know it would work out. And guess what, everyone who tries it LOVES IT!!!
Usually with Turmeric it is a very strong, woody taste.......but mix it with raw honey and you get a beautifully blended, mild turmeric flavour that you can easily just eat by the spoonful. We use only the highest quality Organic Turmeric from SouthEast India, blended with our raw, unfiltered honey. Mmmmm, delicious.
Forever Bee Turmeric honey has amazing health benefits including an anti-inflammatory which also reduces pain (arthritis, etc), it is packed with antioxidants, helps improve mood and fights depression and also improves hearth health.
This year, why not start your day off on a healthy note. Try out this Golden Milk Latte Recipe to help you get a better sleep at night and and an anti-inflammatory during the day:
Ingredients
1 ½ cup coconut milk, almond milk or unhomogenised milk
1 tablespoon Turmeric honey
¼ teaspoon cinnamon
1 teaspoon coconut oil
Directions
- Add all ingredients to a small saucepan over medium heat. Stir until uniform and warmed through (about 5 minutes). Do not bring to a boil.
- Use a whisk or a handheld frother to get a more foamy consistency if you prefer.
- Pour into a mug and enjoy carefully as the mixture will be hot.
We have come up with some delicious recipes to help you include more Turmeric in your diet. One of my favourite daily Turmeric boosts is a https://foreverbee.ca/blogs/turmeric-honey-recipes/honey-turmeric-smoothie
Also, try out our delicious https://foreverbee.ca/blogs/turmeric-honey-recipes/honey-turmeric-chicken
GIVEAWAY!!!!
We would love to give away a 250 ml jar of Turmeric Honey to a lucky winner.
ENTER TO WIN:
What are some healthy habits you would like to adopt this year? Daily walks? Working out? No sugar? We would love to hear all about it :)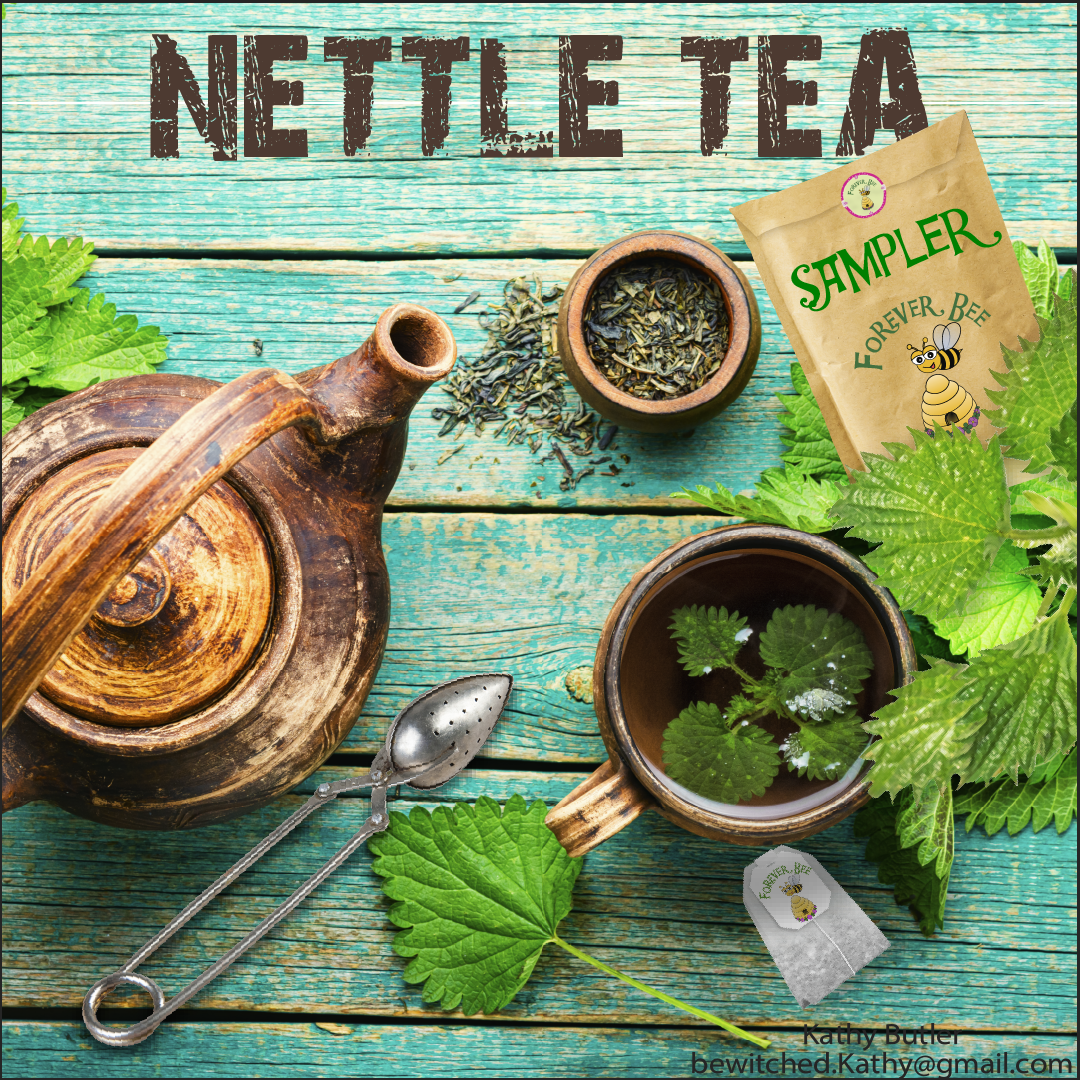 Every month we focus on a new herb to try and some delicious herbal recipes :) This month we are going back to basics and seeing how simple, one-ingredient herbal recipes can be used to help us achieve vibrancy and optimum health :)
This month I would love to focus on Stinging Nettles :) It might seem like a strange herbal recipe but it is one of my favourites to use because of the many benefits and uses it has.
Nettle Tea
- use as a tea to cleanse the kidneys and bladder; breaks up kidney stones; - reduces inflammation, stiffness and pain in joints;
- provides relief against diarrhea and dysentery; treats acidity, flatulence and constipation;
- reduces symptoms of seasonal allergies;
- purifies the blood and increases red blood cells which helps with anemia; - reduces symptoms of PMS mood swings, pain and bleeding;
- positive effect on nerve health such as sciatica and neuralgia;
- prevents gingivitis and other oral diseases.
Nettle Leaf Paste
- apply to acne, chicken pox, eczema, insect bites and other skin diseases to help clear it up and take away the itch.
Nettle Leaf Concoction
- apply to wounds or burns to help with faster recovery and reduction of scars
Nettle Leaf Tonic
- massage into scalp to help clear up dandruff
- rinse hair to bring out shine and volume
- strengthens hair follicles and hair health
GIVEAWAY:
This weekend we are giving away a FREE Herbology sampler to every order over $75. Your Herbology sampler includes a package of Nettle Leaf as well as a custom tea bag which you can fill with any herbs (including your Nettle Leaf).
It is sooo cold this winter and I find that my skin is quite a bit drier than usual. I have also noticed that my grandson's skin on his hand is always cracked.
Needless to say that I just love lathering up with body butter when I get out of the shower. It soothes my dry skin, it smells wonderful and protects my skin from drying out more in the cold air.
We use just the highest quality ingredients for our Body Butter. There are no artificial colours, fragrances or chemicals in it.
- Apricot Oil is antibacterial and very moisturizing. It also helps to all the beneficial compounds of the other ingredients to absorb into the skin.
- Beeswax protects your skin from the harsh elements while locking in moisture
- Shea Butter is a well-known anti-inflammatory and penetrates deep into the skin to moisturize dry skin and help fight aging, stretch marks and diaper rash.
- Essential Oils give a mild fragrance that makes our body butters even more luxurious. Lavender is especially helpful for sleep and relaxation. Peppermint is ideal for foot massages. Orange is ideal for a citrus burst that is energizing. Natural (without essential oil) is perfect for super sensitive skin, also those who are sensitive to smells.
Learn to love your skin. Make sure to keep your skin supple and moisturized by using a high quality body butter, drinking a lot of water and keep it protected from extreme weather.
GIVEAWAY!!!
We would love to giveaway a body butter of your choice to one lucky winner.
ENTER TO WIN:
Comment with how you stay moisturized during the winter months. Do you face any particular challenges with your skin?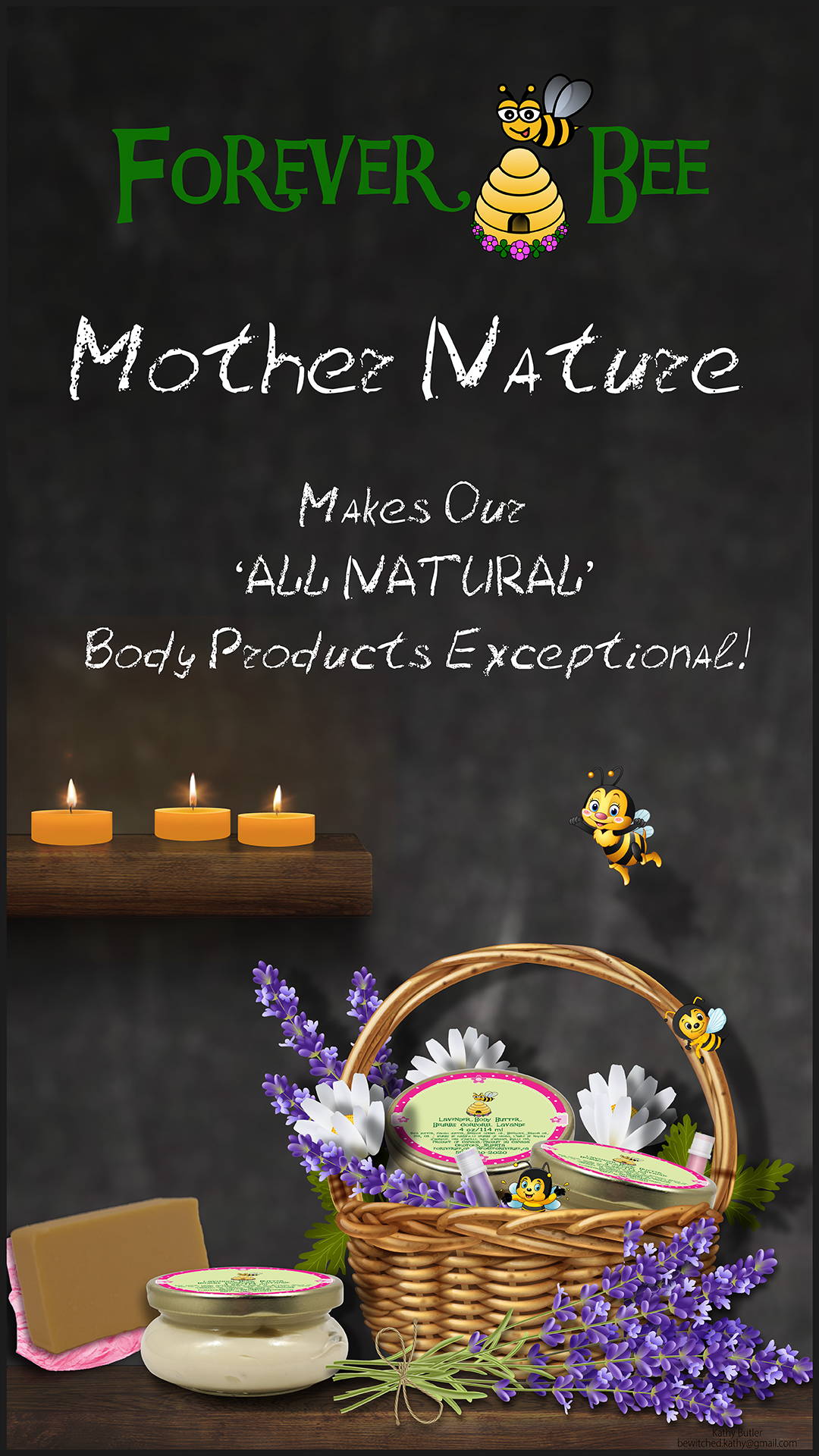 At Forever Bee we never use sweeteners in our Lippy Balms. Most other chap sticks and lip balms use sweeteners to so that you can taste the flavour. The downside to this is that you keep licking your lips which then dries you lips out more which then makes you apply more lip balm to your lips. It is a really vicious cycle that just creates more dry lips.
We use the highest quality, raw, organic ingredients as well as all natural colours, flavours and essential oils. Our lippy balms are safe enough to eat and are perfect moisturizers.
During the cold winter months the Beeswax will lock in the moisture and protect your lips from the extreme weather. Shea Butter will provide deep moisturizing. Apricot Oil will act as an antibacterial agent, allow all nutrients to be absorbed quickly and also is moisturizing.
Lippy balms are perfect for keeping in every pocket, in your car, at home and they also make for ideal gifts for kids and friends.
GIVEAWAY!!!
We would love to giveaway a package of 12 Lippy Balms to a lucky winner.
ENTER TO WIN:
Comment with some of the most unexpected things you have learned about some of your favourite products. These can be good or bad or interesting :)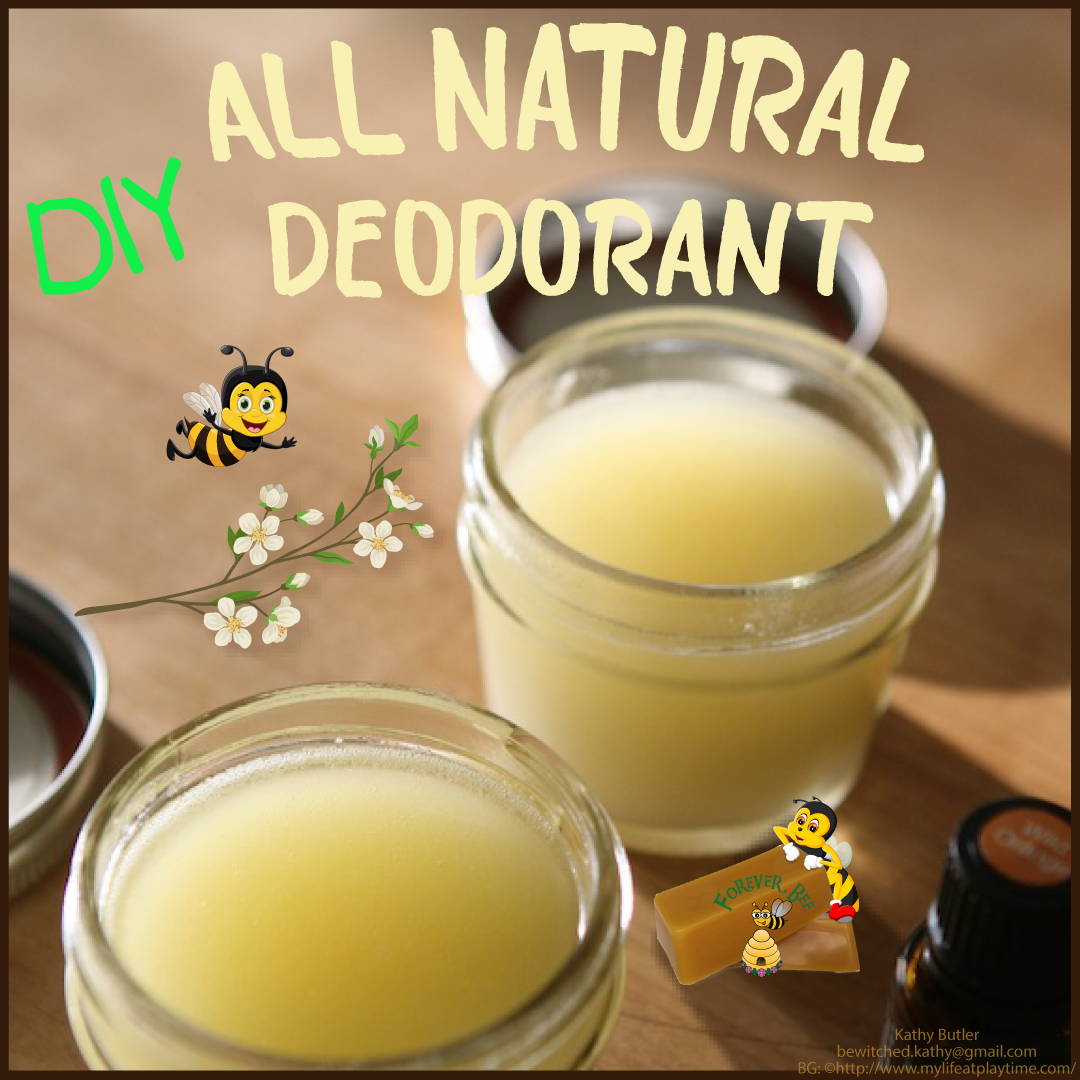 Want to start up a new hobby this year?
Try out our recipe for All Natural Deodorant. This recipe is ideal for those who have sensitive skin, who would like only high-quality ingredients that they choose themselves and for those who would like to use their own fragrances.
Visit our Recipe Collection to learn to make your ownDIY Beeswax Deodorant


Making your own deodorant is not the only new hobby you can take up with Forever Bee beeswax. You can make your own salves, lip balms, beeswax food wraps, candles, crayons, chewing gum and so much more.
Visit our help centre to find out more fun hobbies you can start with beeswax.
As part of your wellness journey this year, make some time to take up a new hobby, learn a new skill or doing something fun and creative on a regular basis.
GIVEAWAY!!!
We would love to giveaway a pound of beeswax to a lucky winner today.
ENTER TO WIN:
What new hobby, skill or creative project would you like to learn or take on this year?
Emergency Preparedness Kit
One of the new things that I want to pay more attention to in our home this year is our level of preparedness for emergency situations. This was not a decision that I made out of panic and fear, but more because I felt empowered by being able to help my family, friends, neighbours and community by being prepared.
Part of emergency preparedness is to prepare for natural disasters, job loss, power outages, etc. but also for when the furnace breaks in your home, your car won't start and you are stuck in the cold. It is all about being prepared and able to help yourself and others :)
If you have not looked into emergency preparedness then it might seem overwhelming, but we are here today to make things easy. Let's start with a small essential 72-hour emergency kit.
Did you know that many of the products we make at Forever Bee is also perfect in your emergency kit? We have put together a Forever Bee Preparedness Package to add to your kit.
The Forever Bee Preparedness Kit includes:
1/2 lb Bee Pollen
500g Raw, Unfiltered Creamed Honey
Beeswax Pillar Candle
10 x 1 oz Beeswax blocks
Lippy Balm
Honey - it is great for emergency wound care on burns, cuts, sore throats, coughs, etc. It is also a great source of carbohydrates and nutrients in an emergency situation. Mix a tsp of honey in a bottle of water with a pinch of Himalayan sea salt - it is a perfect electrolyte drink to help with hydration.
Bee Pollen - this is a super food that contains all your vitamins, minerals and over 40% protein. When you are low on food, make sure to have bee pollen in your kit.
Beeswax Candles - these candles are long lasting, they don't drip and don't smoke. They also last a very long time. All emergency kits should have at least one pillar candle that can be used as a light source, heat source and also a cooking source.
Beeswax - pure beeswax is not necessary in a 72-hour kit, but should be part of your long term emergency kit. With beeswax you can make your own body products, waterproof your shoes, seal your food, make your own candles, etc.
Lippy Balm - ideal for keeping your lips from drying and cracking and you can also use it on your cheeks and hands in an emergency.
We have put together a very useful list of items for your 72-hour emergency kit. This kit can be assembled in a 5 gallon food-safe bucket and be kept at home or in your vehicle when you travel.
Download your 72-hour emergency kit checklist here:
https://foreverbee.ca/downloads
GIVEAWAY!!!
Today we would love to give away a Preparedness Kit to a lucky winner to help you get started on your preparedness journey.
ENTER TO WIN:
Let us know the level of your preparedness. First aid kit? Fire extinguisher? 1 month's supply? Not at all? We would love to know.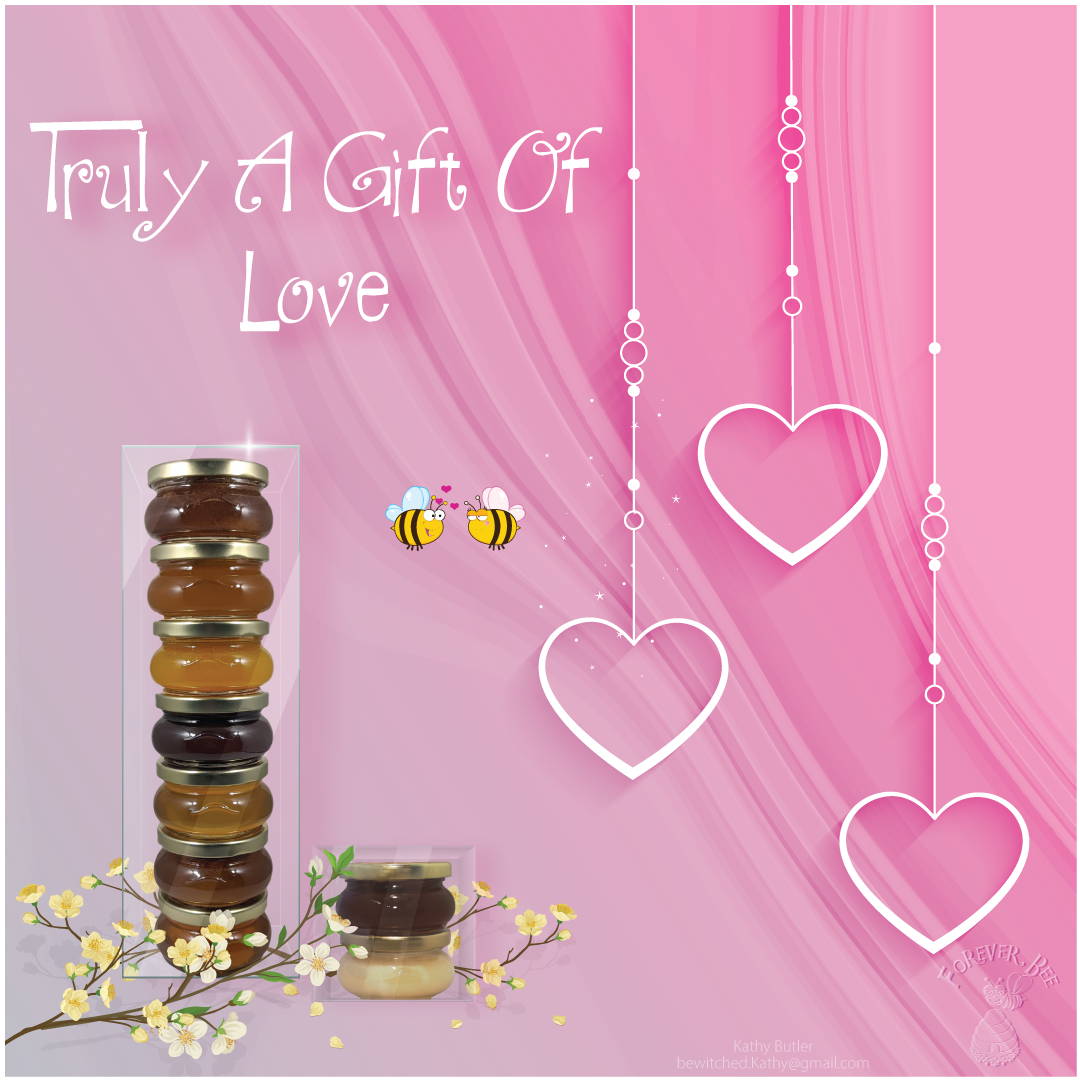 Our gift packs make it so much easier with small, compact sizing so that you can easily gift these jars or pack it along anywhere you go. These gift packs are a perfect way to stock up and try all the flavours before they are discontinued.
Each Large Gift Pack includes seven gift jars of honey. The flavours include Cinnamon, Ginger, Lavender, Maple, Sweet & Spicy, Licorice, Turmeric, Apple Pie and Raspberry. We also have loads of recipes on our website for each of these flavours which will keep you busy in the kitchen making tasty and healthy creations :)
We also offer a 2-jar small gift pack which includes any 2 of our honeys that you prefer. Just pick your favourite two and we will package it in a beautiful gift pack :)
Visit our website to see all the amazing recipes you can try with these flavourful honeys. Not only are these gift packs fantastic by themselves, but the time you can spend together to create delicious treats, is a gift in and of itself :) https://foreverbee.ca/pages/recipes-blog
GIVEAWAY!!!!
You guessed it, we are giving away a beautiful Large Gift Pack to a lucky winner today.
ENTER TO WIN!!!
List 3 things you are grateful for. Make sure to really connect to this on a feeling level. Feel it in your heart and share it with us :)
Today we're so excited to invite you behind the scenes to learn more about our pure Beeswax!
Watch how we break up large blocks of Beeswax, ready for melting. We pour the melted wax into moulds and show you what it looks like to un-mould them and get them ready to arrive at your door.
We love sharing the amazing qualities of beeswax with our customers – it fragrances the air with a delightful wildflower honey scent, it can be used to make many natural products, it also does not contain any toxins so it is a healthy alternative to conventional candles and body products. Visit our Help Centre to find fun and easy ways you can use beeswax in your home.
Plus, we're super proud that there is no waste! If the wax has marks or imperfections we just re-melt it and start again! So you always get a perfect product in your shipment too!
We pride ourselves in finding creative ways in which to reduce waste, reuse products and shipping materials as much as possible and create products that make it easy for our customers to reduce waste in their homes as well.
One of these products is our Beeswax Food Wraps made by Alicia at Sloan & Co. Alicia uses our beeswax to make the best food wraps in the industry.
GIVEAWAY:
For a chance to win a 3-pack of our Beeswax Food Wraps let us know how you try to reduce unnecessary waste in your home?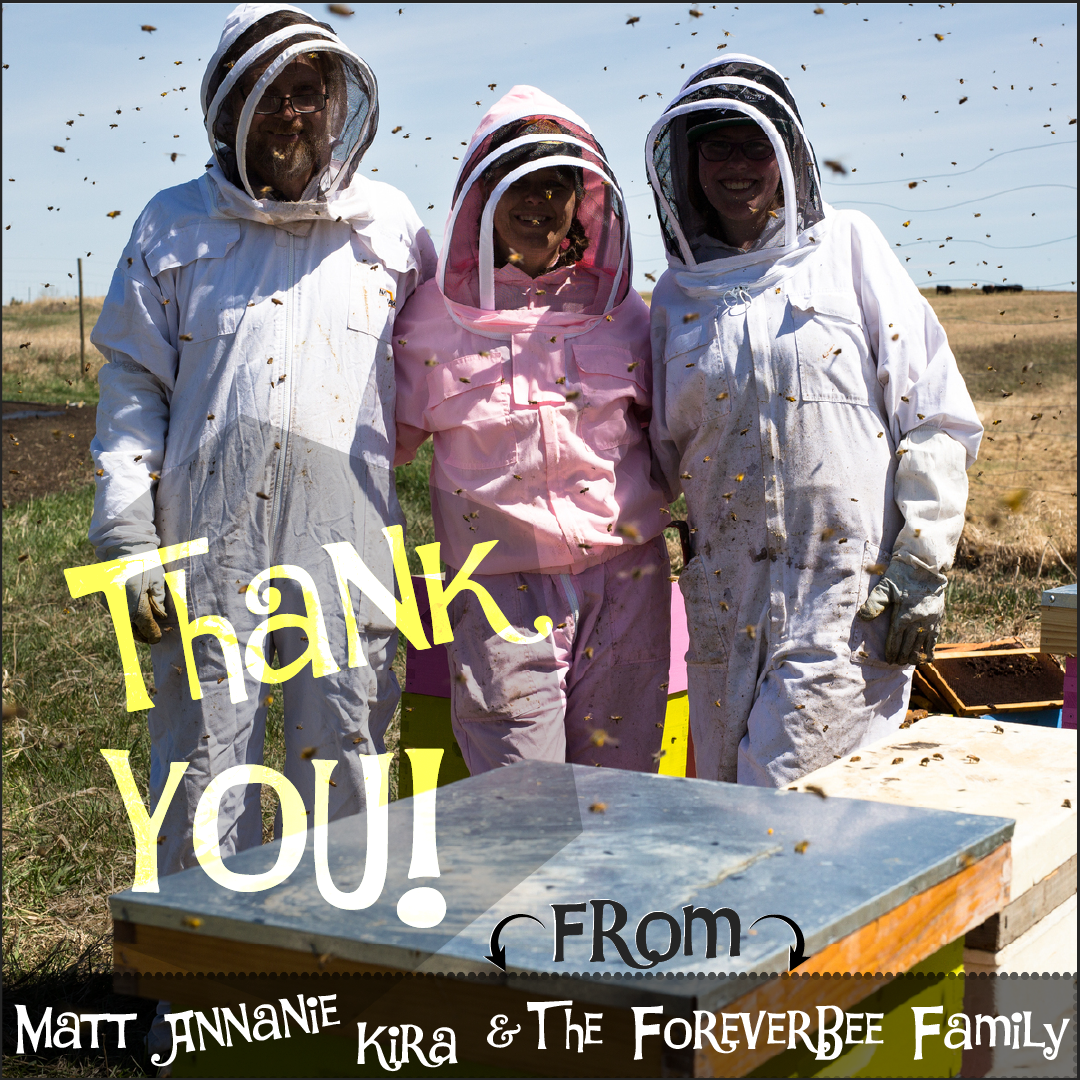 Thank you so much for joining us at our Journey into Wellness Online Market! We hope you had a fantastic time 😊
At Forever Bee, we are so grateful to have the opportunity to grow our dream business with our family and team. We absolutely love you, our bee-autiful customers! We love creating products that are healthy and nourishing for your body and soul. We also love sharing ideas that help you and your family/friends spend quality time together.
We really enjoy hearing from you, please send us an email for a special Honey Money Bonus!
Here's how:
200 bonus points simply for attending - Email sales@foreverbee.ca with your account email address (make an account first if you don't have one.)
PLUS
Receive 300 extra bonus points for answering these questions in your email.
- What was your favourite part of the event?
- What was at least one portion of the event that you would change and why? - And any other notes you wish to share! 🙂
Upon receipt of your email, we will credit your account with your bonus points so make sure to use your account email or provide it to us when you send your message!
Remember that our Gift-with-Purchase promotion is a perfect way to try some free gifts with every purchase. This promotion will run until midnight tomorrow night :) Load up now!!!
GIVEAWAY!
Enter for a chance to win a Surprise Bag ($65 value) AND for an extra entry into our Grand Prize giveaway!!
Start a wishlist from our Forever Bee account and add all the goodies you would love to try. You might get lucky and win a surprise from your wishlist :)
Order value between $50 - $75 ($10 Value)
Lippy Balm
5 Honeystix
Coconut Oatmeal Honey Bars
Order value between $76 - $125 ($13 Value)
Herbology Sampler
2 Tealight Beeswax Candles
Coconut Oatmeal Honey Bars
Order value between $126 - $175 ($25 Value)
Herbology Sampler
Coconut Oatmeal Honey Bars
An item from your wishlist (max value $15)
Order value between $176 - $250 ($35 Value)
Herbology Sampler
Coconut Oatmeal Honey Bars
A couple of items from your wishlist (max value $25)
Order value over $251+ ($47 Value)
Emergency Preparedness Package (Pillar Candle, Honey, Lippy Balm, Bee Pollen)