Grand Re-Opening - July 1, 2022
Annanie and Matt might be leaving the country, but the rest of are going to stay here and celebrate Forever Bee staying open! Kira, our business manager of 5 years has decided to purchase Forever Bee and keep it open! We have lots of fun planned over the weekend, you can take a peek below to learn all about our products, and our company. We have giveaways, gifts with purchase, new products and more!
You can also join along with us live on Facebook from 12pm -2pm and 5pm to 7pm on July 1, 2, and 3! Kira will be online with you responding to questions and getting to know everyone. I hope you'll join in on the fun.
Welcome to July! Happy Canada Day to all of you!
I hope you'll join us online all weekend long for our Grand Re-Opening! I (Kira) will be LIVE online with you this weekend celebrating my promotion from Manager to Owner at Forever Bee. I can't wait to share all the things I love about Forever Bee with you.
Over the course of the weekend we will have posts going up on our Facebook and Instagram pages where you can learn about our company, our products, and a little bit of what goes on behind the scenes. We have giveaways, promotions, new products and more.
There's is no purchase required to be a part of the Grand Re-Opening event. All online participation is free. Now of course we like to celebrate with gifts, so we do have a Gift With Purchase offer running until Midnight July 4. The offer is available right online and will be automatically added at the checkout for you. If there's any questions please reach out to Kira anytime at 403-915-0454.
I know this weekend is packed full of family fun for most of us, so here's a little preview of our Grand Re-Opening Online Weekend plans. Check in when you can, you don't not be live for the entire event to win. These are simply the times I will be live on the internet reading and responding to all of your comments and questions.
Come as you are, when you can. Bring your friends if you'd like!
Friday:
12pm - 2pm - Meet Kira, learn about raw Honey varieties and Honeycomb. Get an update on our bees and our Gift With Purchase reveal.
5pm - 7pm - Learn about Beeswax and the products we make with it. Including TWO NEW PRODUCTS! Did you see our teaser video last week?
Saturday:
12pm - 2pm - Get to know Forever Bee. Learn about our History and some of the values that are important to us. Take a tour of our new workshop in Lethbridge Alberta!
5pm - 7pm - We're talking about our ingredients! Which ones we use, and why some makers use our products in their creations.
Sunday:
12pm - 2pm - Sunny Sunday Adventures - Come chat about some of the things we love to do outside and how our products get to be a part of those adventures. Plus, some more bee education & prize winner announcements.
Monday:
12pm - 2pm Review of our re-opening, last call for Gift with Purchase and additional questions answered.

I am looking forward to sharing all the things I love about Forever Bee and the partners we work with! See you all soon!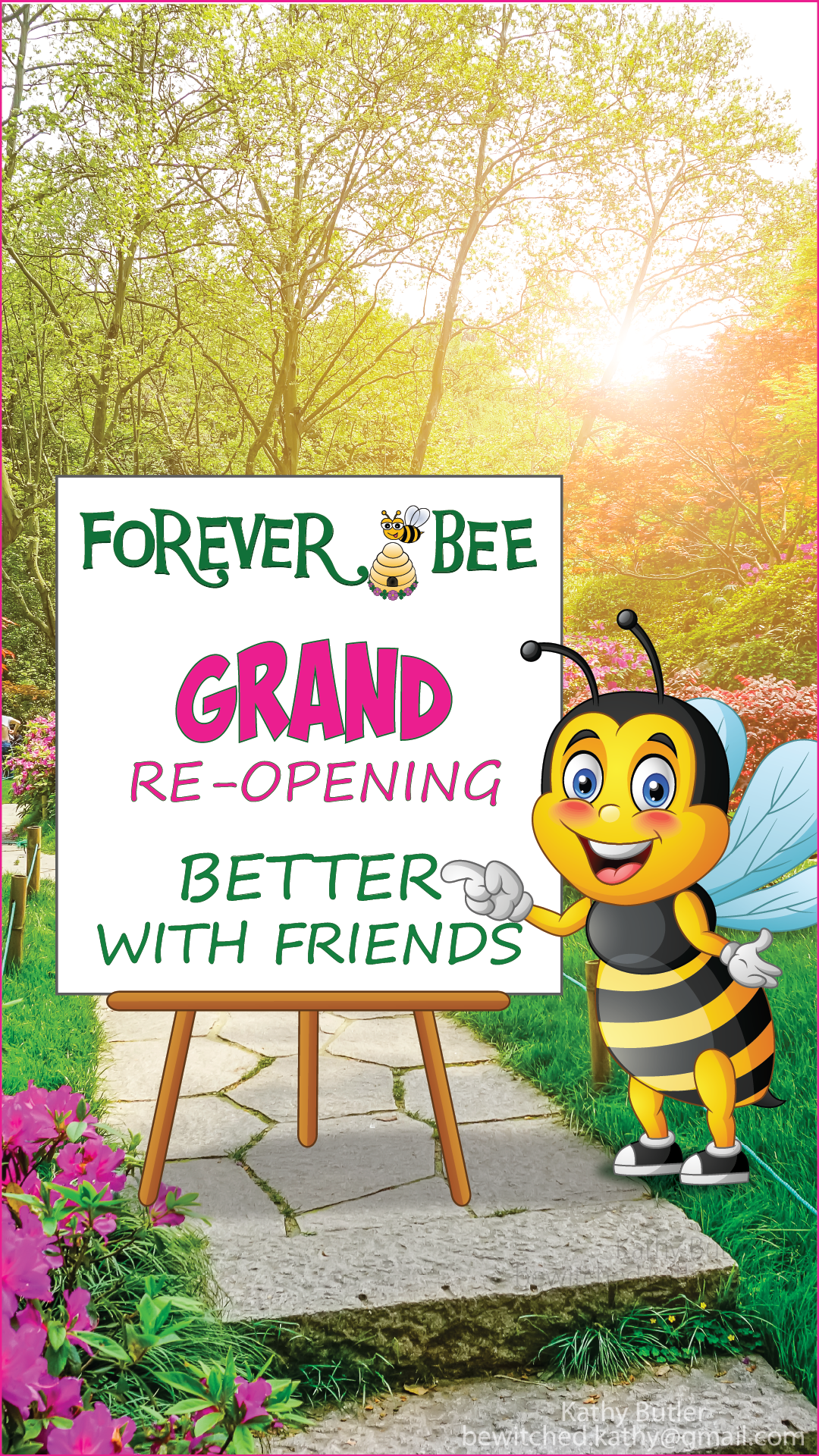 *Sometimes during our online events we get a bunch of party-poopers who try to contact our followers. We usually take care of them very quickly. We will not ask for any credit card or personal information during this market, the only external links used will be directly to our website. The only thing necessary to join in is you! If you see any suspicious activity please direct message us right away, keep your personal information private.*
https://foreverbee.ca/open
Text or Call 403-915-0454
sales@foreverbee.ca
Click the green bars to expand and collapse sections.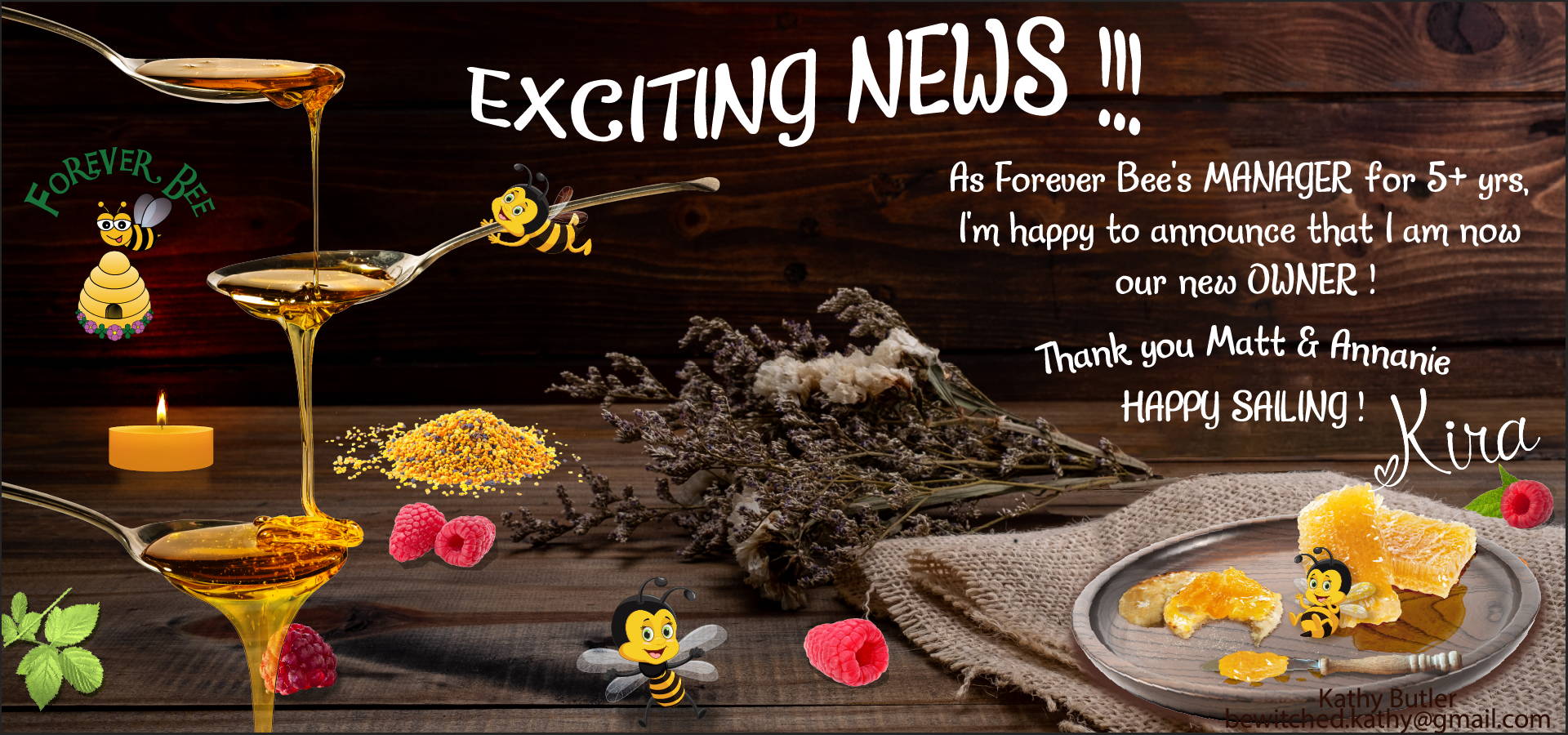 "EEP!! I'm the new owner of Forever Bee!! 😁😁😁😁" - Kira
Annanie started Forever Bee over 10 years ago, a few years in her partner Matt joined the team and the kids came to help over the years. Matt's Aunt Kathy makes all of our fantastic graphics for us still to this day. In 2017 I (Kira) was hired to help with the events in Lethbridge (2 hours south of the company's home in Okotoks). We have had a handful of amazing people who have jumped in to help us with events, trade shows, deliveries, and production.
For the next couple of months Annanie and Matt will continue to be available for coaching and guidance remotely. Kathy has wonderfully agreed to continue making our images for us! For our transition time it will be just myself in the company (and likely my two daughters too). Soon we will be able to grow our team again!
Over the course of the weekend we will be sharing some of my favourite things about Forever Bee. How we have operated in the past, what is staying the same and what is changing. We have some videos, giveaways, new products, price changes and lots of fun planned! I hope you'll join us!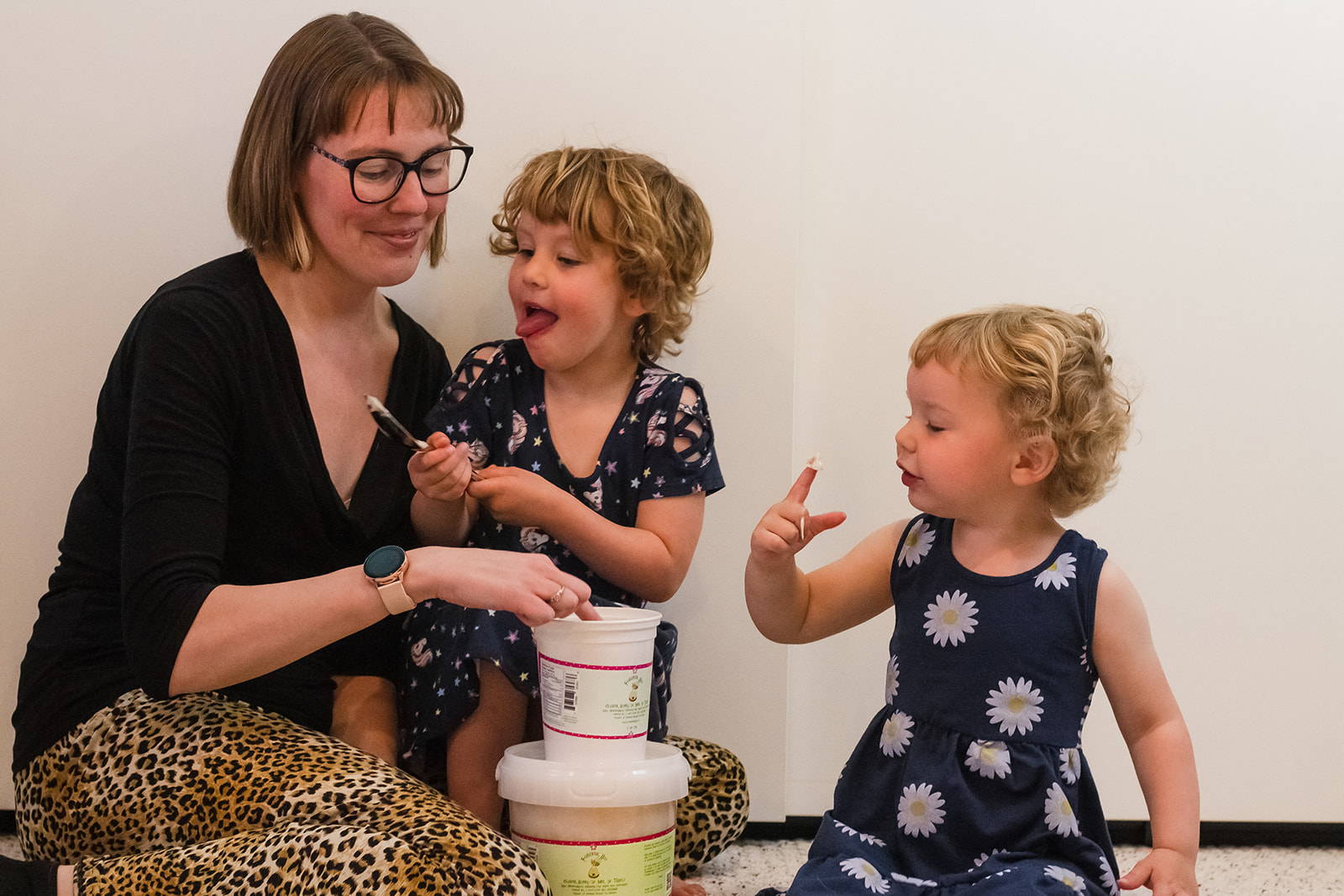 Hey Folks!
My name is Kira (K-eye-rah)! I've been a part of the Forever Bee family for 5 years now, and have loved it! The community and family we have grown together has been truly amazing. Every day I get messages with love and gratitude from our customers, it fills my heart.
Annanie, Matt and I met at the Lethbridge Farmers Market in 2016. I owned a company which represented various brands at trade shows & markets. Annanie and Matt were my neighbours that year, we got to know each other very well and I was able to bring them on as a client so I could represent them at the Big Christmas show in Lethbridge. The following year I got to do shows all over Alberta including Lethbridge, Banff, Canmore, Calgary, Okotoks, Lloydminister and more! In 2017 I was pregnant with my first daughter and I decided I did not want to continue the business. Annanie and Matt didn't like the news of my closure so they hired me on as the Business Manager (and first non-family employee!) to maintain some of the online things they didn't have time for, like emails and building a new website! Fast forward to 2022, I didn't like the news of Forever Bee's closure, so I decided to buy the business. Clearly Annanie and Matt taught me a lot about problem solving. 🤣 Thank you both.
I live in Lethbridge Alberta with my partner Cody and our two daughters Lyllian and Emma (you may have seen them in some of our videos before). Forever Bee has always been family run, I feel blessed to be welcomed into the family and look forward to continuing to raise my family inside of the Forever Bee Community.
Here's some of the ways Forever Bee is a part of my life:
I love drinking coffee with Apple Pie Honey.
We put Bee Pollen on our cereal and yogurt A LOT.
There are lippy balms all over my house (thank goodness they don't ruin a washing machine!)
We decorate our Christmas Tree with handmade Honeystix Ornaments.
I like to light a candle when I'm up late trying to be productive.
I get to tour our province while delivering right to your door. (This is the BEST during Halloween and Christmas! when everything's decorated!)
... and so many more ways. Stick around this weekend while we talk about some of them!
GIVEAWAY!
How is Forever Bee a part of your life?
I would love to know more about you and how Forever Bee has been a part of your life in the past! Let me know in the chat for your chance to win a $25 Surprise Bag from us!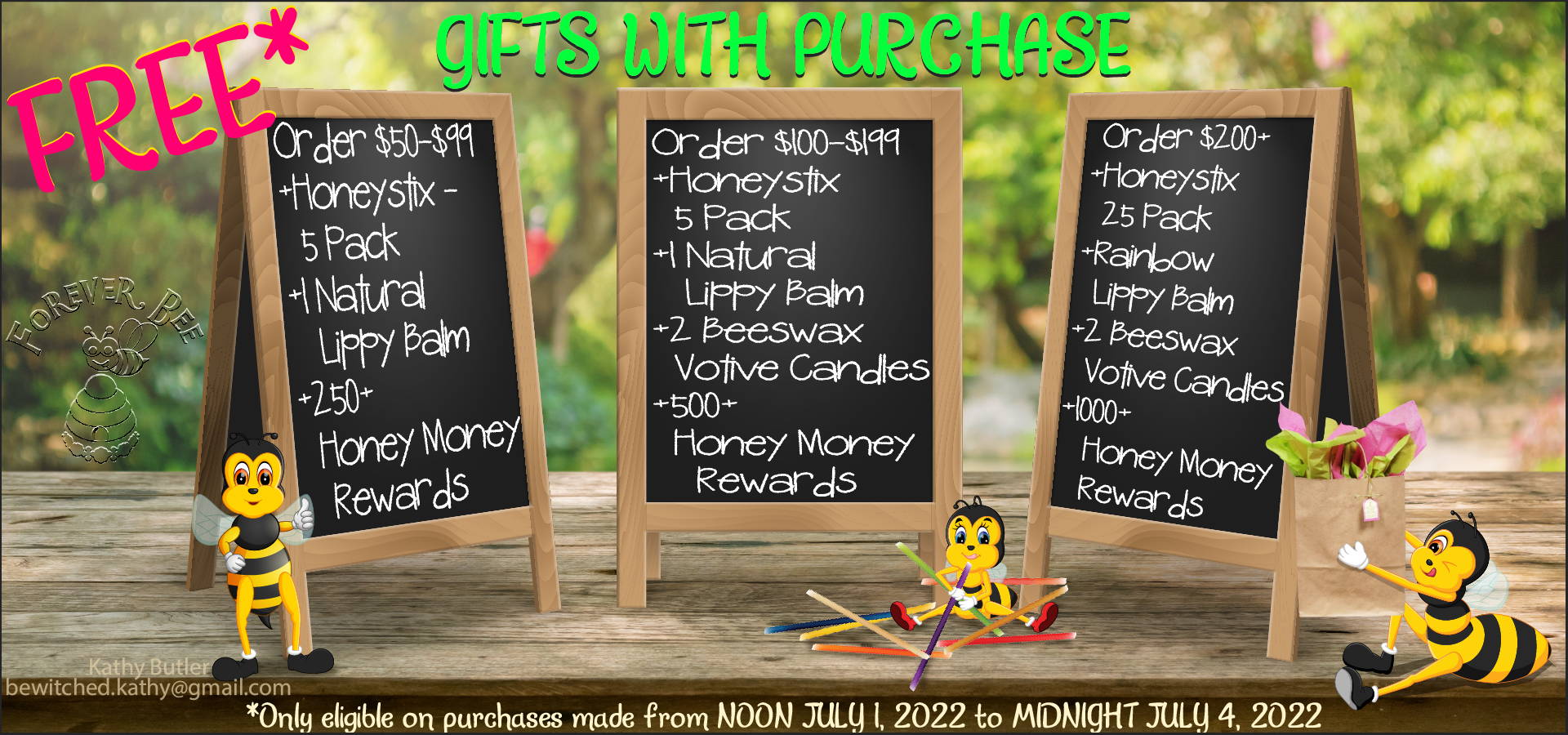 CELEBRATE WITH US!!
WAHOOO WE ARE STAYING OPEN!!!! I am so excited that we are not closing! One of the best parts... I get to decide when we do giveaways and gifts!! To celebrate our Grand Re-Opening and get everyone a chance to try out some of our favourite things we are doing a gift with purchase this weekend!
For every order placed this weekend you will get a gift. The gift gets better with bigger orders!
GIVEAWAY
Giving Gifts makes me wanna Giveaway more! Let's start a conversation around gift giving! What are some of your favourite gifts to give or receive? Do you have any gift stories that would warm up our day?
I LOVE packing up a surprise bag! Join the conversations below about gift giving. Each comment on each Gift With Purchase post between July 1 and July 3 will be entered into win. We will giveaway one $25 Surprise Bag to TWO lucky winners.
Have an open order with us already, or order right before we announced this offer? If you purchase anything during our event, we will make sure the gift added matches your total of the complete order being delivered.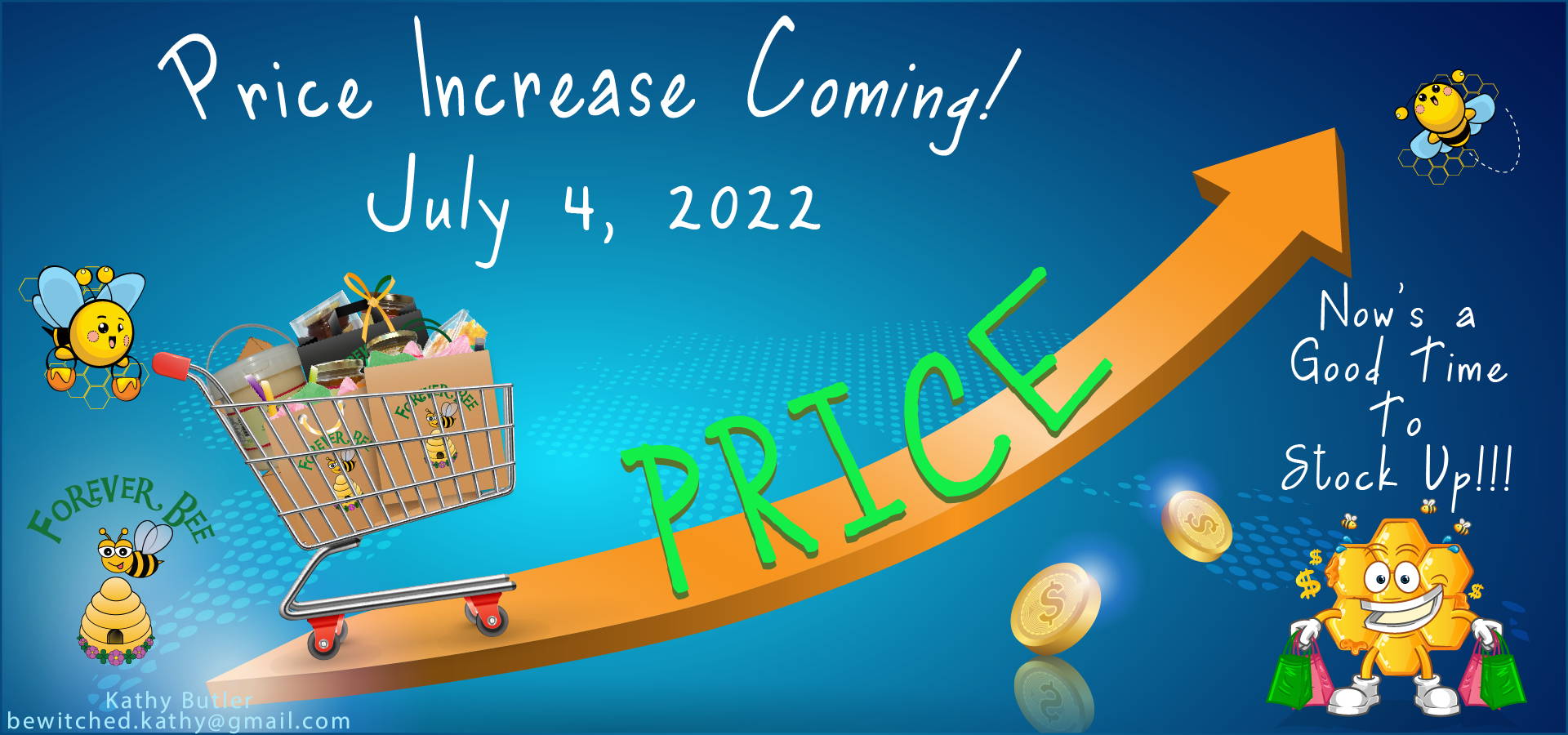 PRICE CHANGE ALERT
I'm so grateful that we have the opportunity to stay open! It took A LOT of planning, very little sleeping and quite a bit of honey & pollen to energize me! I really hope this comes with no surprise, but we are going to have some price changes coming. Most years we anticipate a little increase of our materials, supplies, and operating expenses and have to make the choices about sharing those costs with our community or taking them on ourselves. 2020-2022 were really hard on everyone, we did our best to keep ourselves and our products accessible to our customers. This included not changing prices of some products (some in over 5 years!). I am still amazed at all the things we learned in operating costs and how to reduce them, that really helped us hold on as long as we could!
I've been wrestling with the price changes that need to happen this year. Lots of things went into our decisions of our pricing when we started with just Annanie in 2012 selling only at local Trade Shows and Farmers Markets. Now, in 2022 we deliver right to your door, and ship across North America. We are able to offer bulk volume discounts and have our products in select retail locations across Canada. Our honey and beeswax are primary ingredients in many crafters and makers products also. We hope to employ staff again soon. We also learned over the past 10 years, that we are picky. Our products are raw, and have purpose in your health and wellness regime. Our quality and consistency matters. The feelings our customers have when our products arrive in their hands - that matters!
I'm so proud of everything we have built this far. I'd like to grow it more! Some of our changes coming this summer have drastically reduced our operating costs (WAHOO!!!). Our private commercial kitchen & workshop in Okotoks has closed. Our little storage office in Lethbridge has moved and become our new Lethbridge Workshop. Combining two locations into one smaller workshop in Lethbridge reduced our rent by 70%!! This decision was largely made because I live in Lethbridge and need to be able to do the production & packing without driving to Okotoks every day. Annanie & Matt will be living on a boat, so staying in Okotoks for them seems silly now. Closing our commercial kitchen does impact one of our products, Flavoured Honeys. Flavoured Honeys were handmade in small batches (7kg at a time) in our private kitchen in Okotoks. They are the only consumable-food-product we package in our workshops, our raw honey is processed in a much bigger facility that we rent. With the closing of our kitchen we will no longer be regularly offering Flavoured Honeys. They will return on a batch-made basis when we rent a kitchen to make some up.
Emergency Preparedness
Often we think of honey as a sweetener and nothing more. Many of our products are fantastic to have on hand in the event of an Emergency! We have seen a huge increase in the past two years of bulk buying. We suspect a lot of this is about emergency preparedness, family budgeting, and because there's no such thing as too much honey! Previously we had priced our 3kg and 7kg pails as bulk items. Then we introduced case pricing and further discounted these items. In some instances these stacked bulk pricings were quite costly to us in select situations, like shipping vs delivery, use of Honey Money Rewards, free gifts with purchase added on and more. To continue to provide the best customer experience, and fairly pay our team we have adjusted how our bulk pricing is calculated.
Our pricing will be changing on July 4, 2022. Please help us spread the word.
Some price changes are little, some are not. I understand this comes at a hard time for all of us. If you would like to stock up so your family is prepared but are unable to pay before July 4, 2022 please choose 'PAYMENT TERMS' at the checkout to order without paying today, and I will be in touch. You can also contact me (Kira) directly via text & call at 403-915-0454. Please don't let payday cutoffs and smart budgeting get in the way of making sure your family is prepared for the duration of 2022!
THIS OR THAT?
Liquid Wildflower Honey or Creamed Clover Honey
Not all honeys are created equal. Different flowers create different flavours, and even different textures in the honey!
I get asked all the time which is better. The answer is actually personal for everyone, here's what I think: The Liquid Wildflower Honey has a bright happy flavour that I love. I much prefer the texture of the Creamed Clover Honey though. Less messy!
... so why don't we cream our Wildflower Honey?
The combination of flowers makes the texture too inconsistent. Wildflower Honey is made from the large variety of flowers that are in bloom in the spring and summer months in Alberta. We have lots of wildflowers, dandelions, apple blossoms, lilac, clover and more. In the fall, our fields are surrounded by clover and other flowers are extremely rare to find.
Each flower creates a slightly different pollen, and then used to make the honey. When a honey is made all from one type of flower, the crystals that begin to form in the honey are more likely to be similar sizes. A honey made from a larger variety of flowers has a higher chance of various sized crystals!
This is one of the many reasons why some honeys are easier to cream than others.
GIVEAWAY!!
Drop your answer in the chat, what is your favourite kind of raw honey?
We will choose a winner by random draw to win their choice of 375ml Liquid Wildflower Honey or a 500g Jar of Creamed Clover Honey!
FUN FACT:
Did you know that a 375ml Liquid Honey and a 500g Creamed Clover Honey are the same size jar? They are measured differently because one is liquid and one is solid! Check out our FAQ page for more facts.
PRICE CHANGE ALERT:
The cost of raw honey production, and the containers have significantly increased in price this year. Effective July 4 our prices will be as follows:
375ml/500g - $14
750ml/1kg - $28
2.25L/3kg - $70
5.25L/7kg- $160
Bulk Cases*
Case of 12 - 375ml/500g - $142
Case of 12 - 750ml/1kg - $285
Case of 6 - 2.25L/3kg - $375
Case of 2 - 5.25L/7kg- $265
*Honey Money Rewards CAN be redeemed on bulk cases!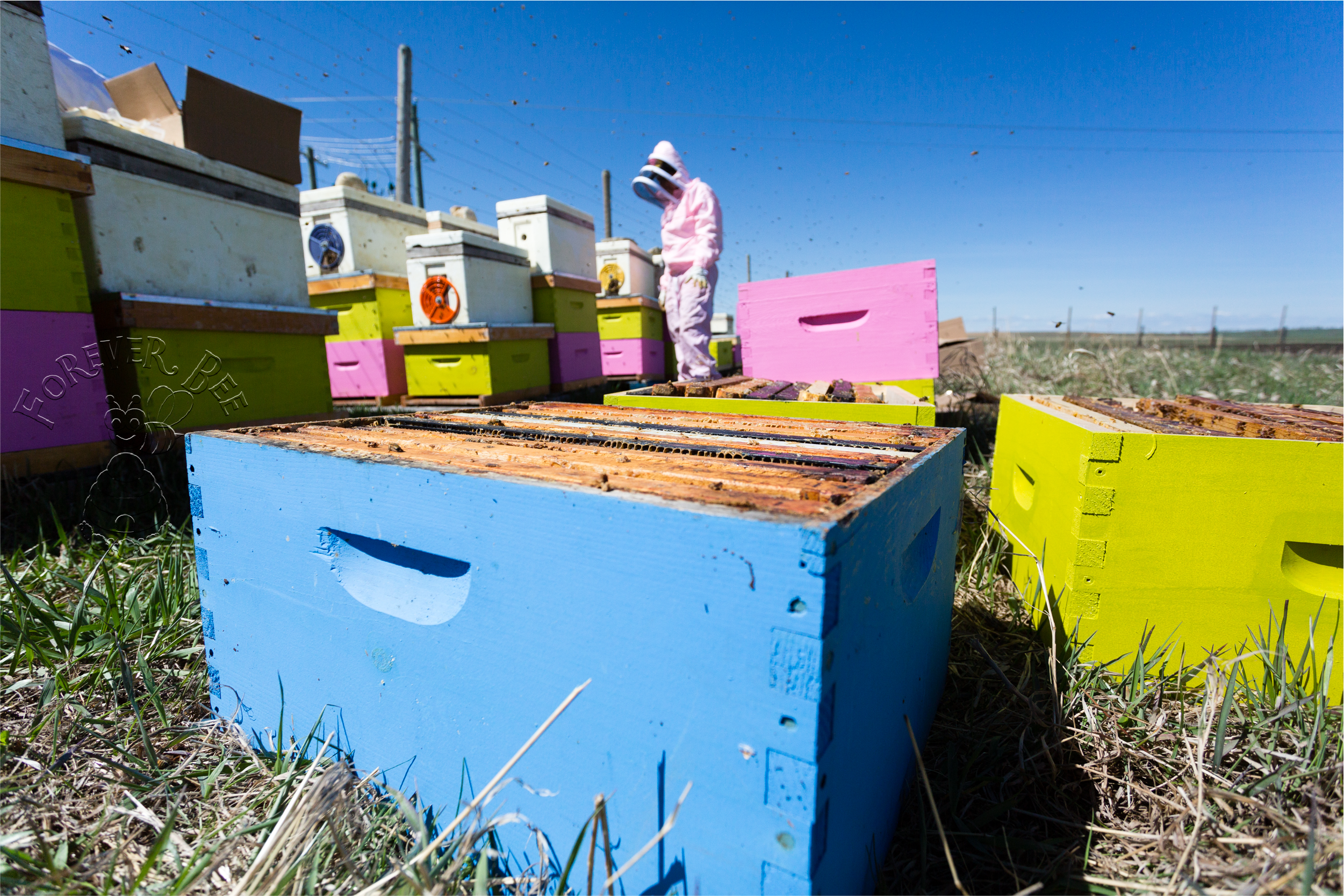 BEE UPDATE!
Matt has a long awaited update on our bee situation here for us!
Despite everyone's best efforts and following and exceeding industry standard best practices for beekeeping, the 2021 season ended with an average of 50% losses of bee colonies across Canada and 80% losses in western Canada. Our beehives were no exception to this unprecedented level of loss. We experienced an exceptionally long and cold winter, but even more significantly the varroa mite levels increased to about double that of the previous 2020 season. There are known correlations between mite levels and the level of related viruses, all of which affect bee health. The increase in the Varroa Destructor Virus was of particular concern.
In our personal experience, we encountered something most unusual when we opened up our honeycomb hives this spring. Normally hives overwinter well and are thriving when unwrapped from their winter blankets. Sometimes a colony doesn't make it due to disease. This year, in all of our honeycomb hives in two separate fields there were no bees to be found, either living or dead. There were no apparent signs of disease or of destruction and all the honey left for them to overwinter with was still there, so they certainly didn't starve.
The best explanation we have for this most unusual situation is that the increased level of mites and related viruses must have weakened the bees and the brood laid by the queen for the winter such that when they emerged they must have felt they were about to die and so left the hive never to return. We were of course both shocked and saddened to discover the total loss of all of these bees. This situation was further magnified by the fact that so many beekeepers were experiencing similar things.
We scoured western Canada looking for sources of new bees for the 2022 season, but were told that nobody had any available and that there were long waiting lists. Because of this and other market factors, we decided that we should shut down our business and announced this to our community in April.
Then, much to our surprise and delight, one of our long term suppliers Worker and Hive in Calgary offered us some bees that suddenly became available in June. Annanie and I decided to move all of our honeycomb hives to the bee yard we have at Souto Farms just north of Airdrie and populate them with the newfound bees. This is especially beneficial to them since their organic produce yields increase by about 65% when bees are present to help with pollination.
Although we had already nearly completed our business closure, we are most happy to announce that we struck a deal with Kira, our business manager for the past 5 years, to take over the business. Kira will be receiving the honey that we will continue to produce independently this season.
We are most pleased that Forever Bee will continue to serve our community in Kira's most capable hands. We expect to produce a bumper crop of honeycomb this year and look forward to passing it along to you!
-Matt & Annanie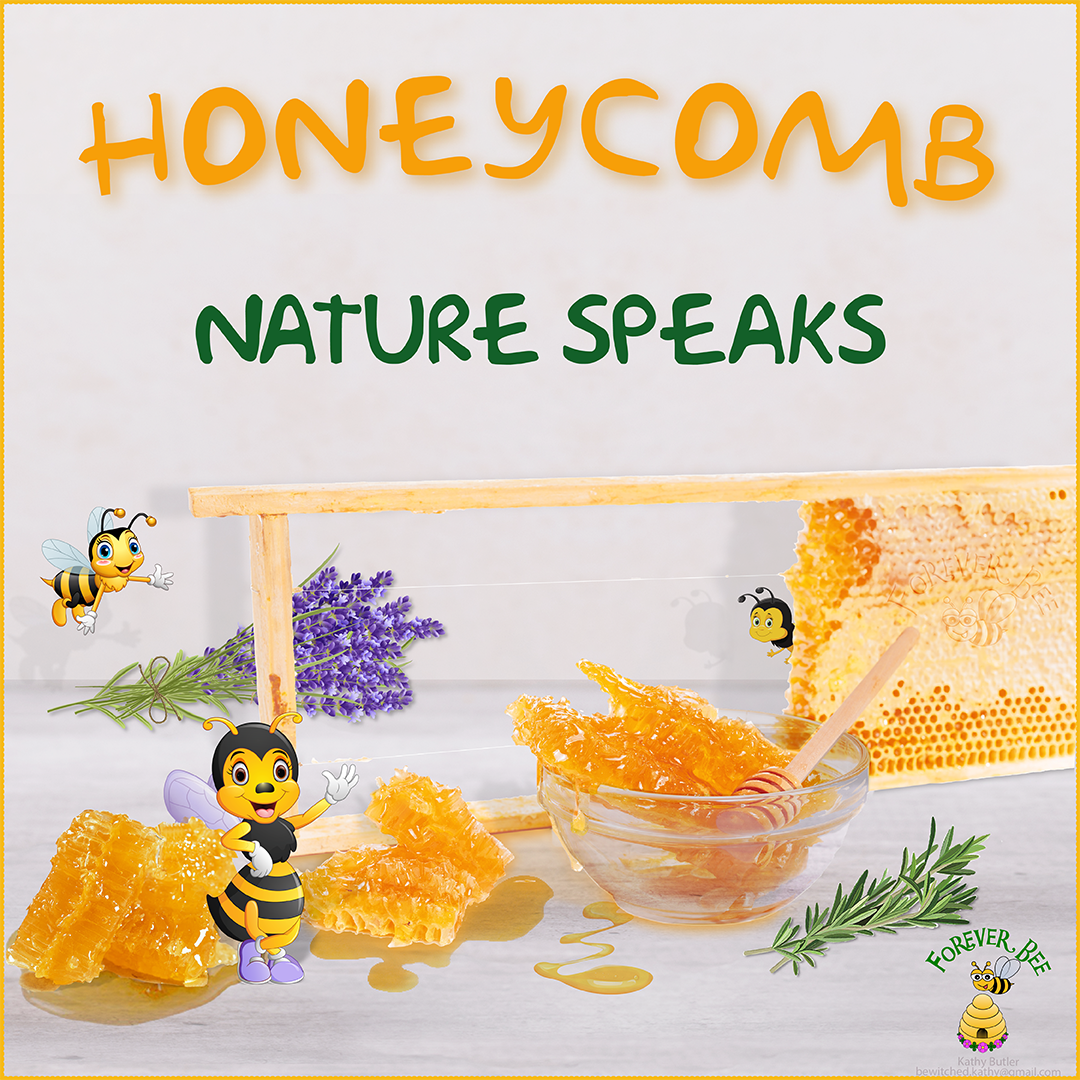 HARVEST SEASON....
It's a roller coaster of emotions! Our bees struggled with Alberta weather, and unfortunately some passed away and some flew away. By some miracle, the stars aligned and we were able to find more bees!!! This is so important for our farmers, can you imagine being all set up with your crops only to find a few thousand of your helpers won't make it to work this year? I'm grateful this is not our problem today. My prayers are with everyone who is faced with this problem, globally.
Our hives are used to pollinate organic farms. We are not near any sprayed fields and there are no GMO crops anywhere in sight. This keeps our bees happy and healthy and also helps the farmers get 60% higher crop yields. This is truly a win-win-win situation.
Every year we offer pre-order of our Honeycomb. This is so we can harvest, package and deliver to you as quickly as possible. Purely because honeycomb is worth rushing to your door with. There's no expiration date, although speaking from experience, eating it fresh from the hive is truly the best. Honeycomb delivery will begin end of July. Pre-Order for Honeycomb will begin July 15.
GIVEAWAY!!!
We have marked a 1lb container of our honeycomb to giveaway to a lucky winner. (Delivery for this will be towards the end of July.)
ENTER TO WIN
1. Like this post
2. Comment with some fun activities you are looking forward to this summer.
3. For an extra entry post a fun summer picture of yourself, family or friends :)
Pre-orders begin July 15!

PRICE CHANGE ALERT:
1lb Honeycomb $30
5lb Honeycomb Frame $120
TURMERIC CHICKEN DINNER BREAK!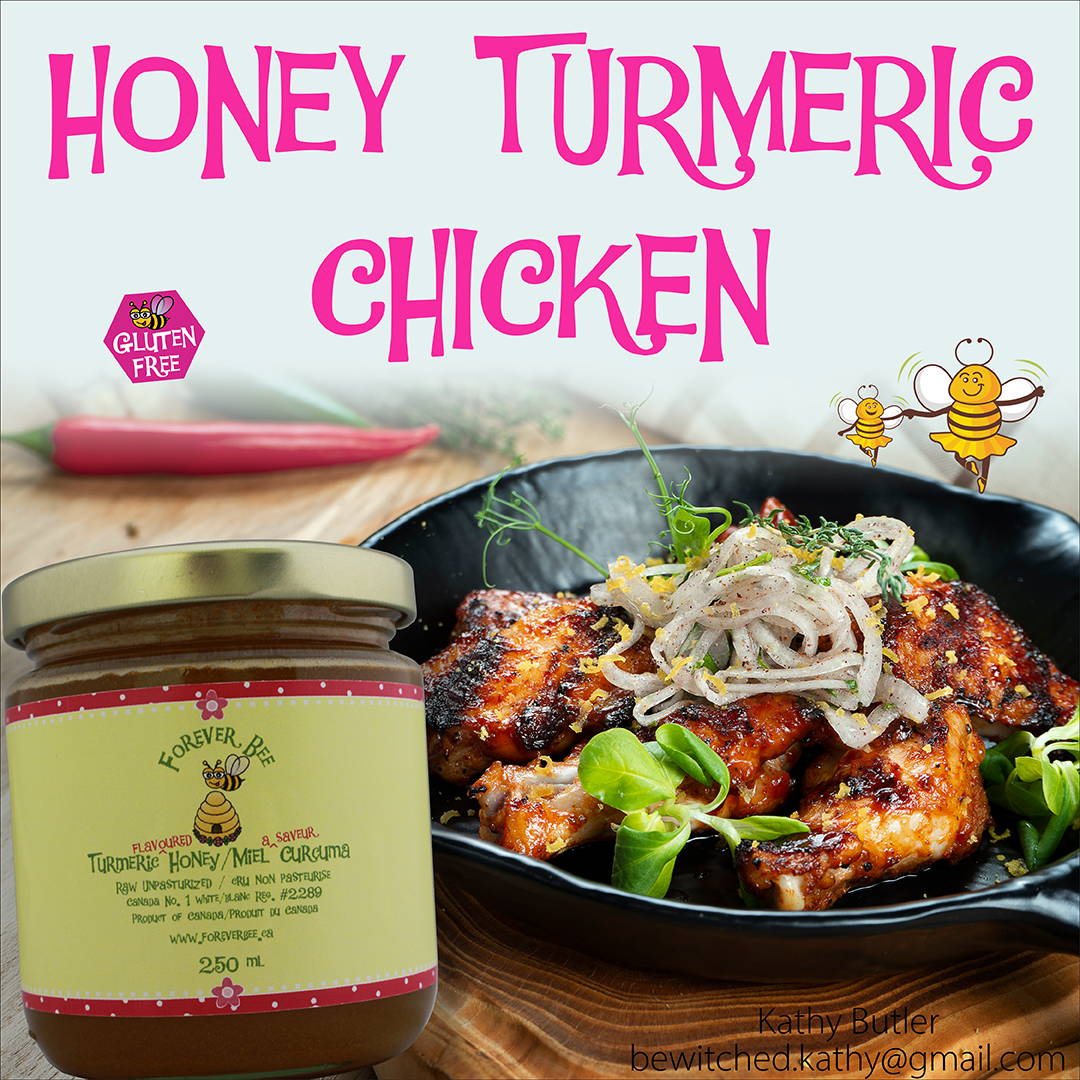 Well all that chat about raw honey has made me hungry. Who's ready to fire up the BBQ tonight? Inspire us with your Canada Day creations. What's your plan? Drop your photos below!
We love this recipe for Honey Turmeric Chicken (you can use other flavours of honey too!)
GIVEAWAY ALERT
We are always on the hunt for a good honey recipe. Drop your favourite recipe that uses honey for your chance to win one of our last 250ml jars of Turmeric Honey. Double entry for including your own photo of that recipe!
Check out our complete Recipe collection.
LIQUID WILDFLOWER HONEY LEMONADE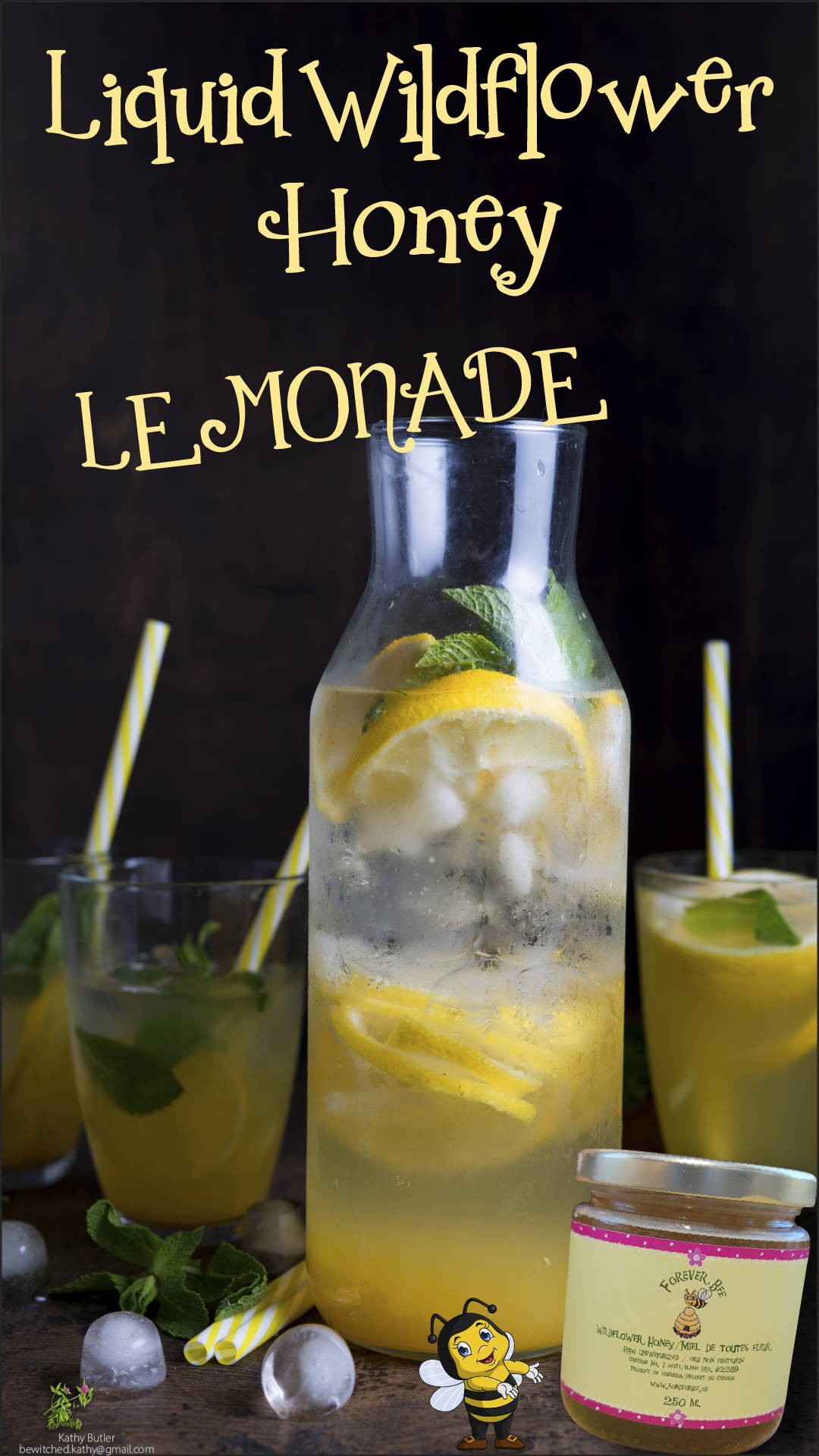 Get your drinks ready! I'm back online with you at 5pm MTN time on July 1, 2 & 3! I'm so excited to share a little bit more about our Beeswax and how we used it in our TWO NEW PRODUCTS launching!!!
Not sure what to drink? How about a Sweet & Simple Honey Lemonade!
Ingredients:
- 4 1/2 cups Water
- 1/3-1/2 cup Forever Bee Liquid Wildflower Honey
- 1 cup freshly squeezed lemon juice - about 4-7 Large Lemons.
Directions:
1. In a small pot or sauce pan combine Forever Bee Creamed Clover Honey and a cup of water. Warm slowly over low heat. Should only take about a minute.
2. Stir in lemon and remaining water.
3. Add more honey for desired sweetness.
4. Chill and serve in 1 hour. Add some frozen fruit for an extra cool splash of flavour.
Check out this recipe and more on in our Recipe Collection!
P.S. Earlier we posted a Giveaway, to enter share your recipes on the Honey Turmeric Chicken post!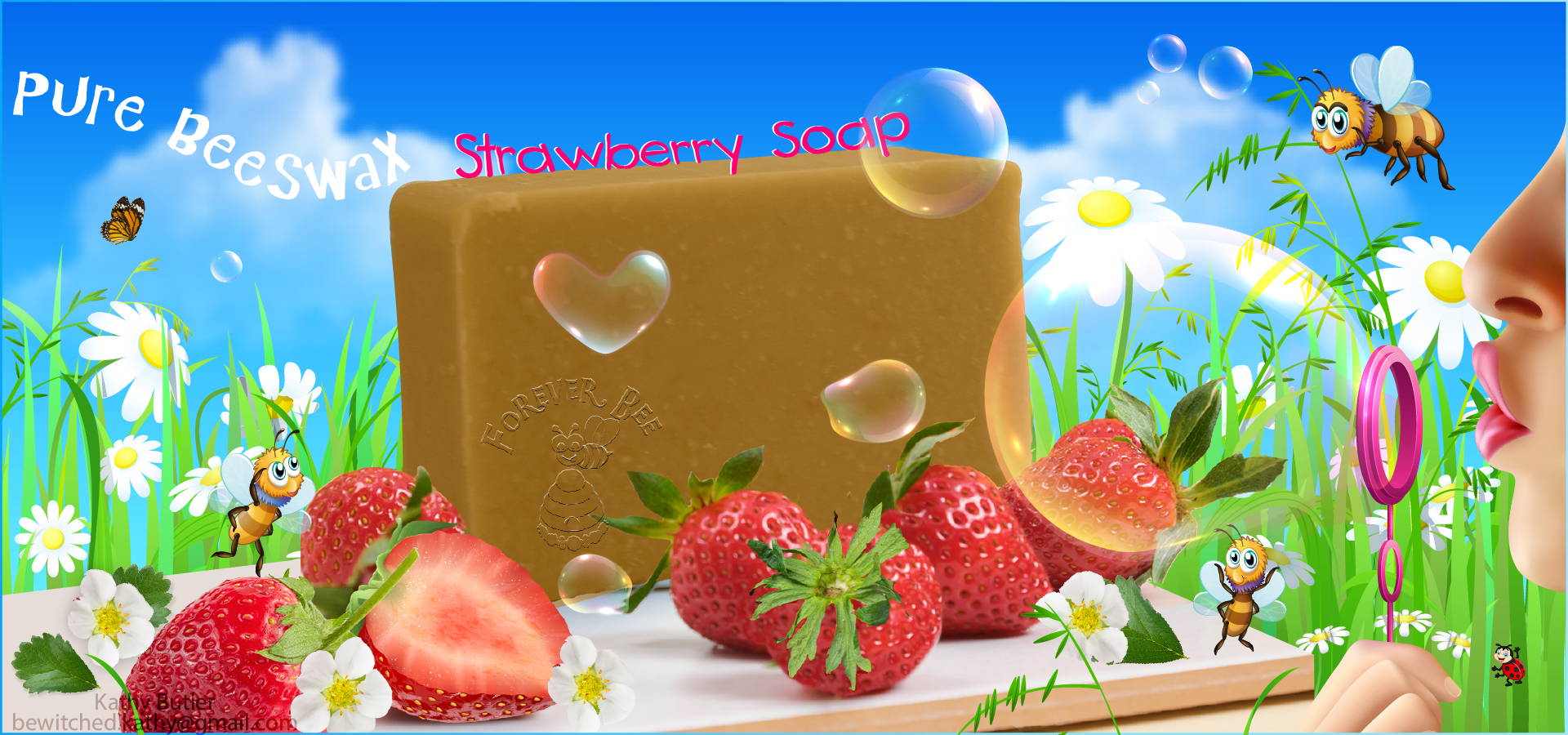 HAVE YOU TRIED OUR SOAP? - WE HAVE SAMPLES.
Gosh it feels amazing to let everyone know we are STAYING OPEN!!!!
After we announced our closure, a lot of customers reached out to us. Our products are a part of their daily lives, the honey is used as a sweetener sure, but also for the nutritional value. The Pollen has helped with allergies, for people and their pets. The beeswax has been used to make custom lotions, food preservation items, band aids, allergen free makeup, the list goes on. One of the major concerns I heard from my favourite customers across North America: Where am I going to find the same quality raw products again?
My heart sank. Knowing a lot of people close to me with allergen battles, I know the fear when your favourite brand has to make a change or worse is no longer available. Not all beeswax is equal, not all honey is equal. Maybe you eat our Clover honey because you know you are allergic to Buckwheat. Some crafters and makers have tried other beeswax and let us know their finished product just isn't the same. My heart is with the person who went through years of trying to find a soap that didn't cause skin irritation, discovered our soap, fell in love, and then we announced our closure. You my have found out where to get a different one, with the same ingredient list but supplied from somewhere else (that isn't compatible with your allergies). It sounds so rare, and like a fluke scenario: How can changing the supplier of one ingredient affect someone's reactions to the product if it's made with the same things? I'm no expert so my answer is unofficial, I encourage doing your own research. How ingredients are made, where they are stored and so much more all have impact on a body's relationship with that product. These things matter to us at Forever Bee. Always have and always will. If you or someone you know is struggling with reactions to products, and think ours might make a positive difference for you, reach out. Lets figure this out together!
Our soap is available in Natural, Orange, Cinnamon, and Strawberry
Kira (our new owner) is online chatting with us over the next couple of hours about Beeswax and how we use it at Forever Bee. Stay tuned for the conversations, new products, giveaways and more!
GIVEAWAY!
When I was cleaning up the workshop I found a box of our soap samplers! These are thin versions of our soap bars! I have 15 soap samplers to give away to people who would like to give our soap a try for the first time! No purchase necessary.

To try one of our soap samplers please email us:
SUBJECT LINE: May I try the soap?
TO: sales@foreverbee.ca
MESSAGE: Your full name, delivery address and phone number.
We will confirm we received your email and the delivery date for you.
PRICE CHANGE ALERT:
Effective July 4 our prices will be as follows:
Soap Bars Each: $8.50
Soap Bars 3 Pack: $20.00
Did You Know....
Every 8lb of honey produced by bees only produces 1lb of beeswax.
Bees use beeswax to build cells for the queen to lay eggs in and for the worker bees to store honey and pollen in.
Once we extract the honey from the beeswax we can then use the beeswax to create all kinds of useful and fun items like candles, food wraps, chewing gum, wood polish and so much more....
Here at Forever Bee we love working with beeswax. Our beeswax has a beautiful golden yellow colour, is cleaned in small batches using no chemicals, nothing is added and it is made with love.
You can create you own fun crafts and useful household items with pure beeswax. Visit our resources page on our website to help you get started!
GIVEAWAY!!!
We would love to get you started on the road to creating your own crafts and natural, useful items in your home by giving away 1 lb of beeswax to a lucky winner:
Enter to win:
Name 3 (or more) products we sell with our Beeswax as an ingredient!
Bonus Entries: What is something made with Beeswax you WISH we sold?
We posted a giveaway of our beeswax blocks on our Facebook Page. Did you find it and enter?
PRICE CHANGE ALERT:
12oz Beeswax Blocks (12 x 1oz Blocks) $20.00
1lb Beeswax Blocks (2 x 1/2lb Blocks) $25.00
12LB Beeswax Blocks (24 x 1/2lb Blocks) $255*
*Honey Money CAN be redeemed on bulk cases!
NEW - RASPBERRY BUBBLE TRUFFLES!
RASPBERRY BUBBLE TRUFFLES!!!
... So I may have ordered these before I officially bought Forever Bee 🤣
These delightful bubble truffles look like happy scoops of ice cream, smell delicious AND make lots of bubbles in the bath. Made with Forever Bee honey, Coconut Oil and Shea Butter they are soothing on the skin and now we have RASPBERRY scented ones!
These Bubble Truffles come in a 3-pack beautifully packaged in a clear gift box. The perfect gift for your self-care routine or for someone you love.
STORY TIME!
In 2018 I was working for Annanie and Matt doing some Farmers Markets and Trade shows mostly in Lethbridge. Our workshop was located in Okotoks, so we often were driving back and forth throughout the week. We do deliveries along the way of course! As my relationship grew, Annanie had started to trust me to manage some of our wholesaler relationships. That's when I got to meet Judith and Justin at Bubbles & Balms! (This was when they were still located in Claresholm AB, halfway between where I live and our workshop!). I was fascinated. I had never had the chance to work closely with two businesses that supported each other this way! We supply the beeswax and honey that Bubbles & Balms use to make our soaps, and now also our shampoo bars and bubble truffles too!
The day we met, Judith and Justin were packing up their shop in Claresholm and days away from moving across Canada! I remember thinking it was a bit odd that Annanie was so excited for met to meet someone that was leaving. Looking back now, I cherish the memory of my first visit to the little shop in Claresholm and getting to see those big smiling faces and the love they held for their business and for Annanie and Matt. Thank you to all of you for these memories!
Flash forward to 2022. We announced our closure, sold out of most of our inventory. Accidentally oversold our soap due to inventory errors. We placed 2 more orders with Bubbles & Balms after our closing announcement! Their products are so beloved by our followers. I kid you not, I could hear the sighs of sadness on the phone when I said we were limiting each person to a few bars so everyone could have some. The number of calls I got 'are you sure there isn't anymore?!', 'if any turn up could you add another couple in for me?' It really helped fuel the decision of trying to re-open! While discussing shipping of our final soap order I shared the good news with Judith that I was working on a way to stay open! Shortly after the Raspberry Bubble Truffles were made!
GIVEAWAY
Win a Relaxing Raspberry Retreat Bundle! Complete with a Raspberry Bubble Truffle, 2 Votive Candles, Beeswax & Honey Soap Bar, and a 250ml jar of Raspberry Honey to make your favourite drink or snack extra sweet!
Enter to win:
Tell us in the chat, what are your must have items for a relaxing bath?
Help a friend relax! - Sometimes we need to be reminded to rest, share our annoucement with a friend.
PRICE CHANGE ALERT:
Bubble Truffle 3Pack: $20.00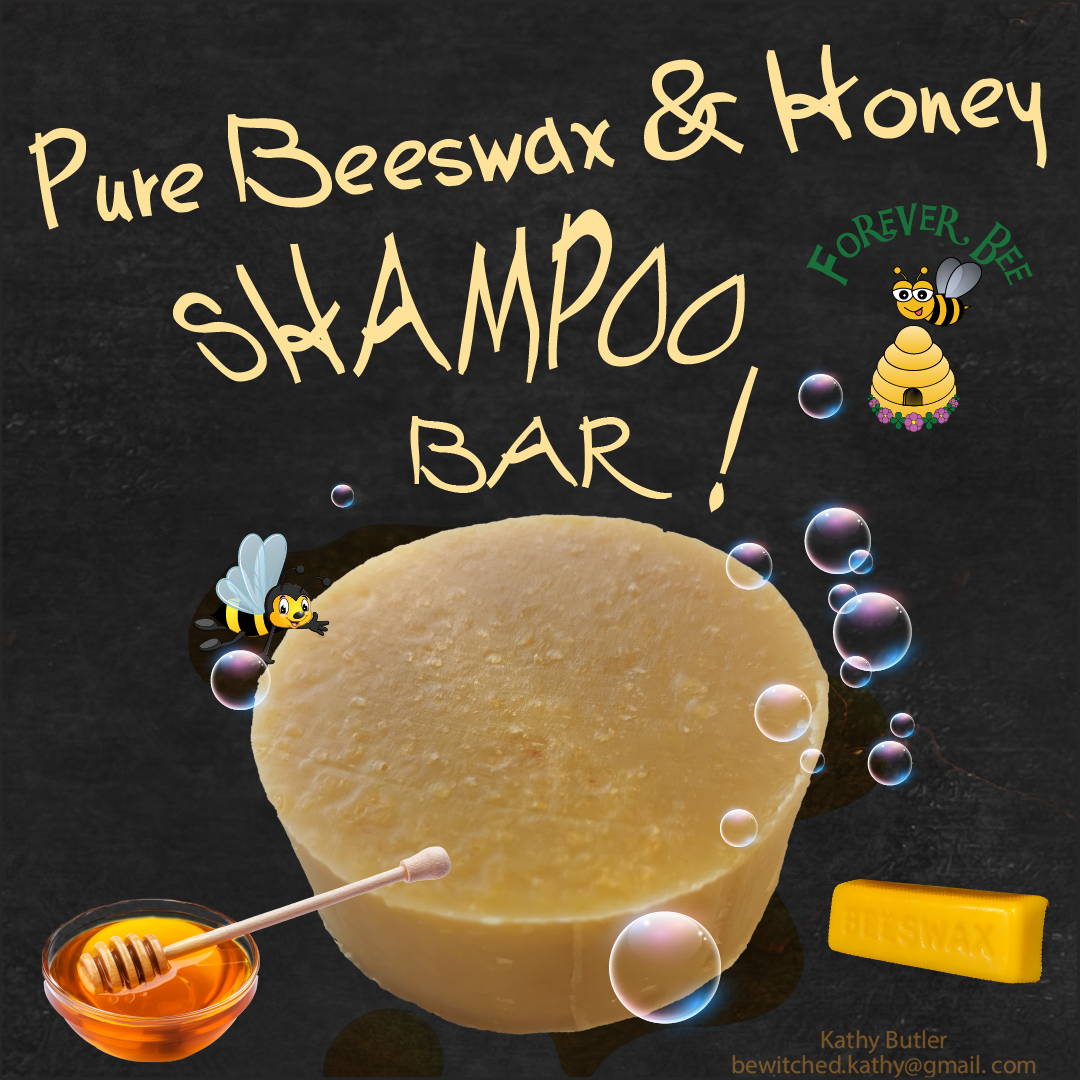 Pure Beeswax & Honey Shampoo Bar* is designed for those who want to stick with purely raw ingredients and a traditional soap bar for their hair care. The inclusion of farm fresh eggs, fresh organic carrot puree & Forever Bee Creamed Clover Honey makes our Shampoo Bars a great choice for regular and dry hair.
*Free of Parabens, Silicones, Sulfates & Detergents.
We are so in love with this plastic-free shampoo solution! Thanks Bubbles & Balms for making these Shampoo Bars with our honey! You are very talented and super sweet people.
GIVEAWAY!
We can't wait to hear from you about this one! Join in the conversation on Facebook or tell us in the chat. Have you used Shampoo Bars before? Tell us your experience? Never used them? Ask us your questions! Each question is an entry to win a Shampoo Bar of your own.
NEW - COFFEE CAKE SPICE LIPPY BALMS!
NEW LIPPY BALMS FRAGRANCE!!
Remember that video from last week where we mentioned something new was coming. It was a brand new Coffee Cake Lippy Balm!
Our Lippy Balms are made with simple raw moisturizing ingredients. We have a lineup of All Natural Lippy Balms that use pure natural ingredients only, and we have our fun ones which are the same until we add a fun fragrance and some colouring.
GIVEAWAY
We are giving away a 12 pack of our lippy balms including 2 of our new Coffee Cake Lippy Balms!
Enter to win: Find this announcement on Facebook and play along!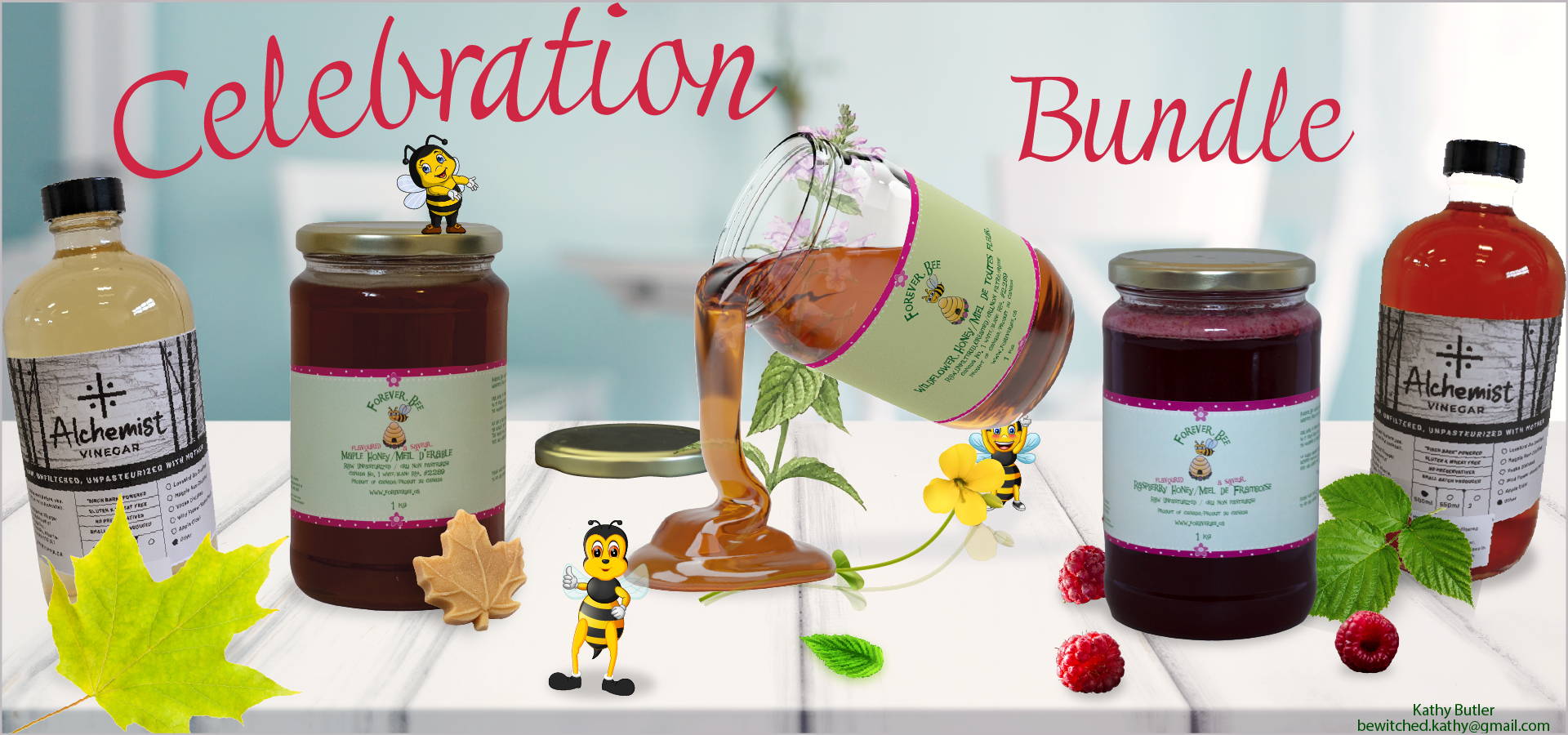 CELEBRATE!!! A CANADIAN SMALL BUSINESS IS STAYING OPEN!!!
It's Canada's Birthday and now today is also the Anniversary of my ownership of Forever Bee!! We are going to have so much fun celebrating all weekend long!
I made sure we had a few extra jars of Raspberry Honey and Maple Honey made up before our kitchen closed. I wasn't quite ready to say goodbye to them! So while quantities last, we will still have our Celebration Bundle available!
What's included in a celebration bundle?
750ml Wildflower Honey
750ml Raspberry Honey
750ml Maple Honey
550ml Raspberry Honey Vinegar
550ml Maple Honey Vinegar
Think of all the marinades, sauces, dressings and dips you can make with this selection! We like to make our own apple sauce at home, adding a splash of Maple Honey Vinegar in right before blending really makes the flavour pop!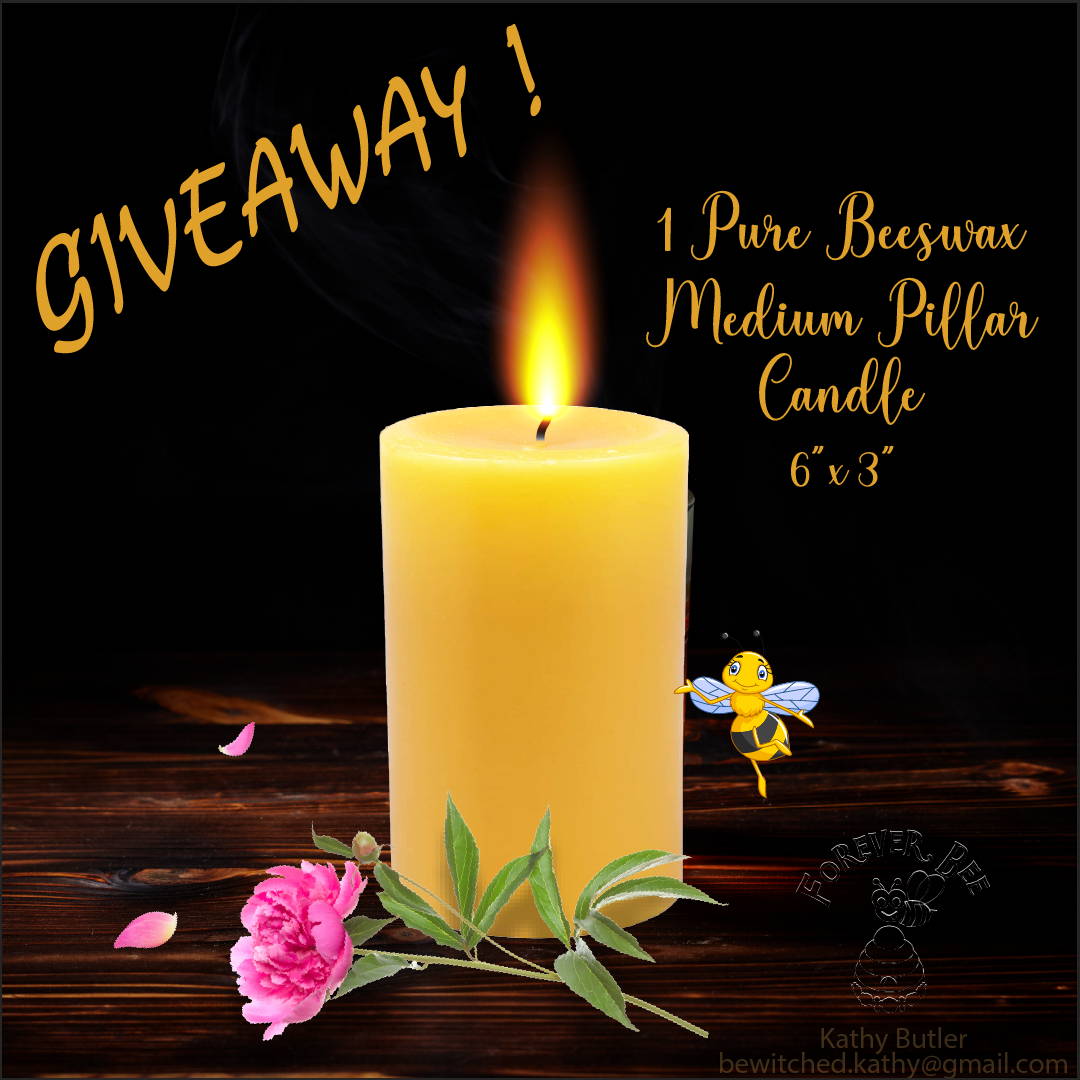 Beeswax makes an excellent candle wax, with so many advantages over conventional wax!
Beeswax candles are completely safe, non-toxic and environmentally friendly. They also don't drip or smoke.
Incredibly, they emit negative ions – these purify the air, invigorating the body AND they emit light at the same spectrum as the sun – a true gift from nature!
Each handmade candle has a golden yellow colour and light honey fragrance. We don't metal or plastic holders, so they're kind to our environment, too!
To enter to win a Medium Beeswax Pillar Candle.
Find and comment on this post when it goes up on Friday evening.
We'll complete the draw and announce our winner on Sunday. If you're the winner, both you and one tagged friend will get a pack of Tealight Beeswax Candles!
Good luck, have fun, and we can't wait to hear your ideas!
*open to Canadian residents only*
Looking for a simple and fun beeswax craft to try at home?
Make your own Luminaries! Last Mother's Day Annanie showed us how to make one in this helpful video!
Fill a balloon with a bit of water and blow it up. Dip the balloon into a pot of warm beeswax. Let each dip cool before dipping again. 15-20 Layers later, pop the balloon (in the sink!), smooth out your edges and add your treats!
Perfect way to spruce up your next party table, or a gift for your parents, grandparents, teachers and friends.
I've got some extra balloons here, if you need some included in your order of beeswax just send me a message!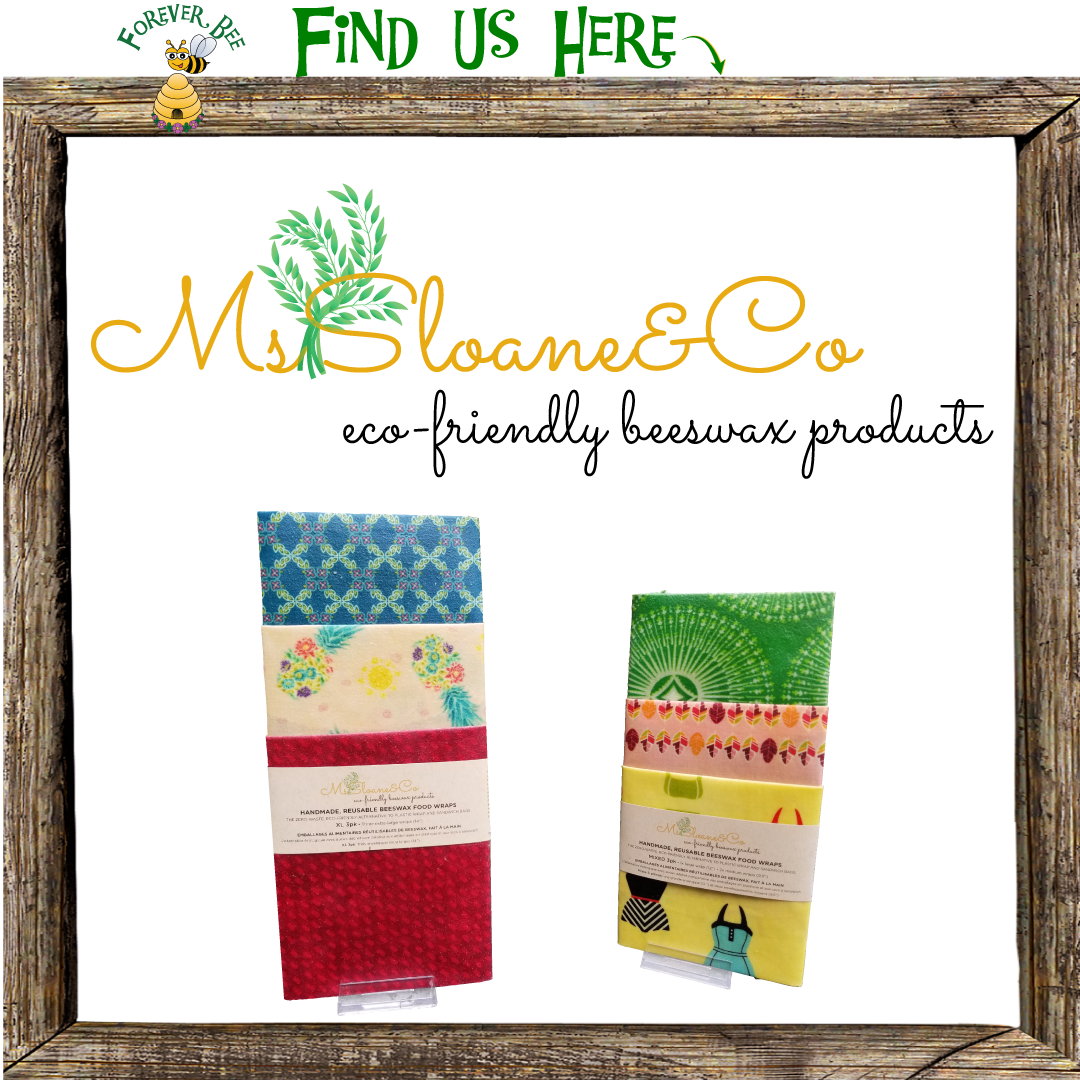 I could go on and on and on and on about beeswax if you'd let me. The things you can do with it are endless! However, it is Saturday night and I would love to spend some time with family. So that's a wrap for tonight!
OH WRAPS!! That reminds me!
Did you hear the great news, Ms. Sloan and Co Beeswax Food Wraps will continue to be made with Forever Bee Beeswax!! These delightful food wraps are made extra simple with Cotton Fabric (in beautiful patterns), Beeswax and Jojoba Oil. Nice and simple.
.... okay now I'll stop talking about beeswax. We will be back online tomorrow at 12pm MST. Can't wait to chat with you then!
FOREVER BEE IN THE BEGINNING
I just LOVE listening to Annanie talk about the early days of Forever Bee. We made this video in 2020 when we started doing our online markets.
I am looking forward to keeping these values intact. Growing together with our community, educating ourselves together, and having a lot of fun while we do it!
What are some of your favourite memories about Forever Bee in the past 10 years?
ANNANIE AND MATT'S NEW ADVENTURE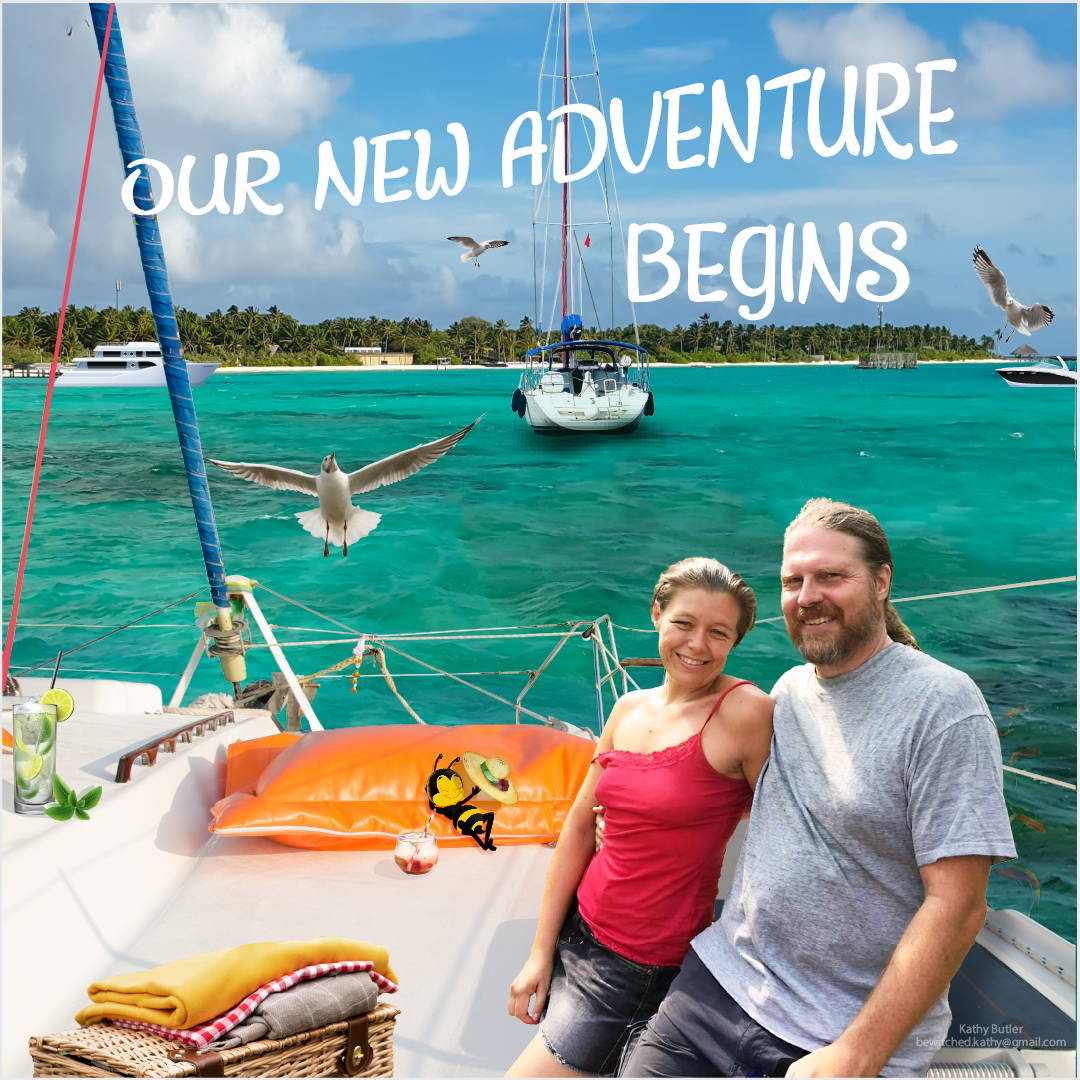 As you all know by now, yesterday was the first day of Matt and I not being the owners of Forever Bee.
What a strange feeling to wake up to that reality in the morning :)
Many of you have contacted us to see what exactly we are up to now. I was hoping to have our new website and vlog set up already but we have been very busy handing over the business, making the last of the deliveries and moving all the supplies from Okotoks to Lethbridge.
Matt and I have however been looking for a new place to live :) About 40' or more long, a beam of at least 12' and ocean worthy. 🤣
Yes, that's right. We have been sailboat shopping and found a couple on the West coast that we will go see in July.
Our new vlog will be up and running at that time and we will take you for a LIVE cruise on our boat-hunting expedition.
If you would like to follow our sailing adventure please email us at oursailingadventure@proton.me We will add you to our mailing list and we can stay in touch.
Thank you Kira for taking over the business and making us feel like 10 years of hard work is in such good hands.
Love,
Matt and Annanie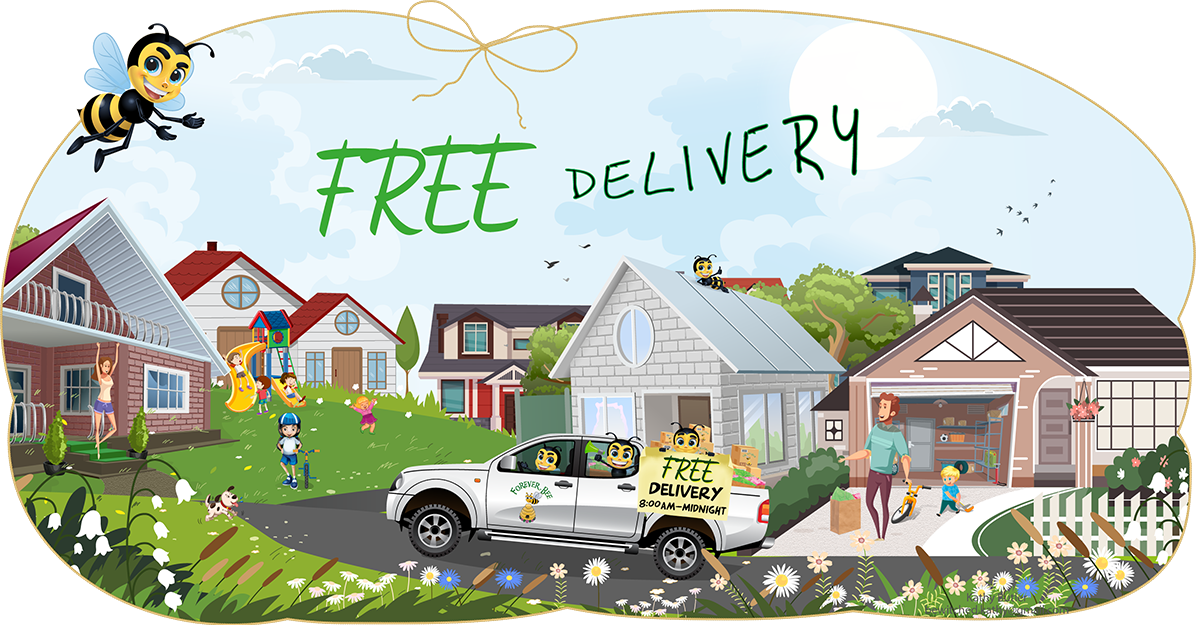 WE SHIP ACROSS NORTH AMERICA & HAND DELIVER IN ALBERTA!
As much as Annanie and Matt are going to love their sailing adventure I know a little part of them will miss doing the deliveries all over Alberta. Did you know that all this time we have been delivering ourselves to any area we can!
We choose to do the deliveries ourselves because we love seeing all of you, and our beautiful province. I absolutely LOVE deliveries during Halloween and Christmas when all the homes are lit up with extra decorations and the orders start coming in with notes like "cheque is hiding under the kitty in the purple pumpkin".
3 Details about Delivery with Forever Bee!

1. On a set schedule we load up our car and zip off to each city door to door to deliver your orders. Our schedule is posted on our home page, and on your shopping cart so you always know when we're coming.
2. Our route changes each week with the orders that come in, which is how we know we will be in your neighborhood on the route following you order ;). Email confirmation comes and will track us on the way to you!
3. We deliver to rural addresses! Text us your PIN location or physical address if you'd like to confirm before ordering, but if we can come to you we will. If you're too far off our path we can deliver to a friend or family member who is in our delivery zone that you could connect with later or we can ship to you via Canada Post!
Our upcoming delivery schedule:
Tuesdays: Calgary, Okotoks, High River, Nanton, Stavely, Claresholm, Nobleford, Vulcan, Champion, Fort Macleod and surrounding areas
Wednesdays: Lethbridge,
July 10: Edmonton and surrounding areas, Red Deer and surrounding areas, Airdrie
July 17: Cochrane, Bragg Creek, Exshaw, Canmore, Banff and surrounding areas
July 24: Medicine Hat, Coaldale, Taber and all surrounding areas
July 31: Cardston, Waterton, Pincher Creek, Fort Macleod and surrounding areas.
Any area that is a little too far for us to drive (starting in Lethbridge AB) we will ship to you via Canada Post. Shipments typically go out within 24-48 hours of being received.
Our full delivery schedule & policy can be found here:
https://foreverbee.ca/delivery
Text or Call 403-915-0454
sales@foreverbee.ca
WORKSHOP TOUR COMING SOON!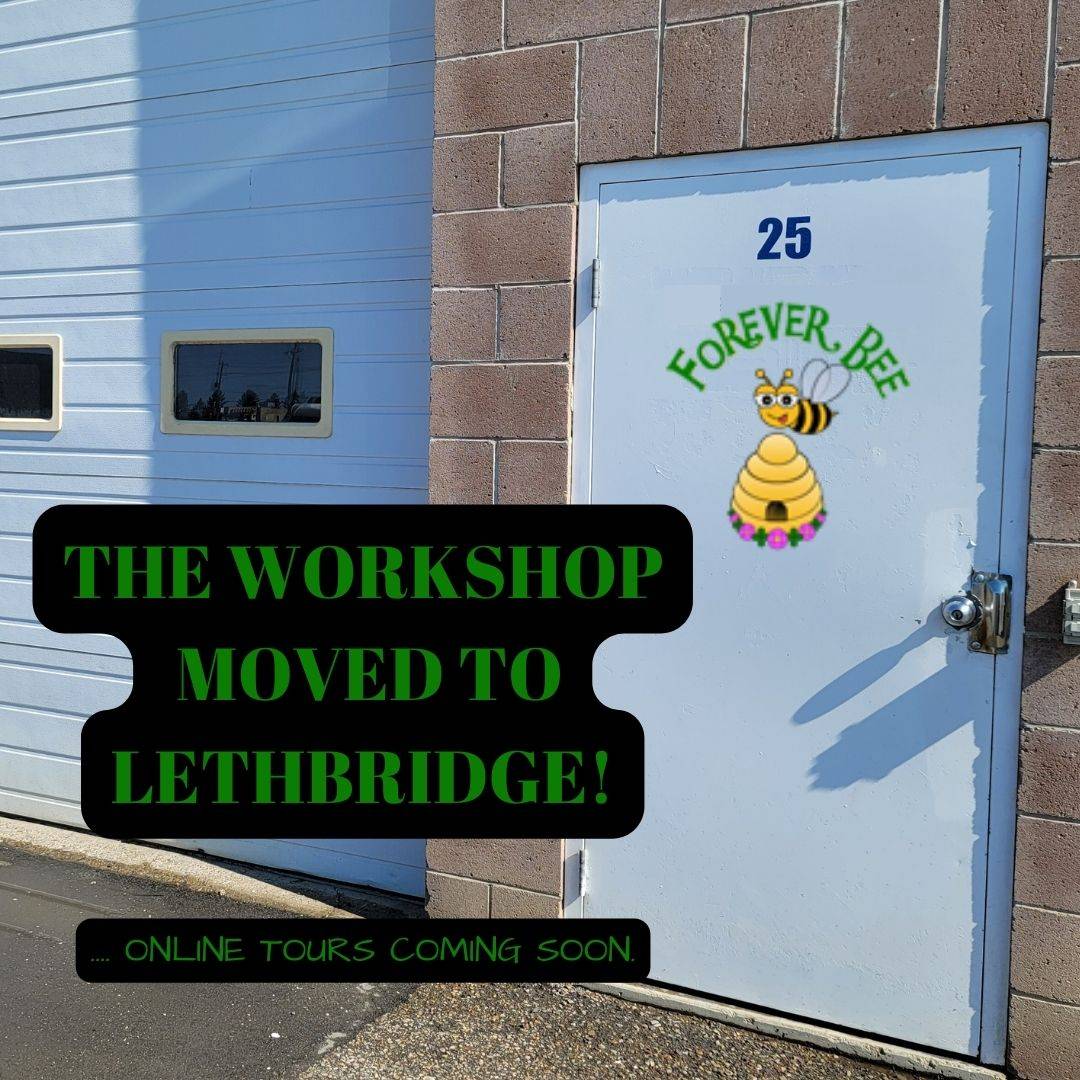 Okotoks has been a great home for Forever Bee for the past few years. Now it's time we move a little closer to Kira!
This week we moved the last of the things out of the workshop in Okotoks and into the new workshop in Lethbridge! I'm so excited to take you on a tour of the workshop when it is all unboxed and setup. Keep an eye on our newsletter & social media pages in the coming weeks for the reveal!
EMERGENCY PREPPAREDNESS - 1 WEEK KIT
The 1-Week Emergency Preparedness Kit
We are going to focus on some of the basic necessities you and your family might need to survive a 1-week emergency. This is not meant to empower you to take control of any situation you might face and help yourself, your family and community :)
These types of emergencies might include a job loss, water pipes or furnace broken in your home, natural disaster or any other situation you might want to prepare for.
Let's have some fun assembling our 1-week Emergency Preparedness Kits. Did you know that Forever Bee offers products that are ideal for including in your emergency kit? We don't have everything you need, but we do offer a wide variety of products to supplement your kits.
Emergency Preparedness Kit - 1 Week - $135
1kg Creamed Honey
1/2lb Bee Pollen
2 Small Pillar Candles
10oz Beeswax Blocks
Body Butter
50 Pack Honeystix
Lippy Balm
Soap
Honey - it is great for emergency wound care on burns, cuts, sore throats, coughs, etc. It is also a great source of carbohydrates and nutrients in an emergency situation. Mix a tsp of honey in a bottle of water with a pinch of Himalayan sea salt - it is a perfect electrolyte drink to help with hydration.
Bee Pollen - this is a super food that contains all your vitamins, minerals and over 40% protein. When you are low on food, make sure to have bee pollen in your kit.
Beeswax Candles - these candles are long lasting, they don't drip and don't smoke. They also last a very long time. All emergency kits should have at least one pillar candle that can be used as a light source, heat source and also a cooking source.
Beeswax - pure beeswax is not necessary in a 72-hour kit, but should be part of your long term emergency kit. With beeswax you can make your own body products, waterproof your shoes, seal your food, make your own candles, etc.
Lippy Balm - ideal for keeping your lips from drying and cracking and you can also use it on your cheeks and hands in an emergency.
Body Butter - is an essential item in your emergency kit. Use it protect your skin against the extreme cold, use it against dried/chapped skin and also as a remedy against sunburn.
Soap - during emergency it is more important than ever to keep up with hygiene. Take regular sponge baths, wash clothing and keep your surroundings clean. The last thing you want is infection or disease.
We have put together a very useful list of items for your 1-week emergency kit. This kit can be assembled in large food-grade totes and kept in cool, dry, bug-free areas of your home.
Download your emergency kit checklists here:
https://foreverbee.ca/downloads
GIVEAWAY!!!
Today we would love to give away a Preparedness Kit to a lucky winner to help you get started on your preparedness journey.
ENTER TO WIN:
Have you started your own preparedness kit yet? What are the top 5 most important things you think your preparedness kit should contain?
Honeystix are like happiness in a straw.
Incase you've never tried one, Honeystix are straws of honey sealed on both ends. You can open one end and suck out the honey for a sweet treat on the go, or add to your tea or coffee while on the go!
I always have a few in my bag incase I need a mid day sugar boost or for when I grab a coffee on the go!
GIVEAWAY
We're giving away a 25-pack of Honeystix
ENTER TO WIN!!
1. Like this post
2. Tag a friend who would love to win some Honeystix
3. Which items can you not leave the house without during the summer? You just have to have it with you? Mine is water and lip balm :)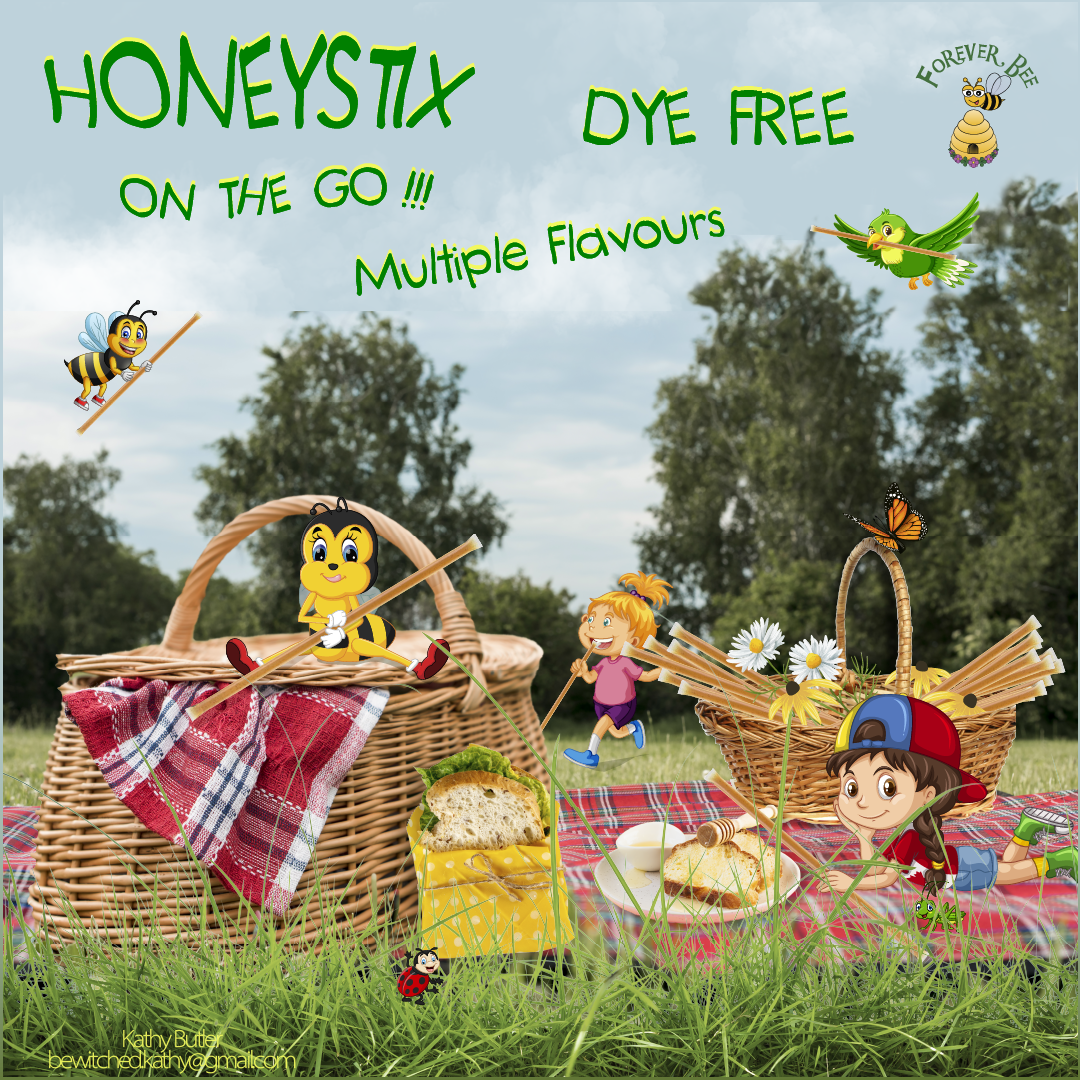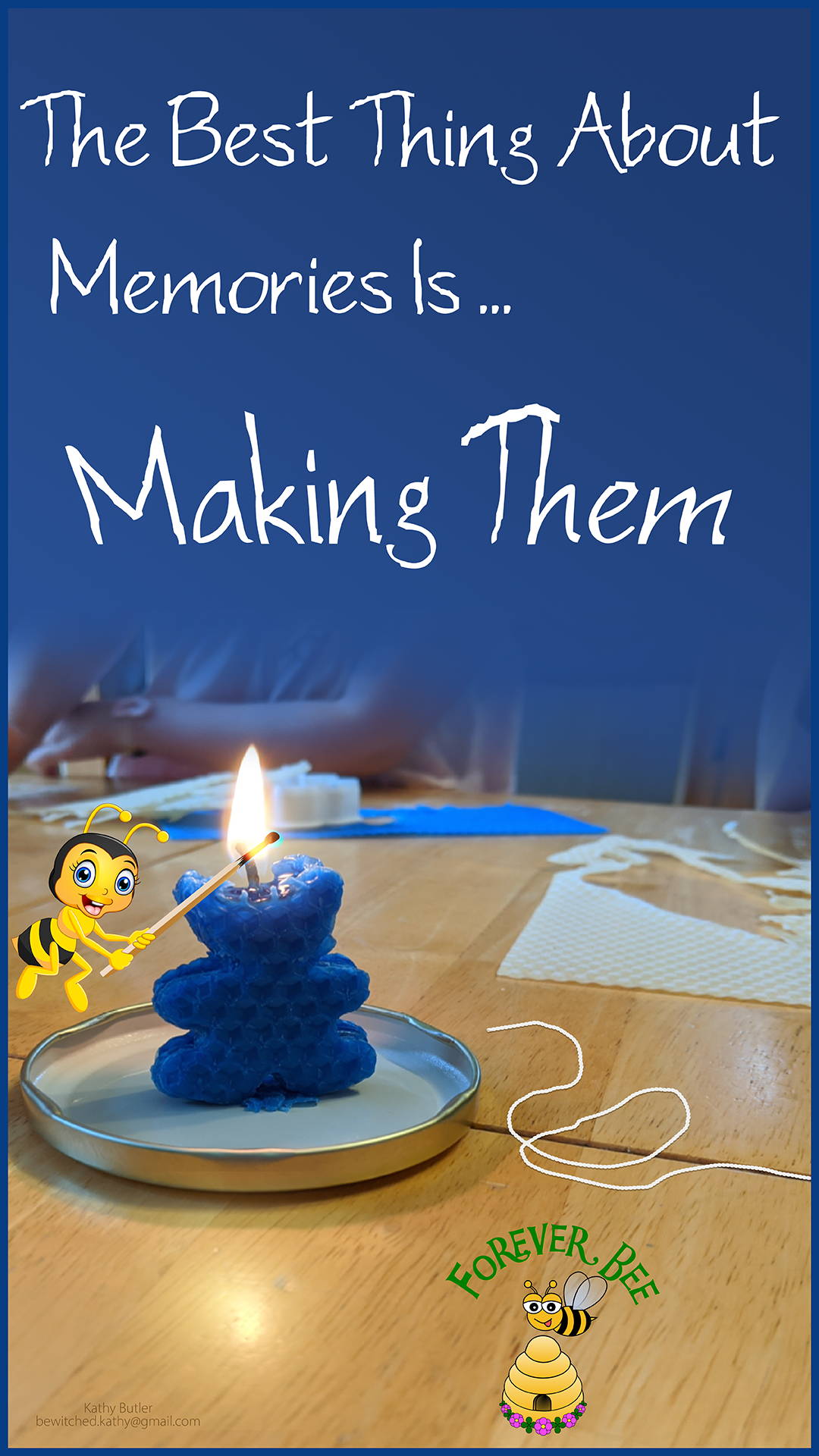 Beeswax Sheets and memories to be made!
We have talked a lot today about the memories we have and the ones we hope to make. Beeswax Sheets are fantastic for making new memories! You can make rolled candles, and cookie cutter candles! The possibilities are endless.
We have a selection of beautiful summer colours available right now:
Cayman Blue
Fern Green
Ivory
Pink
Rose
Yellow
GIVEAWAY
I'm giving away 2 Beeswax Sheets & 1 Meter of wick. Join the conversation to enter!
Have you used beeswax sheets before? Drop a comment below to tell us what you've made! Bonus entry: Add some photos of the things you have made or would like to make next!
FREE GARDENING RESOURCES & SUNFLOWER GRANOLA RECIPE
Did you know we have some free resources on our website? We LOVE sharing all of the cool things we find. A few years ago we made this great Gardening For Bees book, it included some fantastic honey recipes like Sunflower Granola Bars! These are a perfect treat to make and take on our outdoor adventures!
We're going to take a little break now, we will be back online with you again 5PM TO 7PM MST July 2! See you in a couple hours!
Find this recipe & more in our Gardening for Bees free downloadable ebook!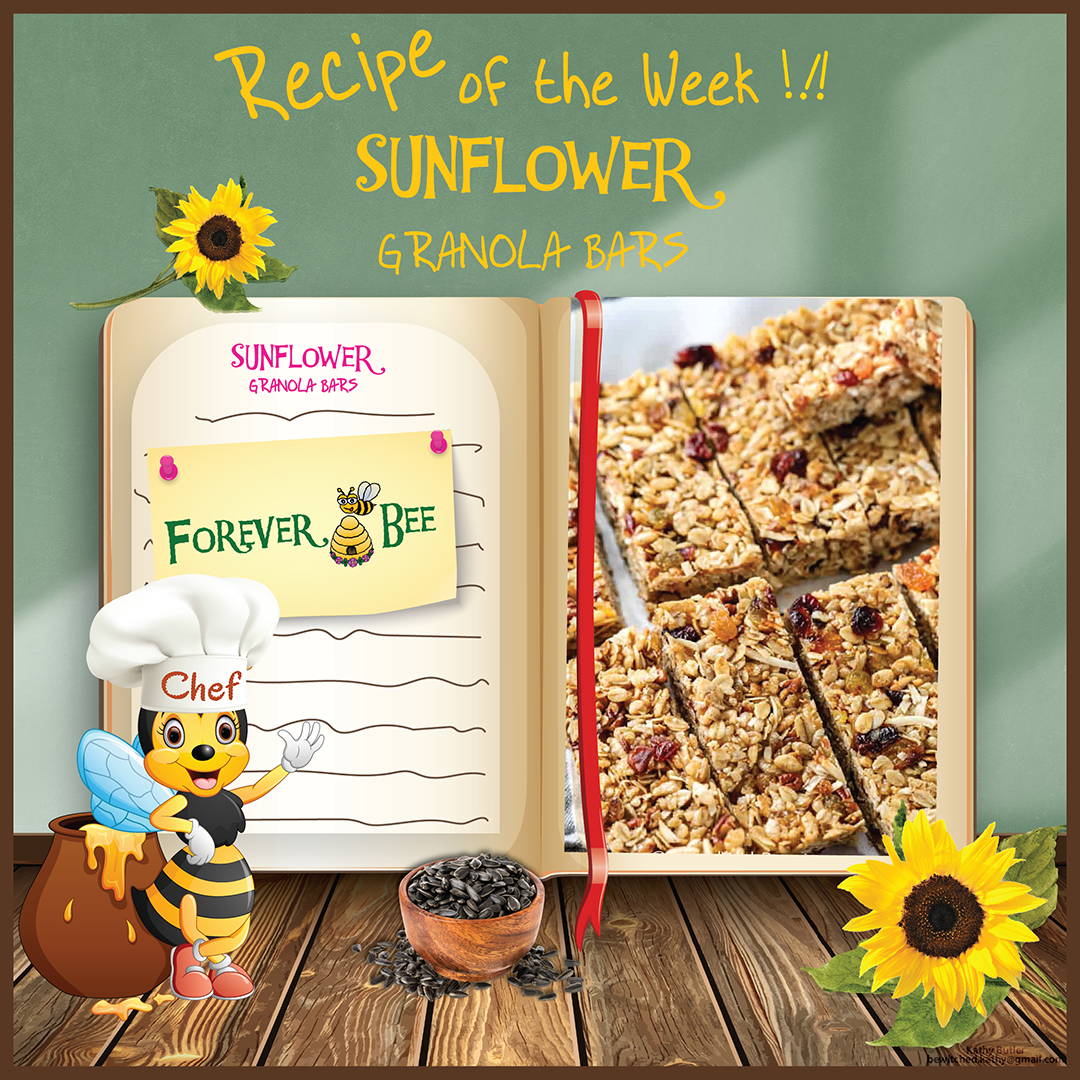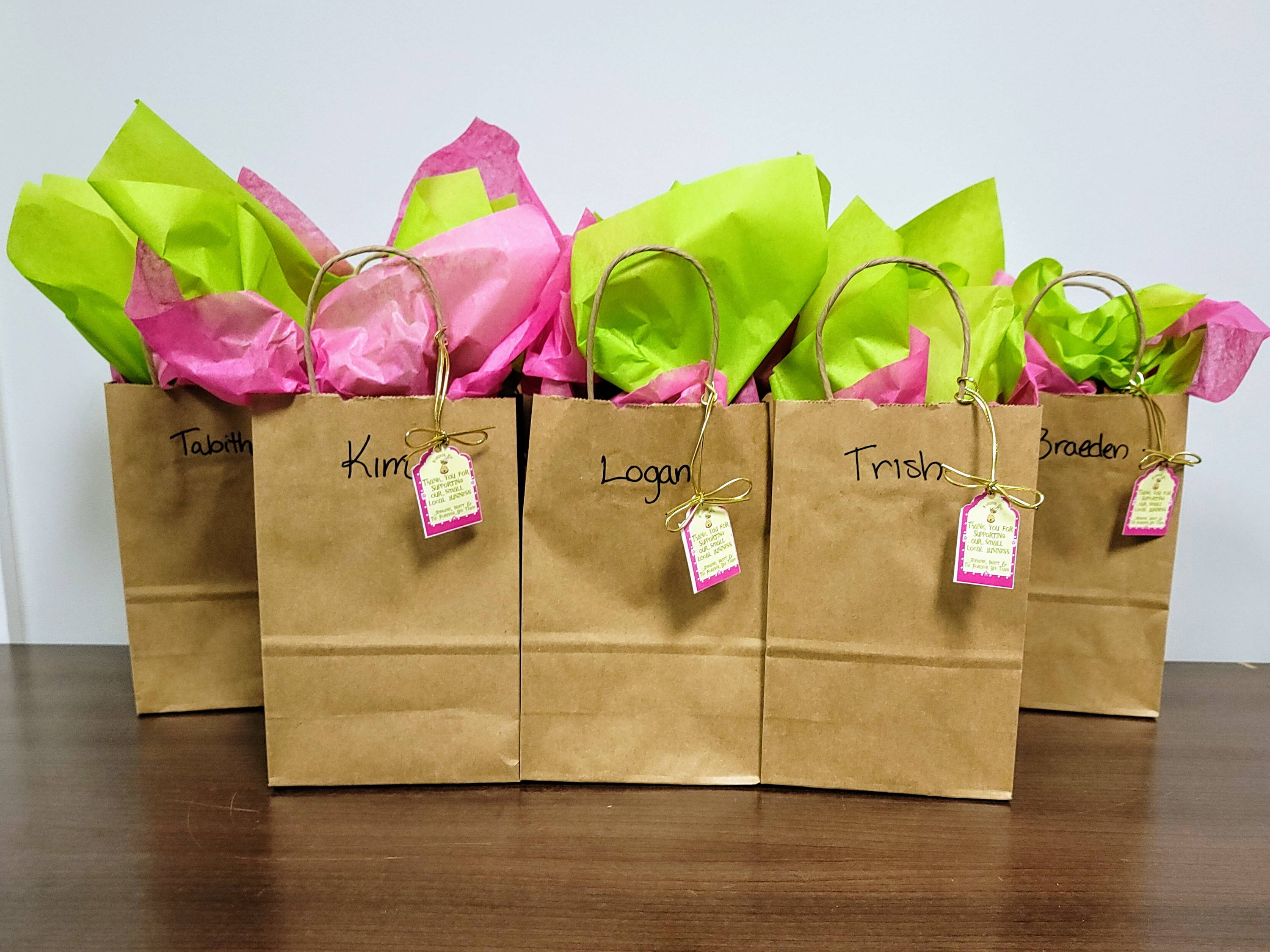 I just LOVE listening to Annanie talk about the early days of Forever Bee. We made this video in 2020 when we started doing our online markets.
I am looking forward to keeping these values intact. Growing together with our community, educating ourselves together, and having a lot of fun while we do it!
What are some of your favourite memories about Forever Bee in the past 10 years?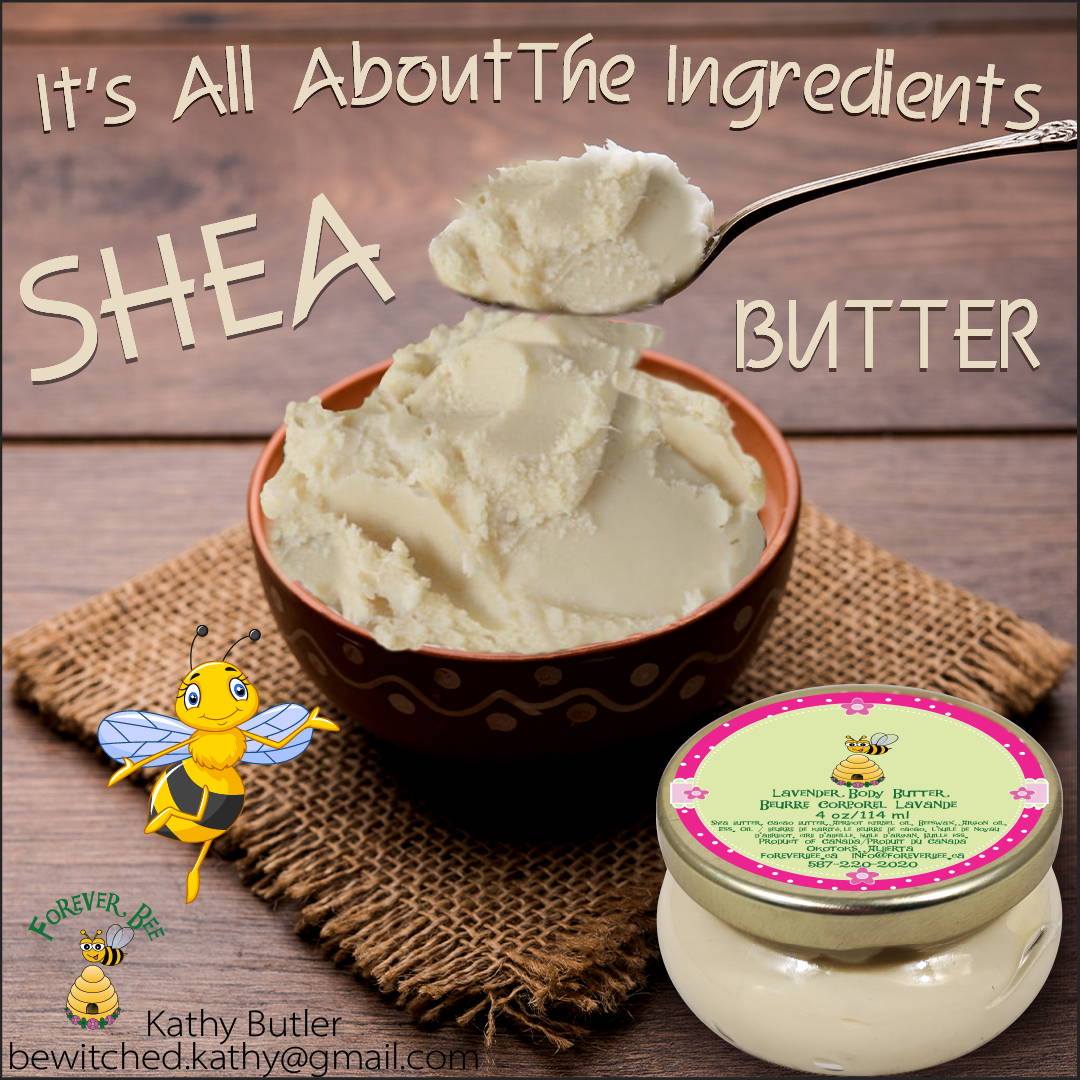 INGREDIENTS MATTER! We love our Shea Butter <3
Shea Butter is one of the ingredients we use in most of our body products. We use Shea Butter that is organic, raw and crude which means that it has not been heated or processed in any way. This is the highest quality Shea Butter
wecould find, straight from Ghana.
Shea Butter has a very useful properties including:
1. It is perfect for all skin types including those with sensitive skin, it is very moisturizing and won't leave your skin oily
2. Contains many antioxidants, is antibacterial, anti-inflammatory, anti-fungal
3. Reduces stretch marks, scarring, wrinkles and acne, promotes cell regenerations and boosts collagen production
4. Treat dandruff and prevent hair breakage
Wow, that is so amazing how many benefits this one simple ingredient can have. I hope you will try some of our body products to see what an amazing difference Shea Butter could make to your skin and hair.
INGREDIENT: APRICOT KERNEL OIL
We use Apricot Kernel Oil!
One of our favourite ingredients to help moisturize and heal your skin is Apricot Kernel Oil. You will find it in most of our Body Products including our Body Butter, Lippy Balms, and Sunscreen!
SNAP TEST!
Grab your closest lotion, we are going to find out if your skin is absorbing your lotion or just wearing it! After applying a fresh coat of your lotion, can you snap your fingers?
A lotion that is being absorbed by your skin will not prevent you from snapping your fingers, or holding onto things. When you apply our body butter, you can use a small amount, (less than a tic-tac will be needed for your hands.) Adjust depending on your body's needs (which may change with the seasons or your lifestyle... have you drank enough water today?)
GIVEAWAY
We have a set of some of our favourite body care products here to giveaway. Let me know in the chat, how did your snap test go? Are you possibly wearing your lotion instead of absorbing it?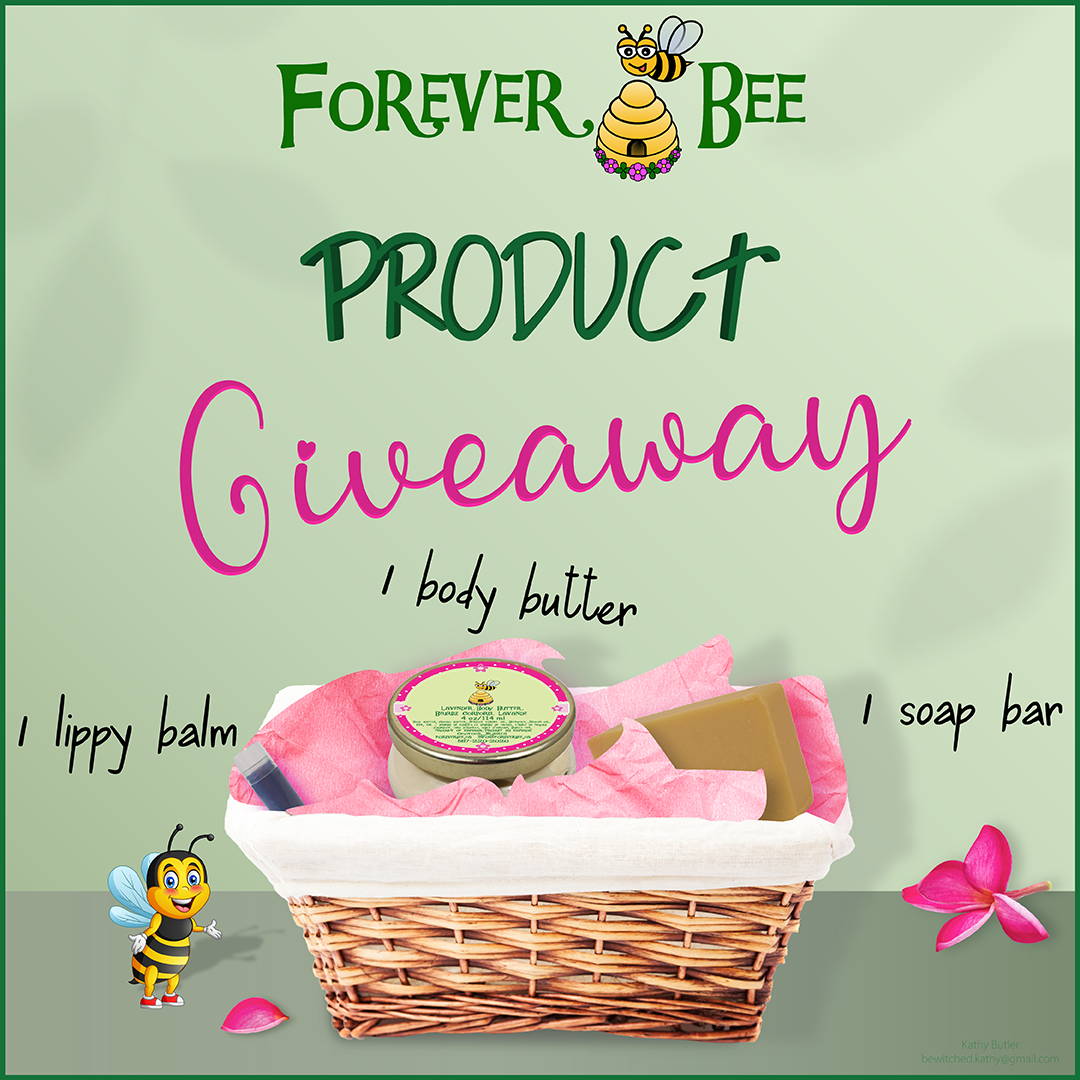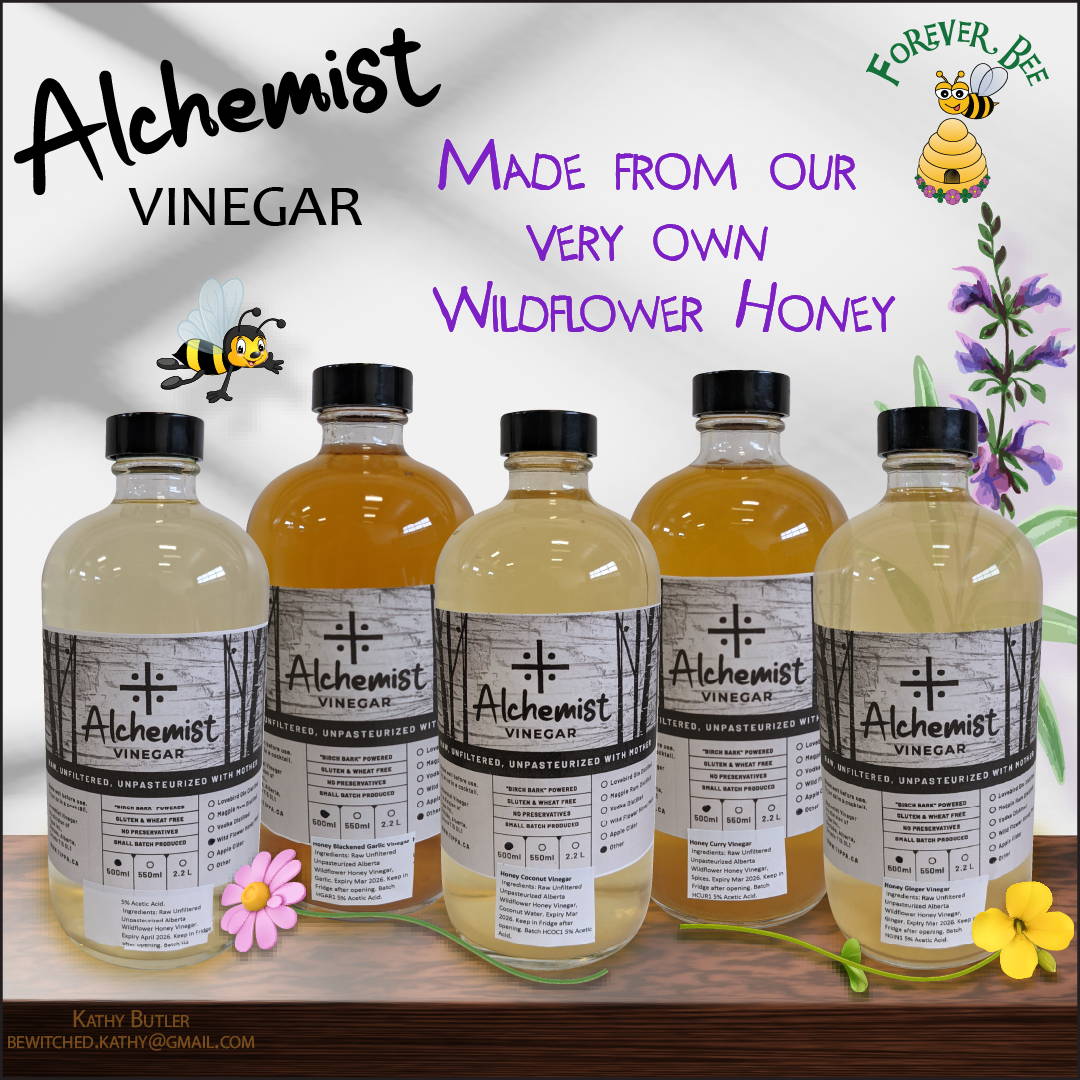 Paul at Tippa's Distillery is the magic behind the Vinegars in our Celebration Bundle!
Paul started Tippa's Distillery by making smooth Gin and Rum. During Covid he had to change his operation on a dime and started making beautiful honey vinegars using Forever Bee honey. What a transformation.
This honey vinegar has now become a huge part of his business and he just can't keep up with production. We love to work so collaboratively with other small businesses and makers. Thanks Paul for such an amazing product.
Especially for this market, we brought in one of Paul's favourite vinegars - Raspberry Honey Vinegar. Yummo!!!! What can you do with Raspberry Honey Vinegar?
GIVEAWAY!!!!
As a special giveaway for our Grand Re-Opening we are giving away a red Raspberry Honey Vinegar and a white Honey Vinegar package to a lucky winner. Ooohh, you will have the favourite meals in the neighbourhood :)
ENTER TO WIN:
Let us know how you use vinegars at home? Do you have any recipes we can try?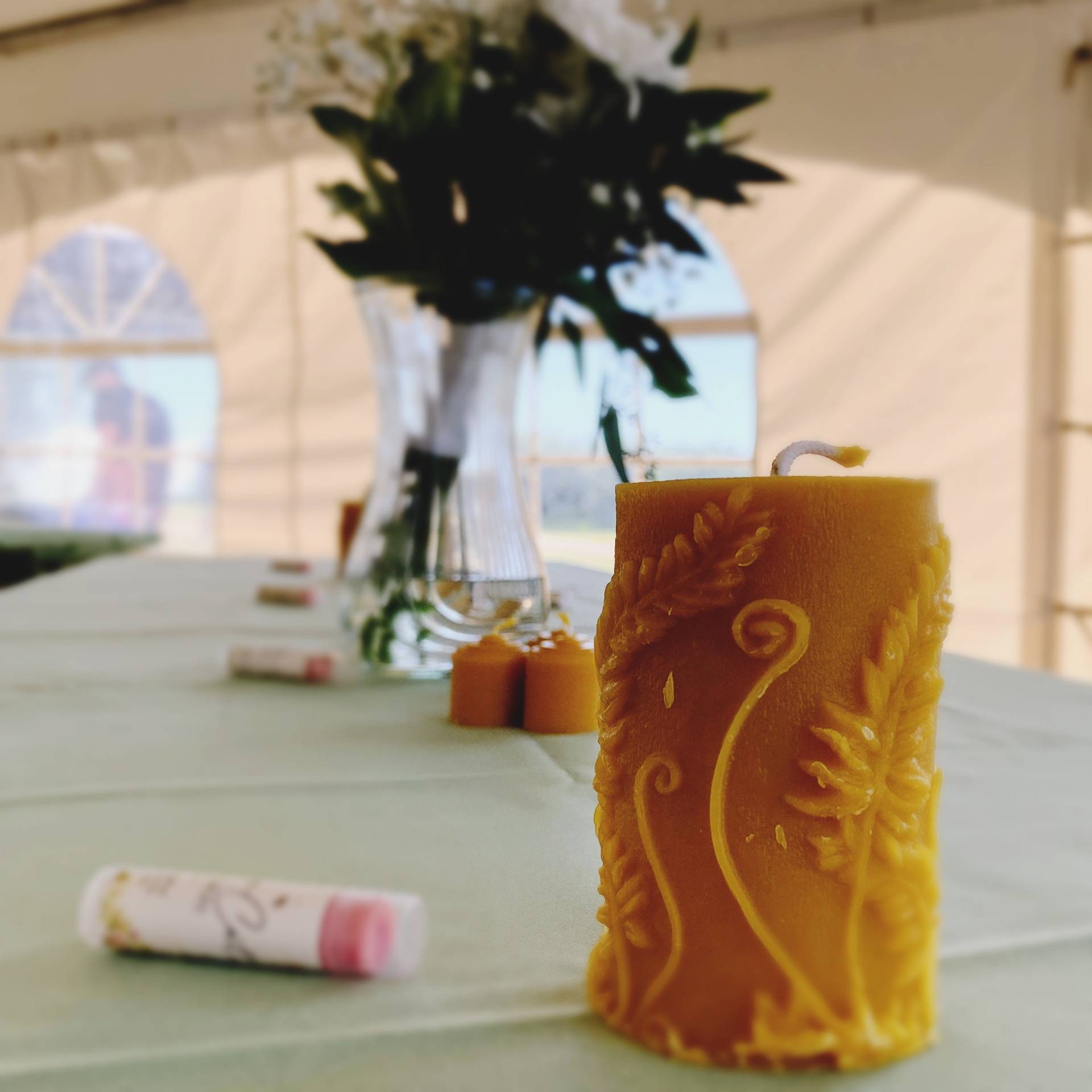 CUSTOM GIFTS!
Did you know that we LOVE doing custom gifts? For Annanie's daughters wedding we did mini fern candles & custom labelled lippy balms!
We offer bulk pricing on most of of our products, and events are a large part of why we do that!
CELEBRATE TOGETHER
I had so much fun celebrating this weekend, I would love to celebrate your big event too! Comment below with your upcoming event in 2022 that you would like some custom made things for! We will cover the $50 design fee for your custom gifts.
Don't have an event of your own, but know someone else to nominate? Tag them instead! Winners will be picked by random draw.
Reach out to us anytime for your custom event and gift needs!
Text or Call 403-915-0454
sales@foreverbee.ca
THANK YOU FOR YOUR LOYALTY!
Have you heard about Honey Money? You earn 5 Honey Money Rewards for every $1 you spend on foreverbee.ca. Honey Money can be redeemed towards your next purchase.
500 Points = $5.00 Coupon (FREE RAINBOW LIPPY BALM!)
1000 Points = $10.00 Coupon (1/2 Price Bubble Truffle Pack!)
2500 Points = $25.00 Coupon (FREE Medium Pillar Candle!)
3000 Points = FREE SHIPPING!!
Plus there's lots of extra ways to earn and redeem honey money rewards! Including referring friends!
I'm giving away 3000 Honey Money! (FREE SHIPPING!) to our top referrer using the referral rewards link!
1. Login to foreverbee.ca/rewards
2. Scroll all the way down to find your referral link.
3. Share this post to your timeline with your referral link.
4. Comment your referral link below so your friends can find it quick too.
When your friend creates their first order using your link you will get a gift from us.
PRICE CHANGE ALERT:
Currently Honey Money rewards can not be combined with our Free Gift Offer this weekend (it's a system limitation.) Save your points for next time.
EFFECTIVE JULY 4, 2022 - Honey Money CAN be redeemed on bulk cases!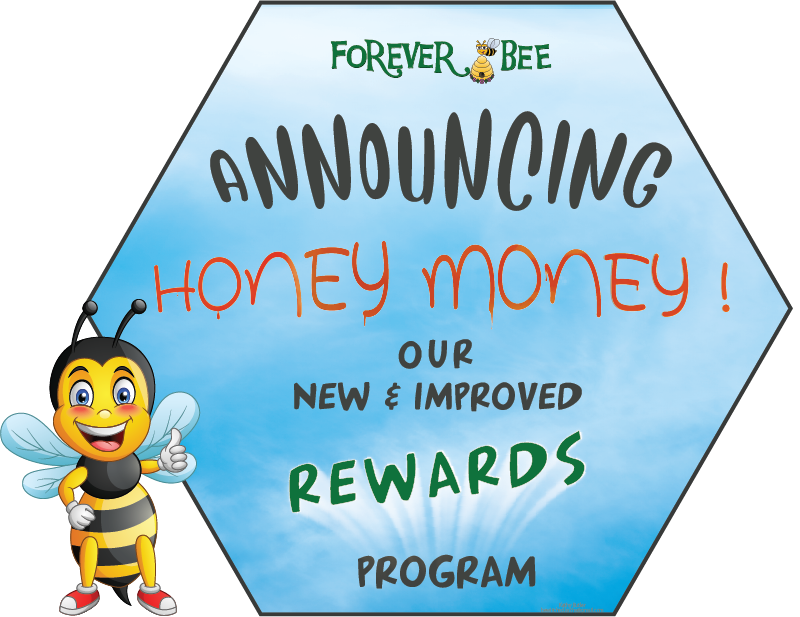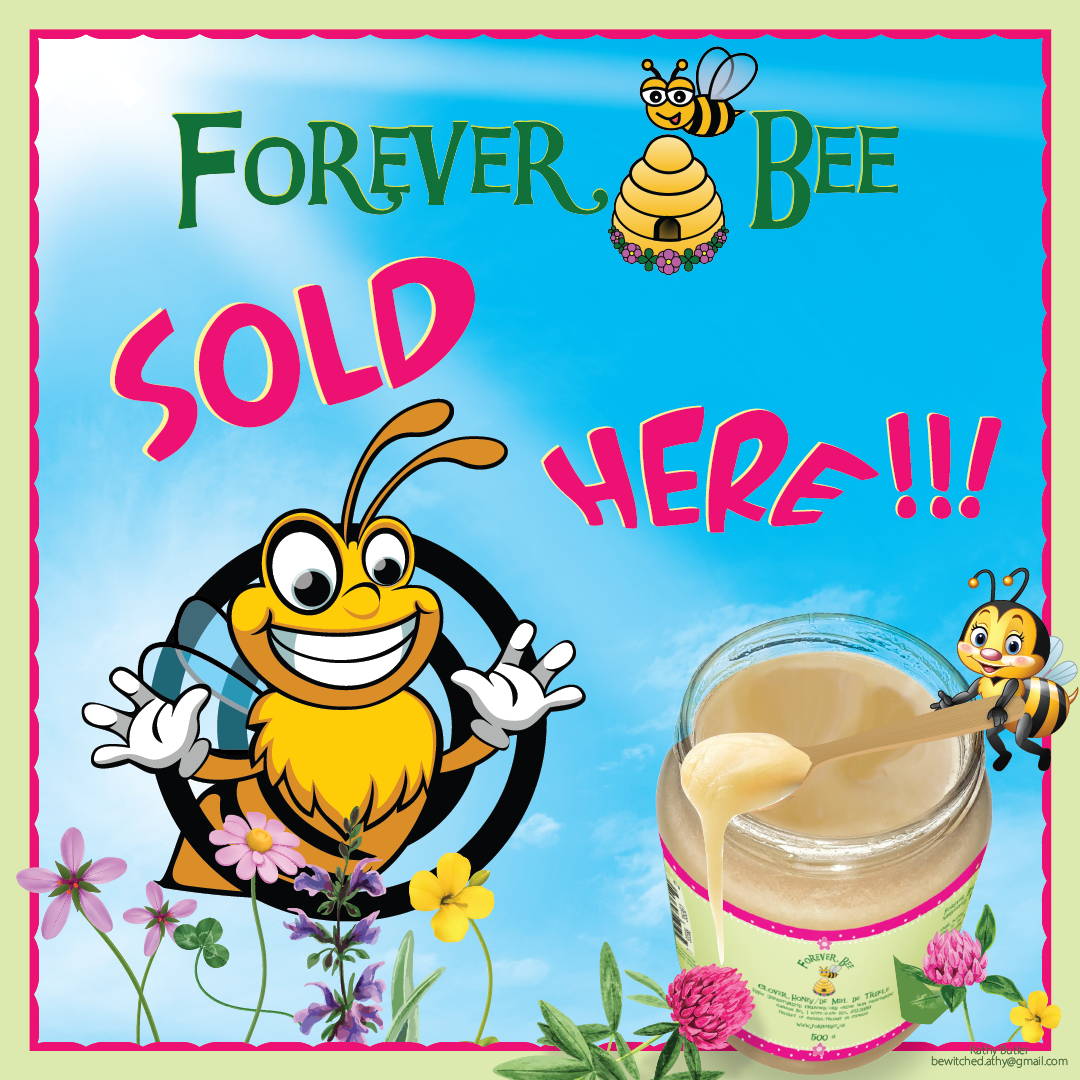 FIND US LOCALLY!
We have lots of stores in Alberta that carry our products and are always on the lookout for a new shop!
When we announced we were closing a lot of customers were concerned about where they would find their favourite products when we were gone. I'm grateful to say that we ARE NOT CLOSING and we continue to offer wholesale prices so our favourite shops can continue to serve you!
Where do you normally get your Forever Bee Favourites?
Find a store near you with our products.
Contact us if you would like to become a wholesaler:
Text or Call 403-915-0454.
sales@foreverbee.ca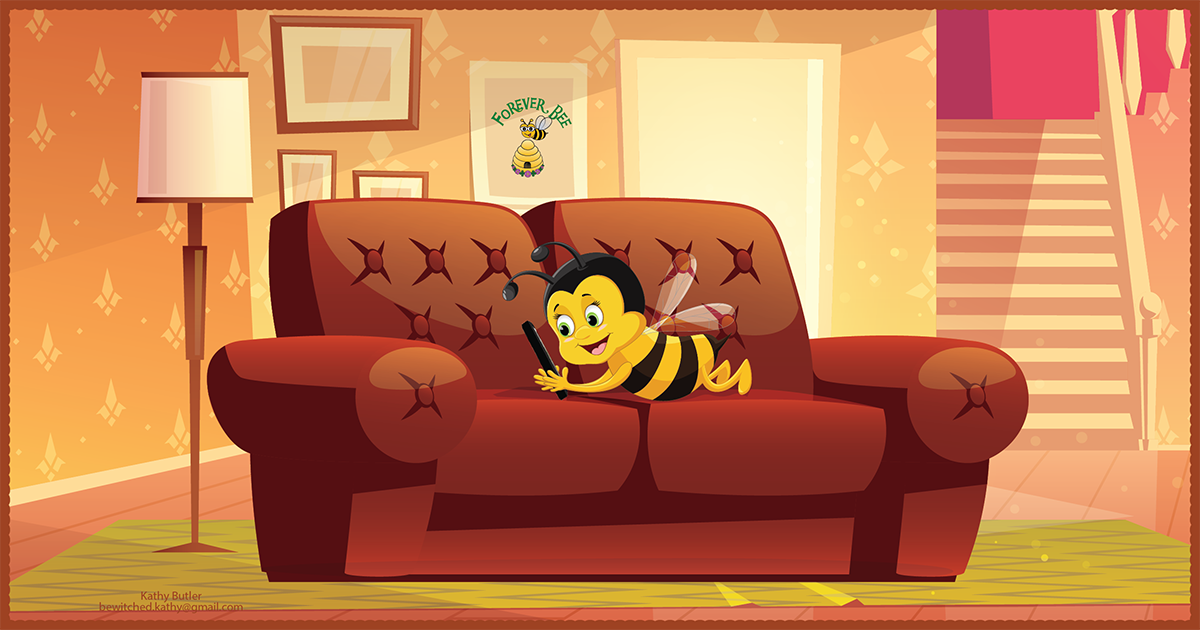 PREVENT HONEY-MERGENCIES!
... get a subscription so your honey supply never runs low.
Honey-mergencies are very scary. This is the emergency situation where a house has zero honey on hand. Very serious feelings and attitude changes can occur in many family members when the favourite honey runs low. One can't simply 'use something else' it doesn't work that way.
If you or someone you know is having a honey-mergency please contact us right away so we can correct this! Note, we would also like to know about pollen-mergencies, wax-mergencies, candle-mergencies, soap-mergencies and all similarly hazardous situations.
To help reduce the number of these situations across North America, we now offer subscriptions on all of our products! You can set the frequency to suit your family, and adjust as needed. You get email notices before billing and can change at anytime.
PLUS as a thank you for committing to use our products regularly you will also get our Gift With Purchase at the time of your delivery!
The best part... you don't have to leave the couch!
Subscriptions work by choosing the products you like and setting their frequency, each product can have it's own frequency. You can always add on individual items to come along with your subscription. Gift value is determined by the value of the total delivery going out not just the subscribed items.
GIVEAWAY
To celebrate I am giving away a 3 month subscription to our new Mini Necessities Bundle! One lucky winner will win a 375ml Raw Honey, a Lippy Balm, 25 pack of Honeystix, and 2 tealight candles. Every month all summer long! (A $37 Value).
ENTER TO WIN:
Let us know below, what size of honey do you buy normally and how long does it take for your home to eat it all?
ENTER AGAIN: - got any good honey-mergency stories? Share it below for extra entries!
It really was a sweet treat to spend today with you! I love what I do and I love sharing it with you!
You know what else is fun to share? Cookies. Check out this recipe for Sugar Cookies made with Honey! The girls and I used penguin and star cookie cutter shapes to make ours, Emma is sharing her star cookies with you!
FAQ ALERT:
Can Forever Bee re-use my empty honey jar/pail?
Right now our facility is not approved by AHS to be reusing or refilling your bottles. We encourage using your empty jars as containers to share your favourite treats or an extra batch of homemade soup to share with your neighbours and loved ones.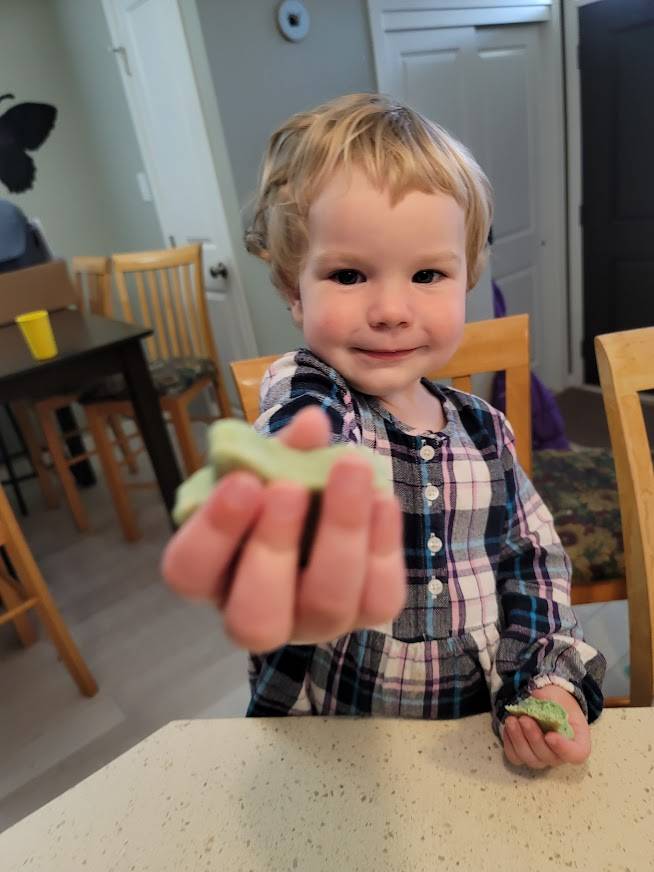 TROPICAL SUNRISE SUNSCREEN
Welcome to Sunday Morning!
Hope you get to spend the day with your loved ones! Keep hydrated and take care of your skin today!
Here's a little video of Lyllian from last year when we launched our Sunscreen. Nice and easy to put on!
Get outside, have some fun. We will be back online 12pm-2pm today! See you then! Be sure to go back through all of our posts from July 1 to enter all the giveaways and learn all about us!
NATURAL OR ROSE SUNSCREEN?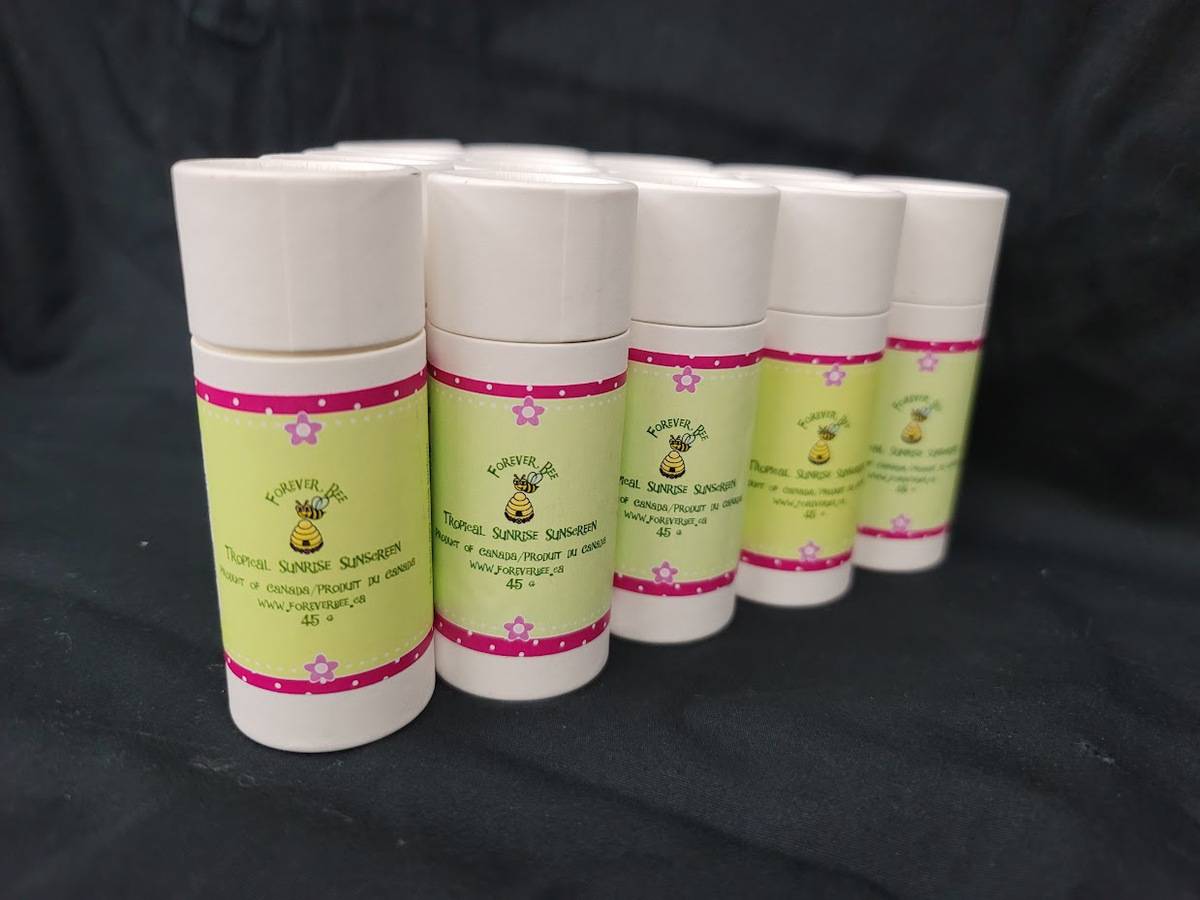 HAVE YOU TRIED OUR SUNSCREEN?
We LOVE that some raw ingredients like Beeswax and Shea Butter have natural SPF to them! We were able to create a beautiful soft sunscreen in a stick form (perfect for anyone who has troubles with squeeze bottle messes!).
After the announcement of our closure, some supplies ran low. Our last batch of sunscreen did not get the rose essential oils added! This got me to thinking, maybe we should make both!
Some of the sunscreen ingredients have a very potent smell, like Carrot Seed Oil. A compound called umbelliferone, or 7-hydroxycoumarin, is found in carrot seed essential oil. This compound absorbs UVB light and is great for your skin!
We helped mask the smell, and stayed away from other common allergens (like coconut!). We used a Rose Oil to give our sunscreen a light soft smell.
GIVEAWAY
Our Rose Sunscreen will be on the way soon! Drop a comment below, would you like the natural one or a rose one?
We will announce a winner later this afternoon!
DID YOU KNOW????
At Forever Bee we do not just use our bees to get as much honey out of them as possible. We are in a symbiotic relationship with our bees. We provide them with beautiful, organic farms where they get to feed on a variety of flowers, the bees in turn offer pollination to these organic farms which helps to increase crop yields by up to 60% and we then get to keep any excess honey and pollen which is pure, non-toxic and so healthy which we can then share with you.
Isn't that just the most beautiful relationship you can imagine with these amazing little creatures?
The bees pollinate plants when they go to collect nectar. The pollen gets stuck to their legs and when they fly from one flower to the next, the pollen gets distributed which then pollinates the plants. Bees generally practise flower loyalty which means that during a specific trip they will visit only the same types of flowers.
Once they are done collecting nectar and before they get back to the hive, they will push all the pollen that is stuck to them into little bags on their back legs. These are called corbiculae or pollen baskets. They carry this pollen back to the hives and use it as food.
Check our website regularly for more information about bees and the things they make all the time.
Pollen is so great for boosting your energy and for helping your immune system.
Pollen is fantastic to eat all on it's own, with a light blend of flavour from various flowers and a simple crunch from being sun dried pollen can make the simplest of recipes even better.
We use it on yogurt parfaits, cereal bowls, salads, smoothies, and even ICE CREAM!
Check out our Recipe Collection for a Frozen Yogurt & Bee Pollen Recipe.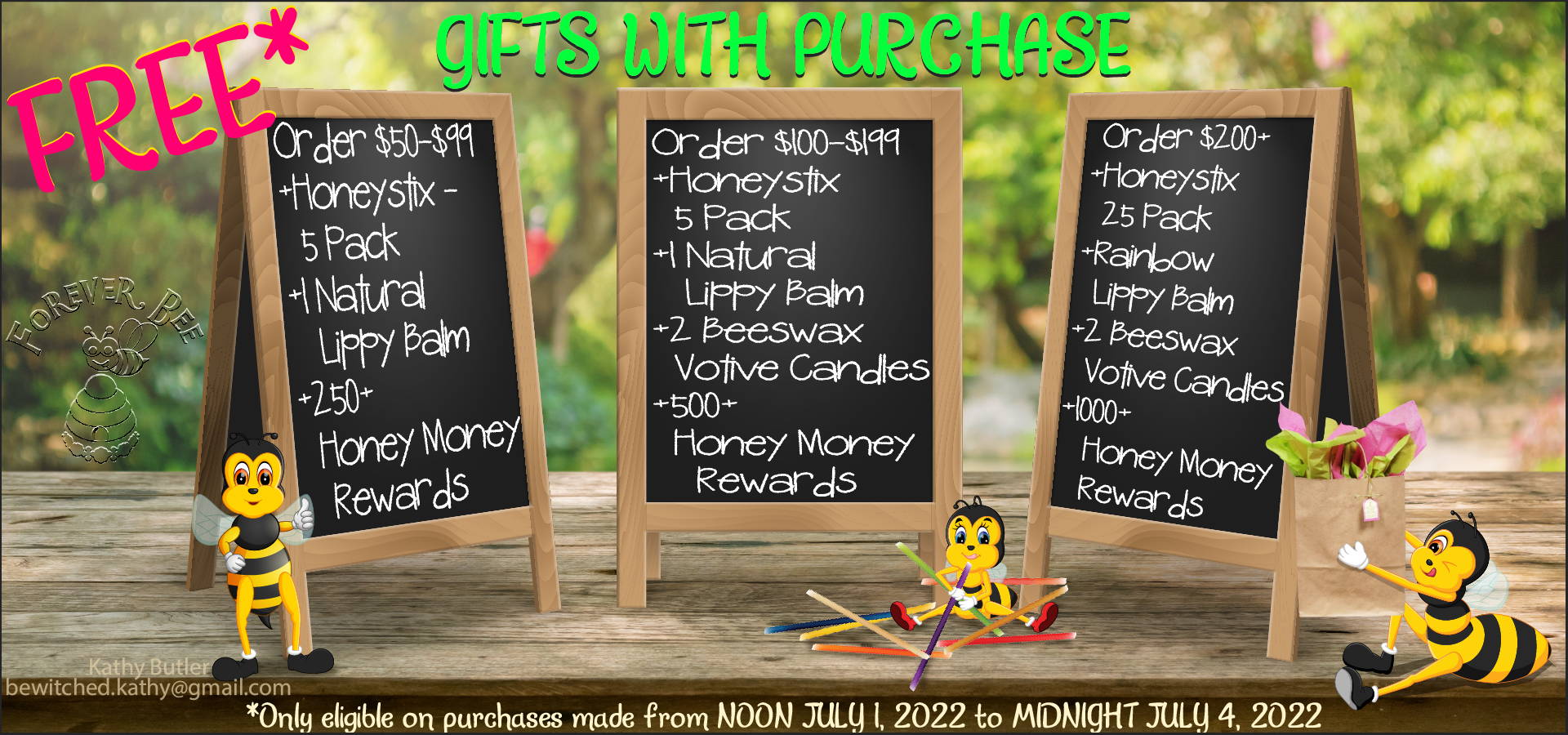 CELEBRATE WITH US!!
WAHOOO WE ARE STAYING OPEN!!!! I am so excited that we are not closing! One of the best parts... I get to decide when we do giveaways and gifts!! To celebrate our Grand Re-Opening and get everyone a chance to try out some of our favourite things we are doing a gift with purchase this weekend!
For every order placed this weekend you will get a gift. The gift gets better with bigger orders!
GIVEAWAY
Giving Gifts makes me wanna Giveaway more! Let's start a conversation around gift giving! What are some of your favourite gifts to give or receive? Do you have any gift stories that would warm up our day?
I LOVE packing up a surprise bag! Join the conversations below about gift giving. Each comment on each Gift With Purchase post between July 1 and July 3 will be entered into win. We will giveaway one $25 Surprise Bag to TWO lucky winners.
Have an open order with us already, or order right before we announced this offer? If you purchase anything during our event, we will make sure the gift added matches your total of the complete order being delivered.
SHIPPING ACROSS NORTH AMERICA & DELIVERY IN ALBERTA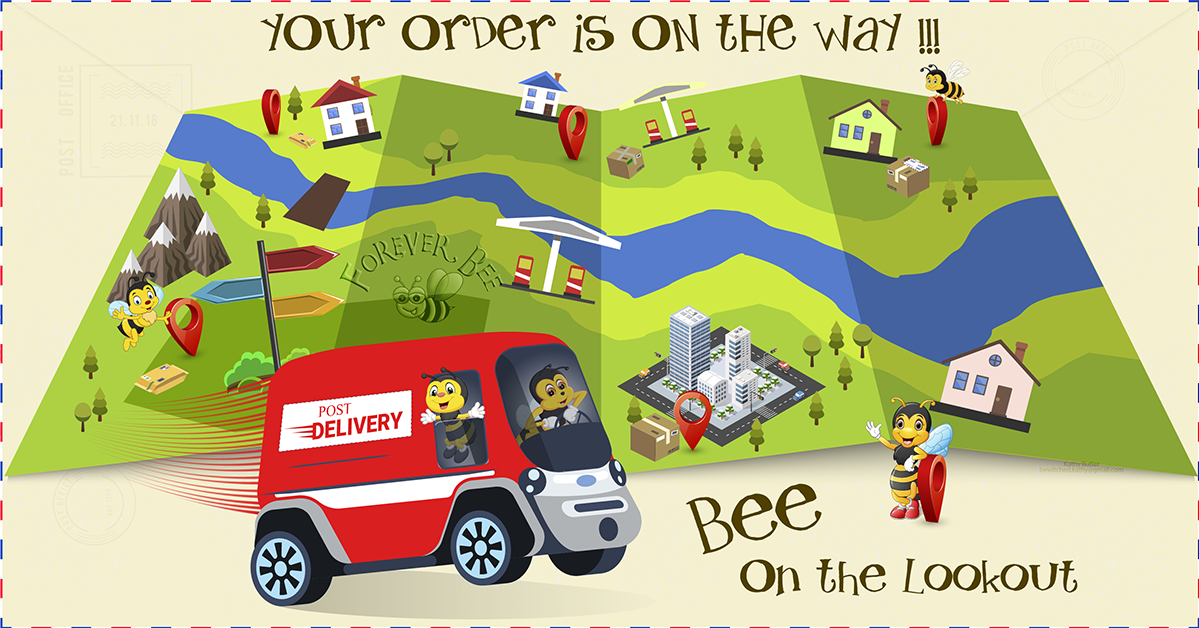 WE SHIP ACROSS NORTH AMERICA & HAND DELIVER IN ALBERTA!
Live a little outside of our delivery zone? That's okay, we will still courier the package to you! We offer Flat-Rate and Exact-Rate Shipping. You will see all of the choices available for your order at the checkout.
FREE SHIPPING - Redeem 3000 Honey Money
$20 Flat Rate Orders up to $150
$30 Flat Rate Orders up to $250
Exact Rate for orders over $250.
We LOVE shipping off gifts to your loved ones for their special occasions, if you need our help getting a card sent along, or a handwritten note please reach out to us. If we can make it work we will!
If we can deliver to you, that's even easier! Our upcoming delivery schedule:
Tuesdays: Calgary, Okotoks, High River, Nanton, Stavely, Claresholm, Nobleford, Vulcan, Champion, Fort Macleod and surrounding areas
Wednesdays: Lethbridge,
July 10: Edmonton and surrounding areas, Red Deer and surrounding areas, Airdrie
July 17: Cochrane, Bragg Creek, Exshaw, Canmore, Banff and surrounding areas
July 24: Medicine Hat, Coaldale, Taber and all surrounding areas
July 31: Cardston, Waterton, Pincher Creek, Fort Macleod and surrounding areas.
Not sure if you qualify for delivery or shipping? Send us a message with your address and we will let you know!
Our full delivery schedule & policy can be found here:
https://foreverbee.ca/delivery
Text or Call 403-915-0454
sales@foreverbee.ca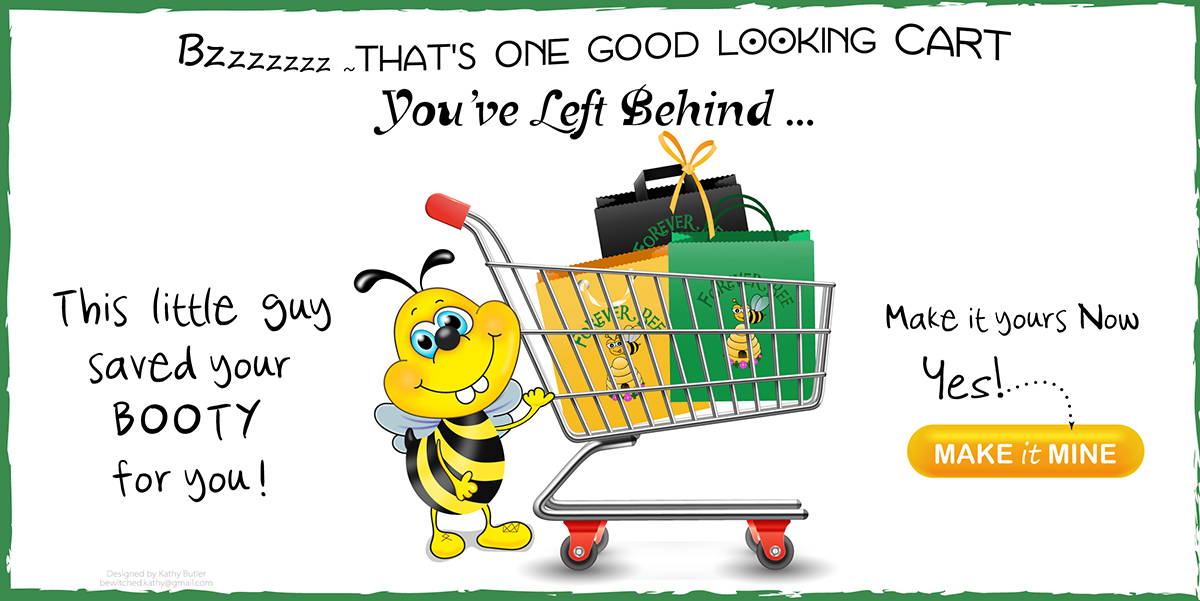 ORDER NOW PAY LATER
Sometimes our promotions run in-between payday cycles, we get that! Did you know that we have Payment Terms, Cash on Delivery, and Email Transfer all available on our website. When you choose any of these payment methods you will checkout WITHOUT PAYING! This way you guarantee the things you want have been claimed, inventory is set aside for you!
Send us payment, or a note when you are able to have the payment by. We will mark the order with those notes, and send invoices at that time.
We're not worried about people not paying... If you don't pay your invoice I will never give you honey ever again. That's much scarier than any bill collector. Please help us prevent honey-mergencies. Order when you need it and pay as soon as you can.
Never let smart budgeting prevent you from shopping with us. Reach out, see if we can help!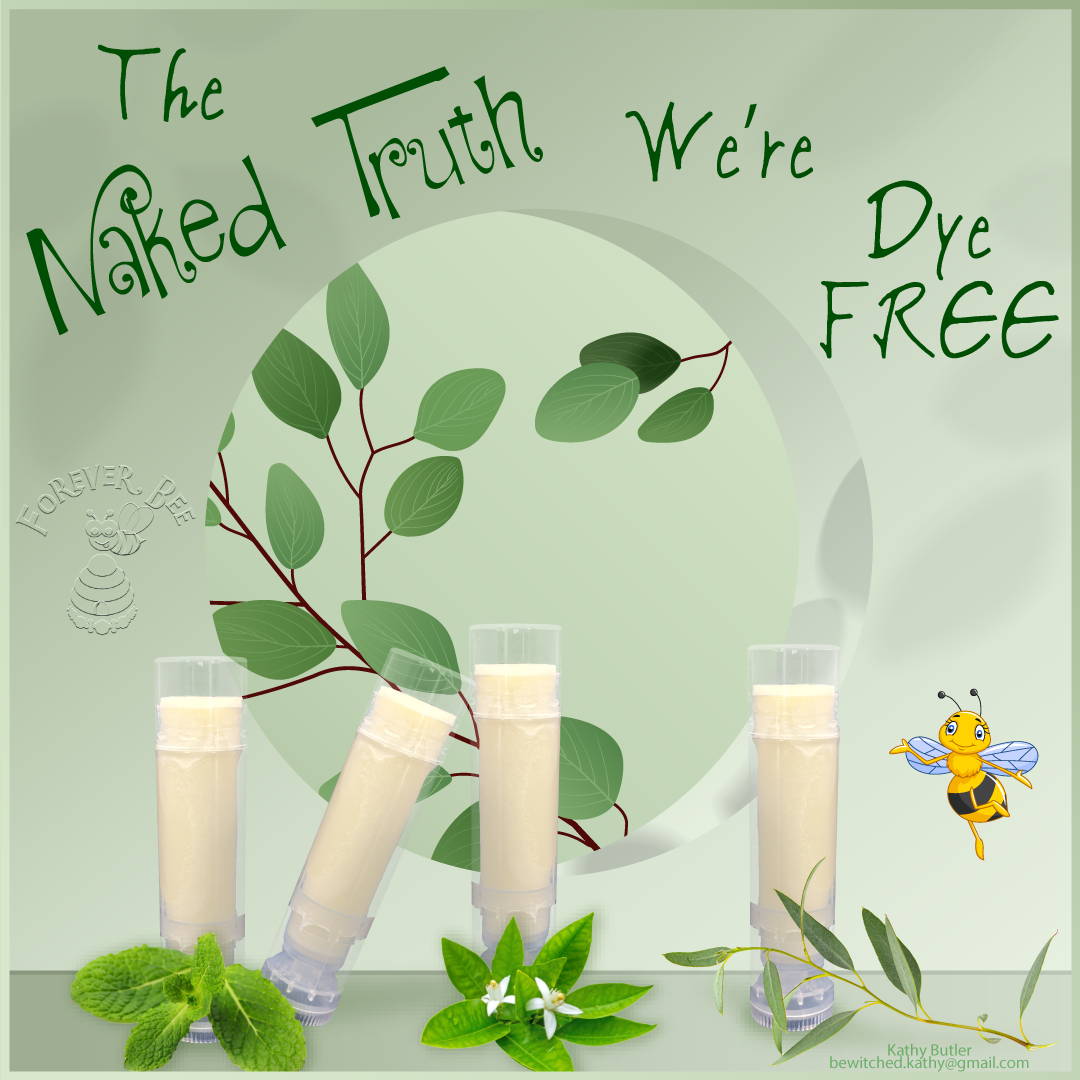 Well we've pretty much shown you everything up to this point. Open the door, welcomed you in and now all we can do is show you our most natural products. There's one more thing I'd like to share but saved it to the end incase the social media robots wanted to get involved.
Did you know we have a line of dye-free products. A lot of our products are naturally dye free, but some things we intentionally keep dye free to help reduce the chances of irritations for some of our customers. The fun name of these products makes them a little tricky to discuss online, but we just couldn't help ourselves. Enjoy our collection of dye-free products in our catalog! Look for THE N A K E D LINE on our website!
https://foreverbee.ca/open
Text or Call 403-915-0454
sales@foreverbee.ca
Thank you so much for joining us online this weekend while we celebrate our Grand Re-Opening!
At Forever Bee, we are so grateful to have the opportunity to grow our dream business with our family and team. We absolutely love you, our bee-autiful customers! We love creating products that are healthy and nourishing for your body and soul. We also love sharing ideas that help you and your family/friends spend quality time together.
We really enjoy hearing from you, please send us an email for a special Honey Money Bonus!
Here's how:
200 bonus points simply for attending - Email sales@foreverbee.ca with your account email address (make an account first if you don't have one.)
PLUS
Receive 300 extra bonus points for answering these questions in your email.
- What was your favourite part of our Grand Re-Opening?
- What is your current favourite Forever Bee Product?
- What is one thing you would like to try of ours?
- Any other things you wish we should know. 🙂
We will manually credit your account with your bonus points so make sure to use your account email or provide it to us when you send your message! All points will be issued by July 5, 2022.