Soft Maple Honey Whole Wheat Bread
Prep Time: 20 Minutes

Cook Time: 40 Minutes

Proofing Time: 1 Hour

Servings: 1 Loaf
1 1/2 cups warm water

1/4 ounce active dry yeast (1 packet)

1/4 cup Forever Bee Maple Honey

3 tablespoons salted butter, softened

2 1/2 cups whole wheat flour

1 1/2 cups of all purpose flour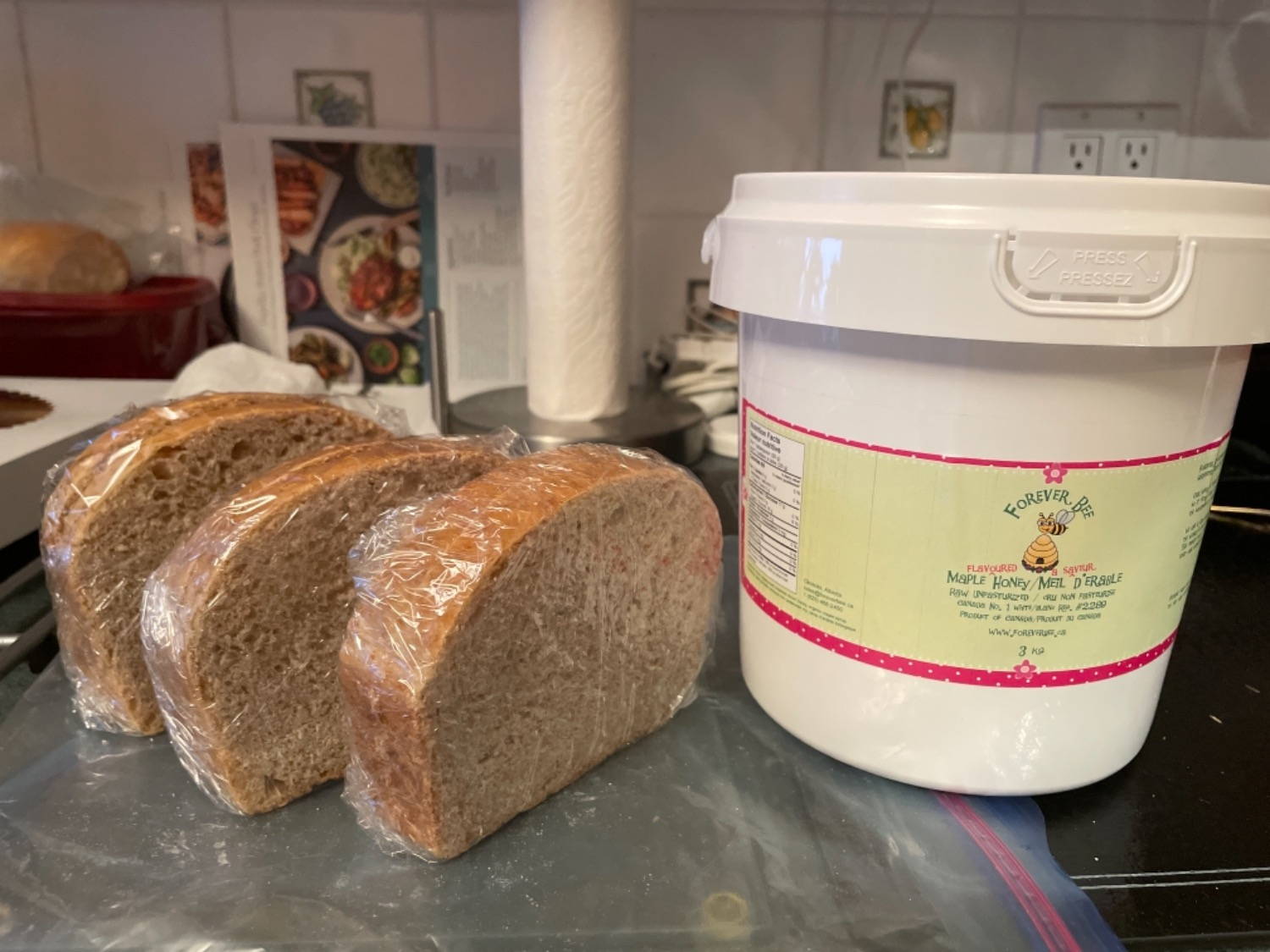 Place the warm water in a large bowl and sprinkle the yeast on top. Set aside for 5 minutes to allow the yeast to proof.

Add the Forever Bee Maple Honey and butter.

Blend in 2 cups of the flour (1 cup of whole wheat and 1 cup of all purpose flour) until moistened. Beat on medium speed for 3 minutes.

Stir in an additional 1 1/2 cup of whole wheat flour, until dough pulls away cleanly from the sides of the bowl.

Knead on floured surface, adding 1/2 cup additional all purpose flour, until dough is smooth and elastic, about 10 minutes.

Place dough in large greased bowl and cover loosely with plastic wrap. Let rise in warm place until doubled in size, 30 to 45 minutes.

Lightly mist a 9x5-inch loaf pan with non-stick spray or use parchment paper to line the pan.

Punch down the dough and shape it into a loaf.

Place in prepared pan, cover loosely with greased plastic wrap, and let rise in warm place until doubled in size, 30 to 45 minutes.

Preheat the oven to 350°F.

Uncover dough, and bake 40 to 45 minutes or until loaf sounds hollow when lightly tapped.

Once this bread is completely cool, slip it into a plastic bag to keep it from drying out. Then keep in in the fridge. It should last for at least a week.
You can also freeze it! I'd recommend slicing it first, that way you can just grab a slice or two from the freezer whenever you need it. It thaws very quickly. At room temp it would probably only take a half hour or so, or pop it into the microwave for around 10 or 15 seconds.
Thank's Richard L for sharing this delicious recipe with us!