Coconut Vinegar Couscous
Prep Time: 10 Minutes

Cook Time: 10 Minutes

Total Time: 20 Minutes

Servings: 1
100g Couscous

100g Feta

1/2 Yellow Pepper

10 Black Olives

Handful of Lemon Thyme Leaves

1 Red Onion

3 tbsps Coconut Honey Vinegar

Salt and Pepper to Taste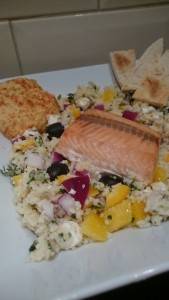 Cook the couscous by pouring over boiling water until it just covers it and then place a lid over the bowl. Leave this for approximately 10 minutes – it's really that simple!
Meanwhile finely chop the red onion, yellow pepper and lemon thyme leaves. Cut the feta into chunks and along with all the other ingredients, mix it into the cooked couscous. And that's it!
The heat from the couscous provides enough warmth and by keeping the vegetables raw you ensure optimum nutritional value.