Raw, Unpasteurized or Pasteurized
We love honey. Forever Bee began with a passion for true raw honey with all the nutients intact. When shoping for honey you might see all kinds of terms like Raw, Unpasteurized, Pasteurized, Liquid, Creamed, Crystalized. There's so much to learn and we couldn't possibly pack it all into one page, here's a little start to answer some of the popular questions about raw honey.
Raw Honey is honey that is straight from the hive and has not been processed, heated or filtered in any way. Our Honeycomb is the most pure form of raw honey we have. The benefit of eating raw honey comes from all the nutrients in the honey and wax.
Unpasteurized Honey is raw honey that has been lightly warmed. Due to the natural crystallization of raw honey, it is common for honey to be warmed a little before bottling. To ensure honey is considered unpasteurized the honey must never reach a boiling temperature. For our Flavoured Honeys we use a pail of our raw honey, warmed a little bit, add in our ingredients like peaches and mix together by hand.
Pasteurized Honey has been heated past boiling temperatures, this process cooks off a lot of the nutritional benefits of honey. It will help honey to stay liquid for longer periods.
Is creamed honey raw?
Ours is! Forever Bee Creamed Clover Honey get's its creamy smooth texture from being in a freezer! This speeds up the natural crystallization in a controlled way without impacting the nutritional goodness of our honey. Creamed Clover Honey will return in October, reply back to this email with your size presences to be put on the pre-order notice list.
Which one is best?
It's all about your tastebuds! Our new owner Kira prefers the flavour of the Liquid Wildflower Honey. The texture of the Creamed Clover honey is hard to beat though, Creamed Clover is the most used in Kira's house. When it comes down to all-time-favourite Kira will always choose the Apple Pie Honey.
---
ARE YOU EXCITED?! WILDFLOWER HONEY IS HERE!!
Our summer Wildflower Honey is a delightful treat, we only have it for a few short months in the summer. It goes so quickly! The flavour of this harvest is different from our more commonly known Clover Honey. Wildflower Honey is made from a blend of all the beautiful summer flowers that are around, sunflowers, apple blossoms, lilacs, clovers, and so much more!
Annanie put together this great video for us showing how our honey is bottled. We sure are going to miss having you here!
---
We currently offer 4 varities of raw honey! Honeycomb, Liquid Wildflower Honey, Creamed Clover Honey and Buckwheat Honey. Honeycomb and Wildflower Honey are summer delights only availble for a short time. Our Creamed Clover Honey is our winter harvest, pre-orders beign in September and delivery begins in October.  Buckwheat has travelled to us from Manitoba, this honey is rich and dark with a bold flavour similar to molasses! We highly recommend trying one of each!
We also have bigger sizes and bulk savings when you purchase full cases!
---
You may have noticed we measure our honey in pounds, kilograms and litres! The variation comes from the texture of the honey, our liquid honey is meatured in litres where our creamed honey is measured in grams. Most recipes call for cups and teaspoons, how does it all measure up and can we replace sugar with honey?


All measurements are approximate.
1lb = 2.2kg Honey
1kg = 750ml Honey

1 cup = 250ml Honey (A Flavoured Honey Jar!)
750ml Honey = 50 Teaspoons
One 750ml/1kg jar will give you 1.5 teaspoons of honey per coffee each day per month.
Replace Sugar with Honey!
You can use honey in place of sugar in most recipes! We suggest experimenting until you find your favourite sweetness for each recipe, typically you will want to use 1/2 to 3/4 cup honey for each 1 cup of sugar.
Honey and sugar have different textures and moisture content. Using honey in your brownies and cookies is fantastic if you like them soft and chewey.
---
Cocktails, Cookies and Candy or Healing teas and wholewheat bread. There's no limits to the creations you can make with raw honey and a little bit of time.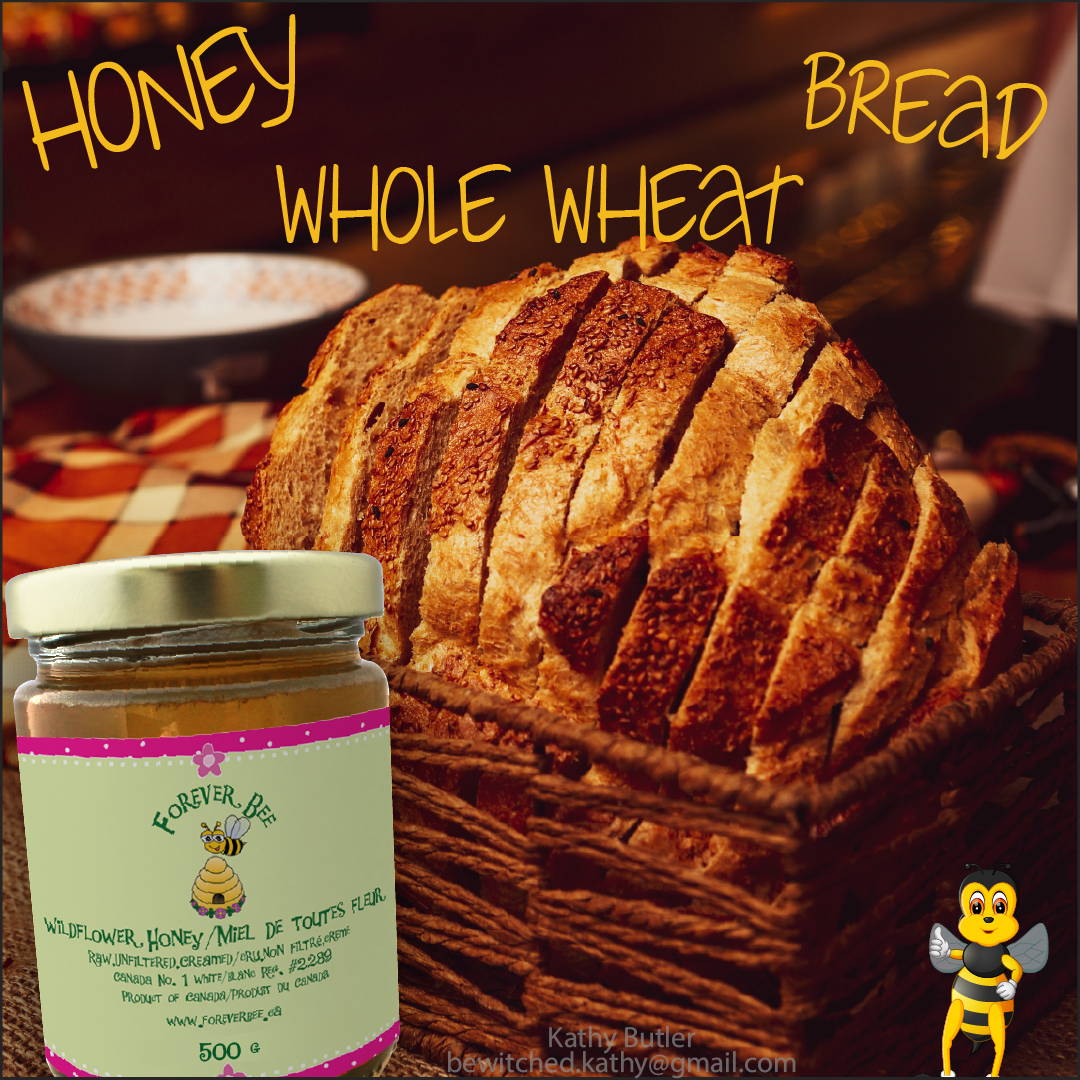 ---
What's wrong with my honey?
We get this question all the time! Raw honey will naturally crystallize or go hard. This texture change is nothing to worry about, your honey is perfectly safe to use!
Crystallization is a natural process that happens because of the natural sugars in the honey. All honey will eventually crystallize. It is very easy however to get it to a liquid state again while preserving the natural goodness of the honey.
Watch this video from our Forever Bee Founder Annanie! Find out how to love up on your honey and take good care of it :). Find out some interesting do's and don'ts for raw honey at home.
---
When we say straight from the hive... we mean it.


Our Honeycomb Frames are straight from the hive to your door. No filtering, processing, cutting or boxing.

There's a good chance the family eats this treat quicker than you can display it, but these honeycomb frames sure do look amazing as a centerpiece.
Keep a spoon nearby for quick sampling.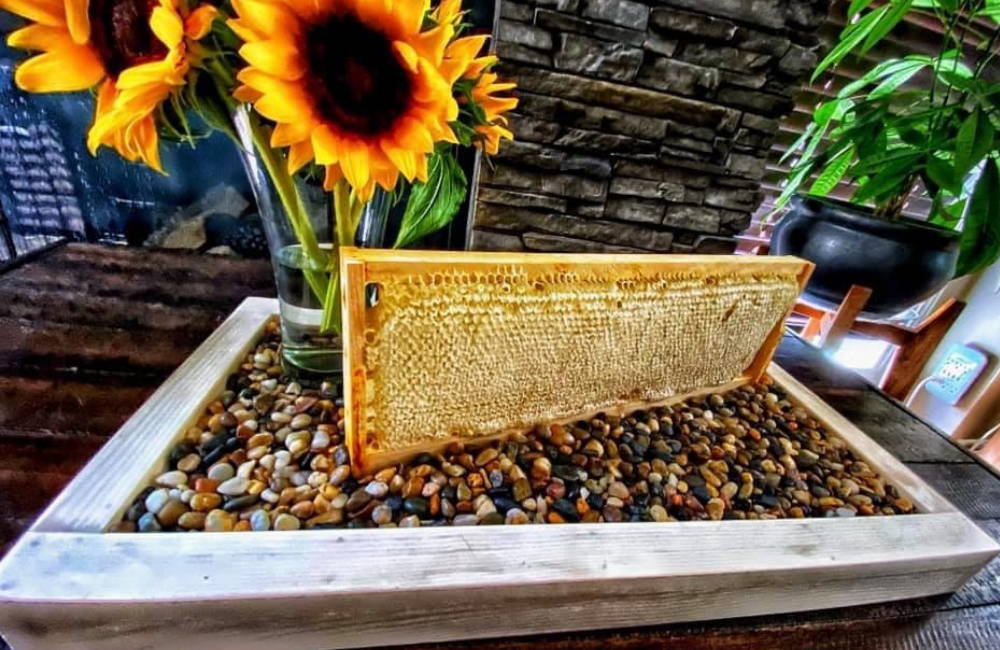 ---
Free Delivery & Flat Rate Shipping
We come right to your door in a lot of Alberta cities. If it's too far to drive, we can always ship it to you!
Click the Learn More Button to see our delivery areas & sign up for notifications!
---