Honey & Beeswax Skin Care
We LOVE our skin, one of the most vital organs we have. Some of us have daily regimes for our skin care routine, some are more laid back. It's all about learning how your body speaks to you, and adjusting accordingly. If your skin is dry, our Body Butter is great for hydrating on the spot. For added benefit, try our Beeswax & Honey Soaps daily too.
---
INGREDIENTS MATTER! We love our Shea Butter <3
Shea Butter is one of the ingredients we use in most of our body products. We use Shea Butter that is organic, raw and crude which means that it has not been heated or processed in any way. This is the highest quality Shea Butter
wecould find, straight from Ghana.
Shea Butter has a very useful properties including:
It is perfect for all skin types including those with sensitive skin, it is very moisturizing and won't leave your skin oily
Contains many antioxidants, is antibacterial, anti-inflammatory, anti-fungal
Reduces stretch marks, scarring, wrinkles and acne, promotes cell regenerations and boosts collagen production
Treat dandruff and prevent hair breakage
Wow, that is so amazing how many benefits this one simple ingredient can have. I hope you will try some of our body products to see what an amazing difference Shea Butter could make to your skin and hair.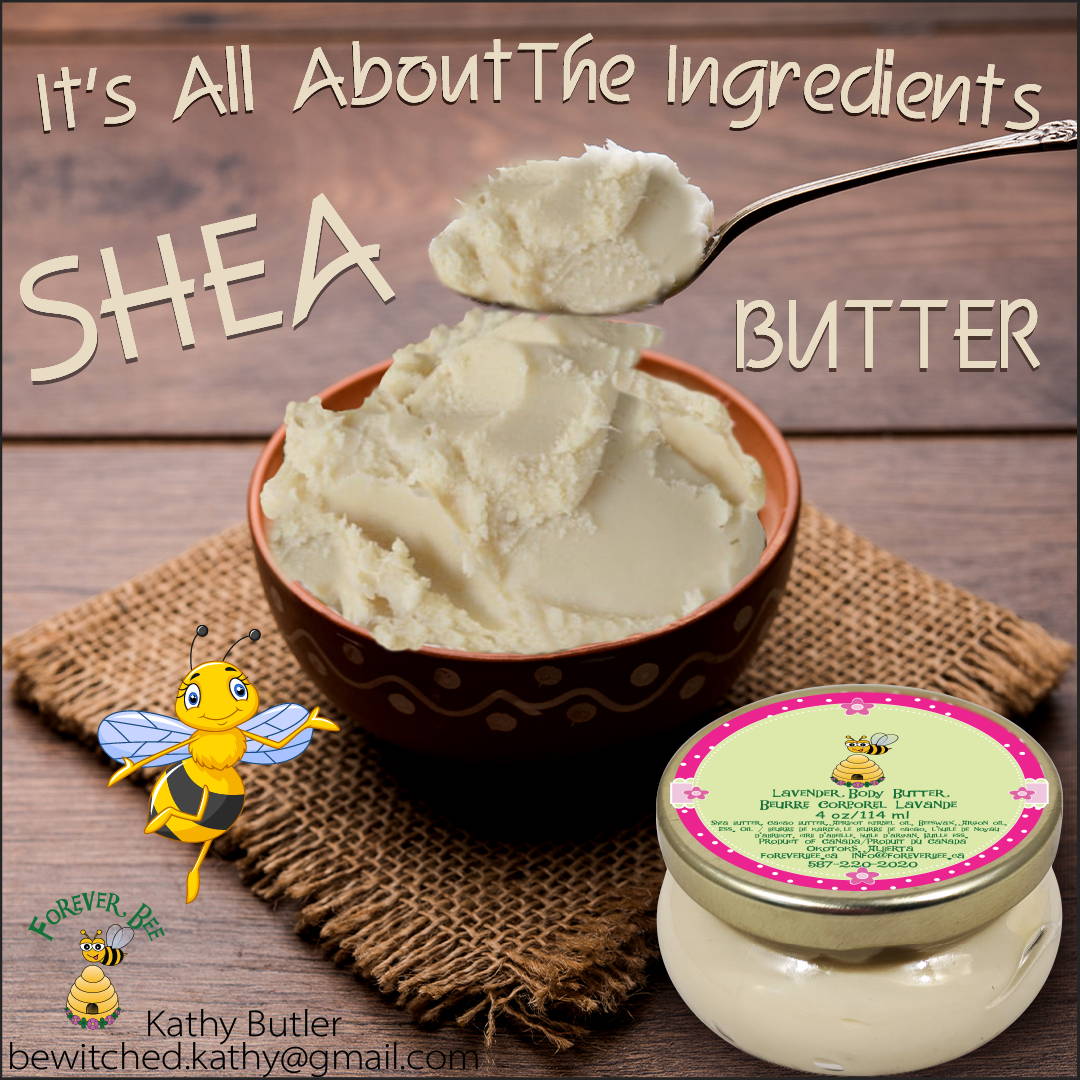 ---
The Body Butter you've always loved, in the same cute jars, IN DOUBLE THE SIZE!
---
Watch a Video from our Founder, Annanie Sherwood about our small batch, handmade Body Butter.
---
Making your own products is so fun and beneficial! With your own recipes you can be sure to tailor your creation to your bodys exact needs. You have the confidence of knowing exactly what is in the product you're making.
Plus a home made gift is the best gift! Have you checked out our recipe collection yet? Be sure to send us your recipe ideas soon too.
---
NATURAL, ORANGE, STRAWBERRY OR CINNAMON
Different scent for every room, or maybe you like to swap fragrances with the seasons? Our soaps are made with all the hydrating and nourishing properties of Forever Bee Beeswax & Honey.
We have heard great feedback from our customers on our soaps, especially with sensitive skin problems like eczema.
---
Free Delivery & Flat Rate Shipping
We come right to your door in a lot of Alberta cities. If it's too far to drive, we can always ship it to you!
---