Handmade Pure Beeswax Packaging & More
Pure beeswax is one of those amazing gifts from nature that we can use to create thousands of natural products to enhance our lives and make it more fun. We love beeswax for it's antifungal and antimicrobial properties. It's great for moisturizing and adding a protective barrier in body care products. It's water resistant and makes gorgeous candles.

Female worker bees will excrete beeswax from their abdomen. The wax is made from the sugars that are in the honey the bees are processing. The bees use the wax to create the honeycomb structure to store their honey and larve.
Beeswax colour can vary a little from harvest to harvest. Our beeswax is a beautiful golden colour. The variations you see in colours on our website is a combination of different harvests, different cameras and different room lighting.
A bee will eat about 8lbs of honey to make 1lb of beeswax
Approximately 30lbs of nectar are needed for 8lbs of honey
On average 12 bees are needed to make 1 teaspoon of honey in their 1-2 month lifespan.
---
Wrapped in Love & Beeswax
Our Beeswax Food wraps are hand made with care & love by Ms.Sloane&Co. Based in Calgary Alberta and owned by Alicia Harrison who has a genuine passion to help eliminate harmful materials from the environment. MsSloane&Co uses only pure, unfiltered and locally sourced Beeswax from Forever Bee of course!
Our top 3 reasons to love these Beeswax Food Wraps:
1. Great alternative to single use plastics
2. Circular shape makes them more versatile and user friendly.
3. Resin Free!
We now offer beeswax wrap packaging instead of plastic packaging! These are a great way to store your candles, soaps, truffles, fruits, vegitbles, treats, leftovers and so much more.
We are so excited to have our beeswax now a part of our packaging. Biggest of thank you's to Ms.Sloane&Co for creating these for us!
---
We love working with beeswax, it's so universal and works well in so many recipes. If you'd like to get crafty we have a slection of beeswax all weighed out in different molds to make it quick and easy to work with. The 1/2lb blocks are large and great for measuring larger recipes. The Waffles are smaller and similar to pastilles, they melt quickly and are easy to measure as teaspoons and tablespoons.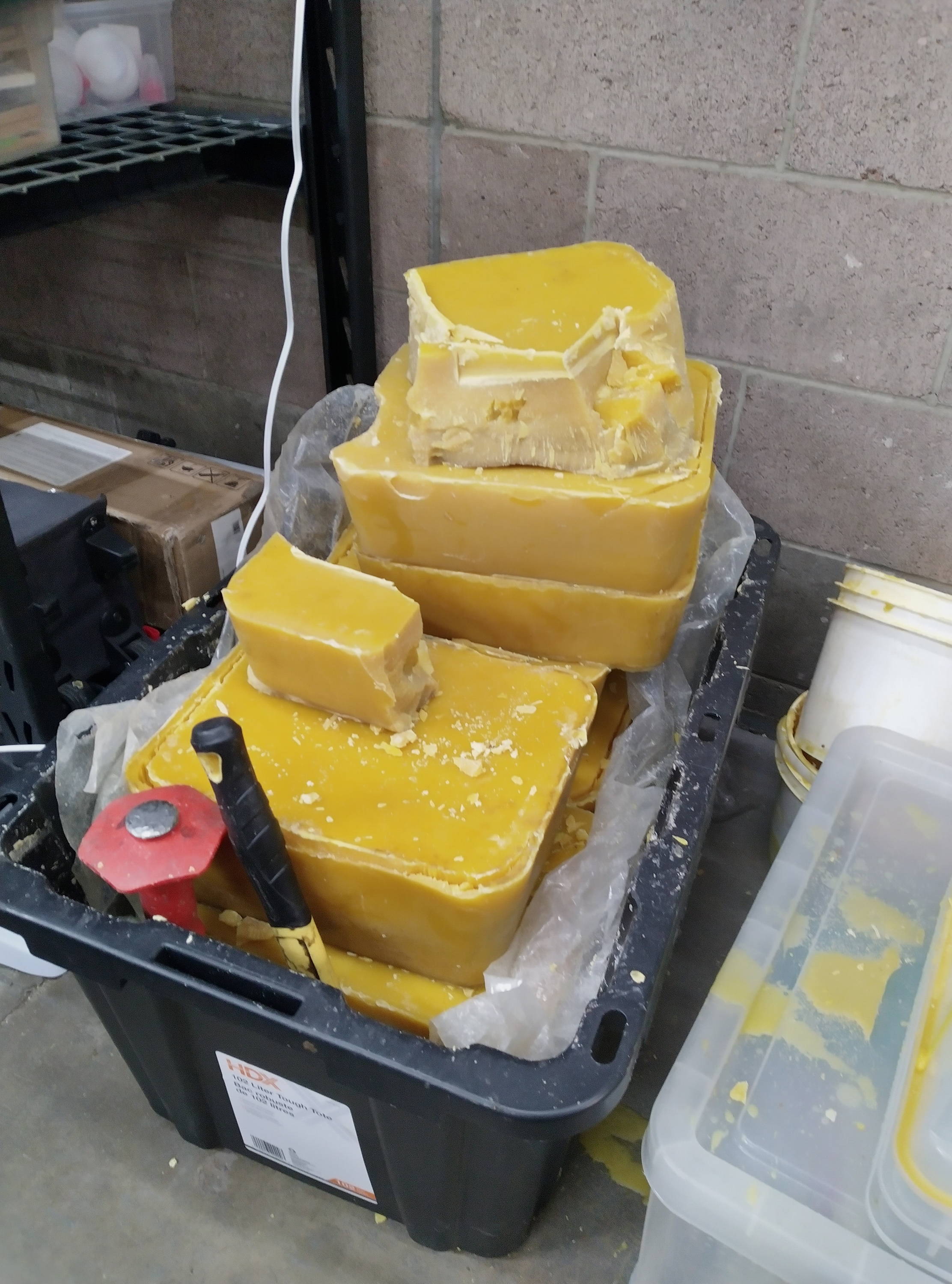 Unfiltered Beeswax Blocks
We break them down into smaller chunks using a chizel and hammer.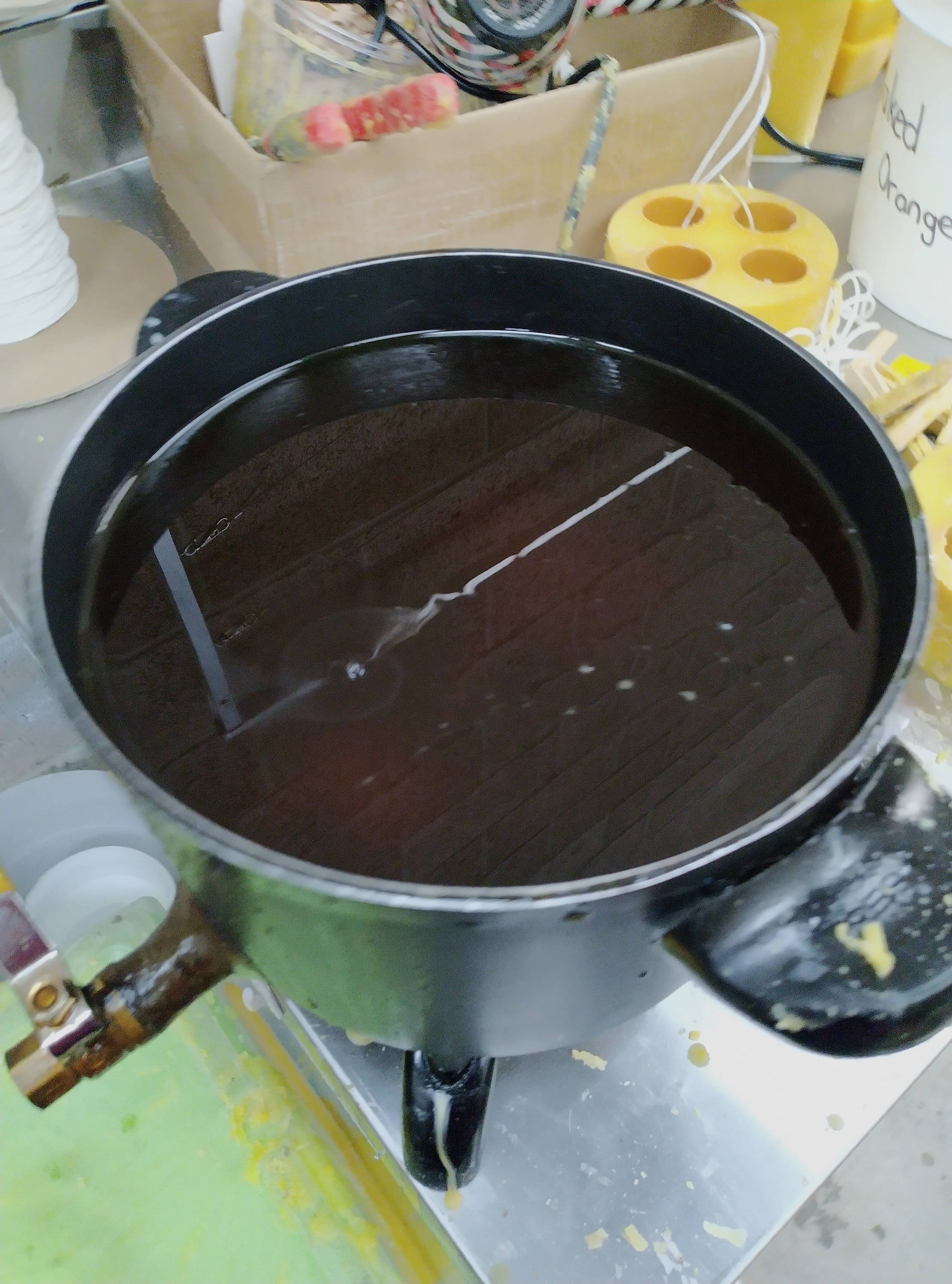 Melted Beeswax
We melt down the beeswax and clean the debri and bugs away.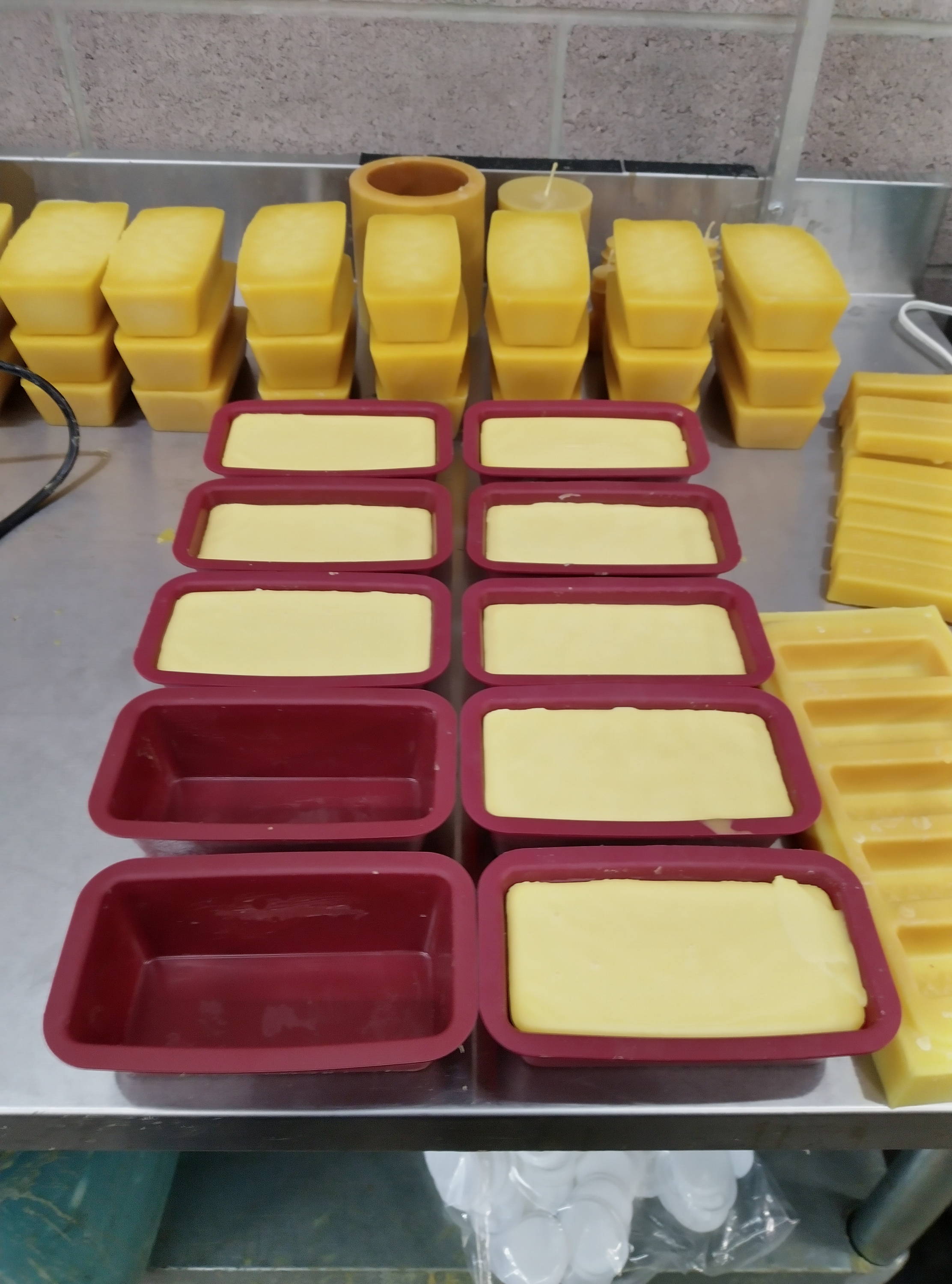 Clean Beeswax
Silicone Moulds are used to create useful and measurable shapes.
---
Beeswax is a prime ingredient in most of our body care products! Beeswax is great for protecting the skin and helping to fight bacterias and fungus. Beeswax also has a natural sun protection factor making it even better in our All Natural Sunscreen.
---
Forever Bee Beeswax Candles are made with pure golden Alberta Beeswax. When used as a candle, beeswax can help purify the air, as well as bring a delightful smell and warm light. Pure Beeswax candles will burn brighter and longer than other candles their size, often going 2-3 times longer than other wax candles of the same size. The wax will melt and completely evaporate as it burns. With proper candle care you will have very little waste that is all re-useable!
---
Our beeswax candles have cotton wick that has been dipped in beeswax, making them very easy to light. All of our candles are packing free including our tealights. We are doing our part to keep the world free of single use plastics, plus we love the creative designs of so many crafters. You can find re-useable candle holders online, at local boutiques and even dollar stores.
To get the most of your candle, we recommend burining them for a minimum of 1 hour for each 1 inch diamater of your candle. For example our pillar candles are 3" around, we suggest burning for 3 hours. This will allow the melted wax to reach the outside edges of your candle, preventing 'tunelling'. As the outer edge becomes thiner you can carefully use your fingers to curl the top of the wax towards the flame.
Our founder, Annanie Sherwood, made this helpful candle care video for us.
---
There are so many unique and great ueses for beeswax.

Candles, Lotions, Salves, Lip Balm, Soap, Shampoo, Paw Wax, Wood Wax, Board Wax, Concrete Sealer, Bowls, Decorations, Beadwork and so much.
Thanks to some lovely customer submissions we even have these great recipes. Be sure to let us know what you make.
Easter Bunny Cooke Cutter Candles
---
Free Delivery & Flat Rate Shipping
We come right to your door in a lot of Alberta cities. If it's too far to drive, we can always ship it to you!
---