Celebrate with Forever Bee
The Grand Re-Opening is Coming!
We are keeping our doors open and couldn't be happer! Our online store & delivery schedule will continue throughout this changeover. Thank you so much for your patience while we adjust! Come on back on July 1, 2022 for our Grand Re-Opening Celebration!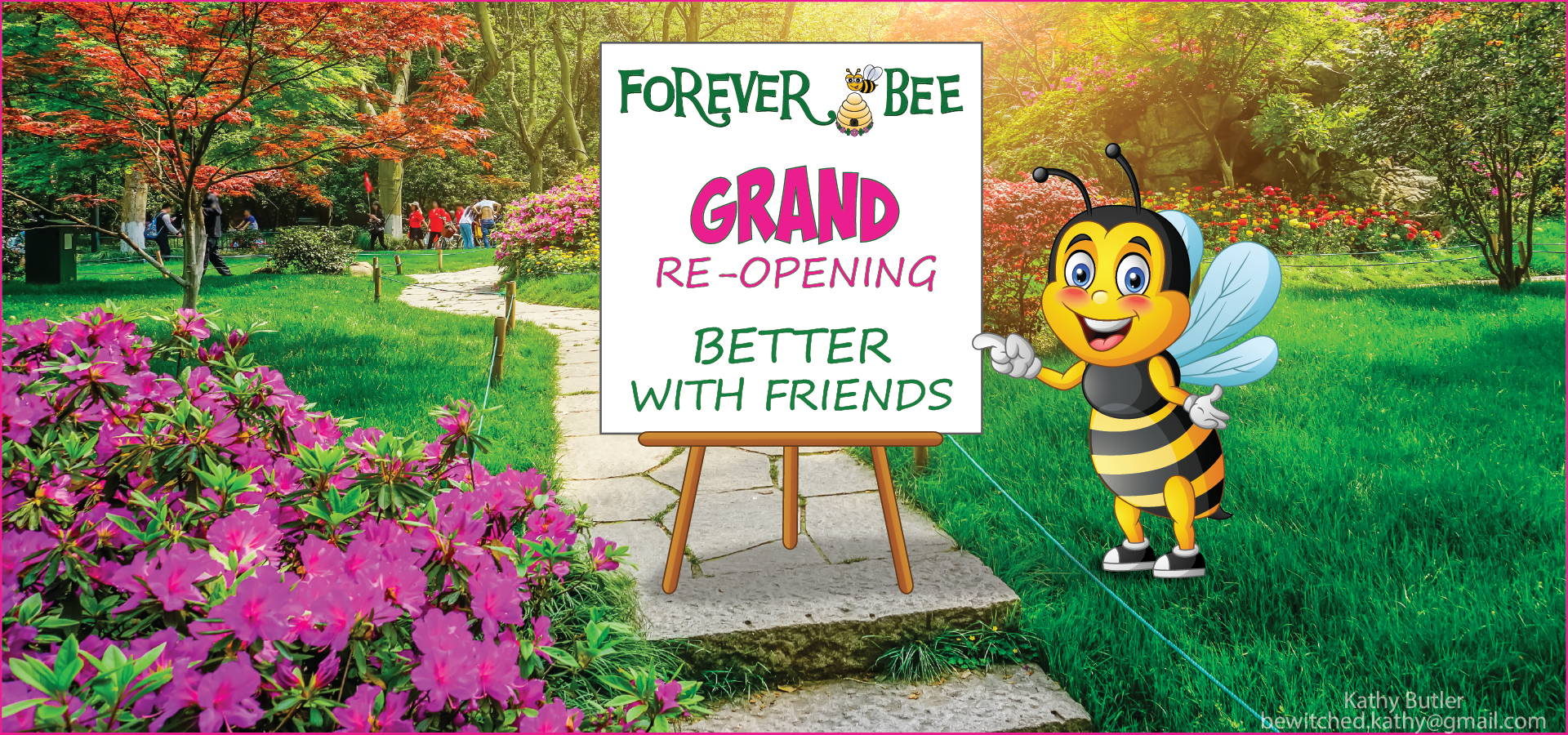 We have some incredibly exciting news to share with you!
WE ARE STAYING OPEN!!!!!
Hi Folks!
It is finally here folks. I have been chomping at the bit to release this news and share this with all of you. Guess what.....Forever Bee will live on :) Kira, our wonderful business manager and friend, has decided to purchase Forever Bee and keep the community going. Isn't that the best news you have heard all week???

We are so happy to be able to bring you this news. Kira, Matt and I started talking about this idea a few weeks ago and spent the rest of the time working out the details, seeing if it could work and working on logistics.
Forever Bee will get to live on, though with a few changes. Kira, with her sunny personality, great communication skills and amazing organizational skills, will definitely take good care of everyone in our community. Please help support Kira in her new adventure by sending your good wishes, loading up on these delicious gifts of nature while they last and sharing with friends.
- Annanie
---
Hey Everyone!
Kira here, I've been a part of the Forever Bee family for 5 years now, and have loved it! The community and family we have grown together has been truly amazing. Every day I get messages with love and gratitude from our customers, it fills my heart. I can't imagine a life that doesn't involve hearing about all of your crafty creations, new recipes, symptom relief and memories being made. Annanie and Matt have welcomed me in like family, they taught me a lot about running a business, enabled me to have an opinion, trusted me to connect with their customers and maintain their brand. It's been absolutely wonderful to learn from Annanie and Matt. I will miss them greatly, and wish them all the best.
I was so surprised by the number of people who cared about me enough to ask what will happen when we close. My heart was lifted when I received your messages wishing me well and asking me to let you know where I go. It's empowering to know so many people think my journey is worth following! Thank you! So here's what's up.. For a few years now I have had a neat idea in my head, but life continued and I never took action. I have a partner who challenges me to grow, two kids (under 4) who keep me going all day long, and job I love. The dream could continue to grow in my head but it wasn't time for it to be a reality. Now my world has shifted, and I want my dream to come alive... NOW.
I would like to own Forever Bee! Closing just didn't sit right with me, so I've decided we shouldn't do it! Annanie, Matt and I discussed the details to see if it could happen. (We have discussed this before but it was a 'in the future plan!'). Now, we have made the plans, talked it out, and I would be honored to be the new Owner of Forever Bee. Annanie and Matt are supporting me through this process and will continue to mentor me remotely. We have learned a lot from our experience and I am looking forward to implement some new strategies we have learned, and keep doing the things we love. I look forward to spending many more years growing with the Forever Bee Community.
There's going to be lots of questions I'm sure! Here's some facts I'd love for you to know right away:
I plan to keep the company very similar to how we are now, we will continue to have Raw Honey, Pure Beeswax & small-batch handmade products.
I live in Lethbridge AB, I will move our beeswax & body products workshop here. Raw Honey, Beeswax, Candles, Body Butter, Sunscreen, Lippy Balms, Soap, Shampoo Bars, Bubble Truffles, Honeystix, Honey Vinegar & Food Wraps will continue to be available.
Our Okotoks Workshop will be closed, including the commercial kitchen which is where our Flavoured Honeys are made. Flavoured Honey will only be available while supplies last, I encourage stocking up now as they will not expire!
Our delivery and shipping areas will remain the same, the schedule will continue to be posted on our website & social media pages.
More updates will be coming soon from us, please stay tuned!
I would love to hear from you, please email me at kira@foreverbee.ca, text or call me at 403-915-0454.
Thank you every one for your support!
-Kira Arneson
---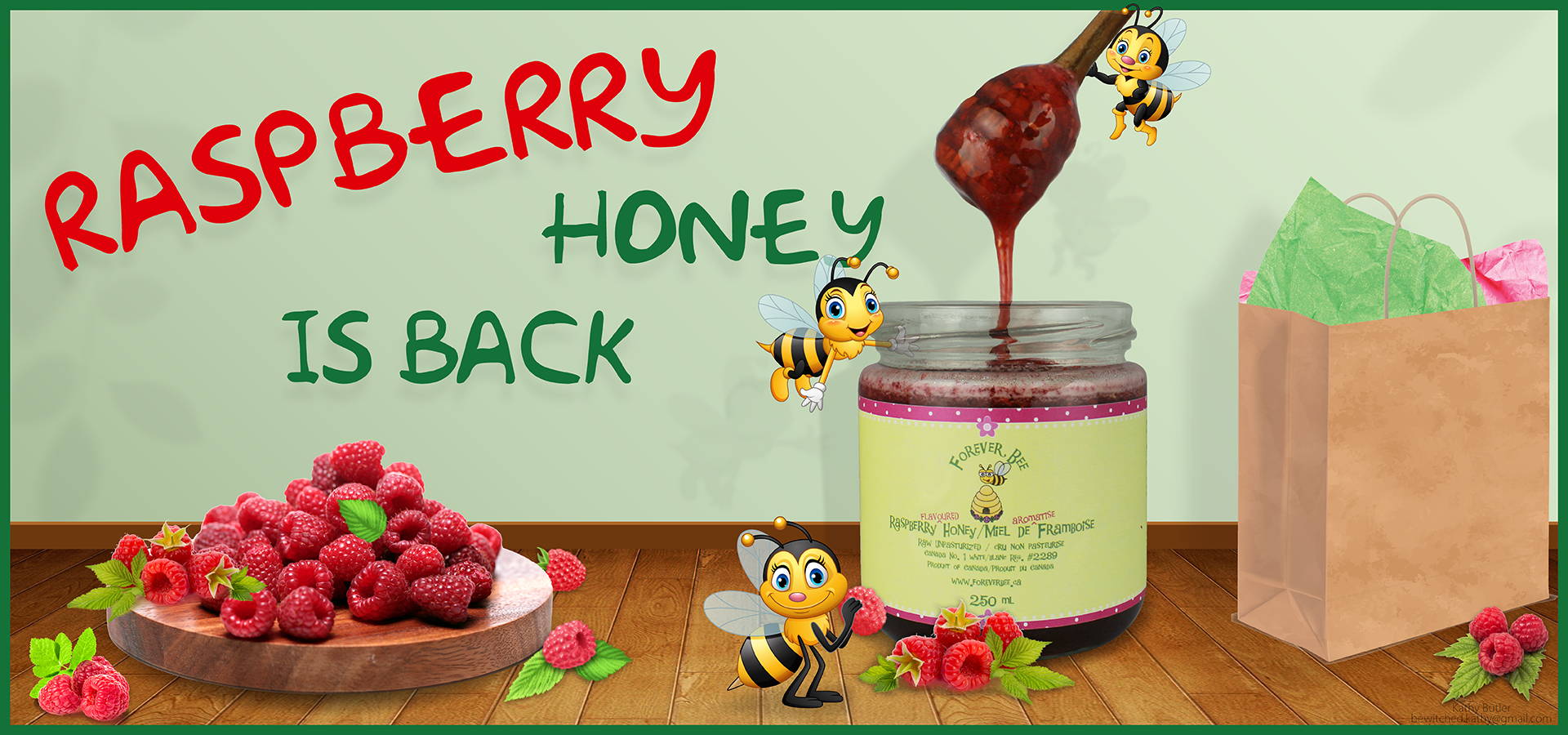 We know our Raspberry Honey is a favourite for a lot of you folks! Hurry, it's only around for a limited time, and we KNOW it will go quickly.
Our delicious Raspberry Honey is the perfect combination of sweet raw honey and the bright, tangy flavours of summer fruit. These delicious, ripe raspberries are high in fiber, antioxidants, vitamins and minerals! Our raw liquid honey that you all know and love is also high in antioxidants and nutrients perfect for restoring your body! The combination of these two nourishing, pure ingredients leads to anti-aging, and high in anti-inflammatory properties!
I'm beyond excited to have some Raspberry Honey & Peanut Butter Sandwiches.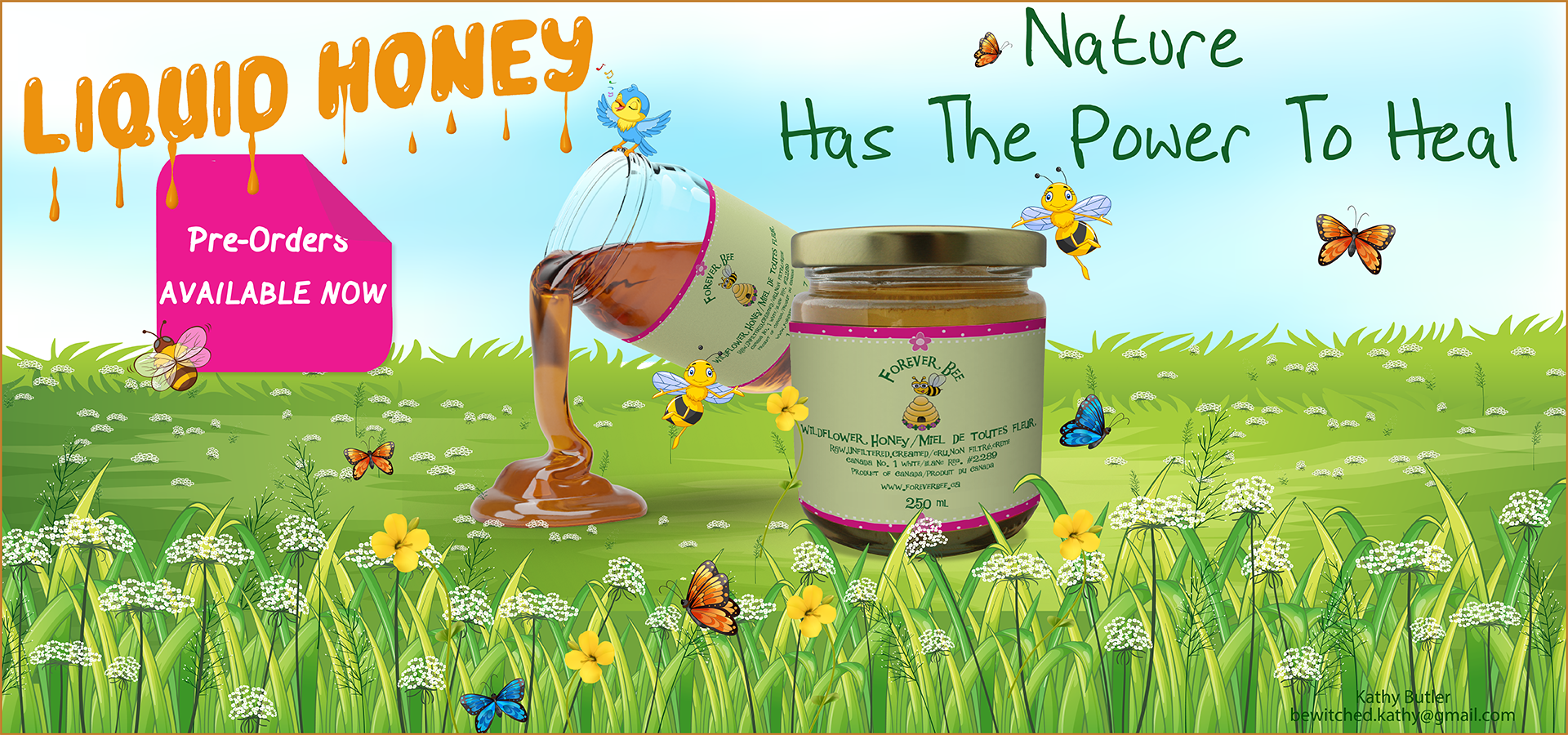 Forever Bee Liquid Wildflower Honey is a sweet, raw, unfiltered, pure, Alberta Honey, straight from the hive. Liquid honey is available during the summer harvest season every year (July and August). Our Honey is still raw which means it has never been heated and therefor all the benefits and natural content of the honey are still intact. This honey is also unfiltered and contains many delicious and beneficial compounds such as bee pollen and propolis.
Many people use raw honey daily on their toast, peanut butter sandwiches, in tea or coffee, cooking, and baking. It is also popular for use when having a sore throat , cough, cold or cuts and burns. We have a growing recipe collection here for inspiration.
Raw honey has no expiration date and will not go bad when used correctly. Always use a clean dry spoon, excess moisture can cause honey to spoil. Raw honey will crystalize.
This calls for a celebration!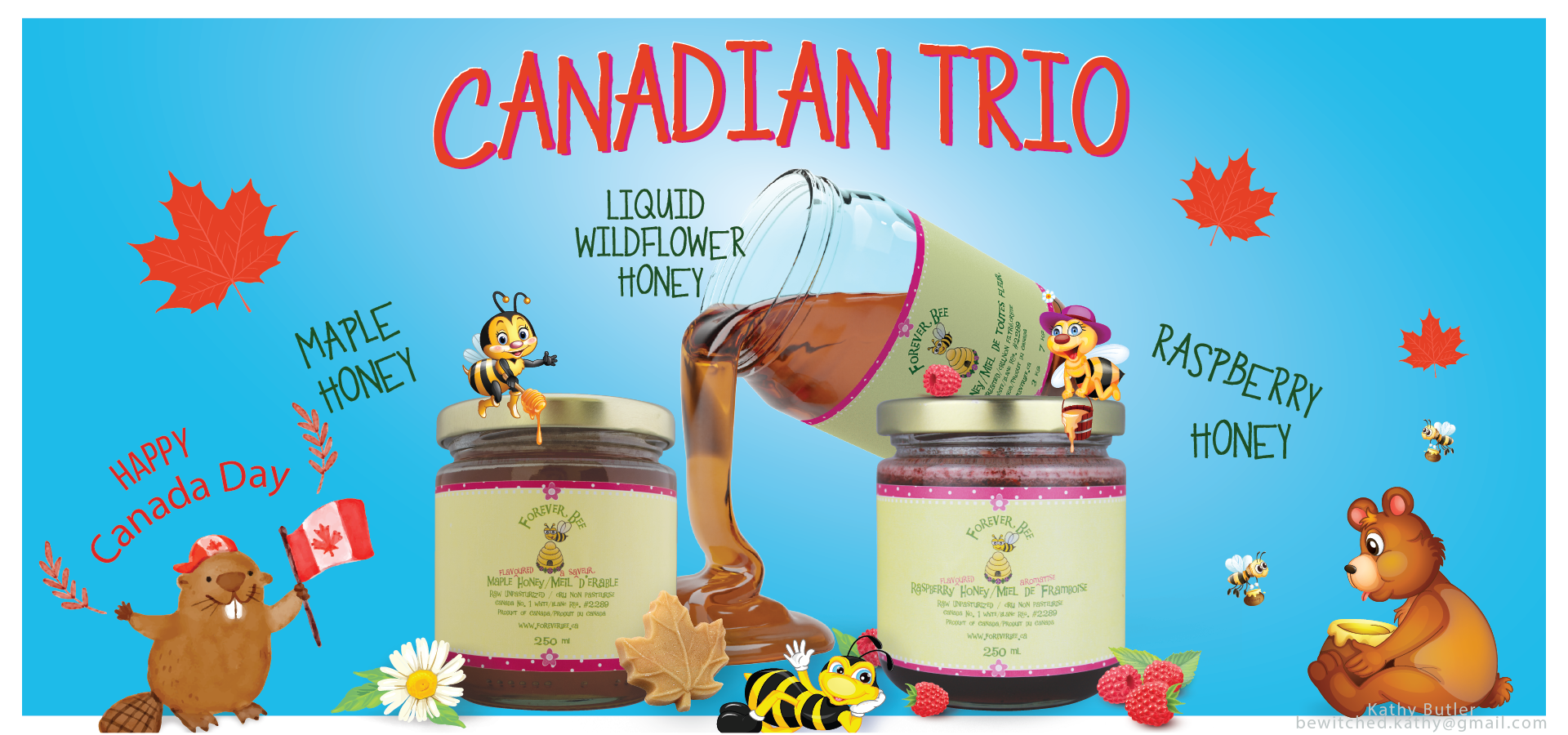 The best way to celebrate staying open is with the return of our summer favourites! Raw Liquid Wildflower Honey and the forever favourite Raspberry Honey! Pair these up with our Maple Honey and now you've got our favourite Canadian Trio!
Crystalization happens, it's normal!
Remember that all raw liquid honey will crystallize. This is a normal development for all liquid honey. Refrigeration will speed up the crystallization process, honey is best stored in the pantry at consistent room temperature. If your honey has crystallized and you would like it to be liquid again, just place the container in a pot of warm water to thaw the crystals & maintain nutrients. See this video from Annanie about honey crystallization here!
---
Honey Vinegar & Tippa Inc!
Our good friend Paul from Tippa's Distillery went out of his way to make some truly unique and delicious vinegars for us with some fermented honey we couldn't use. Made with love, powered by Birch Bark and perfected with honey, these unique vinegars promises to add that little something special to your summer cooking.
Unfiltered, Unpasteurized with Mother. Raw. Birch Bark Powered. No Preservatives. Small Batch. We have a whole collection of great recipes to choose from. My favourite lately has been homemade applesauce! Red Delicious Apples & Maple Honey, warm on the stove. Blend with Maple Vinegar & serve warm. So good!
We were so sad to have to let Paul know that we would not be able to supply him with honey anymore. Now that we get to stay open we can continue to provide raw honey to our favourite local crafters and makers just like Paul. We are so grateful he has made these vinegars for us and continues to come up with new products all the time. Learn more about Paul and Tippa's Distillary with this little video.
---