Tropical Kiwi Strawberry Spring Rolls
Prep Time: 15 Minutes

Servings: 6
12

rice paper wrappers

1

1

/

2

 

cups chopped

strawberries

2

 

firm yellow, chopped bananas

1

mango

(cut into matchsticks)

3 chopped

kiwi

1

bunch

fresh mint

1

/

3

 

cup

Forever Bee Clover Honey

1

/

4

 

teaspoon

vanilla extract

1

/

2

 

vanilla bean

1

lime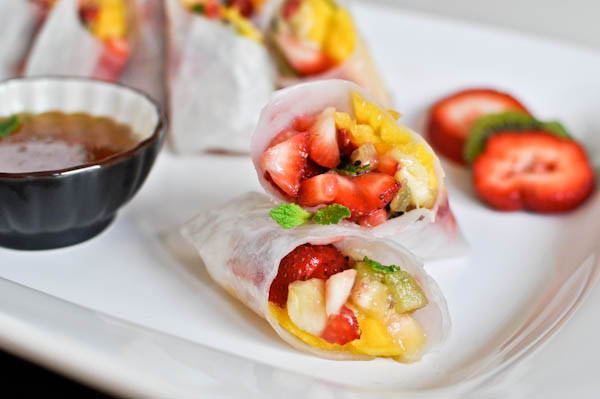 Fill a large baking dish with warm water. I found that the easiest way to makes the rolls was to take the dry rice paper, dip it in the water very quickly (less than 5 seconds), then pat dry with a paper towel. Either add your second paper on top (if making 6 rolls) or begin filling.

Add fruit in the middle of the wrap; I used mango on the bottom, then stuffed with the remaining fruit. Some mint leaves I chopped, others I left whole – it's all on your preference.

Once the fruit is on the wrap, fold up the bottom and tuck under the fruit. Fold in each side (like you would with a burrito), then roll the wrap to the end. It should seal itself since the wrap is damp.

Eat whole or slice in the middle at an angle. Serve with Vanilla Lime Honey Dipping Sauce.
howsweeteats.com deserves all the credit for this recipe! Here's a note about how they make them too!
I double wrapped my rolls, resulting in 6 roles. If you use one wrap, you obviously will end up with 12 rolls. The amount of fruit you need will be dependent on how much you add. I added about a tablespoon of berries, kiwi and banana each, and 6-8 mango sticks, plus 2-3 mint leaves. You may want more or less. I used half the amount of fruit here for 6 rolls, so this *should* be enough for 12, just use your eye.