Salted Honey Pie
Refrigerated pie crust
4 large egg yolks, lightly beaten
2 1/2 cups (600ml) heavy whipping cream
1 cup (144g) unpacked light brown sugar
1/3 cup cornstarch, sifted
1/2 tsp salt
1/2 cup (120ml) Forever Bee clover honey
2 tsp vanilla extract
Sea salt, optional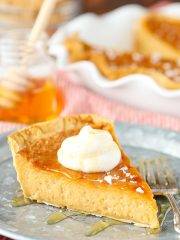 Prepare the pie crust in a deep dish 8 inch pie pan, or a 9 inch pie pan, and set it in the fridge. Do not pre-bake it. Preheat the oven to 375 degrees.
Add the egg yolks to a large bowl. Set aside.
To make the filling, heat the heavy cream, brown sugar, cornstarch and salt in a medium saucepan on medium heat until it comes to a rolling boil, stirring regularly. It should start to thicken.
Once the mixture comes to a full boil, remove it from the heat.
Temper the eggs by adding a little bit of the cream mixture to the eggs and whisking, then adding a little more. Add the remaining cream mixture and stir until combined and smooth.
Add the honey and vanilla extract to the custard and stir until well combined.
Pour the mixture into the pie crust.
Bake the pie for 40-45 minutes. It will bubble up and start to brown on top.
Remove the pie from the oven. It will still be pretty jiggly. Set it on the counter to cool until it comes to room temperature. It will firm up as it sits.
Refrigerate the pie until it's cold and fully firm.
Sprinkle the sea salt onto the pie and serve.