Crunchies - Oat, Coconut and Honey Bars
4 cups (11.5 oz) oats (recommended: Quaker regular oats, or quick cooking)
3 cups (9 oz) unsweetened shredded coconut (recommended: Bob's Red Mill)
1 cup (4.5 oz) all-purpose flour (also feel free to use flour alternatives such as Oat flower or Almond Flour)
1 ½ cups raw brown sugar (granulated sugar works too)
½ teaspoon Himalayan Sea Salt (or regular table salt)
1 teaspoon ground cinnamon (optional)
1 cup Coconut Oil - ( butter (salted) or stick margarine)
3 tablespoons Forever Bee Liquid or Creamed Honey
¼ cup milk (just under ¼ cup, preferably low fat)
2 teaspoons baking soda (bicarbonate of soda)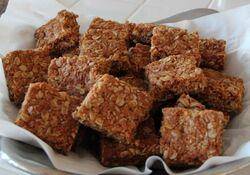 Set the oven rack in the middle, and preheat oven to 325 degrees F. (160 C)
Spray 10 x 15" baking pan with coconut oil.
In a large bowl, mix dry ingredients (except for baking soda) very well.
Melt coconut oil (or butter) and honey (or syrup) in a pot on the stove. Allow to cool for 5 minutes.
Stir baking soda into just under ¼ cup milk, making sure it dissolves completely.
Add the cooled coconut oil mixture and the milk mixture together and then add it to the dry ingredients and mix very well with a spoon—or even better, just get in there with your hands! Make sure to incorporate dry ingredients at the bottom of the bowl.
Distribute evenly on prepared baking sheet. Press down very well with the back of a flat spoon, or roll with a rolling pin. (I distribute and flatten a bit with the spoon and then use the rolling pin to compact and even out.) Push down any edges that come up with your fingers or the spoon.
Bake in the middle of the oven for 25 – 30 minutes until golden brown. Rotate pan after about 18 minutes. Keep an eye on them; if browning too quickly cover loosely with foil. And/or turn the oven down to 300 degrees F for the last five to ten minutes of baking. (The longer you bake them the more crunchy they will get.)
Remove from oven and set on wire cooling rack for 10 - 12 minutes. Cut while still warm into squares (about 2 inches), with a sharp, serrated knife—preferably with a round tip.
Allow to cool completely before removing from pan. You might have to carefully run the knife through the cuts again before removing them.