Rosted Pineapple with Honey Cinnamon Glaze
Prep Time: 40 Minutes

Cook Time: 10 Minutes

Total Time: 50 Minutes
1 pineapple

1/4 cup of Forever Bee Cinnamon Honey

1 tablespoon of lime juice

1 tablespoon of butter (optional)

1 tablespoon of sugar (optional)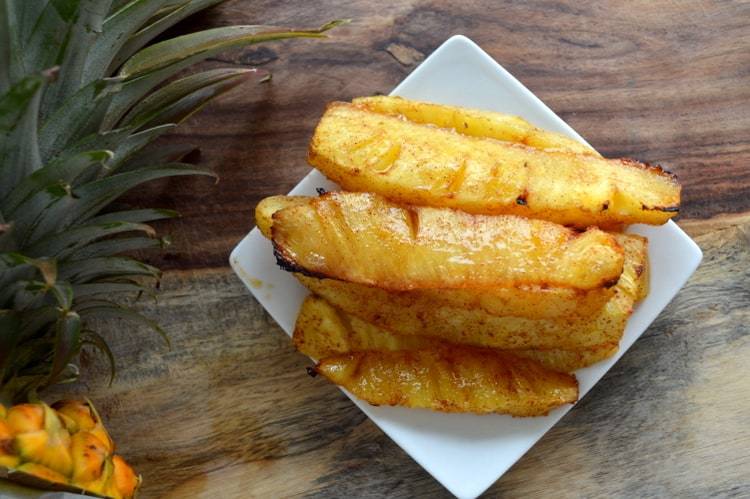 Cut your pineapple into spears. You can cut as little or as much of the pineapple as you'd like - 1/2 of the pineapple should be more than enough for 2 people, but the whole pineapple is a better choice for a family.

Combine the honey and lime juice, in a gallon zip-top bag or plastic container large enough to hold the pineapple spears.

Add the pineapple to the marinade, toss to coat the spears, and zip/cover the container.

Place the pineapple in the fridge and allow it to marinade for at least half an hour. You can leave the pineapple marinading over night, if need be.

After your pineapple has marinaded, adjust an oven rack to the top, or second from the top, position and pre-heat your oven broiler on high. Then, line a baking tray with aluminum foil to make your clean up easier.

If desired, melt a tablespoon of butter and stir in a tablespoon of sugar to make a glaze. This is not mandatory, but helps the pineapple brown and crisp up. It releases a lot of juice while marinading and comes out of the bag fairly moist, so it will not brown well without additional assistance.

Remove the pineapple spears from the marinade and place them in a single layer on the prepared baking sheet. Brush both sides (or all three, if your spears have a broad third side) with the butter/sugar mixture.

Broil the pineapple spears until the ends are turning brown and caramelized. This should take 8-10 minutes, depending on your oven. Keep an eye on them to make sure they don't burn!

Enjoy the pineapple while it's warm, and top with additional cinnamon and/or honey, if desired.
Thanks so much Natasha for this delicious recipe! See all of Natasha's notes and more here natashalh.com