Beeswax FAQ: Frequently Asked Questions About Beeswax
We hope our website has answered every question you have. Here's a compiled list of a lot of the questions we have encountered about Beeswax.
Click a Green Title Bar to collapse and expand sections.
Pure beeswax is one of those amazing gifts from nature that we can use to create 1000's of natural products to enhance our lives and make it more fun.
Beeswax is non-toxic, it cleans the air when you use it as a candle and it also acts as a great moisture barrier. We've collected a whole bunch of ideas all over our site. We also have a selection of products made with our beeswax!
Pure Beeswax is easy to use for every recipe as it's weight and volume are the same when it's melted or solid! We have a variety of shapes for our beeswax so you can pick and choose what works best for you. It might depend on the recipe you are using, or the number of portions you plan to make.

1lb Beeswax = 16 ounces (Two 1/2lb Blocks)
1 cup Beeswax = 8 ounces (One 1/2lb Block)
1 Tablespoon = 0.5 Oz (Two Round Waffles)
2 Teaspoon = 0.33 oz (One Rectangle Waffle)

If the recipe calls for Beeswax Pastilles or Pellets, the time might account for how quickly they melt. Using larger size Beeswax Blocks you may want to begin melting them first before adding the other ingredients.
Herbal Remedies, Crafts and so much more. We have some recipe ideas and found a helpful article, shared below.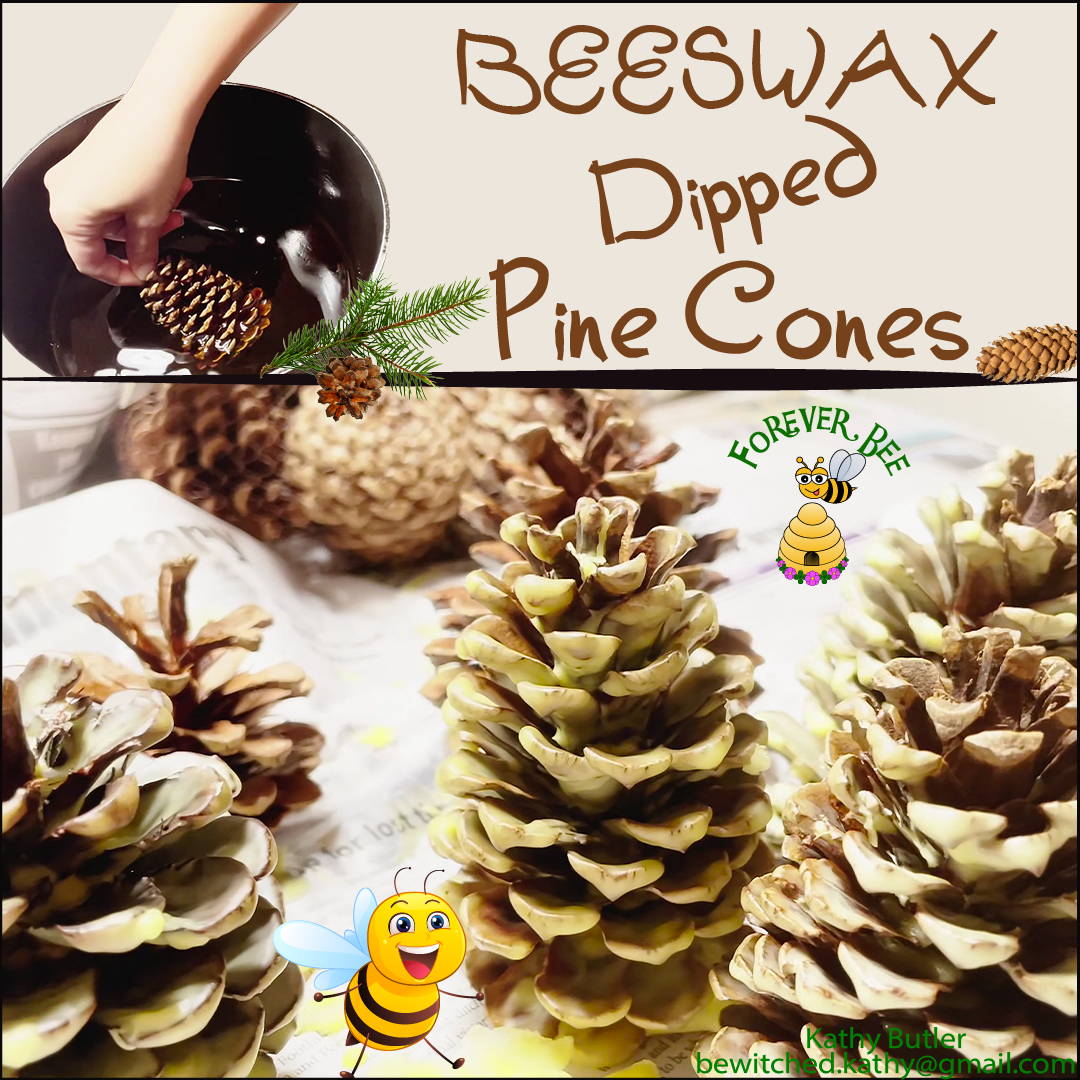 21 Uses for Beeswax
Batik - Batiking is a method of fabric dyeing in which the fabric not intended to be dyed is covered with removable wax. The ideal mixture for batik preparation is 30 percent beeswax and 70 percent paraffin, creating the perfect batik wax mixture.

Ukrainian Egg Decorating - A pysanka is a Ukrainian Easter egg, decorated with traditional Ukrainian folk designs using a wax-resist (batik) method. The word pysanka comes from the verb pysaty, "to write", as the designs are not painted on, but written with beeswax.

Prevent Rust - Coat things like hand tools, cast iron pieces and shovels to prevent them from rusting out. You can even rub beeswax on the wooden handle of your shovel to help protect against wear and tear.

Cheese Waxing - If you produce your own cheese, beeswax is the best natural cover for cheeses. If the cheese is wet, you will need to let it dry before applying the hot wax. This is to ensure a proper seal because wax will not adhere to wet surfaces. Beeswax works well for sealing the because it has a low melting point.

Waxed Thread - Waxed thread is often used in handmade crafts such as hand-sewn leather goods and making jewelry. The wax on the thread provides lubrication that can make sewing easier. Plain thread can be rubbed against a cube of bee's wax, coating the thread in the wax.

Coating Nails & Screws - Once you coat your nails and screws with beeswax, they do not splinter the wood while you hammer them in.

Wood Lubricant - Rub beeswax on sliding glass doors, windows or drawers that tend to stick to restore smooth movement. Beeswax is also a fantastic lubricant for oiling very old furniture joints.

Beeswax Crayons - There are many different variations for beeswax crayons, but most use equal weight amounts of beeswax and white bar soap. Beeswax crayons tend to be harder than the soy, giving the ability to add more details to pictures.

Envelope Seal - You can make a beeswax seal and apply it to an envelope that you are sending out. This would be great for an invitation to a wedding or baby shower.

Waterproof Shoes and Boots - Rub the beeswax over the entire shoe. Next, use a blow dryer to melt the wax all over the shoe then let set for about 5 minutes before wearing!

DIY Shoe Polish - Restore leather boots, shoes, pocketbooks, and more with this basic shoe polish formula. Combine and heat 2 oz of oil and 1/2 oz beeswax until the beeswax is melted. Remove from the heat and stir in 1/2 to 1 tsp pigment, adding more for a darker color. Makes ½ cup, just about what you'd buy in the store. Store in a small jar.

Beeswax For Hair - Beeswax is used as a remedy for dry hair, to help start and maintain dreadlocks and as a wax for a man's beard or mustache. Combine & heat equal parts beeswax and coconut oil. Allow to cool and set. Using small portions at a time, work it into the mustache. Comb to style.  

Grease Cookie Sheets - If you have a block of wax, you can simply rub it over your pans and use it in place of butter or oil. (Beeswax is edible so this is perfectly safe.) It works best if you warm the sheet a bit first. You can also melt the wax and apply it that way. Over time the pan will take on a permanent coat of wax, eliminating the need to grease every time.

Make Canelés - Beeswax is also traditionally used in making canelés, a small French pastry with a custard center and a caramelized crust, giving them their crispness and a slight honey flavor. A coating of beeswax and butter, frozen to the molds before baking, helps create a protective outer skin that will help protect the shape of the canelés as they bake.

Candles & Luminaries - Beeswax candles burn brighter, remove toxins from the air and give off a sweet, warming honey aroma which gets accentuated when mixed with other essential oils. Making them is pretty simple, too. Learn how to make beeswax candles HERE. Learn how to make beeswax luminaries HERE.

Furniture Polish - To make beeswax furniture polish melt 1 T. of grated beeswax, stir in 3 T. of coconut oil until melted. When this cools and hardens, use a clean cloth to rub it onto your wood furniture. Then using another cloth, buff the furniture until all residue is removed.

Granite Countertop Polish - Keep your granite countertops shiny with beeswax. Rub warmed beeswax in, allow it to dry, and then wipe down to remove any excess. The polish will also help prevent staining.

Reusable Food Wrap - An alternative to plastic wrap…..make your own beeswax coated cotton material. The warmth of your hands allows you to mould the beeswax to whatever shape you want and it stays there. When refrigerated it forms a firm cover to protect your leftovers.

DIY Beeswax Modeling Clay - Modeling clay made from beeswax and plant dyes make a natural and non-toxic craft. When warmed in your hands to a soft consistency, beeswax modeling clay easily forms into shapes. To preserve your sculpted creations, let the beeswax cool and keep it away from heat.

Care For Wooden Utensils - Make spoon (or board) butter out of mineral oil and natural beeswax. Smooth it into your spoons, spatulas, boards and bowls. Let them sit for a couple of hours, then rub down with a clean cloth and return them to normal use.

Corrosion Control - Beeswax actually prevents bronze items from getting tarnished. To guard against oxidation caused by moist air, brush on a solution of ⅓ pound beeswax melted in 1 quart turpentine. Buff it with a towel to create a thin, hard coat. Similarly, you can seal a copper sink by rubbing it with softened beeswax and polishing off the excess with a lint-free rag.
WHY WE USE BEESWAX IN OUR BODY PRODUCTS
Protective: 
When applied to the skin, beeswax forms a protective barrier that helps protect it from environmental assaults, while also holding in moisture and reducing dryness. This is one of the reasons beeswax is often used in lip balms. Unlike ingredients made from petroleum, however, beeswax doesn't "suffocate" the skin, and won't clog pores.
Antibacterial: 
Like honey, beeswax has antibacterial properties, helping keep skin clean and reducing the risks of contamination in the formula itself. In fact, a 2005 study found that a honey/beeswax mixture inhibited the growth of bacteria and fungus, making it a potential treatment for diaper rash and other bacterial skin conditions.
Humectant: 
Some ingredients "attract" water, and beeswax is one of them. When you put it on, you attract water molecules, helping to keep skin hydrated over time.
Vitamin A:
A good source of this vitamin, beeswax helps support cell turnover and reconstruction.
Fragrance:
We always say there's no reason to use harsh chemicals to make products smell good. Natural ingredients work so much better! Beeswax has a natural honey fragrance, and is a favourite in soaps and perfumes because of its pleasant, light aroma.
Wound healing:
Because of its anti-inflammatory properties, beeswax has been found to help encourage the healing of wounds. Studies have even found that it may be effective against hemorrhoids.
Itching:
If you suffer from dry skin itching, dermatitis, eczema, or any type of itching related to a skin condition, beeswax is for you. A study published in 2012 found that those patients who suffered serious burns, and later went through "post-burn itch" when the burns were healing, experienced relief with an herbal oil cream and beeswax combination, so much so that they were able to cut back on their use of medications for the itch. Because beeswax is anti-allergenic, it is also easily tolerated by even those with reactive skin
BEESWAX WRAPS - MULTI PURPOSE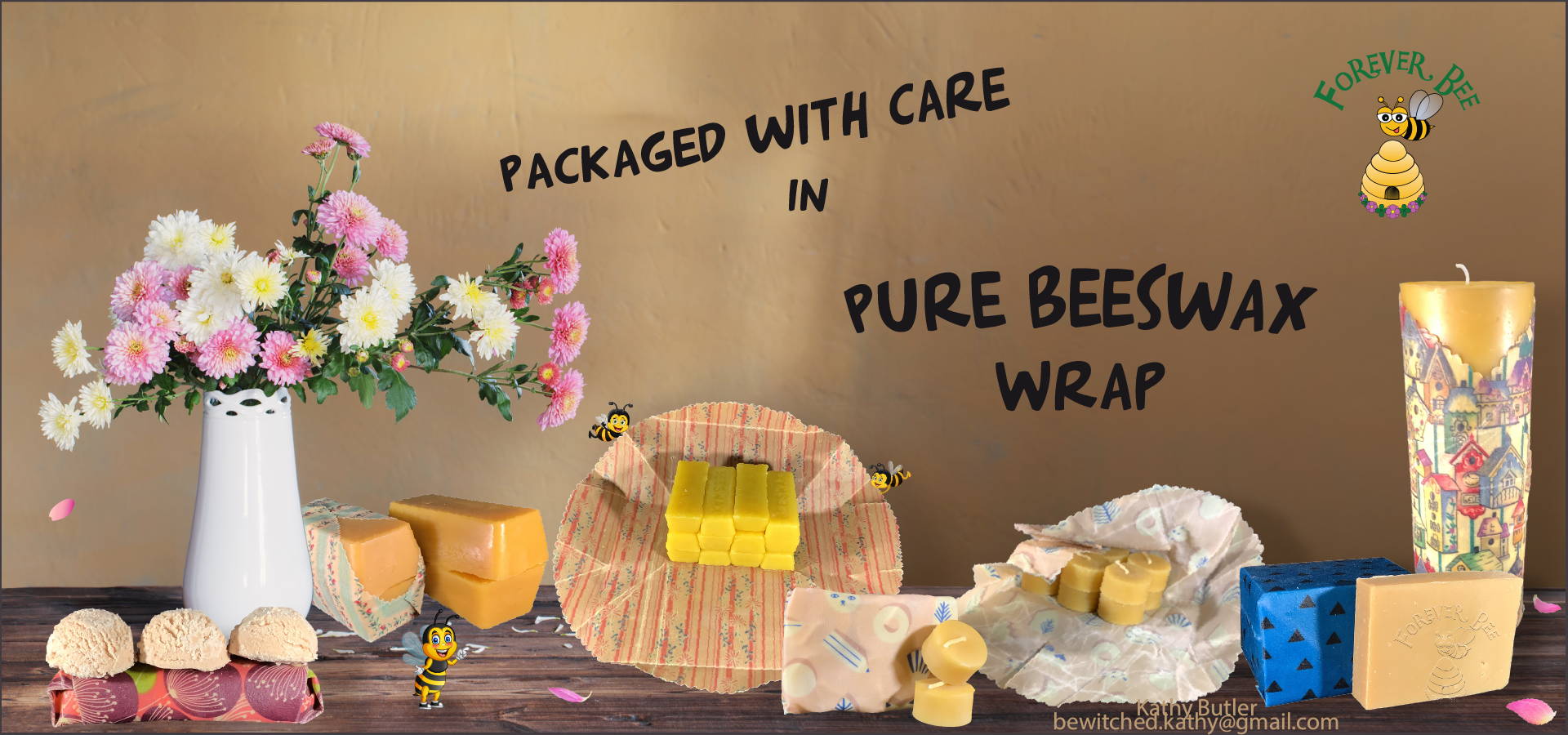 Our Beeswax Food wraps are hand made with care & love by Ms.Sloane&Co. Based in Calgary Alberta and owned by Alicia Harrison who has a genuine passion to help eliminate harmful materials from the environment. MsSloane&Co uses only pure, unfiltered and locally sourced Beeswax from Forever Bee of course!
Our top 3 reasons to love these Beeswax Food Wraps:
1. Great alternative to single use plastics
2. Circular shape makes them more versatile and user friendly.
3. Resin Free!
WHAT ARE THE BENEFITS OF BEESWAX CANDLES
Environmentally friendly and safe, non-toxic. Burn very clean with little smoke when trimmed properly as they are not oil-based. 100% beeswax candles are natural, undergoes no chemical processing and biodegradable.
Beeswax Candles do not drip
Beeswax Candles do not smoke
Smell great as they are naturally scented by the honey and floral nectar in the honeycomb; carbon-neutral.
Have a high melting point (in fact the highest among all known waxes) which results in a significantly longer (2-5 times) burn time. This offsets their higher cost.
Burns stronger and brighter. Emits naturally bright light of the same light spectrum as the sun. They are a gift from nature!
The only candle that emits negative ions to purify, cleanse, improve air quality, and invigorate the body. A natural ionizer!
Hypo-allergenic, benefit those with environmental allergies, sensitivities, and asthma.
Originates from a renewable fuel - beeswax.
We deliver to many cities in Alberta and ship Nationwide! Shop Now or Check out our other FAQ Pages for more information.
Sign up for our newsletter to get regular updates about our honey and other fantastic products.